Daemons, one of man's oldest foes, are a big part of Ultima, especially for characters capable of bringing them down.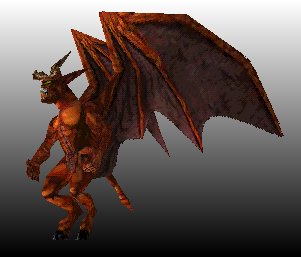 Daemons can be a formidable foe, especially if they take you by surprise. They have high intelligence and are capable of casting up to seventh circle spells. It is not uncommon for them to let lose with a few flamestrikes, an explode, and then follow up with poison.
They drop from about 400-850 gold, though you will sometimes find more if a daemon has looted other corpses. Often their loot will also include jewels, scrolls, and magic items. They drop virtue items that deal damage against elementals (flame dousing, blood drinking, elemental health, etc) and also scorpions (scorpion's bane). In addition, there is also the chance they carry a level 4 treasure map. When a bladed item is used on a daemon, it produces one raw rib and no hides.
Daemons spawn on Avatar Isle at the daemon temple, the halls of Wind, Fire dungeon level two, Hythloth levels 2-4, and as part of the guardian chest spawn for treasure maps that are level 4 or 5. Daemons also spawn in Ilshenar.
The daemons of UO have a long list of names: Eligor, Agalierept, Glassyalabolas, Vaelfar, El Chupacabra, Faraii, Aamon, Astaroth, Starr, a daemon, a cacodaemon, a beastly daemon, Clauneck, Bucon, Sargatans, Marbas, Bechard, Surgat, Hael, Aglasis, Ayperos, Azrael, Baal, Ba'al, Beelzebub, Be'elzebubba, Botis, Buer, Clitheret, Cthulu, Eleogap, Frucissiere, Fleurty, Fruitimiere, Gusoyn, Haristum, Heramael, Hiepacth, Huictiigara, Khil, Mephistopheles, Mersilde, Molech, Morail, Musisin, Naberrs, Nebiros, Nebirots, Nyarlahotep, Pentagnony, Proculo, Pruslas, Rofocale, Sirchade, Sustugriel, Tarchimache, Trimasel, Wormius, and Zoray. The stratics hunter's guide lists another daemon name, Tyriel, but I have never encountered this one so I don't believe this is an active name. I would be interested to know if anyone has encountered him, or has any additions to this name list. (Note: Do not include Balron names, they get their own feature. /php-bin/shared/images/icons/smile.gif)
Now it's your turn to reflect on daemons. Perhaps you know about their spawn points in Ilshenar, have an anecdote to tell, or just a haiku to share. /php-bin/shared/images/icons/wink.gif