Stratics Legend
Alumni
Stratics Veteran
Stratics Legend
As you all know, Mentiras holds events all month long for everyone. One of me tries to get to each one, and every time I have a lot of fun. This thread will be for reporting on this month's events, the first of which was held tonight.

The Snake Game is quick and painless. Two contestants face off in the arena, each armed with a bag full of wooden crates. The object is to lay down the crates to box in your opponent. The person with the most leg room at the finish is declared the winner.

The crowd tonight was small... Resistia Draconi, Sawdude, Convict, Lainey and Ynise Amandil. Lainey and Ynise were the first up and Ynise won two of three. At that time they were the only two there, so Ynise was declared champ, but..... after Lainey found her timing she was a tiger in the arena! The best match of the night was Lainey boxing in Drac so that he had only a one tile area!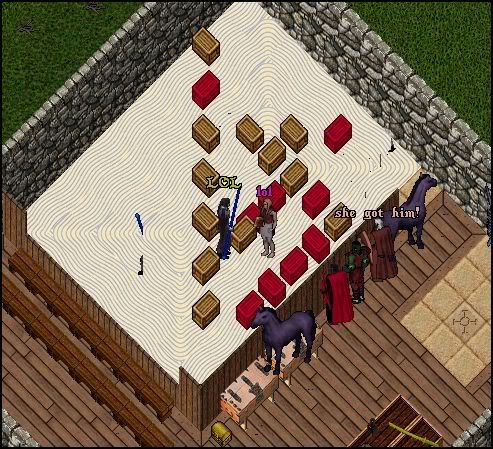 I'm certain Lainey will be very hard to beat in upcoming Snake Games! Mentiras awarded Ynise with a Fluffy Token and an item that she's been lusting after for some time now, an alabaster Statue of the Stars. He tells me that he has many nice event items as prizes for this month's games, so come on out and have a good time and maybe go home with a special item!
​