They look like a drake, sound like a drake, and smell like a drake, but when one of these little fellows hit you, they're certainly no drake!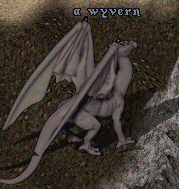 Originally residents of the lost lands only, wyverns have moved on to bigger and better things. They can now be found in all levels of Destard, as well as in the desert north of Papua and Cyclops Valley. They can also be seen in the Third Dawn client's Ilshenar, where some of the hang out with the biggest baddest wyrm of them all, the ancient wyrm.
Using the same graphic as the drake, wyverns come in many more colors. These lizards pack a punch with their deadly poison, which can knowck you down and out fast unless you carry greater cures or are quick with magery. Many people deal with wyverns by paralyzing and casting blade spirits, while others prefer to Cor Por, Kal Vas Flam, or "(petname) kill" them.
Wyverns give second level fame and karma when killed. They are untameable due to their high poison. Wyverns drop 150-250 gold, bottles of poison, scrolls circle 4-7, the occasional jewels, as well as level 2 treasure maps. (There is currently debate that they may drop level 3 maps as well.)
Wyverns are not quite as strong as drakes, but they can strike quite fast and can poison often.
(Now everyone else gets to reflect on wyverns, write haikus about wyverns, or add any information that may have been left out /php-bin/shared/images/icons/smile.gif)