For anyone with arachnapobia, the sight of a terathan deep in the Keep may send his or her skin crawling. Today we look at the regal queen of these insects, the Terathan Matriarch!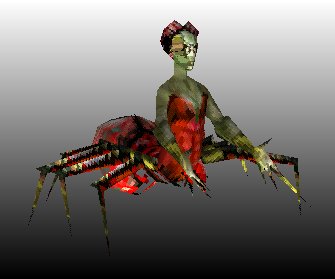 She lives in the Keep and above ground right outside it. These ladies will give you third level fame and karma, but no more than that. Defensively and offensively they are tough and to be feared (especially with a dash of lag!) Their loot consists of 150-300 gold, 5 spiders silk, gems, scrolls, and the occasional magic item if you're fortunate. A respectable matriarch can cast a wide variety of spells that will keep you on your toes!
The first time I ever went to tame a mare, back when the spawn was blocked, a matty was my doom. The mare was tame, all was right in the world. I fed the mare and tried to get to it, but a matty locked onto me and 2 avengers onto the new mare. I tried to teleport to the side of the doorway the 2 avengers were blocking, but the matty meleed me and one Flamestrike later and Caelie was taking a dirtnap and watching very sadly as her nightmare fell.
So everyone, now you are welcome to reflect and add more information for the queen of spiders! (Anyone know if they live in Illywillynar?)