Grand Poobah
Alumni
Stratics Veteran
I thought this might be fun. I'm always curious as to what the people I meet on various message boards and in-game actually look like. So I figured I'd start a thread for those of us who feel like sharing.
(Note: This thread is for posting RL pics, try to keep the OT to an absolute minimum, I will not hesitate to remove any posts that I feel are not contributing to the thread.)
So, seeing as this was my idea, I'll go first.
Here I am taking a crappy self portrait from my webcam:
Here I am at work: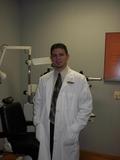 Ok, that's enough for now.
Who's next?