Just in case anyone hasn't seen it yet, I thought I would share with the community. The item was a tree; a beautiful blue tree. I couldn't tell you the hue ID but maybe someone else can. Adequately named - "Cryokinetic Fury of Glacieus The Ice Demon". Double-clicking the tree will give you a luck bonus that appears to be exactly the same as the 9th anniversary sculpture.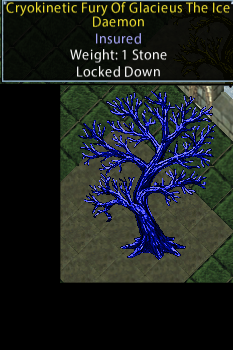 This makes the third event item that I managed to receive in a row! Maybe I should just stop going to give others a chance, huh? I'm definitely going to play the next powerball!
Either way, there's 4 of these that exist I believe. Our beloved Donovan was also one of the lucky recipients. I do apologize to those who didn't get one. If it were up to me say, if I were EM - I would give one to all. I really don't believe I deserve the tree because there's just so many I feel are much more deserving, like Allen, or Alpha Male. Regardless, I accept and bow to the RNG gods and I will pray to the gods that they give others a chance.