I asked EM_Troubadour what it takes to get a town banner for Safe Haven
Here are the reply I got. I think we are close.
Hello Freja,
Thank you for reaching out to me on this. I am not certain that I will be able to attend, but I will certainly try.
For the Town Banner, you will need to meet certain requirements.
1.) A minimum of 5 houses or other establishments in the town.
2.) Something that identifies it as a town (A similar architectural theme, signature piece (one town on Atlantic all has the Codex Deed used as their signature), etc. Something that visually draws the town together.
3.) Some identifiable town history (Town/guild website? History on Stratics? etc.)
If you have all three of those, you will need to submit to me the above info (A map of the town would be great as well) along with the specific location where you would like the banner and a design layout for the banner (please use Inside UO for this). If you need assistance with the banner design - let me know and I may be able to assist.
After that, I will turn it in for approval and we wait for construction.
Thank you,
Troubadour
Here are my reply:
Thanks for the reply. I hope to see you but if you can't make it, tells ok, we plane to make more events like this
1.) I think we made that, even when we are from different guilds. We are 12+ players who love being a Safe Haven Citizen
2.) I will speak with the others about this one. Will Safe Haven as a part of house name do?
3.) The town sure have longer history than most player towns here. I will try to update the info on the town forum. This event will build to the old history.
I will need help to the town banner, I can't make Inside UO work on my new PC
I have an old guildstone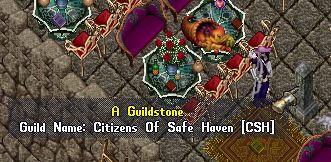 (I placed long ago and Hoffs found somewhere) named "Citizen of Safe Haven, CHS, I would love it to be a part of the banner. The town center had always been the large guard fort at East Brit Cross Road
http://frejasp.dk/images/Safe_Haven_2014.jpg
, and if allowed, I would love the banner to be at the center of top floor.
http://frejasp.dk/images/SH_Center3.jpg
The place already some of the need for a town center, look here too
http://frejasp.dk/images/SH_Center2.jpg
and here
http://frejasp.dk/images/SH_Center1.jpg
If not allowed up there, then maybe in front of the north/east building
I was thinking about the guildstone or if not allowed, a stone just saying, Safe Haven. Then an NPC maybe named "Merchant of Safe Haven" standing with a small table, showing some wares. then a red npc in war mode with a PK like name or just Brigand. Then maybe bench or something.
This below is not a part of what I ask for, I just wanted to show it.
I have an old dream, that Mesanna someday will allow a few npc vendors there and make repaid deeds work there, but that's an old wish from when I made an alternative to the deco Luna context, 5 years ago.
It could be a real town center, but I know, that's only a dream
http://frejasp.dk/images/SH_Centre3.jpg
http://frejasp.dk/images/SH_Centre2.jpg
http://frejasp.dk/images/SH_Centre1.jpg
Freja