Hello everyone i find people who build cho as a tank focus to much on armor and magic resist or too much on health so im here to share my build that balances the three.
Core Items
Warmogs
Thornmail
Force of Nature
Guardian Angel
Banshees Veil
Mercury Treads
Final Value
Armour-252
Magic Resist-219
Movement speed-415
Tenacity-35
Health-3900~4800(full stacks)
Mana-1300
Hp regen-110
Item abilities
Return 30% dmg of auto attacks back
Block next ability ever 45 seconds
Restore 0.35% of max hp every sec
Revives you with 700hp+375mp-5 min cd
*

M

ind you these values are

without

Masteries or Runes

*
Runes
x9 insight marks,
x9 endurance seals,
x9 shielding glyphs,
x3 endurance quints
Masteries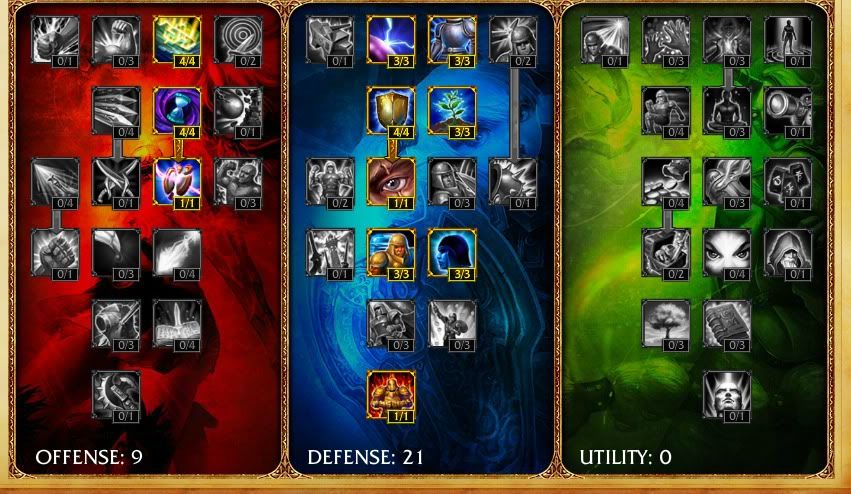 Skill Order

The sequence for my skills is almost always the same- the first skill is the only one that changes, however, if i am not soloing top i will go Q->E->E then do the same as usual.
Strategies
-This Cho'Gath build is ideal for solo top or doing top with another person.
-Aim rupture where they are GOING to be, not where they are.
-Once you hit 2/5 hp start retreating because people have a habit of focusing tanks when their hp gets low, meaning you will still get out alive AND get the other team to focus you rather than your teammates- the ones doing the damage.
Updates
-8:42 May,14,2012 added updates section and changed alacrity marks to marks of insight.
-10:10 may 16,2012 changed masteries based on schwagbert's input.
-11:38 may 16,2012 fixed the skill order from having leveling your 8 eight times to 5 times and feral scream from 2 times to 5 times.
*

I will be adding more to this guide in the future

*