Welcome to teh Badger Blog for Q3, where much about SWG is mused upon.
Server Population Imbalance
Transfers to other servers using the
Character Transfer Service
are now down to $25 with items, although there seems to be a billing issue for non-US credit cards which mean players need to log a Customer Service ticket to get their character processed.
I'm not sure that too many more people will be using the CTS because of this, but it's a nice gesture and possibly long overdue as their other games such as EQ2 featured CTS at the lower price for some time.
They've done away with the budget "Without Items" option which always seemed a bit pointless and also made the account transfers the same $25 price. These were up around the $100 mark before which was extortionate.
Here's the current prices:
For moving characters with items on the same account from one Galaxy to a different Galaxy: Each Character $25.00 (plus any applicable taxes or fees)

For moving characters with items from one of your accounts to one of your other accounts but not changing to a different Galaxy: Each Character $25.00 (plus any applicable taxes or fees)

For moving characters with items from one of your accounts to one of your other accounts and changing to a different Galaxy: Each Character $25.00 (plus any applicable taxes or fees)
Looking at the
population stats
, the seven low population servers of Ahazi, Bloodfin, Eclipse, Gorath, Radiant, Shadowfire, and Sunrunner all look quite stable but we'll be able to see if there is any significant shift after the CTS price cut.
Overall thought this doesn't really do much to address the problem. Actual solutions such as cross server play, even just a cross server battleground instance were dismissed as too difficult to implement when raised at Fan Faire.
Rare Loot System
More information about this upcoming feature was released after Fan Faire in the
August Producer Note
.
The three types of Rare Loot will be "Normal", "Elite" and "Boss". Some examples of the drops available are below, these consist of new rewards and some rewards that were given out in old content and one-off events which gives players who missed out the first time around a chance to grab these goodies:
Normal – The Proton Chair - reward from Life Day 2008/2009.
Normal – Target Dummy - TCG card and reward for ESB 30th Anniversary
Elite – Xeno Couch - House Packup Reward
Elite – Office Desk - New?
Boss – Perfect Power Crystal - New
Boss - Aurillian statue part 1 - Pre-NGE Aurilian Village reward.
Boss– Rare Painting - Dusk In Kachiro?
Will the Rare Loot System give players a way to obtain items like this "Dusk In Kachiro" painting, which was the 1-year anniversary gift only for the now closed Japanese servers.
This system seems to feature some code that diminishes the chance of a drop if you are running your character unattended, or just farming the same spawn over and over again. This code has been in game for some time and the Devs have been monitoring it secretly to see where and when the drops would have occured and then tweaking the system accordingly.
It will be very interesting to see how this plays out as it seems to be the first real concerted and intelligent effort to safeguard a system against botting.
Having implemented insanely iterative systems such as pet levelling, acknowleging that the systems really suck where players are forced to bot rather than lose their minds and then stating that "It would require too much time to change the system", the SWG development team have a lot of making up to do as far as encouraging attended gaming.
Particularly Thomas "Hanse" Edison, creator of both pet levelling and enzyme foraging which are two of the most heavily botted systems in the game.
Invasions Staggered
Seven months after Game Update 15 brought us
Invasions
the mad rush that always accompanies a new system has died down and the threat of server killing lag is gone. The building and crafting phases of the Invasions now play out one after the other with some overlap, as you are killing troopers in one city crafters are building offences and defences in another.
This means there is always some invasion activity to be found and no more two hour wait, which seems great to me. I think the Devs need to regularly add more rewards to these systems to keep people interested though.
GCW Leaderboards
A new leaderboard system based on the
Regional Defender
system is now live.
The GCW leaderboard period runs alongside the current GCW Rank Update Cycle. Characters contribute to the character GCW leaderboard by contributing to the GCW score and in doing so also contribute to their city and guilds score. The current status of the Leaderboard can be viewed using a War Terminal, War Intel Pad or War Table and the Player/Guild/City Winners for the week are notified by in game mail.
There are badges, collections, titles and access to chat channels as rewards for winning but the big draw seems to be instant travel to anywhere in the game via the "Guild/City Waypoint Registry" for anyone who is part of a guild or city in the "Most Recent Winners List"
This is currently in testing but will allow the first and second place guilds and cities two waypoints that they can designate as travel locations for their members and citizens to warp to at any time, except in combat and some other restrictions. 3rd to 5th place get 1 travel point, so this acts as a programmable and mobile Instant Travel Vehicle that is remotely available to all winning Leaderboard guild and city members.
Witches of Dathomir
More content is on the way in the form what looks to be a revamped Nightsister Themepark. We're likely to see the uber rare Nightsister Armband as part of the loot here, as well as all other Nightsister and Singing Mountain Clain wearables.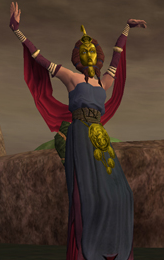 A Nightsister dancing serenely just before being torn apart by a throng of players intent on her loot.
GCW
Space Invasions are imminent, which is a very clever move given that The Old Republic have revealed that their spin on Star Wars in space involves little more than
shooting fish in a barrel
.
We've also got some Player City enhancements to look forward to in the way of placeable GCW props such as AT-ATs, Turrets and Shield Generators and factional spawns that the opposing faction can attack and destory, or get owned by as may well be the case.
Unique Spawns
Some of you may remember the Gorax of Endor, he randomly spawns across the northern desert are of the planet and has stomped on many a wandering adventurer. He used to have some useful loot many years ago but now people tend to leave him in peace unless they want the badge available for taking one down.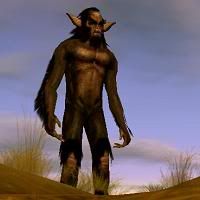 "Stompy, stompy"
Along these lines we will be seeing new "Unique Spawns" across all planets with associated loot, collections and badges. Some will be soloable, some won't. Hopefully this is something that you may come across in game and have to put the call out to your friends to come help you take it down.
Unique Spawns in space was a discussion point at Fan Faire and seems like an excellent future use of the system.
Misc
Also in the producers note was Chronicler and Storyteller getting some additions along with players being able to submit their tips that will appear on the loading screens in game... but... meh.