Crazed Zealot
Alumni
Stratics Veteran
Stratics Legend
On Friday a mysterious device was found on the road south of Stonekeep, Yew.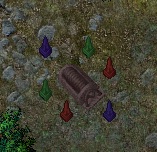 Along with that Traveler discovered a book inside Mericles cave which mentioned an attack on Yew at '8 o clock sun time'. These had me worried over the weekend and on Sunday I received a tip the attack would be that night.
At Sunday, A little after 7:45 I headed towards Yew, It seemed quiet and I thought the best place to stay was near the mysterious device on the road.
At around 7:55 the Commander of the Royal Guard, Fynn Barrett arrived and asked myself and a few others who had arrived what this device was.
Sir Bolo mentioned to Fynn that there was a note just south of the odd device. We walked over and Fynn read the note.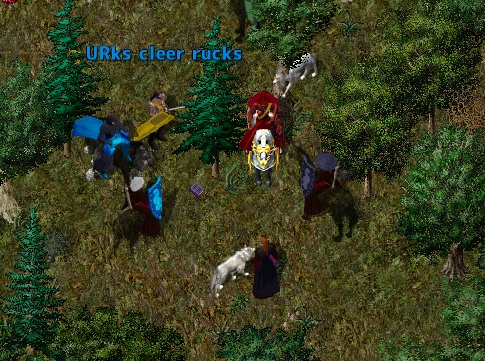 Lady Flame had taken copies of notes found in Mericles cave and placed them on the ground for Fynn and everyone else to read, Fynn seemed confused by the Orcish language and just as he was asking a question an Orc Gate Technician came down from the road.
After the Orc had been killed we rushed over to the device on the road, A moongate was now glowing. On further inspection it was an 'Orcish Moongate' and lead to the Orc camp just west of Cove.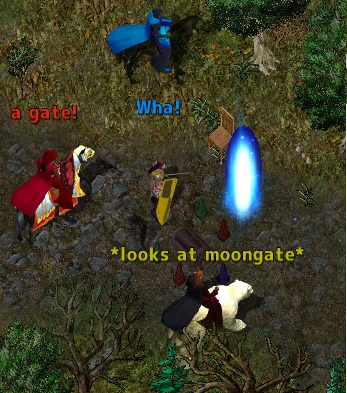 Suddenly the gate made a noise and a large collection or Orcs and Ettins appeared. The battle was on.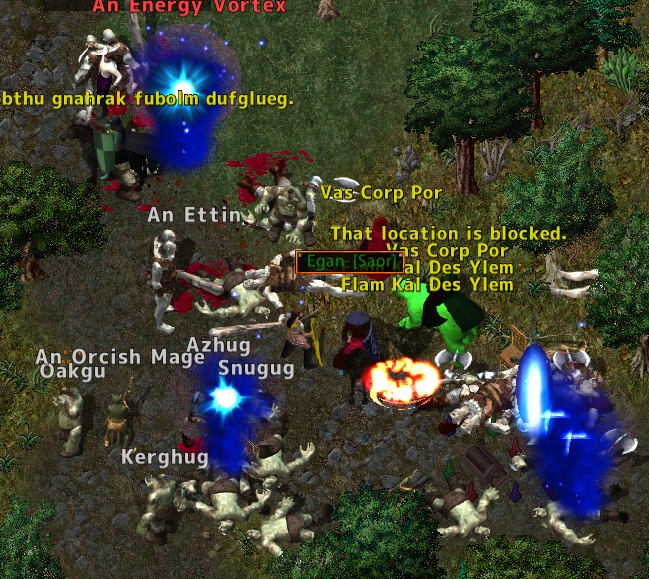 First came small orcs, then orcish mages and onto orc brutes. After a good 10 minutes they stopped coming from the moongate and we healed the wounded and gathered up near the gate.

We slowly went through the moongate and found an Orc Gate Commander and Orc Gate Guardians.
After the Orcs stopped coming to us at the mountain we went south, further into the camp.
Finally, It appeared we had the Orcs killed. Inside one of the rooms we found a book titled 'Orders'. It had both an Orcish and English order. 'You must secure the release of Big Bob from Britannia Prison'.
A guardsmen from Yew stated Big Bob was held at the prison, We rushed over to the Yew Prison via the moongate the orcs had created.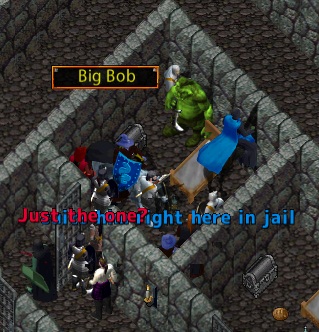 Big Bob spoke heavy Orcish and seemed to say the orcs would destroy our cities.
The Royal Guard Commander Fynn Barrett took his leave and told us to try question Big Bob further and if we found anything out to report it straight to him.