RSS Feed
RSS Feed
Stratics Veteran
Greetings Fellow Avatars!
The Catnip Games development team now brings the players of
Shroud of the Avatar
another round of new content and improvements. For Release 94 (R94), shoppers in New Britannia can now search for player vendor contents by zone! A robust number of changes to fishing have occurred which affects bait recovery, bait scarcity, and fishing artifacts! More than 70 additional gear patterns have been added to the game. So many Loot, Quality of Life (QOL), and User Interface (UI) improvements await thee, Avatar! For those wishing to participate in any
community activities
, upcoming one-time and recurring community events have been announced! Be sure to also review the
Players Guide
and
Known Issues
list for additional information on recent changes and upcoming fixes. Now, let's see what we have for you in this week's edition of Update of the Avatar:
News Announcements
Community Updates
Release 94 Patch Notes!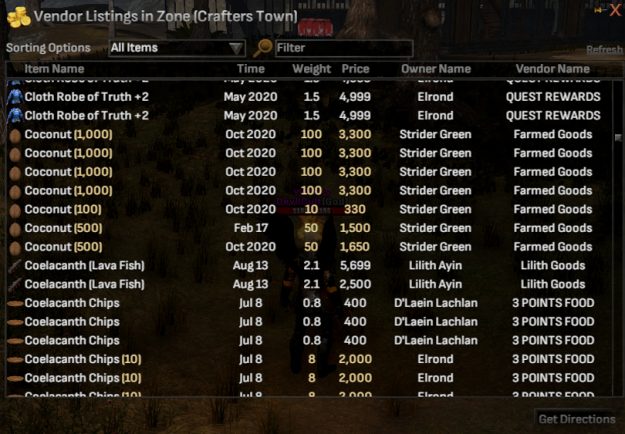 Below are a list of the updates that are live as of Release 94 (R94) in the game of
Shroud of the Avatar!
R94 is a polish, improvement, and bug fixes month. New content, additional improvements, and bug fixes are inbound for R95 next month. We hope you enjoy the changes that are live today as of Release 94!
User Interface, Lua, & Performance Changes:
Vendor Listings In Zone: A new UI window called "Vendor Listings In Zone" has been added to the game. When players visit a scene, this window can be displayed by assigning a custom hotkey in Options/Controls then pressing the applicable hotkey. Now, players will no longer be required to go from player vendor to player vendor within a zone to see all the items available. This window provides each item's name, posting date, weight, price, posting character's name, as well as the player vendor's name. Players can utilize a variety of sorting options, and a search filter is also available. Also, players can receive compass directions to a player vendor by selecting the item, then clicking the "Get Directions" button on the bottom right corner of the window. Initial design of this interface can still be a bit slow to load in towns with very large player vendor inventories, but the development team will continue to improve the load times for this feature in the releases ahead.
Lot deeds can now be upgraded through 2 upgrade channels instead of the 6 channels previously available. So instead of upgrades showing just 2 options from each possible channel, the system now selects the next 10 possible upgrades above the current value of the deed being upgraded. Now, "Founder Deeds" and "Everything Else" are the only remaining channels utilized.
The Crafting Station UI now allows players to filter for items that can be salvaged. (First patch after release.)
A new map has been added for Upper Fortus.
The map for Whiteguard Foothills has been recreated to correct rotation and alignment issues.
Health and Focus regeneration is now displayed on the character sheet.
The social window now features a search field.
Crafting components which provide virtue related stats to crafted gear will now correctly show those stats in the tooltip.
The default selection for party loot options is now "Roll" option instead of the "Free For All."
Pressing escape now closes the leaderboard window.
Various tooltips for materials and crafting components now properly show their related stat correctly as a percentage.
The"Right-Click to Repair" feature no longer generates an error when toolkits are placed inside of bags within your inventory.
The character sheet now properly displays a character's critical chance when unarmed.
Tooltips for patterns now properly display the icon for the pattern's applied visuals, if applicable.
The stats on the pet examine window now display differently for summoned and tamed pets to accommodate the differences such as available stats and related player skills.
Added the Lua function "ShroudGetPlayerOrientation()" which returns the direction the player is facing in degrees.
Universal chat once again works when short messages are sent.
Party members once again display properly in the party list panel.
Crafting, Decoration, & Inventory Item Changes:
70 patterns have been added to the game. The vast majority of these patterns are for crafted gear such as Bone Armor or Obsidian Armor. A few quest items now also provide patterns upon salvage, and 1 premium item was missing a pattern which was also added:

Aeronaut Boots
Aeronaut Gloves
Aeronaut Helmet
Aeronaut Jacket
Aeronaut Leggings
Bear Headdress
Boar Headdress
Bone Boots
Bone Chest Armor
Bone Gauntlets
Bone Helm
Bone Leggings
Brown Fur Hat
Bucket Helmet
Clockwork Wings
Cloth Tunic
Dragon Headdress
Fancy Circlet
Fancy Merchant Boots
Fancy Merchant Gloves
Fancy Merchant Pants
Fancy Merchant Shirt
Fancy One-Man Band Hat
Fancy One-Man Band Shirt
Fancy Tiara
Floppy Hat
Gustball Helm
Gustball Jersey
Gustball Leggings
Gustball Shoes
Head Bandage
Holly Wreath Hat
Judgewig
Long Kilt
Luminous Atavist Robe
Merchant Shirt
Merchant Skirt
Miner's Helmet
Obsidian Hand Axe
Obsidian Plate Boots
Obsidian Plate Chest Armor
Obsidian Plate Gauntlets
Obsidian Plate Helm
Obsidian Plate Leggings
Obsidian Spear
Obsidian Sword
Obsidian War Hammer
One-Man Band Hat
One-Man Band Shirt
Ornate Circlet (Premium, Eternal Pattern)
Paper Party Hat
Perennial Coast Farmer Tunic
Perennial Coast Farmer Sandals
Perennial Coast Farmer Hat
Perennial Coast Farmer Leggings
Perennial Coast Peasant Dress
Perennial Coast Peasant Slippers
Perennial Coast Peasant Leggings
Plain Stovepipe Hat
Primal Bear Headdress
Shepherd's Crook
Short Kilt
Short Medieval Shirt
Simple Circlet
Simple Tiara
Spider Legs Cloak
Stag Headdress
Tin Foil Hat
Wizard's Hat
Wolf Headdress

A new recipe has been added to the game allowing players to craft a Wooden Trough. The recipe can be located at the carpentry merchant in Ardoris.
The Ancient Staff of Anarchy recipe now crafts a common version of the staff instead of an uncommon and now also requires an Ancient Essence. All tiers of the Ancient Staff of Anarchy can be salvaged for small amounts/chances for ancient essences and components that were used to craft this staff. The Ancient Staff of Anarchy recipe's display name now matches the item crafted.
The Ancient Staff of Death recipe now crafts a common version of the staff instead of an uncommon and now also requires an Ancient Essence. All tiers of the Ancient Staff of Death can be salvaged for small amounts/chances for ancient essences and components that were used to craft this staff. The Ancient Staff of Death recipe's display name now matches the item crafted.
The Belt of the Troll Lord recipe now crafts a common version of the belt instead of an uncommon and now also requires an Ancient Essence. All tiers of the Belt of the Troll Lord can be salvaged for small amounts/chances for ancient essences and components that were used to craft this belt. The Belt of the Troll Lord recipe's display name now matches the item crafted.
The Warlock's Chain recipe now crafts a common version of the necklace instead of an uncommon and now also requires an Ancient Essence. All tiers of the Warlock's Chain can be salvaged for small amounts/chances for ancient essences and components that were used to craft this necklace. The Warlock's Chain recipe's display name now matches the item crafted. The Copper Chain of Elemental Power and Iron Chain of Mystic Power now only require common versions of the artifact attunement rings utilized in their recipes.
Experience received has been slightly increased for crafting the common Belt of the Troll Lord, the Ancient Staff of Death, and the Ancient Staff of Anarchy. The experience received has been greatly increased for crafting the common Warlock's Chain.
Devotionals now provide 3, 4, or 5 day buff lengths depending upon the town's size.
For those wishing to display an empty coat hook as decoration, a new recipe for a Coat Hook has been added to the game which is available on the decoration merchant above the bank in Central Brittany.
The Master Mage potions now feature increased mastery effects for each school. An additional buff has also been added to each potion:

Air: Increases Lightning range.
Chaos: Increases Torpid Torment range.
Death: Increases "Near Death" bonus.
Earth: Increases Root range.
Fire: Increases Fire Elemental power.
Life: Increases Healing Grace duration.
Moon: Increases Shadow Form stealth power.
Sun: Increases Phoenix power.
Water: Increases Water and Ice Elemental power.

Restoration Potions now feature a 6 stack limit for the Elixir Receptiveness debuff as was already present on Focus and Health potions. Also, Restoration Potions can no longer be imbibed if your overall Elixir Receptiveness is at or below 0% with all buff and debuff sources for that stat considered.
Fried Carp now only takes 3 seconds to eat instead of 10, which puts its "Cast Time" equal to other foods.
The Ancient Xenossian Heraldry Round Shield is now dyeable in both channels and should properly display heraldry.
Fixed the inconsistent naming of unicorn poisons and potions.
A bug was fixed which caused the crafting windows to recalculate all viable options per frame when open and using the search filter. This was usually not noticeable for most players, but this bug could be crippling for players attempting to craft with extremely large inventories.
All 6 varieties of Obsidian Potions of Transformation can now be dismissed by the player by right-clicking the buff icon in your active buff bar and selecting the "Dismiss" option.
Sack of Wheat Grain as well as the sacks of Salt, Flour, and Sugar now have much more forgiving collision so you can scooch them closer together which makes their edges appear like pliable cloth. They also can now be rotated on the additional axis, placed on exterior floor surfaces, and placed as POT decorations.
Level requirements at expert crafting stations were not always showing correct changes. This has been fixed.
Items reshaped with the patterns from the Xen Penetrator, the Halberd of the Sun, or the Shard of Night will no longer display tooltip descriptions as if they were an artifact.
Adjusted the decoration settings on the Large and Small Haystacks to improve placement behavior.
All 10 variations of the Quiver of Jealousy artifact can now accept back slot patterns.
The Wash Pitcher now has forgiving collision and can be placed very closely to other items. The pitcher can now be placed as a POT decoration.
The Wash Basin now allows items, such as the Wash Pitcher, to be placed on its shelving and underneath it. The stand can now be placed as a POT decoration.
The Tower Archway Teleporter can now have other decorations placed upon it such as wall-hung banners and wall lighting.
Due to the existence of 2 items called Ornate Vile Halberd, the store version has been renamed to Ornate Obsidian Halberd as well as the associated eternal and regular patterns.
Decorative Hops Plant and Decorative Hops Plant (Mature) are now plural to better depict the multi-plant nature of the decoration.
The Fire Elemental Statue now features a much less extreme flicker effect.
The VFX in the Lava Hot Tub are no longer removed when GPU Occlusion is set to on.
Optimal harvests for Tea Plants now have a chance to provide a mature version of the decorative tea plant as intended. Previously, both success possibilities were set to only provide the non-mature version.
The following items can now be placed as POT decorations:

Floppy Hat
Sunglasses/Glasses
Large Porcelain Vase
Mining Lantern
13 fruits and vegetables
Flame Trap
Spike Trap
Arrow Trap
Music instruments
A large variety of flasks, bottles, jugs, pitchers, beds, fish, bowls, plates, cups, and mugs
4 colored powder bowls
4 colored powder jars
All rugs
A large variety of dirty and rusty armor and weaponry
The 5 flower-filled urns from the Crown Store
The crafted Pillow decoration
Wax Cylinders

Wax Cylinders can now be placed atop one another or have other decorations placed upon them if those decorations can be child objects.
Any scenes with skill caps (such as the PvP Shardfalls or any POT that has requested skill or adventure level caps) will now only affect adventuring skills. Previously, crafting and gathering skills were affected which has been fixed.
The Aether Infusion crafting component is no longer inappropriately available at cooking merchants.
The collision has been improved on the Azalea and Black Elder bushes to allow for much closer placement of other decorations and more possibilities to create densely vegetated decoration areas.
The Gothic Footstool, Gothic Heavy Study Chair, Gothic Wooden Chair, and Gothic Bench no longer accept dyes since these items were not designed to be dyeable.
The looted "Small Knife" is now called "White-Handled Knife" and can be salvaged at a blacksmithing station.
Three crafted knives are no longer missing their inventory icons.
The new Leather Backpack pattern should now properly apply to back slot items.
Fixed the issue with the Leather Backpack not properly acting as a container when used as a decoration.
The Red Stall Awning can now be placed on pavers.
The Tame Health Level Modifier stats on the Legendary and Epic versions of the Belt of Control have been fixed and are no longer reversed between the 2 tiers.
Updated the tooltip and store descriptions for Potions of Green Growth, Potions of Growth, Potions of Diminutive Stature, Potion of Upward Acceleration to indicate the effects provided by these potions do not persist through scene changes.
Combat & Skill Changes:
Cone of Cold: A new water magic spell has been added to the game! To help boost the DPS for water mages, this frontal cone attack AOE has been added to the Water skill tree. This skill not only does significant water damage, but it also features an Attack Speed debuff. Players specialized in water magic will also receive an increased Attack Speed debuff and a reduced cooldown.
Celestial Blessing no longer features a static bonus of 20 to 4 types of magic resistance. Now, the resistance amounts scale based upon your skill level, meaning many if not most players will notice a reduction in the bonuses provided, but players can obtain greater amounts of resistance as they increase the skill's level. This skill also can now stack which allows players another avenue for increasing the spell's effects. The focus penalty has also been increased and now scales with skill level. Moon specialized players receive extra bonuses to these resistance effects, and they also receive a greatly reduced focus penalty.
Inner Strength can now be stacked to improve its strength effect as well as its duration.
VFX for Death Shield have been toned down to be less distracting.
Anthem of Alacrity can no longer be cast on the overworld.
Creatures will now only play the flinch animation if they take at least 1% of their health in a hit. Larger creatures being attacked by groups were spending 100% of their time playing the flinch response despite barely being injured.
Frost giant health has been reduced by 33%, should no longer flinch from small amounts of damage, and should turn more quickly.
The bug which prevented fishing from breaking stealth has been fixed.
Distract will no longer be set to "maintain" for newly created characters.
Players without the Bard specialization will no longer inappropriately receive the Anthem of Alacrity bonus for Dexterity in their spell effects.
Splintering Strike no longer inappropriately indicates an increase to weapon damage.
The Ice Spiders in Highvale Outskirts can now properly apply an icefield damage and slow effect to their victims, and the icon indicator showing they have an active ice field cast is now visible.
Dig In now properly displays the specialization benefit in the tooltip which is a Combat Block Modifier provided to the caster.
Lowered the audible sound range of Solar Flare significantly so it cannot be heard over long distances.
The tooltip for Corpse Explosion now indicates corpses can be exploded up to 3 times rather than indicating a corpse is "consumed" at some point.
Spinning Attack now properly applies a Damage Avoidance debuff when the bleed effect is applied for specialized polearm users.
Stone Fist's spell description now indicates specialized earth magic users also receive a lock time reduction for the skill.
Ghost's Drain Strength ability now has a unique icon which appears in the active buff bar when that debuff is present.
Player Economy, Rewards, & Loot Changes:
Two Pax Rings can now be equipped at the same time. Pax Rings now have a MUCH lower bait recovery bonus, and they now feature a saltwater fishing bonus. The Pax Ring can now be salvaged to possibly yield an Imbued Jewel of the Saltwater Angler, which provides bait recovery and saltwater fishing bonuses.
The Pax Ring now primarily drops as loot from the pirates at Penmawr Island, but is also still present as a possible drop from storehouse container rewards and in Tarian's daily quest.
3 new fishing artifacts have been added to the game: Ring of the Fetid Water Angler, Ring of the Freshwater Angler, and the Ring of the Lava Angler. These rings feature buffs towards fishing in a particular water type, as well as bait recovery bonuses equal to that of the Pax Ring. These artifacts can be tiered to the Epic level, and can be salvaged like other artifact rings to receive 3 new Imbued Jewels related to their artifact's stats. The Ring of the Freshwater Angler can be found in Upper Fortus as a rare drop from Kobolds. The Ring of the Fetid Water Angler can be found in Norgard Fens as a rare drop from Kobolds. The Ring of the Lava Angler can be found in Verdantis Mines as a rare drop from Elves. These new rings also have a small chance to drop as loot in the new Odd Container (Flotsam) item that can be found while fishing.
Anglers can now get an Odd Container (Flotsam) caught in their lines. This container can be placed as a decoration, but works like a supply bundle which is specifically made to be obtained from fishing. Among many items that players can find throughout the world of New Britannia, the Odd Container has a small chance to drop a Cloak of the Master Angler which features a bait recovery bonus and a fishing range bonus similar to the Fish Finder Cloak. This cloak can be salvaged for an ancient essence and a pattern, which can be applied to other back slot items. Currently, lava fishing has a chance to yield the Odd Container (Flotsam), but will eventually receive a container with unique visuals, likely made of gemstone, to better depict something that can remain intact beneath the lava's surface.
Just to provide a sneak peak at an upcoming concept, the Cloak of the Master Angler is actually considered a "Relic" and thusly will not be tiered for upgrades. Existing non-tiered artifacts or new magical gear items coming in future releases will soon either be tiered into the artifact system, will be classified as an Enduring Relic, or will be classified as an Ephemeral Relic, which will be explained fully in future releases as more are created and the concept is fleshed out. If any existing artifacts are reclassified as a relic, they will still receive balance updates to make them viable/useful as equipment items. An example of upcoming Ephemeral Relics would be the upcoming magical torches to arrive sometime in the future. Here's a short list to preview the concept:

Artifact: Common to Rare, Repairable, Tiered, Low to Medium Power.
Enduring Relic: Rare, Repairable, Not Tiered, Low to Medium Power.
Ephemeral Relic: Very Rare, Not Repairable, Very Low Durability, Not Tiered, Medium to High Power. Ephemeral Relics will likely either feature reduced power when equipped when flagged for PvP, or PvP flagged players will simply not be able to equip them.

Baked Pacu now features a larger bait recovery bonus and a descriptive tooltip to warn players that consuming more than one Baked Pacu will not provide additional effects.
The Fish Finder Cloak now features a much lower bait recovery bonus and now also includes a fishing range bonus.
Fishing baits have received a balance pass for their drop rates, and a review of the effectiveness for each bait will be performed in upcoming releases:

Earth Worms now drop much more frequently from good and great plant harvests, and earthworms now also have a chance to drop during good and great harvests for: Barley, Cotton, Garlic, Hops, Immortality Fruit, Mandrake, Nightshade, and Royal Elderberry.
Drudge Leeches now drop more regularly from Zombies, and Zombie children have the highest drop rate.
Minnows now have a significantly greater chance to catch Tiny Squids in Saltwater and Pale Leeches in Fetid Water.
Red Worms now have a significantly greater chance to catch Sardines in Saltwater and Drudge Leeches in Fetid Water.
Earthworms now have a significantly greater chance to catch Herring in Saltwater and Blood Leeches in Fetid Water.

The fishing bait recovery soft cap has been removed. With this release's realignment of bait recovery buffs available from the various items in the game, the actual bait recovery skill is once again fully relevant. Players can still obtain bait recovery bonuses up to AND slightly above the old bait recovery soft cap, if desired. With the changes to bait drops this release in mind, we'll continue to monitor bait creation and destruction in the game to determine the proper balance, but ultimately the goal will be for players to sell baits to other players as important aspects of the economy and to ensure each bait has an important role to play in fishing.
The Frost Giant's Eye variations now provide a power boost to Cone of Cold instead of Ice Field, and still retains its attunement bonuses. The Imbued Gem of Ice Field has been renamed to the Imbued Gem of Cone of Cold, which also now features a Cone of Cold power boost instead of Ice Field buffs.
8 new wax cylinders are scattered throughout the world as rare loot items. The looted wax cylinders can be salvaged into wax and some metal scraps, and they appear in the following locations as loot:

March of the Automatons: Automatons
Awakening of the Reapers: Reapers
Vertas: Elves in Vertas Pass
Satyr Masters: Satyr Fighters
The Heart Song of Elysium: Ghost Boss in Elysium Mines
The Wandering Wisp: Wisps
The Ruins of Midras: Kobolds in Midras Ruins
The Fall of Opalis: Kobolds in Opalis Ruins

Acaran gear now drops more readily. The boots have small chances to drop from Tier 5 and above Ebon Dawn archers. The gloves have small chances to drop from Elven melee Tier 5 and above. The helm has small chances to drop from skeleton casters Tier 5 and above. The legs have small chances to drop from clockwork monkeys Tier 5 and above. The torso has small chances to drop from lich casters Tier 5 and above. The shield has small chances to drop from zombies Tier 5 and above. Higher tier creatures provide greater chances for the items to drop.
Tier 6 and Tier 8 mining nodes now feature different EXP rewards.
Many Tier 1 and Tier 2 gathering nodes varieties no longer provide higher tier crafting components such as Emerald Ash Borers or Pine Resin.
The recipe for the Potion of the Master Chaos Mage now drops more frequently from the demon in Solania Catacombs.
The loot chances for the new craftable kobold tent recipes have been increased slightly.
The three new Aether potions and nine new magic mastery potions are now available on the player vendor "Manage Orders" listing.
Players choosing to pay rent with Crowns now receive 300 gold credit for each Crown instead of 60.
World, Quests, and Miscellaneous Changes:
Large or Huge Wyverns can now be tamed to receive a powerful Ferocious Wyvern as a pet.
Juvenile dragons have started appearing in the world which can also be tamed.
Work has begun on a new adventure scene, The Manor of Mystery — coming soon!
Aerie: The door to the textile merchant house is now functional.
Aerie: Updated one of Arabella's journal entries that relates to the favors of the three Titans.
Brittany Fields: Fixed an archway with a bad LOD issue.
Desolis: Added training dummies and archery targets atop the prison wall above the guards.
East Sanctus Forest: Moved a floating axe to the ground.
Estgard: Fixed a typo in Svanhild's "hello" response regarding the gold she awards. Also, rain should no longer pour through the temple roof.
Etceter Crag Mines: Added a couple of quartz nodes to the crystal cavern.
Greymark Forest: Slightly increased respawn rates for some kobolds. Also, one tier 6 "Kobold Commander" will sometimes appear in one of the two kobold camps.
Halls of Artifice: Added safety teleporters in the void between rooms for players who somehow get stuck outside the play space.
Jack of Diamonds: Captain Jack Price now gives a quest to obtain certain kobold weapons.
Jotungrund:

Frost Giant's hazard damage values balanced to provide a riskier battle.
A missing texture was added back into a VFX present in the Frost Giant's battle.
Added elementals near the signal towers.
Added quest to find a missing sled dog.
After finishing the first signal fire task, players should now receive a special recipe reward from Hisa. Players who have already finished that task will receive the same recipe the next time they complete one of the daily signal fire tasks.
Fixed an issue where the frost giant battle's hailstorm hazard was automatically removing some visible materials.
Fixed several LOD issues.
Fixed several stuck spots.
Added more ankhs.
Players can no longer "turn off" sections of the Frost Giant's "wind wall."
Mentioning "Hisa" to Wymond will no longer repeatedly unlock her name.
The compass marker for the "Crevass Entrance" is now the "Crevasse Entrance."
Updated the logic in one of Salvi's responses.
Spurious Red Ice Snarler spawner removed from the camp.

Lamech's Bazaar and South Midmaer Way: Added palm trees in areas with coconuts.
Obsidian Panopticon: Fixed an issue where Max would sometimes give multiple daily quest items.
Oracle Temple: Players can no longer block their storyline progression by leaving after they receive the "find the pages" tasks but before they get the other quest data in the "not yet done" response.
PvP Arenas: Added ankhs to PvP arenas in Ardoris and Owl's Head. Updated or removed outdated objects. Updated path grid.
Random Encounters: Encounters with young dragons now have a chance to spawn juvenile dragons.
Resolute: Added an extra "hello" response for Whitten, to better direct certain players to his "armor shipment" response.
Savrenoc Stronghold: Fixed an issue where some stairs had their collision displaced.
Skrekk: Fixed a typo in the hacker's "name" response.
Solace Forest: Corrected the scale of incorrectly-sized resource nodes.
Solania: Fixed a typo in Sada's "mine" response.
Soltown: Improved the logic which Jeanne uses to clear the "Return the Necklace" task.
South Celestial Wetlands : Corrected the scale of oversized resource nodes.
South Drachvald Spur: Avatars cannot have more than 10 Lucky Leather in their inventory. Also, this item will cannot be collected after finishing the associated quest.
South Hinterlands: Removed hidden torches and adjusted ambient sounds.
South Majestic Forest: Fixed various typos.
Spectral Mines: Added a couple of quartz nodes in the crystal cavern.
Sunless Barrens: Avatars cannot have more than 10 Sunless Cloth in their inventory.
Tanglemire: Updated the logic which Trygve uses to accept Amulets of Testimony.
The Obsidian Panopticon: Improved the quest logic used by Max when first offering his package delivery quest.
The Outlaws' Run:

Added new "missing relative" quest, including new NPC responses, compass markers, and maze puzzle update.
Added quest to find Miloslava.
After turning in a daily coffee seed quest, the compass markers for finding the seeds will stop appearing.
Fixed a logic error in the responses for Milosh which was causing build errors.
Increased the difficulty of changing the hedge maze to access the village. Successfully using the colored stones is now the quickest way to the village.
Removed loot from an already-destroyed barrel.
The outlaws now have a proper "boss" conversation response.
Updated some of the response logic used in Miloslava's conversation.
Added many piles of leaves and gave each butterflies/fireflies. Slight adjustment of some creature spawns.
Fixed a typo in some NPC responses.
Fixed an issue where some patrollers required a special navigation component.
Fixed stuck spots.
Outlaws have a variety of new descriptive names.
Some foliage has been removed/adjusted to provide better visibility.
Removed loot from pre-destroyed crates.
The compass markers to find seeds now display "Search Piles of Leaves for Seeds."

Upper Fortus: Moved floating objects to the ground.
Vertas Pass: Replaced a certain crate with an "indestructible crate" object.
Virtue Recalibration Kit: Added a journal entry for those who acquire one of these kits, that explains their usage. Also, the Virtue Recalibration Kit is no longer flagged as a quest item so it can be traded and stored in containers.
The terrain in Shaminian Hills should once again be visible!
The SFX for the haunted abandoned fountain in Etceter have been fixed.
Other players standing on slanted objects should no longer appear to bounce.
Players feet should no longer slide while on the overworld maps.
Players should no longer see other players/NPCs sink into the ground.
Fixed a small Avatar speed slowdown on the overworld.
The final lot deed price adjustments in a 6 month series of price reductions has been applied to all applicable deeds. Store entries for deeds were updated to new deed name format. All non-water store deeds now come with a starter house. All foyers and dungeon entrances which were added to deed store entries have been removed. For players wishing to see the values for deeds to determine upgrade costs, this information is on display in the (Player) Artifacts, Gems, Consumables, Misc Info spreadsheet.
The old homes sale has finally been removed from the store fully, but in conjunction with this effort, the home prices have been greatly realigned. The vast majority of home prices have been reduced, though some went up slightly. All vault homes are now in the regular store, though the vast majority of these homes were heritage which will be retained. A small number of home names were improved to help with differentiation between homes, and a very large number of home store entries had names that didn't match the actual home's display name, which has been fixed.
Added a light to the Minecart Dungeon Foyer Entrance.
Players no longer take damage from hot coals in the Northwood blacksmith, and the floating armor has been fixed.
Visual glitches in the Northwood Bank have been fixed.
Players will now remount automatically after switching scenes if they were previously mounted.
The store butterfly icon (VFX & Fireworks) and the store pumpkin store icon (upcoming Spooky Seasonal) are no longer blurry.
Instruments, Phonographs, Wax Cylinders, Aether Vibration Devices, and SFX items have all been combined into the same store category called SFX & Music, now with each featuring their own subcategory. Any gear or decoration items featuring radio capabilities now also appear in the Aether Vibration Devices subcategory such as aeronaut helms and clockwork armor sets.
Added 6 pack and 12 pack store entries for the Upward Acceleration Potions so it matches the format of other vanity potions.
Adjusted crafting station prices so they scale better between the Choose 1, 5, and 10 packs. Choose 1 packs lowered in price significantly, and choose 5 and 10 packs reduced in price slightly.
A new store category called "VFX & Fireworks" has been added to the store. Moved Fireworks to this new section from Emotes. Moved VFX to this new section from Outdoor Decorations.
Shields and shield patterns now have their own subcategories in the store.
Player-Owned Town Changes:
Alynne's Rest: Added new village to the crossroads north of Soltown.
Daylight: Added new nested Holdfast to Hidden Vale.
Dragomir Mori: Removed POT.
Gobi Rose: Added new Crossroads Village in Grunvald in Novia.
Haven Ridge: Upgraded to Metropolis from Town.
Ironhall Highlands: Upgraded to Megalopolis.
Kustingen: Changed name to Kuestingen.
Midnight: Added new nested Holdfast to Hidden Vale.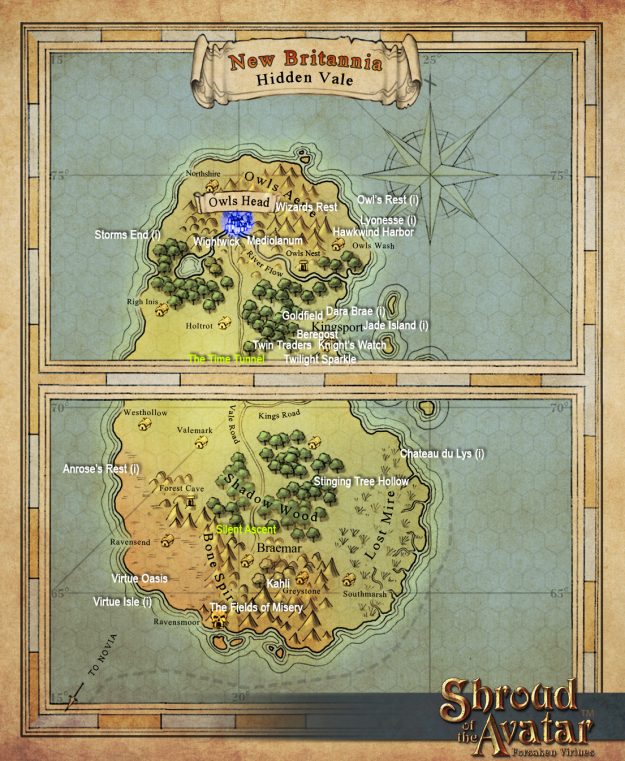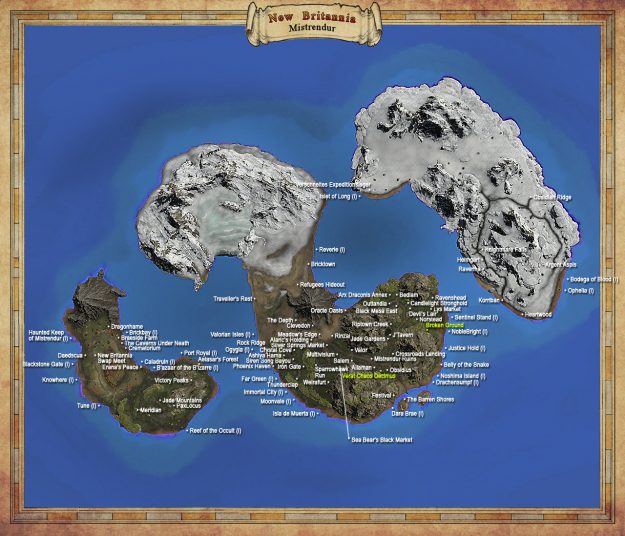 Latest News Q&A Friday Livestream!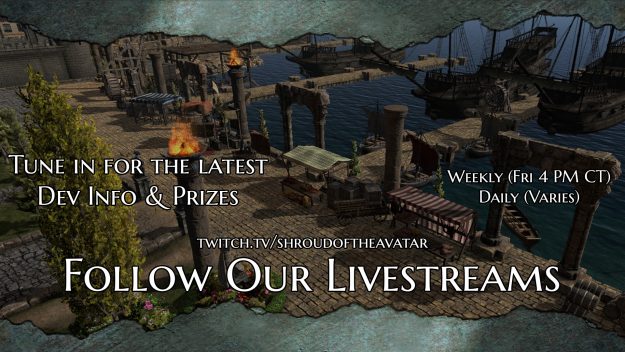 The weekly Community Livestream is Friday, October 1st at 4PM CT on
Twitch
! Join Chris "Atos" Spears and other members of the development team for a community 1-hour livestream!
To enter the prize drawings, type
"pumpkin spice and everything nice"
into any in-game chat channel OR make a purchase on the website
Add-On Store
.
Please submit questions using in-game universal chat by typing
"askadev"
before your question. We'll do our best to answer these questions live on the stream, and we'll even be periodically posting answers to some unanswered questions in the forums each month. Watch on
Twitch,
Friday at
4 PM
CT!
Atos and other members of the Shroud of the Avatar development team go live very frequently on
twitch.tv/shroudoftheavatar
— be sure to get the channel on follow for notifications so you can join us right as we go live! Also, if you've missed our latest streams, check out our archive of content at our
YouTube Channel
. Like! Follow! Subscribe! Prizes!!!
Don't forget to also join the Shroud of the Avatar team and community over at all our social media venues:
Crown Store: Shields, Furniture, Wax Cylinders & More!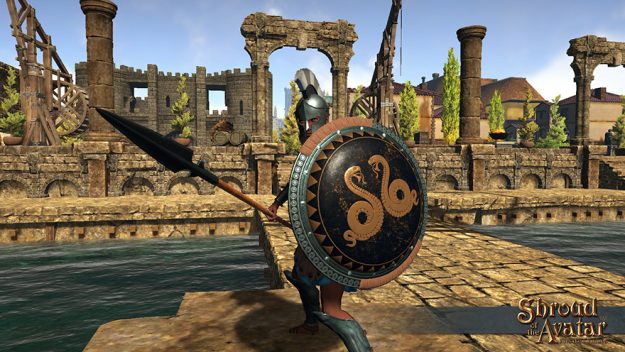 Many new store items are coming your way in the month ahead! Keep an eye out each week as the following items become available in the Crown Store. Available today on September 30th, set 3 of the Xenossian Round Shield series! These shields feature stunning blazons and even have a small dye layer at the top and bottom of the shield.
Players can now also purchase single Prosperity Tools! No longer will players be forced to purchase entire packs of Prosperity Tools, and each is now individually offered! New "Celestian" furniture pieces are now also available on the store! These Perennial Coast themed items are a must have for anyone decorating Shogun style!
Ancient Xenossian Round Anglerfish Shield
Ancient Xenossian Round Bull Shield
Ancient Xenossian Round Deer Shield
Ancient Xenossian Round Gryphon Shield
Ancient Xenossian Round Pegasus Shield
Ancient Xenossian Round Plumed Helm Shield
Ancient Xenossian Round Snake Witch Shield
Ancient Xenossian Round Snakes Shield
Ancient Xenossian Round Sun Swirl Shield
Ancient Xenossian Round Shield Set 3
Carpentry Hammer of Prosperity
Celestian Altar Table
Celestian Cabinet
Celestian Commode
Celestian Dragon Rug
Celestian Footstool
Celestian Painted Birds Room Divider 3-Pack
Celestian Sofa
Celestian Stand
Celestian Tea Table
Celestian Wooden Armchair 6-Pack
Celestian Wooden Chair 6-Pack
Cleaver of Prosperity
Cooking Pot of Prosperity
Cubit Measure of Prosperity
Fishing Rod of Prosperity
Harvesting Axe of Prosperity
Hoe of Prosperity
Loom Shuttle of Prosperity
Mortar and Pestle of Prosperity
Pickaxe of Prosperity
Sickle of Prosperity
Skinning Knife of Prosperity
Smelting Tongs of Prosperity
Smithing Hammer of Prosperity
Tailoring Scissors of Prosperity
Tanning Knife of Prosperity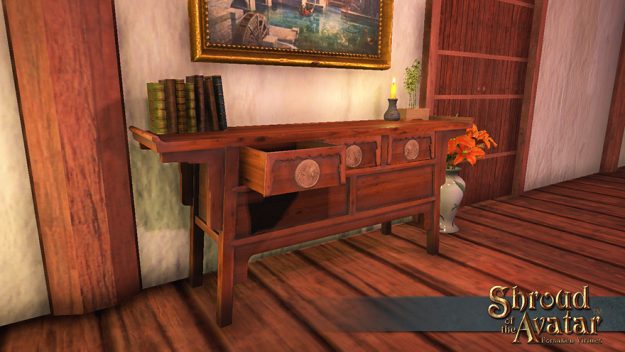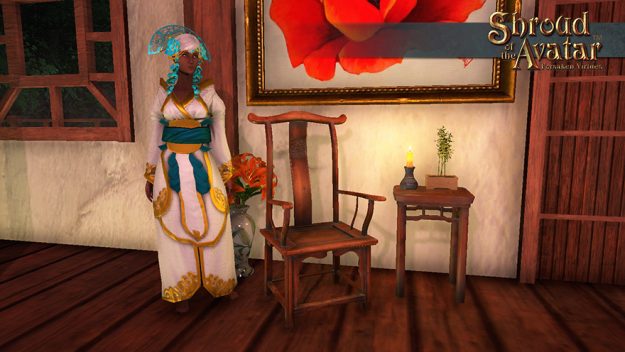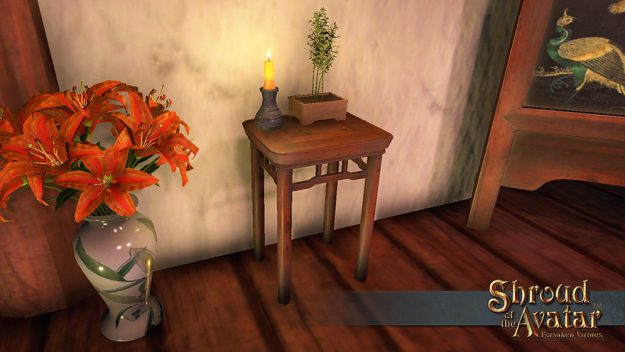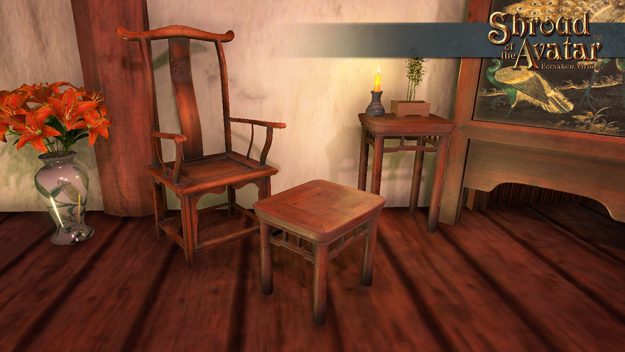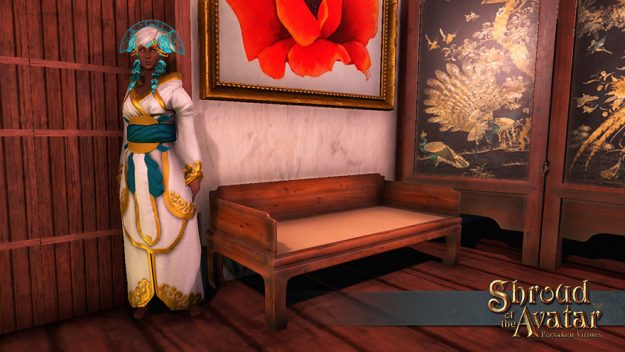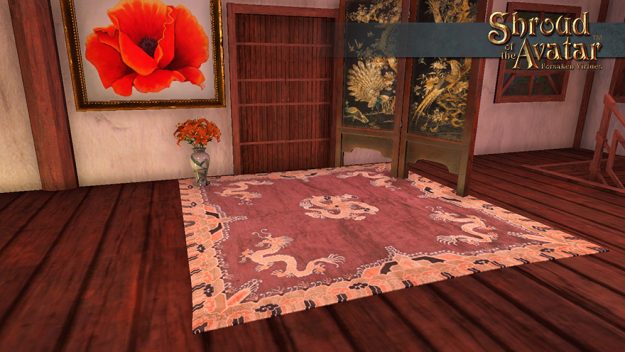 Becoming available on October 8th, 61 additional Crown Store items! All of these items were previously stretch goal items, telethon rewards, login rewards, or subscriber login rewards, but are now offered once again to the community as regular store items:
4-Piece One-Man Band
Baby Copper Clockwork Dragon Decoration Pet
Blue Cylinder Glass Set
Blue Dragon Mask
Blue Electric Katana
Colorful Mallard Duck Pet
Copper Clockwork Armor
Electric Sword Training Helm
Electric Sword Training Orb
Eternal Pattern: Brewery Basement Entrance
Eternal Pattern: Distillery Basement Entrance
Eternal Pattern: Dragon Dungeon Entrance
Eternal Pattern: Prison Cage Dungeon Entrance
Eternal Pattern: Winery Basement Entrance
Fish Throne 3-Pack
Flaming Foyer-Sized Dragon Statue
Giant Brown Rabbit Decoration Pet
Giant Grey Squirrel Decoration Pet
Giant Horse Statue
Green Dragon Mask
Horse Statue
Icy Cave Stone Hallways Set
Large Lord British Telescope
Marlin Statue
Mighty Lightning Hammer
Miniature Fire Elemental Pet
Miniature Greyhound Pet
Oktoberfest Banner
Potted Cherry Pie Plant (Heliotrope) 3-Pack
Purple Dragon Mask
Red Electric Sword
Replenishing Aerial Blue-Yellow-Red-Silver Combo Fireworks Box
Replenishing Aerial Silver Serpent Crackle Combo Fireworks Box
Replenishing Aether Glowing Dye Box
Replenishing Cycling Carnival Dye Box
Replenishing Silver Fireworks Box
Round Palapa
Round Striped Metal Star Shield
Sailfish Statue
Silver Serpent Spear
Silver Serpent Wand
Tigershark Statue
Traveler's Wagon
Virtue Balloon
Virtue Ice Bow
Virtue Ice Staff
Virtue Oktoberfest Banner
Virtue Oktoberfest Tent
White Flower Topiary Bear Statue
White Flower Topiary Dragon Statue (City Lot Size)
White Flower Topiary Dragon Statue (Keep Lot Size)
White Flower Topiary Dragon Statue (Town Lot Size)
White Flower Topiary Dragon Statue (Village Lot Size)
White Flower Topiary Elemental Statue
White Flower Topiary Golem Statue
White Flower Topiary Kobold Statue
White Flower Topiary Satyr Statue
White Flower Topiary Statue Pack
White Flower Topiary Zombie Statue
White Marble Ballroom A
Wooden Duck Decoy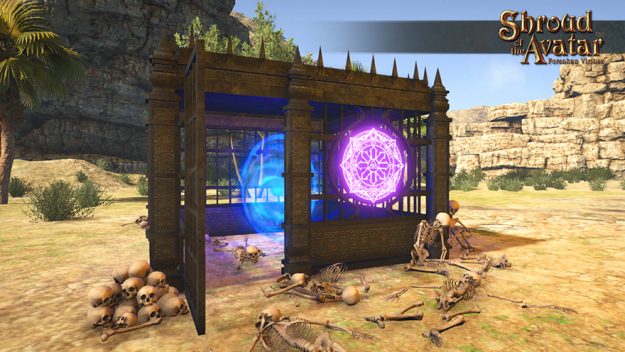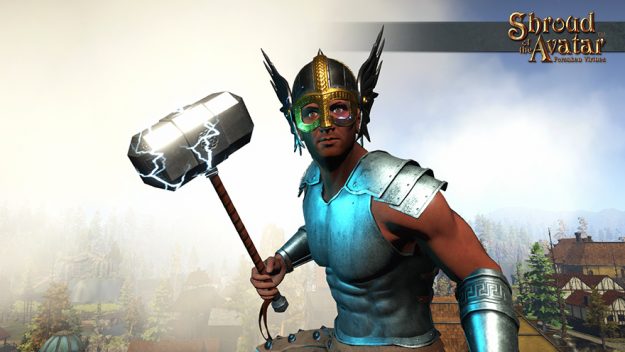 Becoming available on October 15th, a Crumbling Titan of Courage Statue Set! All the pieces of this statue can be placed as separate decorations. Also, for those wanting big cushions to sit on, a Large Cushion 3-Pack has been added to the store which features a single dye layer:
Crumbling Titan of Courage Statue Set
Large Cushion 3-Pack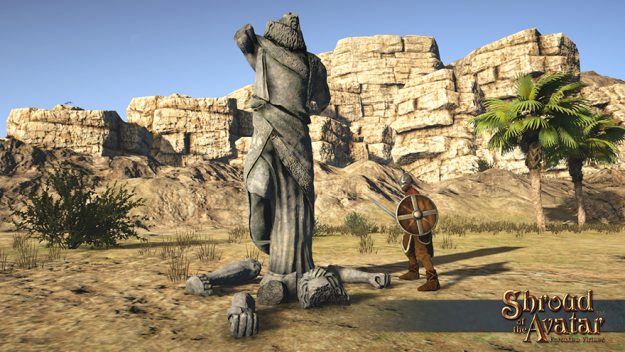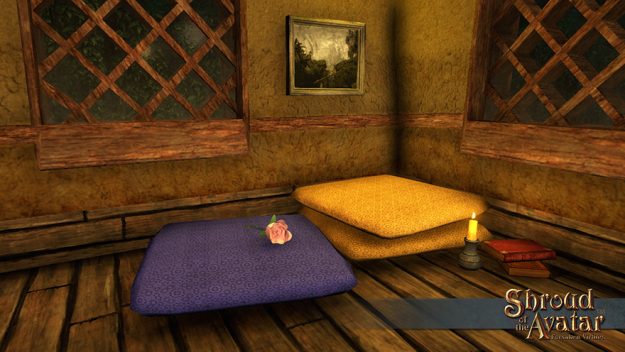 Becoming available on October 22nd, 20 new Wax Cylinders! These wondrous little objects can be inserted into Phonograph type devices so players can listen to them in-game. Be on the lookout for other Wax Cylinders which have been added to loot as rare drops:
Wax Cylinder – Charge of the Norgardians
Wax Cylinder – Crossing the Shimano
Wax Cylinder – Dance of the Fireflies
Wax Cylinder – Echoes in the Temple
Wax Cylinder – Journey to Brittany II
Wax Cylinder – Lamenting the Fallen
Wax Cylinder – The Bay of Storms
Wax Cylinder – The Burning Caverns
Wax Cylinder – The Endless Forest
Wax Cylinder – The Journey to Brittany I
Wax Cylinder – The Lone Wolf
Wax Cylinder – The Lumbering Bear
Wax Cylinder – The Road to Soltown
Wax Cylinder – The Shores of Celestis
Wax Cylinder – The Siege
Wax Cylinder – The Sorceror's Tower
Wax Cylinder – The Underworld
Wax Cylinder – The Villagers Awaken
Wax Cylinder – The Voyage to Mistrendur
Wax Cylinder – Valhold
Many items have also been added to the Vault rotation. These items were previously stretch goal items, telethon rewards, login rewards, or subscriber login rewards. Players can expect these items to appear in the Vault periodically in the future, many of which will appear shortly or during their applicable season:
Aeroplane Emote
BirdTrick Emote
Black Trimmed Pinstripe Tuxedo
Breathe Fire Spiral Emote
Butterfly Mask
Damask Lace White Wedding Dress
Dice Roll Emote
Flowerwand Emote
Frost Pipe
Hustle Emote
Juggle Snowballs Emote
Masquerade Mask
Metal Darklamp
Mouthcoil Emote
Nightmare Mask w/ Flaming Coconuts
Ornate Hitching Post
Rainbow Emote
Virtue Balloon Cluster
Virtue Tuxedo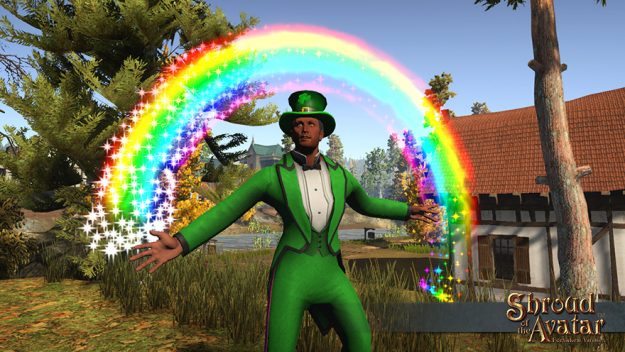 To see a full listing of all the items which rotate through the Vault, we have prepared a
forum post
showing all items which could appear throughout the year!
October Login Reward: Lei Flower Necklace!
Log in during the month of October, and you'll receive a Lei Flower Necklace! Time to hit the beaches and celebrate to issue in this month's "island" collection theme.
Release 94 Subscriber Login Rewards: Xiphos Sword, Tiki Demon Mask, Tall Tiki Statue!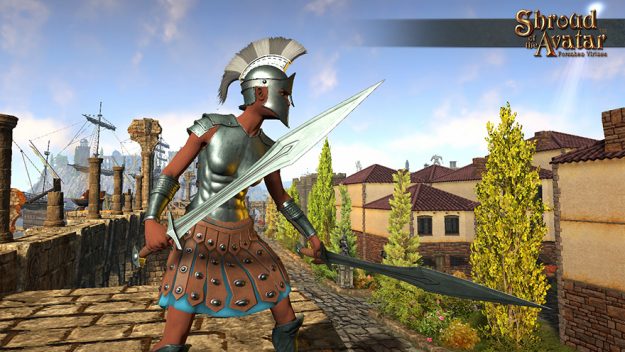 Avatars!
Rewards Program
login items for Release 94 are a must have — don't miss out! This month's collection is "island" themed! Subscribers will received the new Tiki Demon Mask if they log in during R94, which is a wondrous wall decoration and can also be worn as a mask to scare your friends! If you hope to wear this mask dancing around a Tiki Statue, well no worries! A new Tall Tiki Statue will also be delivered to any subscribers logging in during R94. This statue can be stacked with the Large Tiki Statue so players can make an even larger totem if so desired. And to continue the Ancient Xenossian gear series, the Xiphos sword will become available to subscribers this release!
Reward Program
members must login during Release 94 to receive these special login items:
Ancient Xenossian Xiphos Sword
Tiki Demon Mask
Tall Tiki Statue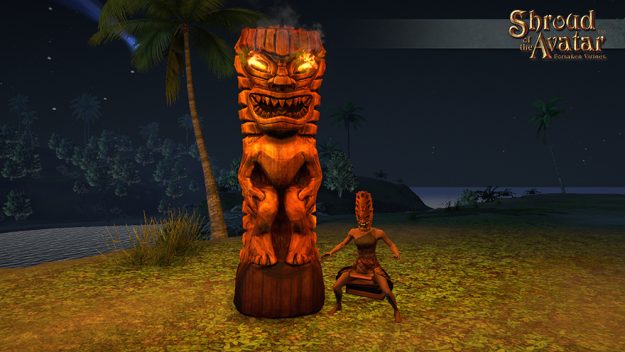 The
Shroud of the Avatar Rewards Program
lets you earn the best rate on purchasing Crowns, AND receive monthly reward items! For the low price of $9 USD per month you will receive the following:
900 Crowns of the Obsidians every month
Monthly Login Reward Items (about 3 per month)
Exclusive Title every 3 months

3 Months: Keeper of the Faith
6 Months: Keeper of the Word
9 Months: Keeper of the Vow
12 Months: Keeper of the Flame
15 Months: Keeper of the Oath
18 Months: Keeper of the Pledge
21 Months: Keeper of the Bond
24 Months: Keeper of the Promise
27 Months: Keeper of the Covenant

Pick any Dye 12-Pack every 6 months
Pick any three of these 7 Obsidian Potions every month:

Potion of Capacity: Increases carrying capacity
Potion of Conservation: Reduces reagent use chance
Potion of Expedience: Swift gathering on all gathering skills
Potion of Precision: Increases Meticulous Collection to all gathering skills
Potion of Preservation: Reduces armor and weapon damage
Potion of Reclamation: Increases Salvage and Repair to all production skills
Potion of Stamina: Decreases focus use from sprinting
Bug Brigade & Testing Directives!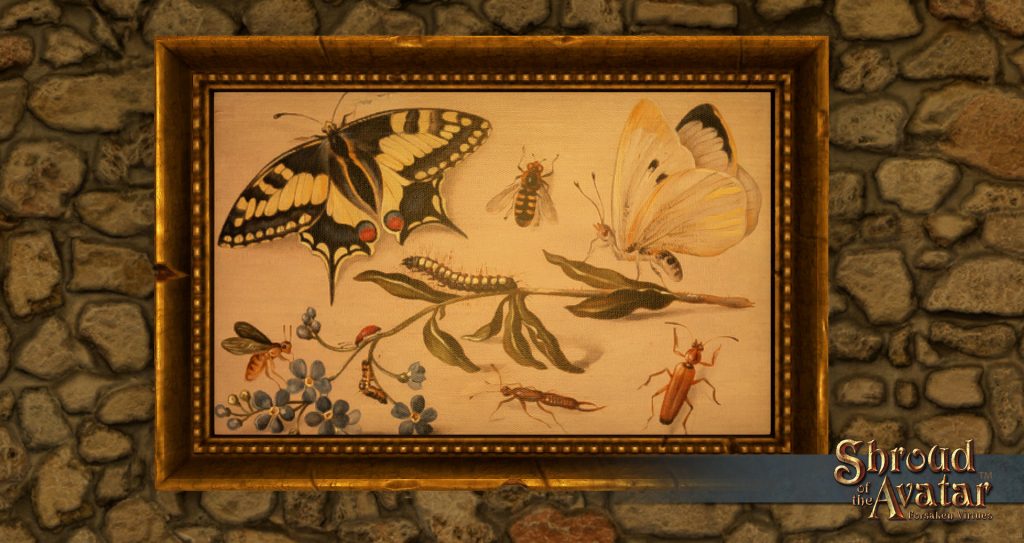 The Bug Brigade was established to improve how the community and the development team work together to improve the game. Since the Brigade's inception, the program has gone through a number of changes and was eventually placed on hold. The stability of the game is as important to the development team as it is to the players, therefore the program was revamped and was recently relaunched.
The Brigade has been up and running for two months now, and the volunteers are getting into a good rhythm for verifying and submitting bugs to the developers. If you have reported a bug that has not yet been addressed, please be patient while the backlog is being worked. The Brigade is working diligently to cleanup the backlog of bug reports posted by players on the forums.
Every month, a considerable amount of development time will be spent working many of the verified bugs which have been submitted to the team by the Bug Brigade. This focused effort on bug fixes would not be possible without the recent efforts of the Bug Brigade. Please take the time to thank these bug hunting aficionados when you encounter them in your travels!
In turn, the development team would like to express a big thank you to the Bug Hunters! These community members are doing a fantastic job bringing so many bug reports to the team, and they're doing it in a way which makes the process smooth and efficient. Thank you, thank you, thank you! Already, much improvement has been noticed by the development team, and we're so very excited to see the program successfully back in action!
The development team would also like to thank all of those who took time out to participate in the
QA Testing Directive for the upcoming Mount System.
Thanks to your hard work and dedication, many issues and bugs were identified and fixed prior to the system going to the Live Server! Keep up the great work! For those that wish to participate in future bug hunting endeavors, please check the forums regularly for upcoming
QA Testing Directives.
Also, the Bug Brigade would like to welcome its newest Bug Moderator, Echondas! Please congratulate him the next time you see him in-game or on the forums. This new member expands the Bug Moderator team to: Alley Oop, Echondas, and Justyn. Thank you Moderators! Your efforts are highly valued by the development team!
Don't forget, the Bug Brigade is open to all players in good standing, and the bug rewards are back! And they are SWEET! They will be awarded on a monthly progression basis with only minimal requirements to qualify. The available rewards to receive in progression via qualifying participation are as follows:
Antennae Head Gear and Forum Title 1: "Bug Hunter"
Single Ant Cloak
Lady Bug Backpack
Bug Painting A and In-Game Title 2: "Associate of Aphids"
Ant Farm
Insect Leg Table
Many Ants Cloak and In-Game Title 3: "Bachelor of Beetles"
Bug Painting B
Bug Sprayer
Bug Painting C and In-Game Title 4: "Master of Moths"
Butterfly Chair
Corpion Chair (Pictured Below)
Yellow Fireflies VFX and In-Game Title 5: "Doctor of Dragonflies"
Hacked Oracle Flyer
Giant Blue Butterfly Pet
Butterfly Mask
Dragonfly pet
Fairy Wings
Monarch Butterfly Pet
Dragonfly Wings
Hacked Oracle Crawler
Blue Butterfly VFX
Orange Fireflies VFX
Orange Butterfly VFX
If you've come to think of
Shroud of the Avatar
as your home, signup and help make New Britannia a better place to live! To learn more about joining the Bug Brigade, please
read the announcement thread by Ravolox
in the main Bug/Feedback forums.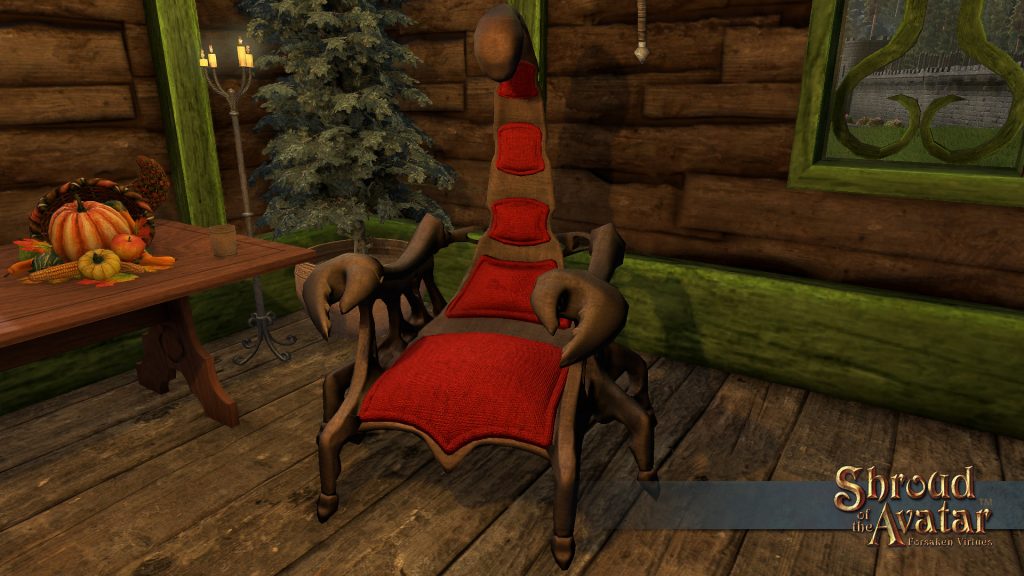 Updates to the Streamer Rewards Program!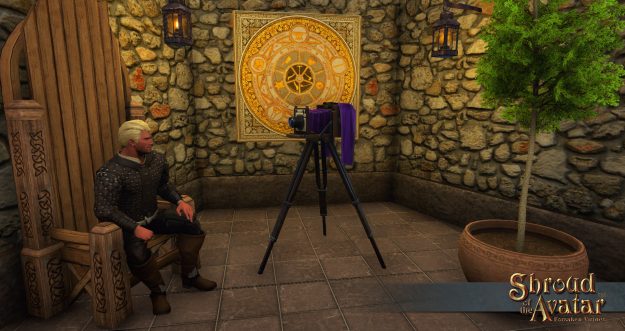 Several months ago, a program was proposed for the Streamers of
Shroud of the Avatar
. The ultimate goal being to showcase
Shroud of the Avatar
while giving SotA streamers a reward for their efforts. The program is currently in Phase I, with Phase II technology currently being discussed and worked internally. So, let's talk Phase I!
Phase I:
Streamers who wish to be included in the Streamer Program must contact Laney via in-game mail or in a private message on the forums with their Character Name and Twitch Channel information. If you have already signed up for the program in the past, fear not, you're on the list, and you don't need to reapply.
Streaming Rewards Program participants must adhere to our Terms of Service (TOS) and Community Rules while Streaming Shroud of the Avatar.
Streaming Rewards Program participants must stream at least 10 hours of Shroud of the Avatar ACTIVE game play to remain in the program with reward accrual.
Streamers will receive a one-time digital reward of in-game items after meeting the program's requirements: Streamer's Cloak, Streamer's Camera, and a brand-new LIVESTREAMING title. Future incremental rewards will occur at 6-month intervals. (More information to come).
Rules:
To qualify for Streamer Rewards, each streamer must continue to meet the minimum requirements for 60 days after application.
To accrue additional rewards, Streamers must stream SotA a minimum of 10 hours per month, tallied on the 1st day of each month, to remain in the program.
Streamers must be actively playing the game during their streams. Being away from the keyboard (AFK) for short periods is acceptable. If Twitch indicates the streamer is playing SotA but they are streaming other content or a timeout/login screen, they risk being removed from the program.
Items of Note:
SotAbot: Streamers in the program will be included in the SotAbot StreamPop function, appearing in the player-streaming channel in Discord.
Graphics & Overlays: An optional "Streamers Kit" is available to the participating streamers as well as all players of Shroud of the Avatar, which includes graphics, overlays and other material.
Watch the forums for more information, coming soon, regarding Titles, future rewards and for info on Phase II of the program. We love our Streamers, so get out to Twitch and follow them, watch them, and support them!
Upcoming Release Dates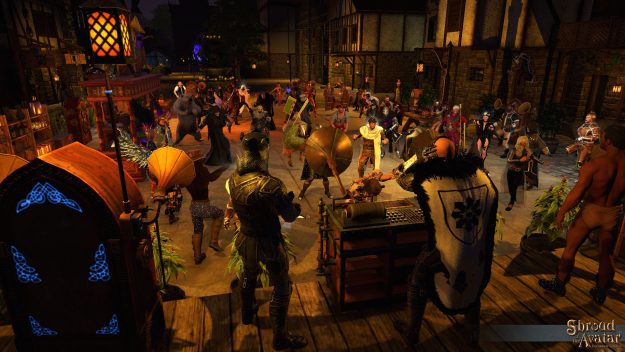 Be sure to check out the
Upcoming Events
page for spotlighted events plus links to various areas to post or find events on our forums. The upcoming 2021 Release Schedule is as follows:
Release 94 – Sep 30 (Polish)
Release 95 – Oct 28 (Content)
Release 96 – Nov 18 (Polish)
Release 97 – Dec 16 (Content)
Community Updates & Resources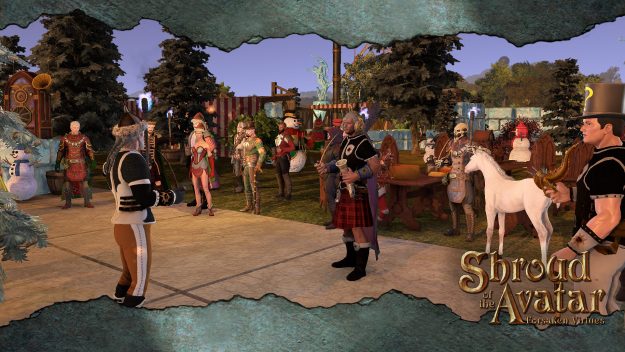 Greetings event holders and event attendees! So many fun and exciting events are available in the upcoming weeks. Be sure to get out there and participate, make some new friends, perhaps make some great emote, recipe, or gear trades, or get some adventuring and role-playing into your mix! Here are spotlighted events or updated community resources that we've noticed popping up lately on the official forums:
Catnip Games Contests:
Catnip Games Monthly Fishing Tourney: Greetings Anglers! The monthly Catnip Games Fishing Tourney is live! Join in on the fun! SO many prizes available for the anglers of New Britannia!
Catnip Games Monthly Screenshot/Video Contest: Avatars! For those of you skilled with the camera or screenshot key binding, a monthly screenshot and video contest is underway which features a large number of valuable prizes. The focus will be for players to submit creative or informative screenshots and videos of content introduced to the game during the latest 3 monthly releases.
Catnip Games Monthly Treasure Hunting Contest: Want to go hunting for rare items? Want to see if you can beat other players in this quest for treasure? Well join in on the monthly treasure hunting contest, Avatars!
Special Announcements:
The New Britannia Theater Troupe Needs YOU: If you would like to join this band of merry story writers and voice actors, give Asclepius a reply on the forums or send him a PM. Already there is a very rich selection of past work written and performed by the troupe which is available in audio form here at the Caverns.net.
One-Time Events:
Epic Swordsman Q&A: Sara Dreygon, epic swordswoman and writer of The Guide to Becoming an Epic Swordswoman hosted a Q&A session at the Lucky Lute in Haven Ridge recently, and here are the results!
Missing Associate: VulcanJedi and crew have posted an intriguing lead-in to an immersive player quest in the Player-Owned Towns forum. Will you aid in the search for the missing associate, Atton? Atton was last seen in the Extra Life Guild Bunkhouse on the island of Mysteria.
Pumpkin Patch Trophy Hunt: Aeolus Adara in Silverdale Market is hosting a Pumpkin Patch Trophy Hunt! Pumpkin Patch man Aeolus Adara was transporting hundreds of pumpkins on his journey to Soltown and the wagons wheel fell right off! Before he knew it. thugs surrounded him and robbed him of all his pumpkins! Recover these Pumpkin trophies for poor ol' pumpkin man Adara and the largest pumpkin sent receives prizes!
Recurring Events:
New Player-Created Resources:
24 Hour CotO Store Sale Thread: Wanna be able to see what's on sale while not in-game? Tirrag has been taking the time to post a screenshot of the daily sale items to help players find elusive sale items. Check it out!
Artifact Survey Tool by Tirrag: Please head on over to this forum thread and check out Tirrag's new Artifact Survey Tool! What better way to get involved than by contributing to the data which helps players find their most sought after treasures?
New Fan Fiction:
Latest Podcasts from TheCaverns: Asclepius and friends have posted another batch of new podcasts in the Echoes from the Caverns section of TheCaverns.net! Check out the latest!
Tales from The Fall — The Cataclysm: Time Lord brings players of Shroud of the Avatar a wondrous poem about the Cataclysm, which has been recently posted in the Fire Lotus Tavern area of the forums.
Community Calendars:
Avatars-Virtue Radio Calendar: Just when are all those talented DJ's and streamers broadcasting? Don't just guess, check out there very helpful calendar! Never again will you wonder when's the best time to tune in!
NBNN Calendar: This calendar provides a great schedule for NBNN and WRFB programing as well as many other community events. If you're a fan of the Laz & Jack show or even if you're hoping to catch them in action for the first time, this is the calendar for you!
SotA Event Calendar: Event participants, take heed! Thoryk Omara has done a wondrous job creating a community event calendar which is available to all players of Shroud of the Avatar. Please make an effort to support this new calendar. The more resources players have at their disposable for event notifications, the better!
Community Event Resources:
Here are some fantastic resources for tracking down community events or posting your own events. Become involved! Create! Explore! Make friends! But most of all, have fun!
SO many options to stay tuned-in with fellow community members. Please take advantage of all these wonderful options. Happy adventures, Avatars!
Project to Support: Shard RPG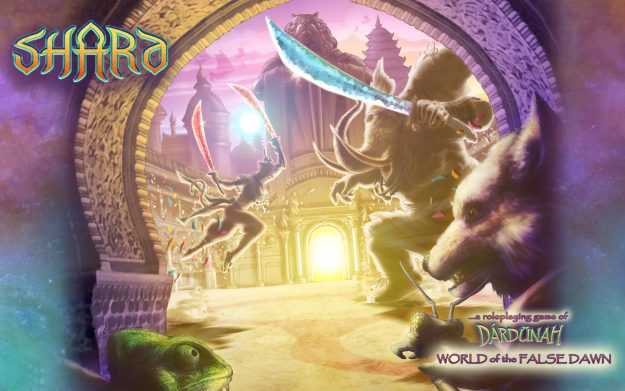 Shard Studios invites you to enter the fantastic world Dárdünah, the vast shard of a shattered realm, as presented in the colorful pages of the SHARD RPG! Many years in the making, this system allows players to choose from a wide variety of animal people who are the main cast of the many adventures this otherworldly setting offers. Skyships glide through shimmering clouds past majestic crystal peaks. Giant insects prowl alien jungles or lurk in the sparkling emerald seas. Warriors with blades of diamond and amber duel across crimson sands. And mystics chant in shadowy chambers as their spirits wander abroad.
Intro Sheet: For a quick glimpse into the world of Dárdünah, be sure to download the intro pdf! It's packed with great information and features beautiful artwork, not unlike the artwork found throughout the many pages of this gaming system's gorgeously designed manuals.
Core System Manuals: It's easier than ever to delve into Dárdünah, World of the False Dawn, with the Core Books Bundle! If you've never had the opportunity to experience this unique gaming system and setting, now's your chance! This bundle includes two beautifully illustrated, full-color, hardcover books: the original Basic Compendium and the Magic and Martial Arts book! They contain everything you need to begin your adventures, and include instructions for the ritual magic and martial arts combat systems. These manuals also include 90 new Animal Templates upon which to base your character!
Other Shard RPG Products: So many more manuals and gaming materials are available! Everything an avid tabletop role-player and game master needs to delve into the world of Dárdünah!
So if you're ready to experience a gaming world like no other, check out what Shard Studios has created for tabletop role-players on the
Shard RPG official website
! You'll most certainly be immersed and amazed by the offerings of the Shard RPG!

Project to Support: Shadow of Valhalla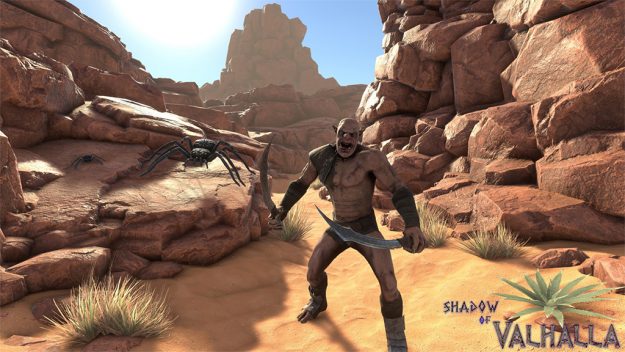 Shadow of Valhalla
is a visceral physics-based VR combat game with dynamic RPG elements, set within an ancient realm of Viking lore and mystic powers! Early Access beta includes "endless horde mode" featuring a variety of enemies with progressive difficulty. Also, players can discover many magic spells to unlock! So much more is coming!
Finn Staber with Chicken Waffle, will join the
Shroud of the Avatar team on Twitch
during their Friday the 28th livestream to showoff this new Early Access game! Also, here is a teaser video on YouTube:
The development team is working hard to create additional environments and new quests!
Shadow of Valhalla
is
available on Steam
as Early Access. Additional features coming to the game:
More Enemies!
More Environments!
More Magic Spells!
RPG Quests!
Weapon Forging and Crafting!
Much, much more!
If you would like to learn more about Shadow of Valhalla, be sure to stop by the
main webpage
for the game as more news becomes available!
Project to Support: Dragon Fight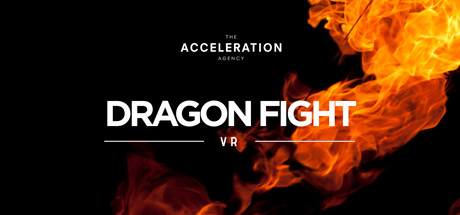 Darkstarr has also been hard at work with the team for Dragon Fight VR which recently went live on Steam! Dragon Fight VR is an internal experiment to capture the "essence" of a dragon fight, the classic penultimate experience of every fantasy story. We wanted to create a short visceral, realistic experience stripped of user interface, lobbies, scores, levels, and other visual intrusions that might distract. There were some key elements of fighting a dragon that we wanted to capture and we felt VR was uniquely qualified to convey:
Face to face with a large scale hostile creature trying to kill you
Using a sword and a shield
Fire!
Nowhere to run!
This started out as an internal experiment to learn some things about VR's capabilities, be reductionist in our designs, etc. We felt that the experiment was successful enough to release as a free experience to share. Enjoy! Available for free on
Steam!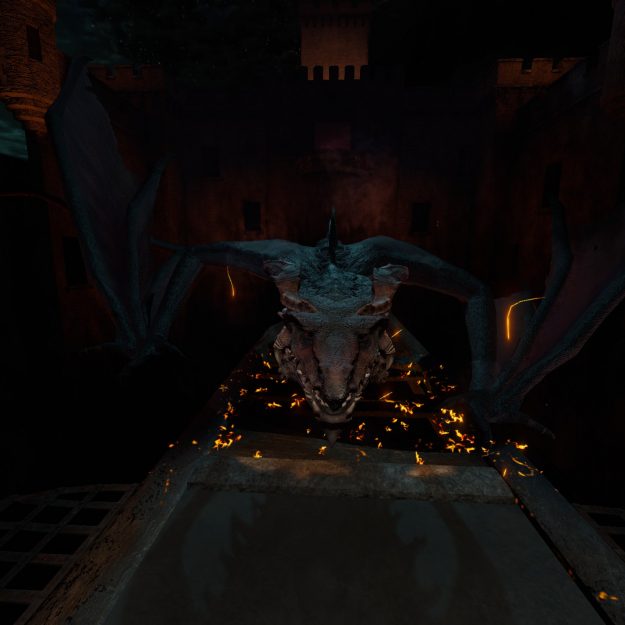 Project to Support: Avatar Express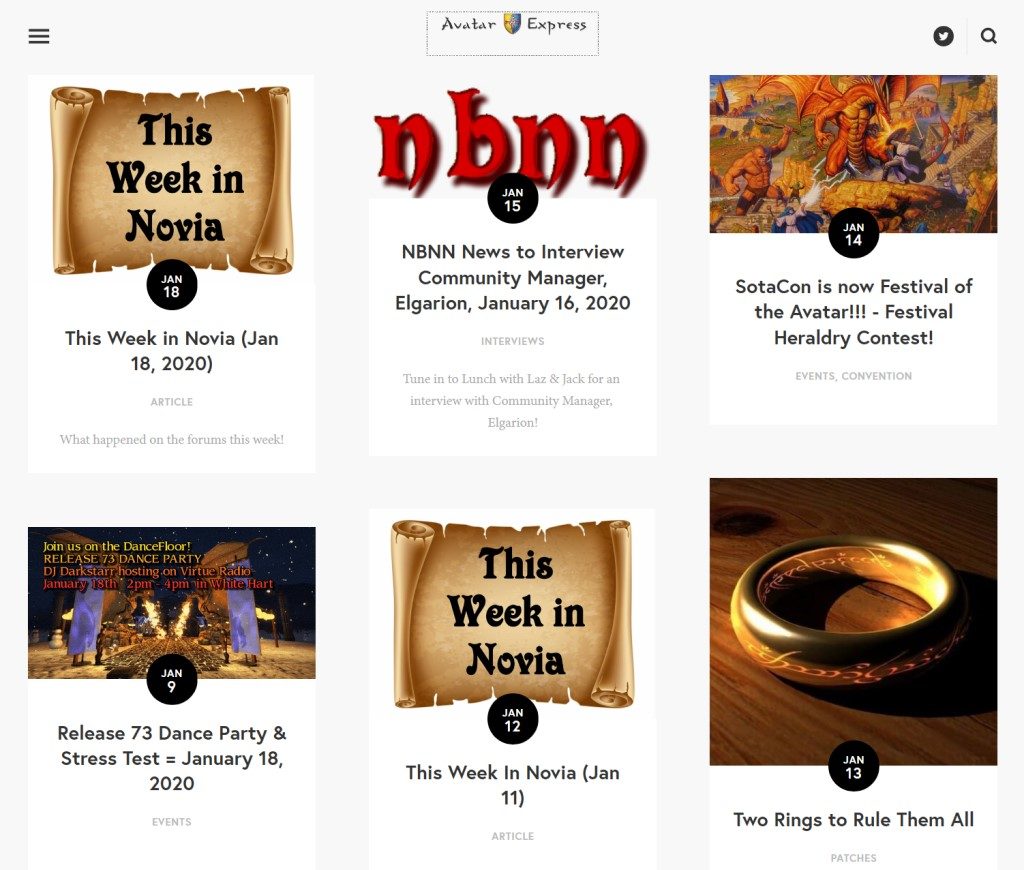 [Forum post by Vladamir Begemot]
I'm pleased to report that
The Avatar Express
is clacking away furiously. News is being delivered and we have established systems to deliver it directly to your brain. You can use one of those systems by following us on
Twitter
at @avatar_express. Even more reliable due to its fully automated nature is joining us on the
Discord
server. News items are posted there via RSS. Or you can subscribe to RSS directly on the site.
If you run an event, quests, etc, please consider helping out by self reporting. The Shroud community is big, and many things are happening that are never seen by others. With 10k monthly users, we would need a full time staff to track down everything that is happening.
You can fill out the
contributor form
, message
@that_shawn_guy
here or post in the Discord server that you would like to help. There is no commitment once signed up, you can post as much or little as you like.
Writing up your own events has several benefits beyond the immediate exposure. It serves as a record for others to see the history of New Britannia as we create it, in an attractive format. Publishing in the Express also has a higher chance than the forums of being seen by search engines and random readers, thus bringing more eyeballs and new players to the game.
It will even make posting in the forums easier! You can upload images to your news item, and then link to those images in your forum post. No more need for 3rd party image hosts!
So if you have something going on in your guild or town, or want to be a Reporter, Cartographer or Historian,
please join us!
Resources: Players Helping Players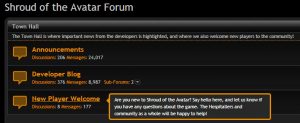 The official SotA
New Player Welcome Forum
and the
Player Created Resources Forum
have the best player created resources for Shroud of the Avatar, whether it's a Player Written Guide, a Video Walk-through, or a Wiki-type Website.
Visit the official
Community Resources page
for a complete listing of all things community.
Continue reading...