RSS Feed
RSS Feed
Stratics Veteran
Greetings Fellow Avatars!
Release 101 goes live April 28th at 10:30 AM CDT.
Welcome! The Catnip Games development team marks this monthly release of Shroud of the Avatar with new content and improvements. For Release 101 (R101), our range of mounts has been extended to big cats!
For those wishing to participate in any
community activities
, upcoming one-time and recurring community events have been announced! Be sure to also review the
Player Guide
and
Known Issues
for additional information on recent changes and upcoming fixes.
News Announcements
Community Updates
New Big Cat Mounts!
Black Panthers, Jaguars, Lionesses, and Snow Leopards have been successfully trained to accept riders by the skilled and secretive New Britannian cat-trainers and are available for purchase in the Crown Store. They're sure the other big cats will cooperate as soon as they identify the right kind of
bribe
treat…
Sneak Preview: Grusk Factory
Grusk Factory is not open for tours this month, but we have a couple of preview images from Sannio. …It looks dark in there. Very efficient, kobolds.
Release 101 Patch Notes
Below are a list of the updates that are live as of Release 101 (R101) in the game of
Shroud of the Avatar!
R101 is a content, improvements, and bug fixes month. Polish, additional improvements, and bug fixes are inbound for R102 next month. We hope you enjoy the changes that are live today as of Release 101!
Crafting, Decoration, & Inventory Item Changes:
Three new seating recipes can be found at deco merchant in the region of the Perennial Coast: Arched Wooden Armchair, Wood and Leather Chair, and Simple Small Wood Bench. SOTA-70426


Fixed Acara helm and glove material colors

Updated Castle Teleporter to act as other POT Teleporters, allowing player to choose destination instead of being set to Castle Atos. SOTA-70351
Combat & Skill Changes:
Fixed big cat skills: Re-added the pounce skill with its correct animation and fixed range issues and hooked up roar animation for roar skills. SOTA-70345 and 70346
Fixed issue with legendary lion referencing wrong visual, causing it to disassociate from its nameplate. (Other legendary cats still pending.) SOTA-70053
Fixes for Acara armor attunement effect not applying properly and not applying the air damage. SOTA-70166
User Interface, Store Information, & Lua Changes:
Items can now be linked in chat. Right-click an item and click "Link to chat." They cannot be linked in Universe; doing so will just result in the name of item being sent without the mouseover information. There is a character limit: the usual limit for player input is 384 and an internal limit to link items is now 2000 to allow multiple items to be linked at once.


Added a /translate command to use in chat. This will translate the last line in the chat to the current language set in game options, or you can specify it when entering the command (e.g. "/translate en"). More information can be found in the player guide.

Players can now use /time to display their local (real life) date/time, server date/time, AND New Brittania date/time in the chat window. SOTA-70427

Added a Lua Add-On Manager which can be found in the Window Selection menu in game. More information is in the forums here.

Scripts using the new UI feature in Lua will have their window hidden between screenload and in game menu.

Added two new Lua functions. ShroudOnExperienceChanged returns the amount of experience added in pool and the type, adventurer or producer. ShroudOnDisableScript() is a convenient method for a Lua scripter to clean up their script when a player disables it in the manager. More information about this in the forum and in the Lua API document.

Made private party creation be on roll mode by default.

Added a scrollbar in the description part of the crown store window to prevent some cases of icons overlapping the text. Large amounts of text will be more visible now as it won't shrink anymore.

Reduced the height of the teleport scroll UI a bit so it can fit on everyone's screens.

The previous fix for heartbeat sounds when entering a scene removed the trigger for low health. Now everything should work as expected. SOTA-70422

When someone is set PvP or is in a PvP scene and goes AFK they will get disconnected after being AFK for 20 minutes (or 10 minutes after the flag is set). Increased AFK flag time by 5 minutes.

Names of PvP players will no longer be shown blue when typed in chat.

Updated Housing tax/eviction timer email text to advise that the house with deco will be placed in the Property Manager instead of sent to the bank. SOTA-70358
World and Quest Changes:
Fixed issue with young snow tigers spawning incorrectly. SOTA-70227
Players will now be able to see other players again on elevators/moving platforms. SOTA-69027
Avatars won't appear crouched after getting off of elevators/moving platforms. SOTA-70341
Arabella: Added a "bonesteel" response that will remove an artifact from players who shouldn't yet have it.
Devotional Caretakers: Updated the logic to archive the "Tell Kiln Caretaker About Indigno" and "Tell Eastmarch Caretaker About Fastus" tasks.
Path of Truth: Updated logic for "Travel to Blood River" and "Explore Artifice" to help them automatically archive when required. SOTA-70360
Aldwater: Fixed an issue where pavers were floating at the exit archways. SOTA-70386
Ardoris: Added extra logic to help clear Timothy the Enchanter's "Find the Beast's Lair" task, including saying by "hello" to him after completing the activity. SOTA-70382
Ardoris: Improved the logic which helps clear the "Mention Writ to Min" and "Ask Min Liang Tan about the Emperor's Writ" tasks.
Ardoris: Stephanie Broadmeadow now highlights with blue sparkles and waves her hands in relation to her "5 paintings" quest. SOTA-70383
Blood Bay: Plugged a gap below some rocks near a shoreline where ocean water could be seen through the gap. SOTA-70387
Braemar: Moved a floating pillow to the top of a bed. SOTA-70388
Castle Atos: Fixed a pathfinding issue where NPCs would sometimes stumble on cracks between floor pieces. SOTA-70365
Dysborg Ruins: Moved a fishing hotspot to a spot where it can be accessed. SOTA-70364
Grusk: Fixed a ladder with a bad teleport target. Improved how avatars can get to the top of the mountain by the factory. Adjusted some rocks that players could see through. Moved some floating trees to ground level. SOTA-70367, 70359, 70366, 70368, and 70361
Grusk: Fixed several floating bushes. SOTA-70385
Grusk: Moved floating bushes to the ground. Blocked a gap underneath several factory walls. SOTA-70398
Grusk: The Storehouse Container shelter now has a unique set of turn-ins. The common items are Metal Scrap, Small Ball of Clay, Animal Hide, and Animal Bone. The uncommon item is Crocodile Head. SOTA-70206
Malice: Hid several purple trigger volumes that were visible to players. SOTA-70300
Outkskirts: Crafting merchants in all three outskirts each now sell one type of board recipe. SOTA-70354
Owl's Head: Fixed a typo in the chat message for the "Get Morton's Ledger" task.
Owl's Head: Improved the logic for how "Tell Morgan the Task is Complete" archives when talking to Morgan. Avatars who still have this task can try saying "the task is complete" to Morgan even if the quest has concluded. SOTA-70371
Sawtooth Thicket: Moved a floating axe to a nearby stump. SOTA-70362
Solace Bridge Outskirts: For quest reasons, players cannot skip the conversation with the alchemist. SOTA-69948
Solace Bridge Outskirts: Improved the logic which clears Filmore's "Kill Wolf, Retrieve Collar" task. Avatars who have this lingering task should say "Betty" to Filmore to clear it.
South Boundless Forest: Increased player count to 32 from 16.
Spectral Mines: Added extra logic to help clear Timothy the Enchanter's "Find the Beast's Lair" task after defeating the archlapin. SOTA-70382
The Fall: Updated the tiger spawners to ensure all spawners worked and with a better chance to spawn high-tier enemies. SOTA-70363
Vertas: Moved several floating posts into the ground. SOTA-70399
Wynton's Folly: Moved a piece of floating garlic to the ground. SOTA-70389
Player-Owned Town Changes:
Argent Aspis: Upgraded to Hamlet.
Avallon: Upgraded to Crossroads Village. Consolidated dev-placed teleporter boats.
Chaos ar' mori'elen ten'oio: Added new holdfast to Mistrendur, on the southern shoreline of the central island.
Lamplight: Added new Holdfast to Novia next to the Elysium Mines.
Meadow's Edge: Upgraded to Metropolis.
M'hul Island: Upgraded to Crossroads Village.
Mith Trysull: Added new town to Novia southwest of Vauban Pass.
Regnum: Added new Holdfast north of Ardoris.
Shearwater Island: Added new island village along the shore west of Ardoris.
Silk Road: Upgraded to Town.
TheBonusRole Undercity: Added new Village in Novia near the Whiteguard Foothills.
Twin Traders: Upgraded to Village.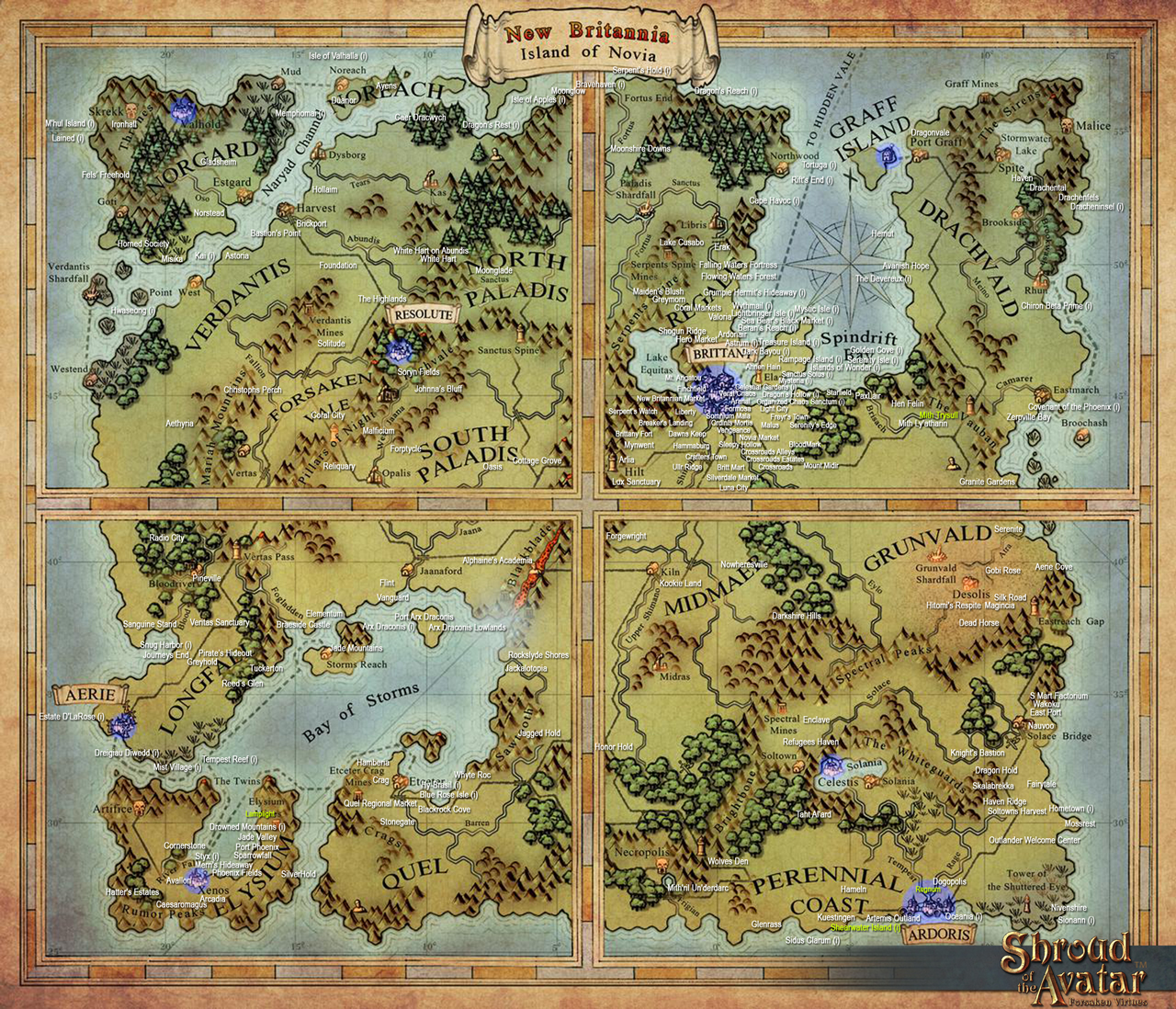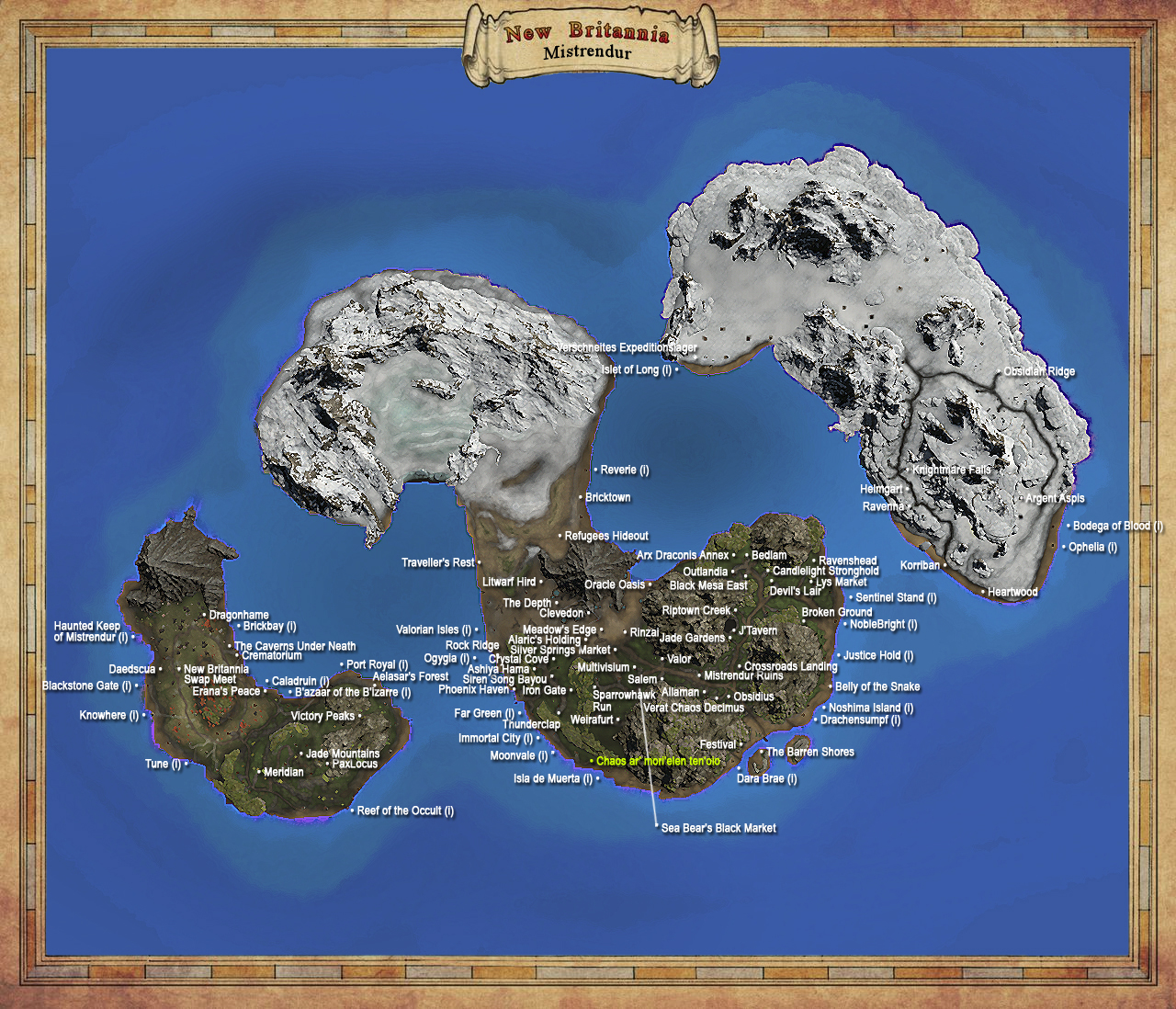 Player Dungeon Changes:
Fixed some dungeon rooms and navmeshes: Hilt Rotunda, Hilt Spider Room, the Rise Dog Run, and the Rise Library.
Latest News and Q&A Friday Livestream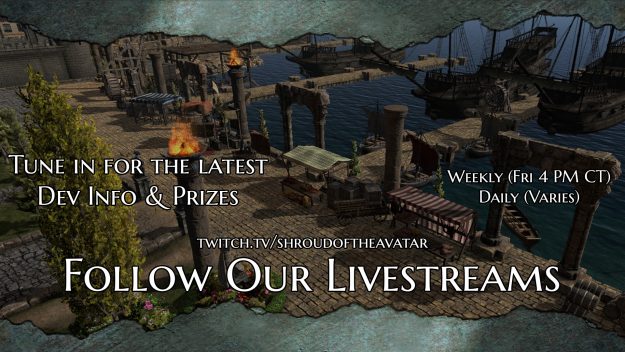 The weekly Community Livestream is Friday, April 29th at 4PM CT on
Twitch
! Join Chris "Atos" Spears and other members of the development team for a 1-hour community livestream!
To enter the prize drawings, type "I speak for the trees" into any in-game chat channel OR make a purchase on the website
Add-On Store
.
Please submit questions using in-game universal chat by typing "askadev" before your question. We'll do our best to answer these questions live on the stream, and we'll even be periodically posting answers to some unanswered questions in the forums each month. Watch on
Twitch,
Friday at 4PM CT!
Atos and other members of the
Shroud of the Avatar
development team go live frequently on
twitch.tv/shroudoftheavatar
— be sure to get the channel on follow for notifications so you can join us right as we go live! Also, if you've missed our latest streams, check out our archive of content at our
YouTube Channel
. Like! Follow! Subscribe! Prizes!!!
Don't forget to also join the Shroud of the Avatar team and community over at all our social media venues:
Release 101 Subscriber Login Rewards
Seat your May Queen (or yourself) in style! The
Rewards Program
login items for Release 101 are regal and comfortable. This month's collection includes a set of three new thrones: an Ornate Wooden Chest Throne (with container), an Ornate Wooden Throne with Gold Inlay, and an Ornate Wooden Throne with Velvet Panels (dyeable!)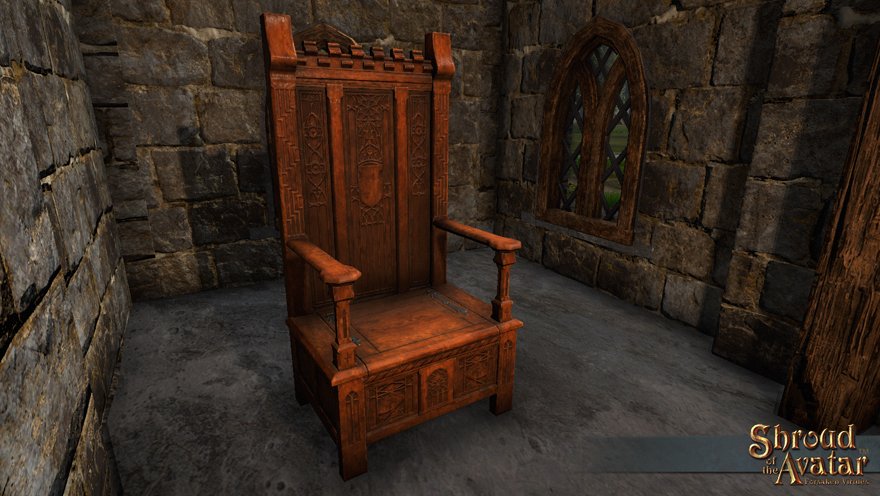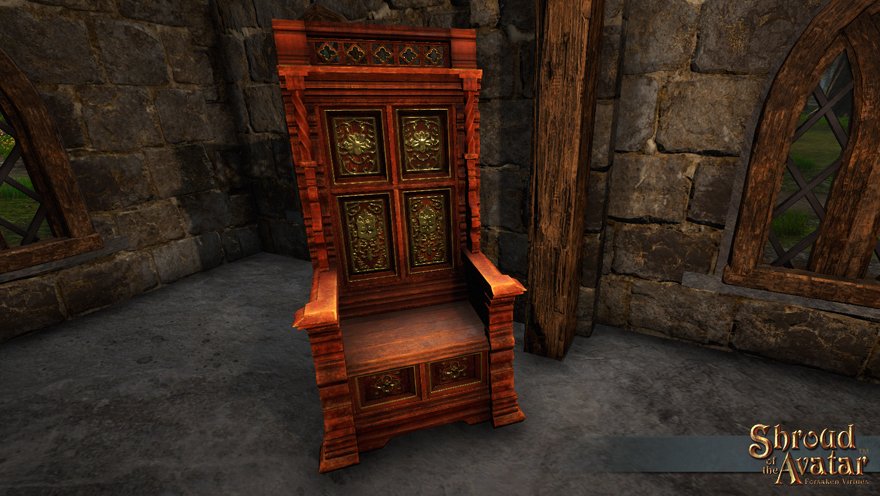 Subscribers to the
Reward Program
must log in during Release 101 to receive these special login items.

The
Shroud of the Avatar Rewards Program
lets you earn the best rate on purchasing Crowns, AND receive monthly reward items! For the low price of $9 USD per month you will receive the following:
900 Crowns of the Obsidians every month
Monthly Login Reward Items (about 3 per month)
Exclusive Title every 3 months

3 Months: Keeper of the Faith
6 Months: Keeper of the Word
9 Months: Keeper of the Vow
12 Months: Keeper of the Flame
15 Months: Keeper of the Oath
18 Months: Keeper of the Pledge
21 Months: Keeper of the Bond
24 Months: Keeper of the Promise
27 Months: Keeper of the Covenant

Pick any Dye 12-Pack every 6 months
Pick any three of these 7 Obsidian Potions every month:

Potion of Capacity: Increases carrying capacity
Potion of Conservation: Reduces reagent use chance
Potion of Expedience: Swift gathering on all gathering skills
Potion of Precision: Increases Meticulous Collection to all gathering skills
Potion of Preservation: Reduces armor and weapon damage
Potion of Reclamation: Increases Salvage and Repair to all production skills
Potion of Stamina: Decreases focus use from sprinting

While subscribed to the rewards program, players also receive these special bonuses:

Obsidian Potions are significantly more powerful!
24 Additional Deck Slots!
May Login Reward
Log in during the month of May and you'll receive a Gothic Dining Chair with which to feather your nest.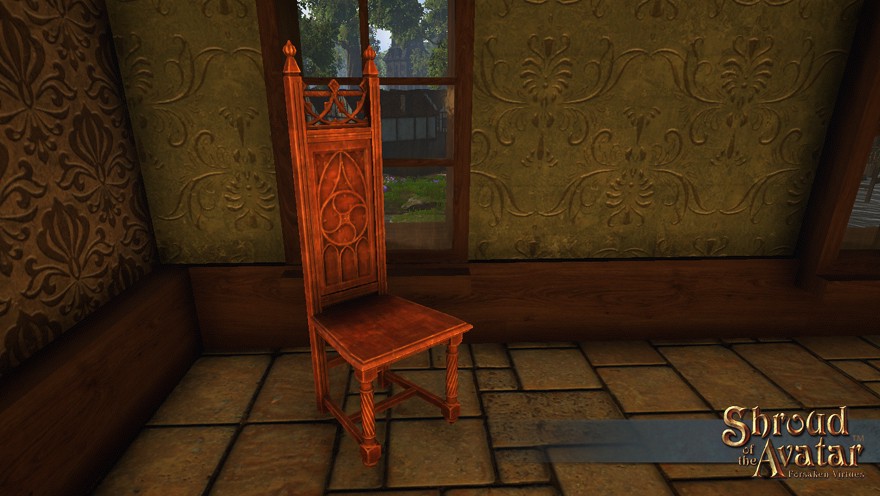 Crown Store Updates
New in the crown store for Release 101:
Black Panther Mount

Jaguar Mount

Lioness Mount

Snow Leopard Mount

Cantabrigian Cat Decoration Pet

Gothic Curule Armchair 2 Pack

Gothic Heavy Armchair with Arches 2 Pack

Gothic Dining Chair 6 Pack

Arriving May 4th:
Ornate Wooden Chest Throne

Ornate Wooden Throne with Gold Inlay

Ornate Wooden Throne with Velvet Panels

The Spring Seasonal store items are still available! These rare Spring items will remain on the store until May 3rd:
Bunny Ears & Slippers Set
Decorative Dyeable Egg Pack
Flower Crown
Lepus Mask 2017
Lepus Mask 2018
Silver & Gold Lepus Mask
White Lepus Mask
Rabbit Tailed Bodice Ensemble
Replenishing Confetti Eggs Basket 2016
Replenishing Confetti Eggs Basket 2017
Replenishing Confetti Eggs Basket 2018
Replenishing Confetti Eggs Basket 2019
Spring Fountain w/ Floating Candles
The Darkstarr store items are still available! These birthday items will remain on the store until May 28th:
Darkstarr Basement Entrance Eternal Pattern
Darkstarr Chaos Throne
Darkstarr Chaos Throne (Reverse Colors)
Darkstarr Clock Tower
Darkstarr Clock Tower (Reverse Colors)
Darkstarr Fur Collared Cloak
Darkstarr Pavers
Darkstarr Shield
Darkstarr Shield Pattern Pack
Lord British vs Darkstarr Battle Banner
Mosh Emote
Bug Brigade & Testing Directives!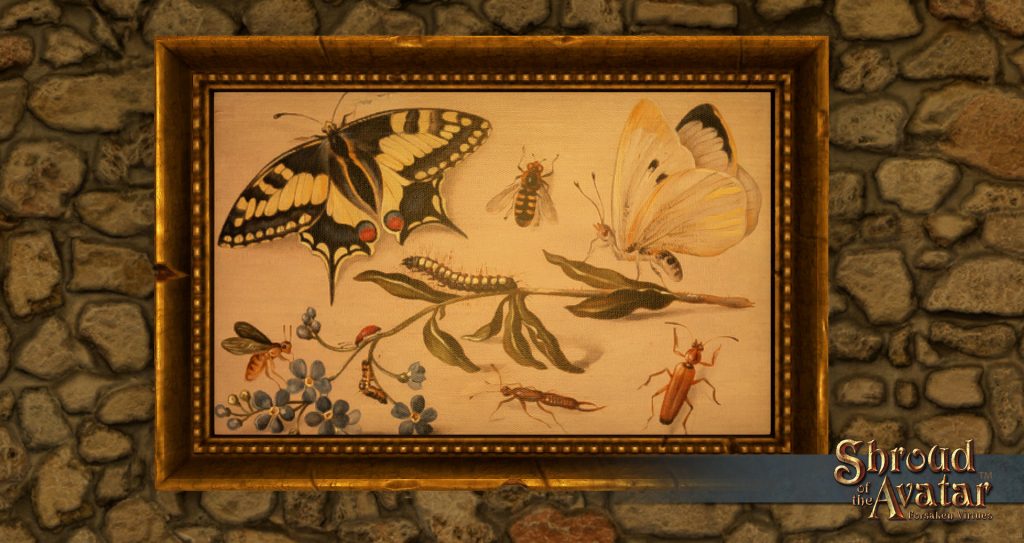 The Bug Brigade was established to improve how the community and the development team work together to improve the game. Since the Brigade's inception, the program has gone through a number of changes and was eventually placed on hold. The stability of the game is as important to the development team as it is to the players, therefore the program was revamped and was relaunched.
The Brigade has been up and running and the volunteers (Alley Oop, Echondas, and Justyn) are in a good rhythm for verifying and submitting bugs to the developers. If you have reported a bug that has not yet been addressed, please be patient while the backlog is being worked. The Brigade is working diligently to clean up the backlog of bug reports posted by players on the forums.
Every month, a considerable amount of development time will be spent working many of the verified bugs which have been submitted to the team by the Bug Brigade. This focused effort on bug fixes would not be possible without the recent efforts of the Bug Brigade. Please take the time to thank these bug hunting aficionados when you encounter them in your travels!
In turn, the development team would like to express a big thank you to the Bug Hunters! These community members are doing a fantastic job bringing so many bug reports to the team, and they're doing it in a way which makes the process smooth and efficient. Thank you, thank you, thank you! Much improvement has been noticed by the development team and we're so very excited to see the program's continued success!
The development team would also like to thank all of those who take time to participate in QA Testing Directives. Thanks to your hard work and dedication, many issues and bugs can be identified and fixed prior to content going to the Live Server! Keep up the great work! For those that wish to participate in future bug hunting endeavors, please check the forums regularly for upcoming
QA Testing Directives.
Don't forget, the Bug Brigade is open to all players in good standing and bug rewards are SWEET! They will be awarded on a monthly progression basis with only minimal requirements to qualify. The available rewards to receive in progression via qualifying participation are as follows:
Antennae Head Gear and Forum Title 1: "Bug Hunter"
Single Ant Cloak
Lady Bug Backpack
Bug Painting A and In-Game Title 2: "Associate of Aphids"
Ant Farm
Insect Leg Table
Many Ants Cloak and In-Game Title 3: "Bachelor of Beetles"
Bug Painting B
Bug Sprayer and /bugspray Emote
Bug Painting C and In-Game Title 4: "Master of Moths"
Butterfly Chair
Corpion Chair (Pictured Below)
Yellow Fireflies VFX and In-Game Title 5: "Doctor of Dragonflies"
Hacked Oracle Flyer
Giant Blue Butterfly Pet
Butterfly Mask
Dragonfly pet
Fairy Wings
Monarch Butterfly Pet
Dragonfly Wings
Hacked Oracle Crawler
Blue Butterfly VFX
Orange Fireflies VFX
Orange Butterfly VFX
If you've come to think of Shroud of the Avatar as your home, sign up and help make New Britannia a better place to live! To learn more about joining the Bug Brigade, please read the
announcement thread
by Ravalox in the main Bug/Feedback forums.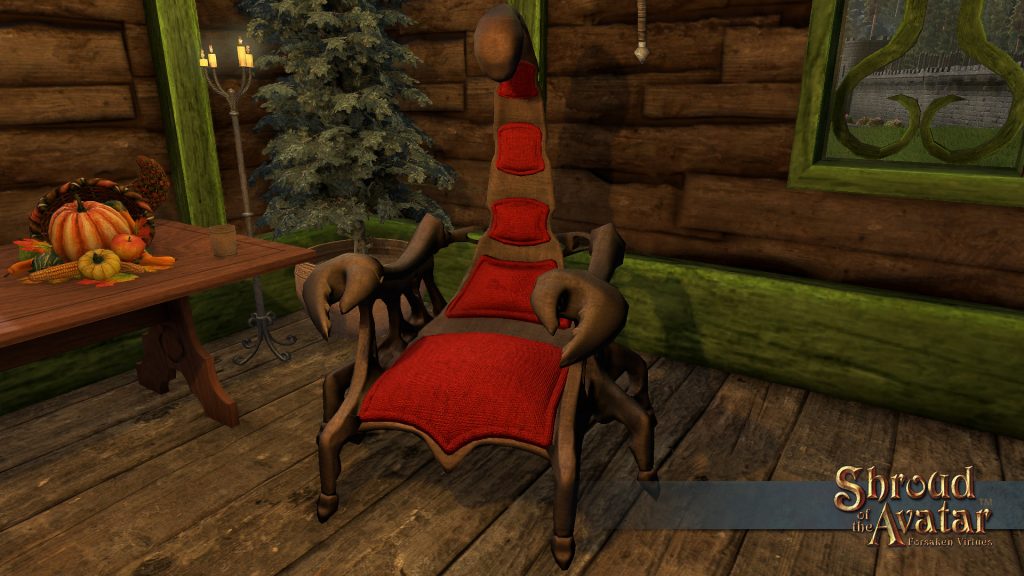 Streamer Program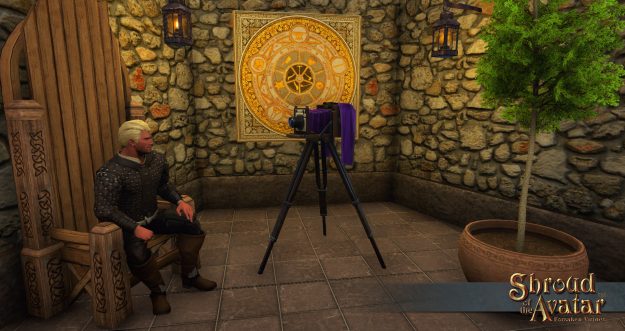 Streamers of
Shroud of the Avatar
can participate in a program to showcase the game and be rewarded for their efforts. Any Streamer who wishes to be included in the Streamer Program can contact Laney via in-game mail with their Character Name and Twitch Channel information. If you have already signed up for the program in the past, fear not: you're on the list and you don't need to reapply.
Streaming Rewards Program participants must adhere to our Terms of Service (TOS) and Community Rules while Streaming
Shroud of the Avatar
.
Streaming Rewards Program participants must stream at least 10 hours of
Shroud of the Avatar
ACTIVE game play to remain in the program with reward accrual.
Streamers will receive a one-time digital reward of in-game items after meeting the program's requirements: Streamer's Cloak, Streamer's Camera, and the LIVESTREAMING title.
Rules:
To qualify for Streamer Rewards, each streamer must continue to meet the minimum requirements for 60 days after application.
To accrue additional rewards, Streamers must stream SotA a minimum of 10 hours per month, tallied on the 1st day of each month, to remain in the program.
Monthly Streamer Bundles:
On the 1st of each month, qualifying streamers will be eligible to receive 50 Streamer Bundles. Bundles will be sent out to Streamers via in-game mail.
A few things you need to know:
Streamer Bundles are intended to be given away to stream viewers, not consumed by the streamer.
Streamers are not allowed to put paywalls in place for the Streamer Bundles. (For example, giving away Streamer Bundles once the stream reaches a certain number of bits, subscriptions, or donations).
Other Items of Note:
Streamers in the program will be included in the SotAbot StreamPop function, appearing in the player-streaming channel in Discord.
An optional "Streamers Kit" is available to the participating streamers as well as all players of Shroud of the Avatar, which includes graphics, overlays and other material.
Streamers must be actively playing the game during their streams. Being away from the keyboard (AFK) for short periods is acceptable. If Twitch indicates the streamer is playing SotA but they are streaming other content or a timeout/login screen, they risk being removed from the program.
Upcoming Release Dates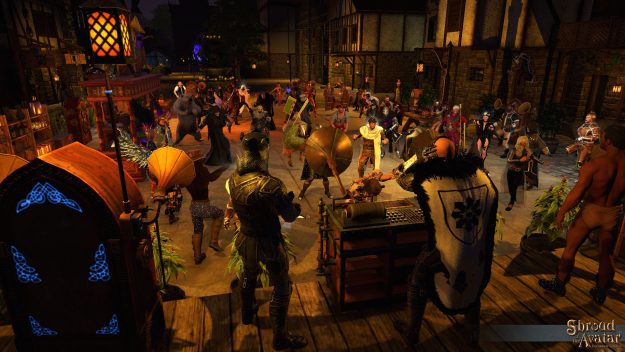 Be sure to check out the
Upcoming Events
page for spotlighted events plus links to various areas to post or find events on our forums. The upcoming 2022 Release Schedule is as follows:
This Release 101 – Apr 28 (Content)
Release 102 – May 26 (Polish)
Release 103 – June 30 (Content)
Release 104 – July 28 (Polish)
Release 105 – August 25 (Content)
Release 106 – September 29 (Polish)
Release 107 – October 27 (Content)
Release 108 – November 17 (Polish)
Release 109 – December 15 (Content)
Community Events & Resources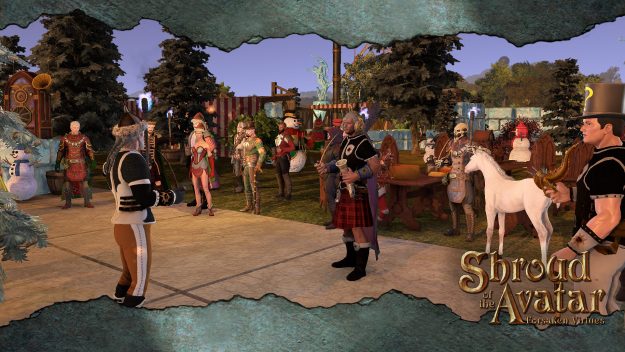 Greetings event holders and event attendees! So many fun and exciting events are available in the upcoming weeks. Be sure to get out there and participate, make some new friends, perhaps make some great emote, recipe, or gear trades, or get some adventuring and role-playing into your mix! Here are spotlighted events or updated community resources that we've noticed popping up lately on the official forums.
Catnip Games Contests:
Catnip Games Monthly Fishing Tourney: Greetings Anglers! The monthly Catnip Games Fishing Tourney is live! Join in on the fun! The R101 Fishing Tournament runs from 29-Apr-2022 at 12:00 AM (00:00) CDT to 26-May-2022 11:59 PM (23:59) CDT. Note that the R100 Tournament is still running for a few more hours until midnight on Release 101 day; you can still compete for the longest fish in the R100 tournament! For R101, catch the longest fish in any of these 4 categories:



POTs (Saltwater fish only): Arlia, Avallon, Mystic Isle, Ordinis Mortis, Rampage Island, and Rock Ridge
NPC Scenes (Saltwater fish only): Aerie, Ardoris, and Xenos
PVP (Saltwater fish only): Verdantis Shardfall
Lava (lava only): Rajazel (POT), Sunless Barrens


Prizes in each category include:


1st Place: Player-Owned Town Village Lot Deed, Large Gold Fishing Trophy, Title
2nd Place: Player-Owned Town Row Lot Deed, Large Silver Fishing Trophy, Title
3rd Place: 50 Blood Leeches, Large Bronze Fishing Trophy, Title
Catnip Games Monthly Treasure Hunting Contest: Want to go hunting for rare items? Want to see if you can beat other players in this quest for treasure? Well join in on the monthly treasure hunting contest, Avatars! The R101 Treasure Hunt runs from 29-Apr-2022 at 12:00 AM (00:00) CDT to 26-May-2022 11:59 PM (23:59) CDT. Note that the R100 Hunt is still running for a few more hours until midnight on Release 101 day; you can still compete in the R100 Hunt! For R101, loot the most of the specific items in 2 categories:
PVP Scene: Rhun Ruins – Obsidian Chips, Corpse Wax, Chaos Plant Pollen, and various Ores


1st Place: Player-Owned Town Village Lot Deed, Large PvP Shard Trophy, Title
2nd Place: Player-Owned Row Lot Deed, Medium PvP Shard Trophy, Title
3rd Place: Melted Candle Cluster A, Small PvP Shard Trophy, Title


PVE Scenes: Spectral Mines – Gems, Rocks, and Ore


1st Place: Player-Owned Town Village Lot Deed, Large Sword in the Stone Trophy, Title
2nd Place: Player-Owned Row Lot Deed, Medium Sword in the Stone Trophy, Title
3rd Place: Melted Candle Cluster A, Small Sword in the Stone Trophy, Title
Recurring Events:
Community Calendars:
Avatars-Virtue Radio Calendar: Just when are all those talented DJ's and streamers broadcasting? Don't just guess, check out there very helpful calendar! Never again will you wonder when's the best time to tune in!
NBNN Calendar: This calendar provides a great schedule for NBNN and WRFB programing as well as many other community events. If you're a fan of the Laz & Jack show or even if you're hoping to catch them in action for the first time, this is the calendar for you!
SotA Event Calendar: Event participants, take heed! Thoryk Omara has done a wondrous job creating a community event calendar which is available to all players of Shroud of the Avatar. Please make an effort to support this new calendar. The more resources players have at their disposable for event notifications, the better!
Community Event Resources:
Here are some fantastic resources for tracking down community events or posting your own events. Become involved! Create! Explore! Make friends! But most of all, have fun!
SO many options to stay tuned-in with fellow community members. Please take advantage of all these wonderful options. Happy adventures, Avatars!
Project to Support: Shard RPG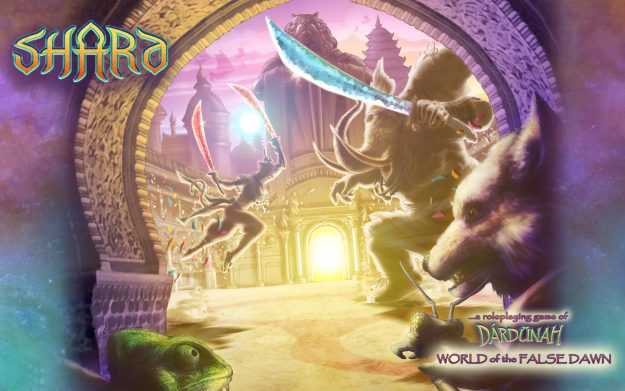 Shard Studios invites you to enter the fantastic world Dárdünah, the vast shard of a shattered realm, as presented in the colorful pages of the SHARD RPG! Many years in the making, this system allows players to choose from a wide variety of animal people who are the main cast of the many adventures this otherworldly setting offers. Skyships glide through shimmering clouds past majestic crystal peaks. Giant insects prowl alien jungles or lurk in the sparkling emerald seas. Warriors with blades of diamond and amber duel across crimson sands. And mystics chant in shadowy chambers as their spirits wander abroad.
Intro Sheet: For a quick glimpse into the world of Dárdünah, be sure to download the intro pdf! It's packed with great information and features beautiful artwork, not unlike the artwork found throughout the many pages of this gaming system's gorgeously designed manuals.
Core System Manuals: It's easier than ever to delve into Dárdünah, World of the False Dawn, with the Core Books Bundle! If you've never had the opportunity to experience this unique gaming system and setting, now's your chance! This bundle includes two beautifully illustrated, full-color, hardcover books: the original Basic Compendium and the Magic and Martial Arts book! They contain everything you need to begin your adventures, and include instructions for the ritual magic and martial arts combat systems. These manuals also include 90 new Animal Templates upon which to base your character!
Other Shard RPG Products: So many more manuals and gaming materials are available! Everything an avid tabletop role-player and game master needs to delve into the world of Dárdünah!
So if you're ready to experience a gaming world like no other, check out what Shard Studios has created for tabletop role-players on the
Shard RPG official website
! You'll most certainly be immersed and amazed by the offerings of the Shard RPG!

Project to Support: Embers Adrift!
Help support one of our team members' other projects, Embers Adrift! While not yet live, they plan to release later this year and you can join the closed beta now by pre-ordering from
embersadrift.com
. Check out their newly released video here: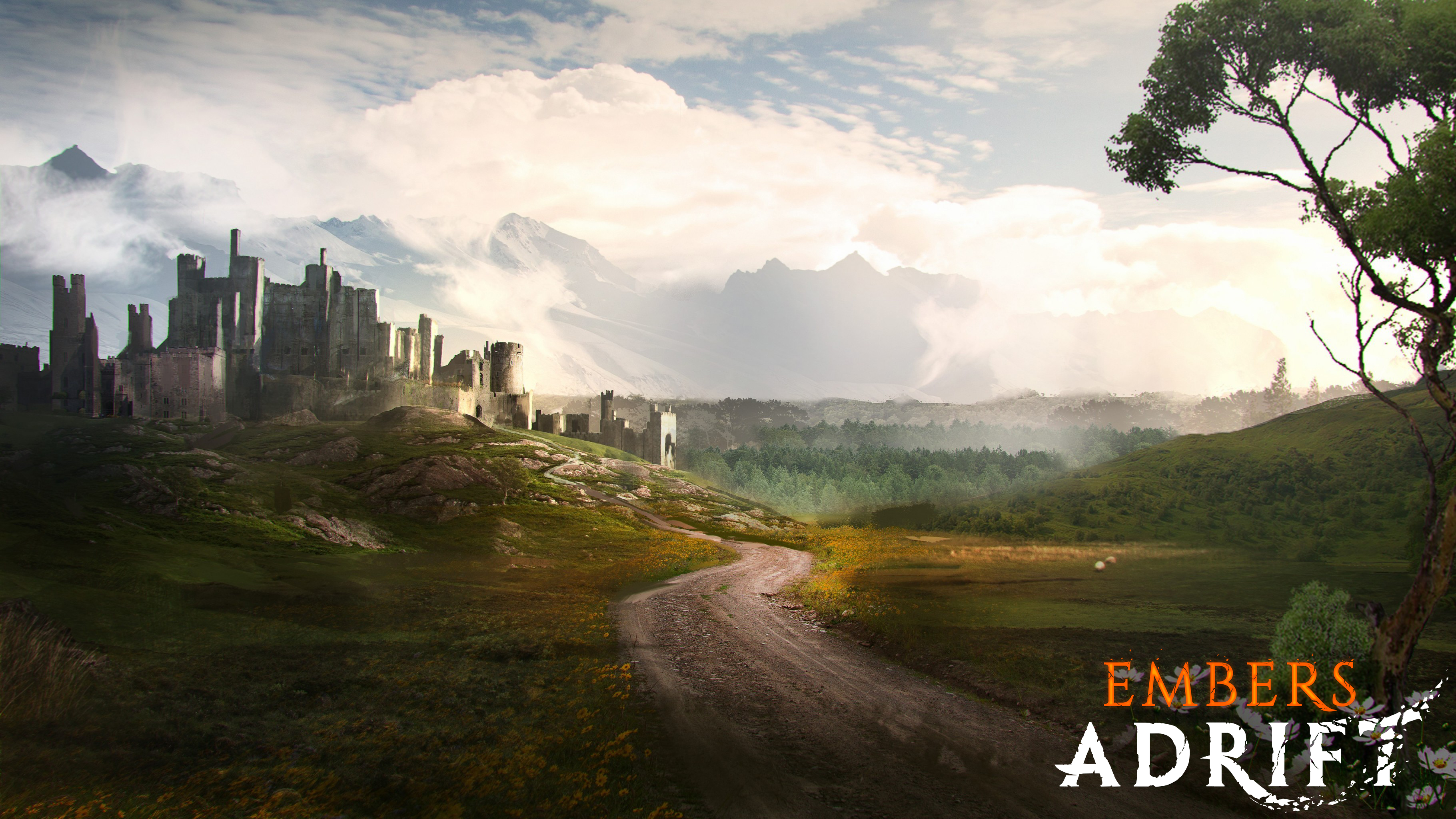 Project to Support: Avatar Express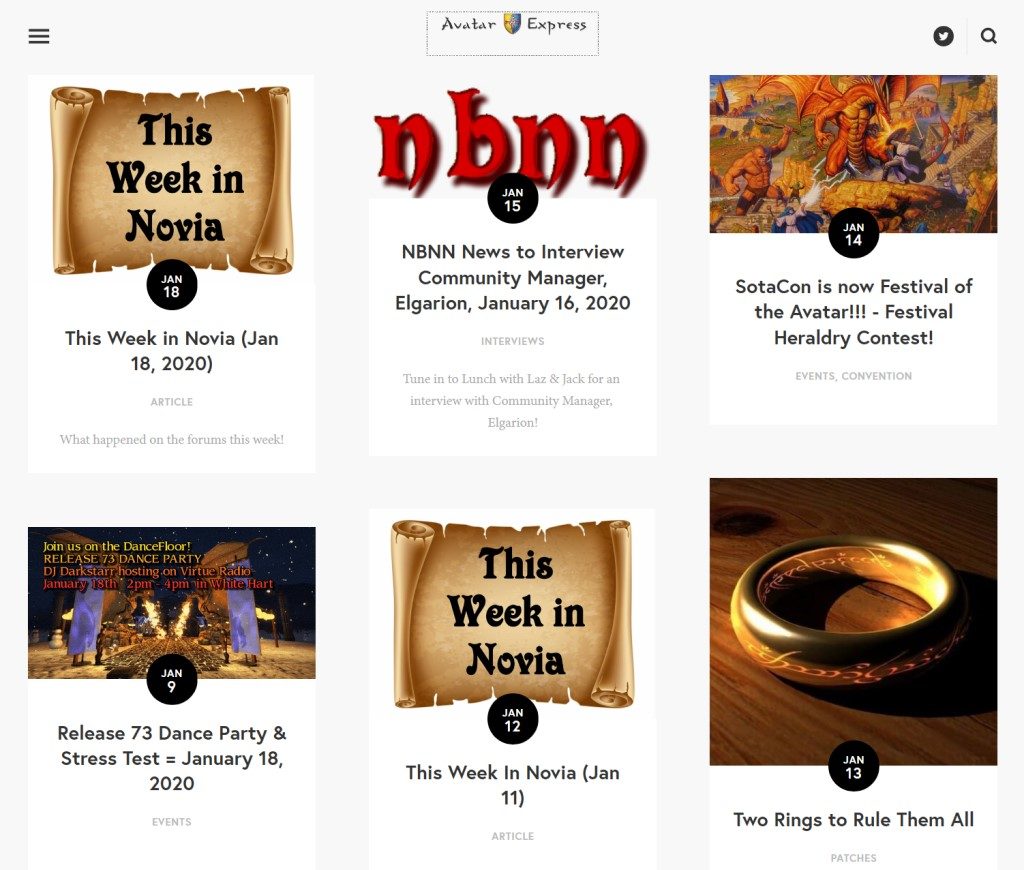 [Forum post by Vladamir Begemot]
I'm pleased to report that
The Avatar Express
is clacking away furiously. News is being delivered and we have established systems to deliver it directly to your brain. You can use one of those systems by following us on
Twitter
at @avatar_express. Even more reliable due to its fully automated nature is joining us on the
Discord
server. News items are posted there via RSS. Or you can subscribe to RSS directly on the site.
If you run an event, quests, etc, please consider helping out by self reporting. The Shroud community is big, and many things are happening that are never seen by others. With 10k monthly users, we would need a full time staff to track down everything that is happening.
You can fill out the
contributor form
, message
@that_shawn_guy
here or post in the Discord server that you would like to help. There is no commitment once signed up, you can post as much or little as you like.
Writing up your own events has several benefits beyond the immediate exposure. It serves as a record for others to see the history of New Britannia as we create it, in an attractive format. Publishing in the Express also has a higher chance than the forums of being seen by search engines and random readers, thus bringing more eyeballs and new players to the game.
It will even make posting in the forums easier! You can upload images to your news item, and then link to those images in your forum post. No more need for 3rd party image hosts!
So if you have something going on in your guild or town, or want to be a Reporter, Cartographer or Historian,
please join us!
Resources: Players Helping Players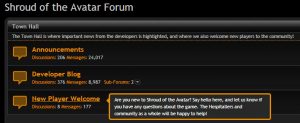 The official SotA
New Player Welcome Forum
and the
Player Created Resources Forum
have the best player created resources for Shroud of the Avatar, whether it's a Player Written Guide, a Video Walk-through, or a Wiki-type Website.
Visit the official
Community Resources page
for a complete listing of all things community.
Continue reading...