UO Content Editor | UO Chesapeake & Rares News
Alumni
Stratics Veteran
Stratics Legend
Wiki Moderator
VIPs Auction House Grand Opening!
VIPs Auction, New Magincia
Thursday, May 14th 2011​
By: Merik [Imperium News]

​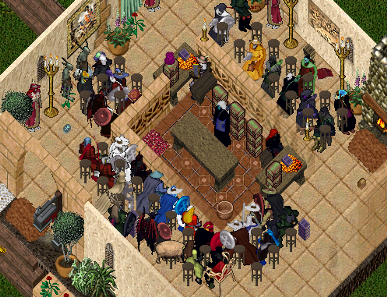 (Not the best picture of the packed house, sorry)

​
The Very Important People (VIPs) Auction House held its Grand Opening this past Thursday. Excitement rapidly spread through the community when the announcement was made at the Hall of Commons last Sunday.
The Auction house is operated by Lord Demon Slayer and Lady Sundina who are known throughout all of the shards as the most trusted Rares Festival Silent Auction staff. Recently returned and longtime player, Lady Tigerlily who is well known throughout the realm for her generosity and trusted transactions is the cherry on top that completes the staff.
Their first auction was jam packed with players from all different guilds and townships. The Grand Openings feature item was the Crystalline Ring selling for 16,000,000 gold! Be sure to attend Chesapeake's Newest Auction house each week which is also part run by one of Chesapeake founding Auction House members of 1999!
Hours of Operation
Wednesdays
7:00pm ET​

If an EM event occurs on Wednesday the Auction house will run on Thursday at its normal time.




​