UO Content Editor | UO Chesapeake & Rares News
Alumni
Stratics Veteran
Stratics Legend
Wiki Moderator
Sonoma Crushes Chesapeake Like a Tin Can
Test Center 1, Nujel'm Chessboard
Saturday, August 21, 2010
​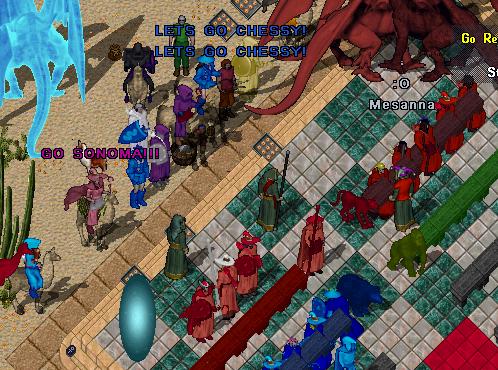 ​
Saturday nights event was hosted by EM Tailspin of the Sonoma Shard, EM Dudley and EM Drosselmeyer of the Chesapeake shard. Is it just me or does anyone else want to sing...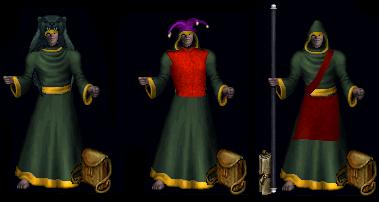 "We're the Three Best Friends
That Anyone Could Have
We're the Three Best Friends
That Anyone Could Have
And We'll Never ever ever ever
Leave Eachother"
I'm not procrastinating to announce the winning team or anything.....
*Clock Ticks* Moving on.... The following teams competed against each other and hoped to be crowned the
"
Captain Bloodrum's Abyss Champions"
Team Name:Blue Bears
Shard:Sonoma
Team Members:Hera, Feng-po-po, Veskara, Waynebo, Tyzone
Maps Completed:5
​
Team Name:Red Jaguars
Shard:Chesapeake
Team Members:Pain Prodigy, Demon Slayer II, Killian, Mariah, Tara Brin
Maps Completed:5
​

Team Name:Red Ravens
Shard:Sonoma
Team Members:
Maps Completed:5
​
Team Name:Green Monkeys
Shard:Chesapeake
Team Members:Mr Clean, Khelben Arunsun, Mononoke, Tiger Lily
Maps Completed:4
​
Each team tried their best to finish the treasure maps as quickly as possible. The EMs threw in some extra creatures to raise the difficulty of each map. This came as no surprise to anyone that was competing because they know how those three EMs love throwing in unknown surprises. Even though all the teams tried as hard as they could only one could be victorious and that was the Re.....
We Interrupt This News Story for A Special News Bulletin
Toby is stuck in a tree!.... and he cannot get out.... and this is really bad.... and he is made of wood....ummm...Cookies are great!?!
We Now Return You To Your Original News Story

The Red Ravens From Sonoma!!!!
Congradulations to the Red Ravens team for winning the Captains Bloodrum's Abyss Challenge! and to the Blue Bears for coming in Second Place!!!! The Sonoma shard will never, ever, ever be underestimated again! Their skills in treasure hunting are the most impressive this news reporter has ever seen.
Coming in Third place was the Red Jaguars from Moria and Fourth place the Green Monkeys from Kijustsu Anei Village. Better luck next time guys and don't forget to practice, practice, practice!!! I hear EM Tailspin is giving some free lessons on Sonoma *Ducks and Hides*
Mesanna constructed a victory statue for the Sonoma team early Sunday morning. The statue is located in New Haven by the South gate. Everyone from the Sonoma community should be proud and always remember their victory over the Chesapeake shard!
Want To Compete?
If you talk to your EMs you can get in to this event. Each month the champions can be challenged for a match here on TC1 by any other shard.
Next month any shard may step forward to challenge you for the right to hold the trophy but you will forever have the proud honor of being the first to carve your names on it.
​