UO Content Editor | UO Chesapeake & Rares News
Alumni
Stratics Veteran
Stratics Legend
Wiki Moderator
Phobic Terrors Invade Imperium Capital City
Kijustsu Anei Village, Tokuno Islands
Wednesday April 20th 2011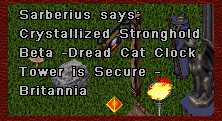 Village Patrol Guards began mounted and foot patrols at 1730 with very little to no activity to report, until 1920 when invasion forces began to materialize near the Nematic Phylactery. Invasion assault forces targeted the home of Empire of Valor Guild leader Barackus, Lemon Farms and the Britannia Mage Tower.
Village patrol guards engaged invading forces only moments later as the first of many Invasion alert broadcasts came over the Village Emergency Crystal Service or V.E.C.S for short, which was implemented by Village Defense Leader Niva the Savage.
Emergency broadcasts were picked up by Emperor Jamlyn of Aryslan and PaxLair reporter Ashlynn of PaxOku whose swift response rescued two injured Tribal Council members who were departing from a short Tribal Council meeting.
Invading force numbers began to grow as assaults were launched upon the Crystallized Strongholds Alpha and Beta, located on the South-East side of the Village. Village forces began taking heavy casualties as Phobic Terrors began breaching the walls of the strongholds.
If not for the defense forces arrival from Cimmerians Pass, Aryslan, Action, Dragons Watch, Guardians Gate and Zedland townships the strongholds would have fallen and the results would have been catastrophic.
While forces were occupied there additional Phobic Terrors launch attacks upon the Community Crafters Hall, where crafters were gathered to complete free repairs and upgrades for defense forces and to the public.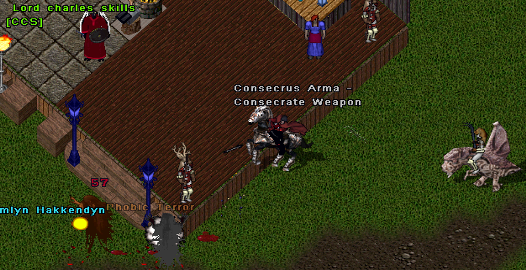 Lord Charles Skills took to the sky dropping smith hammers down on the heads of the Phobic terrors, confusing them long enough for Village, Aryslan and Zedland defense forces to arrive.
Unfortunately over 70% of the defense equipment and other various defense supplies were destroyed before the Phobic threat was neutralized.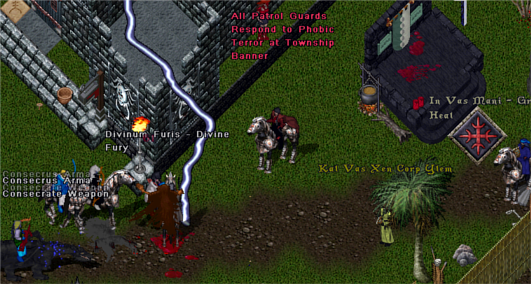 ​
Once the invading forces were defeated in Kijustsu Anei Village, reports came in of additional invasion forces striking Zedland, Pitmuck, Cimmerians Pass and Guardians Gate townships. Defenses forces responded quickly arriving in Pitmuck within a few minutes.
Since the Village Patrol Guards did not have authorization to enter the boarders of outside townships they responded to Cimmerians Pass first but defense forces there had already defeated the invasion forces.
Continuing to other Imperium Townships they arrived in the City of Zedland where they joined forces from Zedland who were already engaged in battle. Phobic forces targeted the SHE Auction house and Zedland Tavern at the heart of the city.
Reports came in that defense forces lead by Jamlyn of Aryslan had already secured the Merxmere Township allowing Village Patrol Guards a much needed break.
Afterwards talks began between Emperor Jamlyn of Aryslan and Patrol Guard Sarberius of Kijustsu Anei about creating a joint defense patrol taskforce between the two townships. Sarberius has taken the matter to the Tribal Council for discussion.
For now Village Patrols will be ongoing for the next few weeks until the overall threat has been neutralized.