Ingame News Vendors
Kijustsu Anei Village
March 22, 2010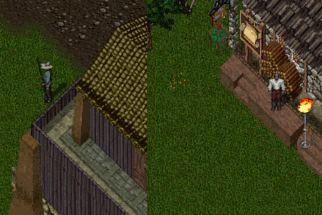 The Ethereal Void News organization has added new ingame vendors to help
distribute news to the community for those that do not use the forums.
These vendors will have news reports stocked from out of game areas.
Located at the Crafters Hall and Iron Bandit Inn (Kijustsu Anei Village,
Homare-Jima, Tokuno islands)
Merik the current News Manager of the Ethereal Void News and UOSS
reporter, will try to keep the news up to date as it comes out on the
forums. Please keep in mind that it does take time to put the news into
book form, make copies and then stock them.
Merik also announced, any township wishing to do a similar project with
their own news reporting organizations will be given proper access to the
ingame books for copy. However Merik cannot be responsible for setting up
and maintaining other township news vendors. Although he would love to
be that helpful it is just to large of a commitment for one person to make.
​