UO Content Editor | UO Chesapeake & Rares News
Alumni
Stratics Veteran
Stratics Legend
Wiki Moderator
Item Showcase for May!
Catskills & Atlantic
May 23, 2011
By: Gareth
​
-Well Used Sewer Slicker Boots
-Mercenary Axe
-A Magical Helm To Protect Against Noxious Fumes
-A Pitchfork of EM Skewering
-I Kept My Head Playing Mesanna Roulette
-I Lost My Head Playing Mesanna Roulette
​
These four items from the Catskills shard and two items from the Atlantic shard are the first to be showcased in our item spotlight segment this month. I have a good feeling I will pay for this later but I cannot help thinking of how many different ways I could use the Pitchfork of EM Skewering!

​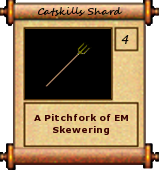 "Hey Elder EM Dudley and EM Drosselmeyer wanna play a game?!?" *Pokes*
"Did you say no?" *Pokes* "How about now?" *Pokes*
"I told you to Walk Da Plank!" *Pokes*
"What do you mean Captain Irina out ranks me!" *Pokes* "Does she outrank me now?"
"Hope that EM Robe is Skewering proof!" *Pokes*

I could go on for hours but I fear it would not be in my best interest to continue…and we do have three other items to highlight for you.

​

Are you into collecting footwear? Then the Well Used Sewer Slicker Boots are just right for you! Just think should you choose a career in sewer waste management you will already have part of the uniform and your friends will never ever have to hire anyone else to come clean out their septic tank! It's a win, win situation!...thats situation not "The Situation", Snooky aint got crap on me! (Off Topic!)

​

Moving on….If you get the Magical Helm To Protect Against Noxious Fumes then you will be all set should they ever drop the Big Void Bomb! Remember just duck, cover and put on your Helmet! They may laugh at you now but no one will be laughing at you after it strikes!

​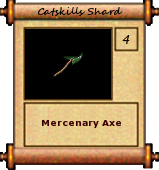 Goblins and Yatterlings Beware!
The new Mercenary Axe has your color splattered all over it! If you have a pesky Goblin infestation on your shard you might want to pick up this handy dandy axe! Shipping to Baja and Chesapeake shards near you!

​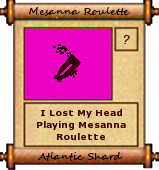 I Lost My Head Playing Mesanna Roulette….trust me you lost your head way before that by taking a chance with your life by playing Roulette! Talk about a gambling problem, obviously most of you don't know when you are gambling more then you can afford to lose! Perhaps you should call the gambling hotline at 6-9785-Mesanna-Stole-My-Head

​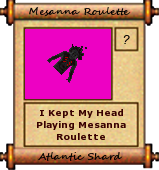 I Kept My Head Playing Mesanna Roulette
I wouldn't expect that to happen next time! You may have kept your head but have you ever heard the Scarecrow from the Wizard of Oz? "If I only had a brain" My suggestion is to see your local shard therapist to setup a appointment, for those who don't know how you just simply email your Event Moderator and ask for the best time to see them.

Okay its now 4:21am WT (Work time) and I am all out of humor so see you next time! *Pokes*​