UO Content Editor | UO Chesapeake & Rares News
Alumni
Stratics Veteran
Stratics Legend
Wiki Moderator
Hall of Commons Report, HoC Building in Britain Trammel
Sunday, August 21st 2011 By Merik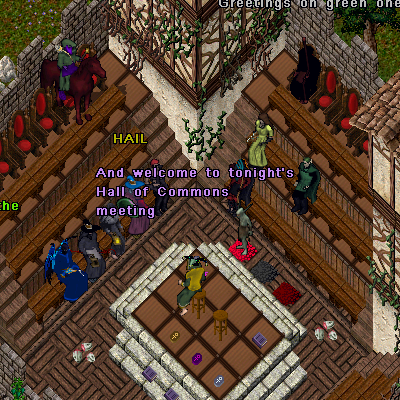 Events Remaining This Month
Wednesday, August 24th @ 8pm ET - Tavern Night - The Keg and Anchor, Trinsic
This is a RP event with the Tavern keeper. Good place to learn rumors and share tales!


Thursday, August 25th 6-8pm - Feelin' Crabby Tournament Window
Meet at the Sons of the Sea in Trammel Trinsic and be sure to register with Santiago the guildmaster of the sons of the sea. Remember no more then five crewmembers at a time can be on your tournament boat.



Sunday, August 28th @ 9pm - Hall of Commons Meeting
Meet at the Hall of Commons building in Trammel Britain, bring your questions and feedback for the shard Event Moderators.
Wednesday August 31st @ 8pm - "X Marks the Spot"
Taking the Plunge event will be moved to September and what we'll have on the 30th instead is "X Marks the Spot" event. This will be a "static" event meaning that you can do it anytime. It's a rich mix of puzzles with some added combat as the title insinuates it will involve some treasure chests. You will be deciphering the map pieces that used to be Marcus Tokinson's map To the Posideon's Fury artifact.
As we draw closer to the event we will release more information. This piece of information though, I want to announce now. Part of the event will include treasure maps. it is NOT necessary to dig up the treasure chest to get the clues. You can if you wish however it is not necessary to actually dig it up.

Open Floor
​

Orin
:How goes the crab count?
Elder EM Dudley
:I'm through the last batch of personal big crabs that was turned in. I'll have new numbers up tomorrow once I get through this newest batch.

Orin
:I am going crabbing for the next 10 hours would you like to come with me?
Elder EM Dudley
:My oh my...You are going to end up in AA Orin! Anglers Anonymous!