UO Content Editor | UO Chesapeake & Rares News
Alumni
Stratics Veteran
Stratics Legend
Wiki Moderator
Hall of Commons Meeting Report


Sunday, June 05, 2011

By:Merik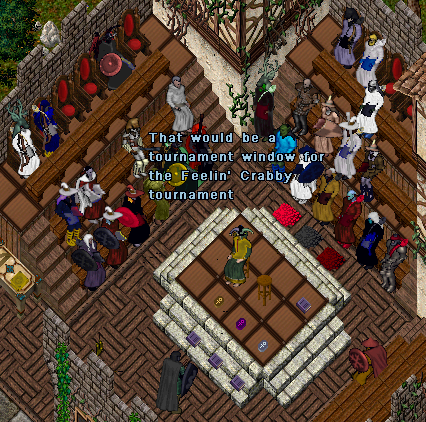 Upcoming Events for this Week

​
Wednesday, June 8th 6-10pm ET, Feelin' Crabby Tournament Window

Continuation of the "
Feelin' Crabby
" tournament. Rules for the tournament can be found here. There will be 4 combat encounters during this window, these combat encounters can be fought using conventional weapons as well as canon fire.
Upcoming Events for next Week
​
On the 23rd we have "Olmecian Access" which will be geared towards winding down the poseidon's fury quest. Also don't forget we are still accepting entries for the "
Talent of Sosaria
"
Open Floor Discussion
​
Cheese Head
Do you have, or is there any merit in having an EM info center, desk in New Haven? For the new people entering the shard to learn about the EM program?
Elder EM Dudley
Well you don't have to start in Haven anymore. You can start in any of the towns but it's certainly a good idea. Let me think about it and we can add something to Haven maybe. I'll have to check with the boss about it.
Cheese Head
So you have a road sign outside here, on the road to britain, that the HOC house is here? More travelers might see this place and what it has to offer. Maybe a sign at the gate too
Elder EM Dudley
Ooo I like that idea
Cheese Head
Any major story arcs from you coming in the months ahead?
Elder EM Dudley
Aye has to do with Queen Zhah and Ter Mur Clavein mentioned it in the Q&A the fiction was recently posted.
Green Hornet
Where is the Nemesis stone dedication?
Elder EM Dudley
It's at the Hall of Victory located in Malas. You can get there via a teleporter at the Britain Counselor hall.
Cheese Head
The fiction out of fame that is published and announced does EA have any plans to simultaneously announce the info, in books or some way in game....so people can immerse themselves here and not rely on web traffic?
Elder EM Dudley
Not that I am aware but I will pass that along to Mesanna.