UO Content Editor | UO Chesapeake & Rares News
Alumni
Stratics Veteran
Stratics Legend
Wiki Moderator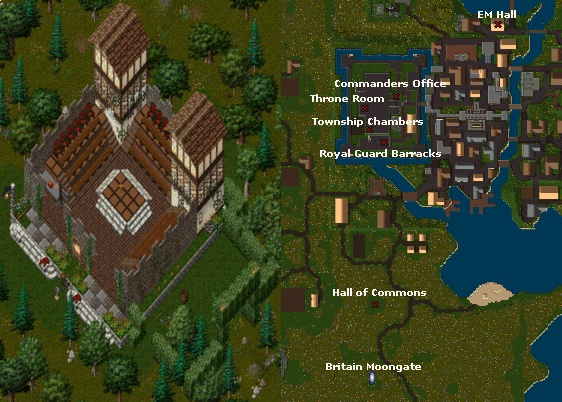 EM Hall of Commons Meeting Report, Sunday March 11th 2012
Hall of Commons Building in Britain, By: Merik/Lord Gareth
​
​
In Attendance​
Pita Tinkles the EM Dudley's Girl Friend, Orin The I Got Crabs King [SKS], Ashlynn the Cryptologist [PxR], Monkey Business, Lord Earik [DWxC], Lauren [DWxC], Mariah [DWxC], Phoenix [DWxC], NANOC [DWxC], Lord Thakria [Colt], Lord Celestial Knight [ACT], Tamith [TK0], Ozog Giantfart [MUCK], Lord zanku [TPN], Lady Falbala [DWxC], Miss Watson [LOST], Badger [DWxC], Winfield [Pax], Aristarchus the Duelist, Britney [RBG], CaT the Pathfinder
Thursday March 15th
- This will once again bring us into Ilshenar for further investigations picking up where we left off.
Monday, March 19th "Lords and Land"
- This will be a roleplay centric event that will deal with a dispute between Britan and Trinsic, resulting from the failed delivery of Golden Tunies we encourage everyone to participate. Remember....your actions will have consequences, so nobody go injecting anyone with Dragon's Blood
Saturday, March 24th "Tow If By Sea"
- This will be a combat oriented, high seas utilizing event the outcome of the Lords and Land event will steer the Two If By Sea event
EM Announcements​
() Raiders will continue to spawn in the various Cities of Britannia keep an ear on the Town Criers for more details
() We will also be surveying the lands Chesapeake has over 20 banners built for various Townships and not nearly all of them are active anymore. So over the next few months we will be looking into those banners that have been built and are no longer supported or have otherwise been deserted will be demolished.​
​
() People have sent us emails in the past letting us know they've been away for a while which is fine. The reason for this is because those Townshps that are linked to the Teleporter Hub with a banner, when new visitors to Chesapeake visit the hub and go to these townships to find them deserted it's really not serving its purpose. We just wanted to let everyone know that over the next few months we will be looking into this​
​
​
HoC Open Floor​
(Questions, Comments, Concerns and the like)​
Tamith:
You know we've moved our town to fell and all i have to say is id appreciate it if it could be moved soon. our town is active ty that all i had. Removing town banners, by what criteria. Population of towns, availability of players is in flux. Ups and downs are part of UO.
Elder EM Dudley:
I will poke Mesanna bout it again. If you email us and say hey, we're still here just not around as much That's fine. We've responded to that in the past and it's understandable. Attending Township Events, making your Township known, holding events, Attending Hall of Commons meetings. Those sorts of things are fine and we obviously won't remove any that fall into those criteria. We're talking about banners that were built and we haven't heard a peep from the Township in months. Its not fair to the community, Its not fair to the people who are active
Winfield:
A few weeks ago you asked if townships would support a town that was having rioters and such. Our PaxLair Alliance is supporting Skara Brae, we did a news announcement and article on Stratics a bit ago, so just wanted to let you know we are doing well there, have an armada of ships there hold our weekly meetings there now. And we have at times defenses in the streets with boxes. I commend the alliance and all others coming to Skara to aid the city. Propaganda in Skara is bad at times, books saying PaxLair should be Driven out. Seems some factions inside the city are more than just rioters. Some local townsfolk and such we will keep an eye on the diplomacy there too Thanks, I'm finished.
Elder EM Dudley:
We are hoping to really get things moving with the "Lord and Land" event
Pita Tinkles:
you owes pita 7 kissies mees look for yoos all week no find yoos. yoos gibs pita kissie now?
Elder EM Dudley:
You'll have to see the Vesper Mint regarding that As they are caretakers of all kisses. It's against the rules for EMs to give kisses while conducting Hall of Commons meetings
Celestial Knight:
throws rotten egg @ dudley why do u allow some to speak out of turn and wait for others to type then say, or tell too to wait. The goblins type all the time you allow it
Elder EM Dudley:
We've been doing Hall of Commons meetings this way since the beginning. It's a lot easier if I get out the announcements then open the forum for questions. If it gets to be exceptionally disruptive I will take action
Celestial Knight:
untrue statemt dudley you do and say zero to them every sunday its the same but movening on because i know whats comeing next you do not care plus its your house Boss. My banner and town of act will be moved ill try and speak with someone else other then you to have it moved ty oh yes lastnites event unfair to a few because of a bug on your all part
Elder EM Dudley:
I will please ask the Goblins to take their seats And remain quiet during the open forum If you wish to request a banner be moved you can submit the request to me I will pass it along to Mesanna. Are you asking me about moving a banner or last night's event?
Celestial Knight:
3 questions is alll i had other s tlaking who did not waned banner and the event that took place lastnite
Elder EM Dudley:
As far as the banner if you want it moved you can submit the request to me. I will pass it along ot Mesanna She is the only person who can move them and there is only one of her. She is extraordinarily busy but we do our best to get things done
Elder EM Dudley:
As far as the event last night the bug in question didn't effect the outcome of the event in any way. The way the mechanic works is you don't have to wait for anything If you deal a lot of damage or do a lot of healing You have a very good chance at getting a prize
Celestial Knight:
Hmm i understand its about the story line i am with you on that but a few players wait and wait for a drop and you call it bugged with those eggshells got thier hopes up and kicked them down but its okay i am finished thx