Former Stratics CEO (2011-2014)
VIP
Alumni
Supporter
Stratics Veteran
Stratics Legend
UNLEASHED
Campaign Benefactor
Come one, come all, to the new Summoner Showcase! This week highlights the unique: creations of a sort you may not have seen before. Check it out!
Need a little more? Have a look at the links below.
Ziggs Mask
Rayimus
proves that papier mache can be truly explosive with his grinning Ziggs mask. Watch those bomb fuses, folks: he's flammable!
Kirigami Champions
"Kirigami" is the art of cutting paper into pretty shapes… or in the case of
Sun Dao Liu Boy's
work, incredibly awesome ones.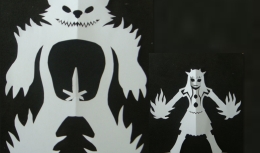 Pencilled Morgana
The Fallen Angel becomes a vision in graphite thanks to the amazing penciling of
YNarancsY
. Morgana herself must agree; why else would she be smiling like that?
Summoner's Rift Sonnet
ForeverKeytone
goes all William Shakespeare on us with an ode to the rollicking Rift.
LoL Cypher
From one end of the poetry spectrum to the other,
FrankDee Tank's
epic cypher jam puts the beat in "beatdown."
Diva LeBlanc
She was always a rock star in the League, and
Duskemi
confirms it with his great artwork here.
That's all for now!Are you as creative as these guys and gals? Send us your submissions to
[email protected]
and show the world! Be sure to include a link and your summoner name with every submission.
We'll see you next week!
Continue reading...