Former Stratics CEO (2011-2014)
VIP
Alumni
Supporter
Stratics Veteran
Stratics Legend
UNLEASHED
Campaign Benefactor
Season Two kicked off in November 2011, and has since encompassed a number of exciting events. In order to catch everyone up on Season Two's progress, we wanted to give you all a recap of the Challenger Circuit events of the past few months.
Pre-Season Two saw six Challenger Circuit events spread across the world. They created a series of clear front-runners, with Counter Logic Gaming leading the pack in North America and Fnatic RaidCall holding first place in Europe. For a more complete look at the pre-season tournaments,
check out our Pre-Season Two Circuit Events Recap
Now that Season Two has begun in full swing, we've witnessed two Challenger Circuit events: both of them Intel Extreme Masters stops in Kiev, Ukraine and Hanover, Germany respectively. From these tournaments, new contenders joined the ranks of the Challenger Circuit while others rose or fell in the standings.
IEM Kiev
When: January 19-22, 2012
Where: CyberSport Arena in Kiev, Ukraine
Who: Eight teams (five European, three North American)
Standings: #1 Moscow Five, #2 Team SoloMid, #3 SK Gaming
Coverage:
http://iemkiev.leagueoflegends.com
Official Event Site:
http://www.esl-world.net/masters/season6/kiev/
IEM Kiev marked the first full event of Season Two. Internet hype pointed to Moscow Five as a heavy favorite despite the team making its first appearance in front of a live audience. Two four-team group stages saw Moscow Five emerge undefeated, heading into the semifinals alongside Team Dignitas, Team SoloMid, and SK Gaming.
The playoffs saw both Moscow Five and Team SoloMid taking their matches 2-0, securing both teams' entrances into the grand final undefeated while sending SK Gaming and Team Dignitas to the third-place decider.
After a grueling 2-1 victory for Dignitas over SK, the stage was set for the grand finals, where M5 claimed first place over TSM 2-1. With their resounding victory, M5 became the #1 Challenger Circuit team in Europe and gave the world a new team to fear.
IEM Hanover
When: March 6-10, 2012
Where: CeBIT in Hanover, Germany
Who: 12 teams (four North American, seven European, one Chinese)
Standings: #1 Moscow Five, #2 Team Dignitas, #3 Counter Logic Gaming
Coverage:
http://iemhanover.leagueoflegends.com
Official Event Site:
http://www.esl-world.net/masters/season6/hanover
The Intel Extreme Masters World Championship in Hanover brought the twelve best-performing teams from preceding Intel Extreme Masters events to five days of gameplay, starting with two six-team groups.
First place in each group – and automatic placement into the semifinals – went to Moscow Five and Team Dignitas. Though both teams had some rocky matches, Dignitas won all but a single match to Fnatic RaidCall, while Moscow Five triumphed 5-0, including a thrilling comeback against Curse Gaming. The quarterfinals saw Counter Logic Gaming defeat Curse Gaming 2-0 and Against All Authority narrowly succeed over SK Gaming 2-1 to take the final two slots in the semifinals.
After Dignitas bested aAa in an impressive 2-0 showing, M5 took a similar 2-0 victory against CLG. The third-place match saw CLG avenging themselves through a narrow 2-1 victory. These matches set up the epic final bout between Dignitas and Moscow Five for $50,000. Just as they had for the entire tournament, Moscow Five dominated the competition, bringing home their second consecutive gold in Challenger Circuit events and a clear lead in the Season Two standings.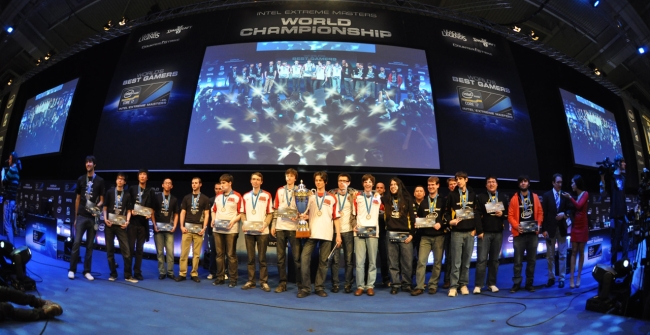 Season Two currently holds nine qualified teams in North America, with Counter Logic Gaming, Team SoloMid, and Team Dignitas holding the top three slots. In Europe, eleven teams have placed in Challenger Circuit events, led by Moscow Five, SK Gaming, and Fnatic RaidCall.
Stay tuned to the League of Legends Competitive Site for information on future tournaments and the upcoming Season Two Championship, all part of the $5,000,000 Season Two.
Continue reading...