Former Stratics CEO (2011-2014)
VIP
Alumni
Supporter
Stratics Veteran
Stratics Legend
UNLEASHED
Campaign Benefactor
Summoners!
It's Thursday, which means that it's time to bring you a healthy dose of skin and champion deals to help you kick your weekend plans off on the right foot. If you're out for a bit of the old rough-and-tumble, we're pretty sure we know where you can find some: in the mountains, in the madhouse or in the middle of a bar filled with men wearing leather jackets covered with chains. Luckily for you, whichever of these fine venues you choose to patronize we've got just the skin to ensure that your champion will feel right at home.
The following raucous-inducing skins will be available at 50% off from Friday, April 6th, through Monday, April 9th:
You can be prepared for even the most inhospitable terrain by snagging Rugged Garen for only 487 RP.
If you'd prefer a strait jacket to a climbing harness, try grabbing Asylum Shaco for only 487 RP.
If you'd like to hoist a glass in the seediest tavern that Valoran has to offer, then picking up Vandal Brand for only 260 RP might be a good first move.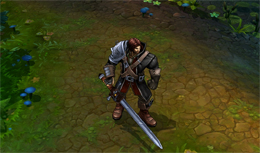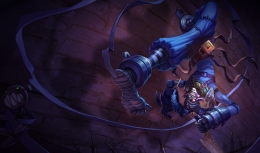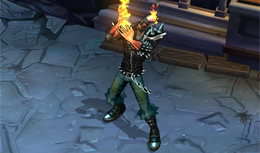 Of course, wherever you're headed, it's always good to make sure you're keeping good company. Whether you prefer to buddy up with the enlightened, the elegant or the outright alluring, we've got just the trio of champions on sale to help you blend into any occasion.
The following champions will be on sale for 50% off from Friday, April 6th, through Mond
ay, April 9th:
Lee Sin, the Blind Monk, will be only 487 RP. Whether you're off to a martial arts tournament of a secluded mountain monastery, you're sure to be a welcome guest if you have this gentleman in tow.
LeBlanc, the Deceiver, will be only 487 RP. If you're on your way to someplace swanky, having this classy illusionist on your arm is sure to keep the conversation colorful.
Ahri, the Nine-Tailed Fox, will be only 487 RP. No matter who you're trying to impress, you'll be assured your champion will be nine times foxier than anybody else's.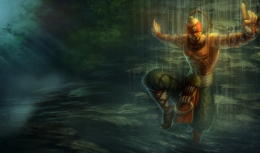 Wherever your travels may take you in Valoran, we hope these weekend deals will help get you prepped and ready for any eventuality.
Stay classy, summoners!
Continue reading...