Adventurer
Stratics Veteran
Stratics Legend
Village Patrol Guard, Kijustsu Anei Village, Monday, October 10th, 2011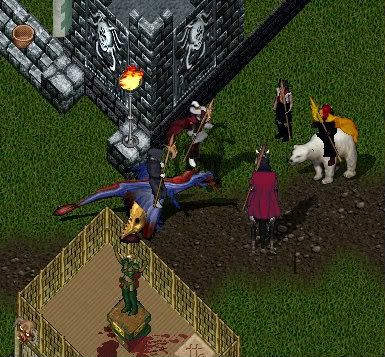 The Village Patrol Guard opened their patrols on Monday, Oct. 10th, 2011 from 7:30pm-8:30pm et. They successfully patrolled the entire
Village with even breaking up into groups to be stationed at each of the three guard towers in the village, after
walking the perimeter first.
The reason the Village Patrol Guard was started was to simply patrol the Kijustsu Anei Village Townships and
interact via roleplay with the EM Roleplay characters and spawn/invasion that may be encountered. This is
just more interaction with the game to allow players who enjoy to roleplay with the EMs, and each other within
the Kijustsu Anei Townships.
After the end of their patrolling period, a few of the soldiers on the guard decided to stay behind and guard the
Ethereal Void Imperium Hall where the Tribal Council of the Kijustsu Anei Village held a meeting from 8:30pm - 9pm et.
The guard will continue to patrol the village limits and other townships as time rolls on.
​