Journeyman
Stratics Veteran
UNLEASHED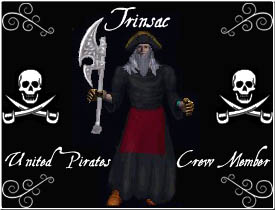 Introducing a pirate of some renown, who served with Captain Hawkeye Pike from the beginnings of the United Pirate crew. Since Captain Pike ans his first-mate Hook sailed from the Jolly Roger Inn, Red Skull Bay; ner to be heard from agin, *bows head*, God Bless he and his ship's crew.
Well, as myself was tellin' yas...the crew at Red Skull Bay chose Trin to be ther pirate captain. And know yee well, that rum drinkin' , wench chasen, ax swingin' scurg of the seas, be now the righful "Captain" of the United Pirate crew. He be feard by man and maden in all
Britannia
and all the Islands. so be yee introduced proper!
From humble beginnings he came to be a party to Pike's crew...
Trinsac joined the United Pirates in May 2008. The life of a pirate was a new experience to him. The more it is remarkable that he had become one of the central members of the crew. If you see some green seaweed entangled in his long grey beard, it probably means that he just had returned from one of his sailing trips. He always tries to make it to the events, and he is neither afraid of most dangerous monsters nor hordes of landlubbers. He was entrusted with the function of an Emissary, and that he did well and proper like, ans soon he was busy recruiting a few brave men and women,(no wenches here), of the sea, ta join him at da Jolly Roger Inn.
Beware salts, sailors and landlubbers alike, Trinsac be our Captain now, arrr.
Title:
Fearless Pirate Captain
Favorite weapon:
Any blade that stings or cuts.
Favorite skills:
Swordsmanship, Chivalry
Last edited: