Lore Keeper
Stratics Veteran
Stratics Legend
I will be selling my castle and its contents on Lake Austin. I would like to know its value first. If you would like to estimate it's value, I would welcome your input.
I will be accepting offers via ICQ (installing it now). I will post images as soon as possible.
If you have difficulty contacting me on ICQ, let me know please. I might not have it set up correctly.
I will add images of container contents as I can. I will try to list the items, as well. on second thought, maybe not. There are over 6,500 items in this house.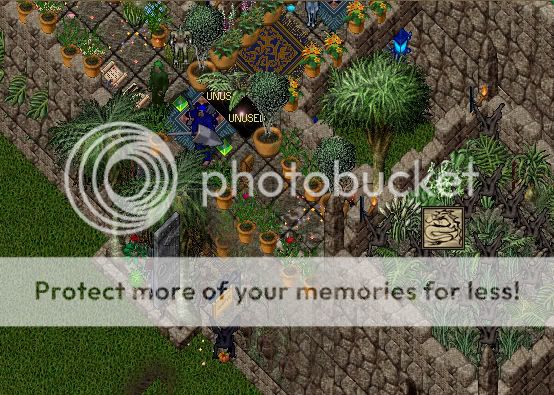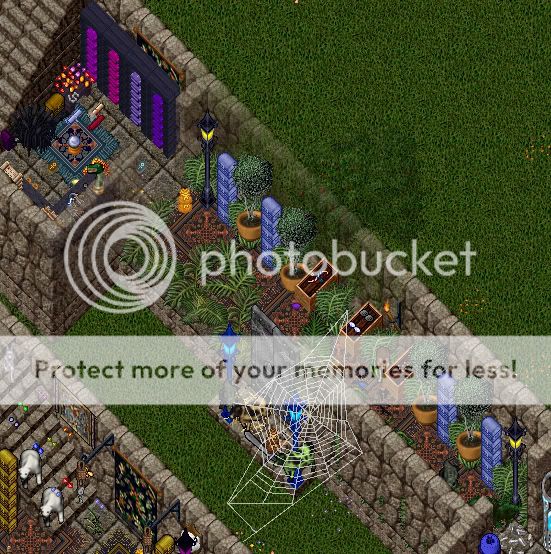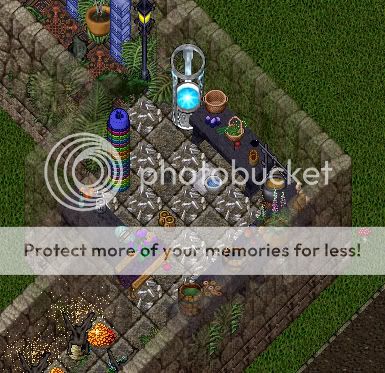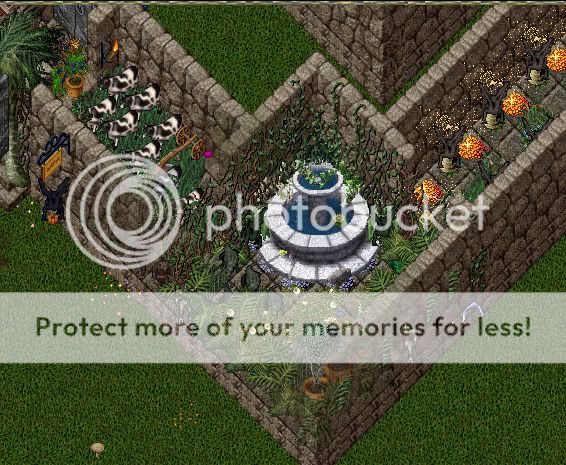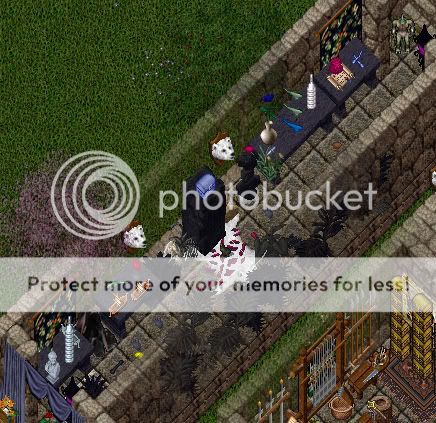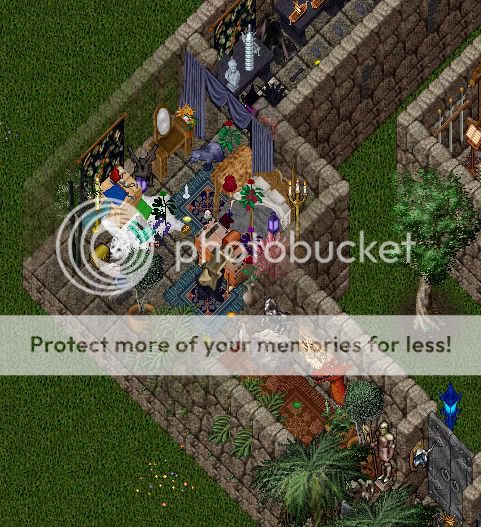 Container contents: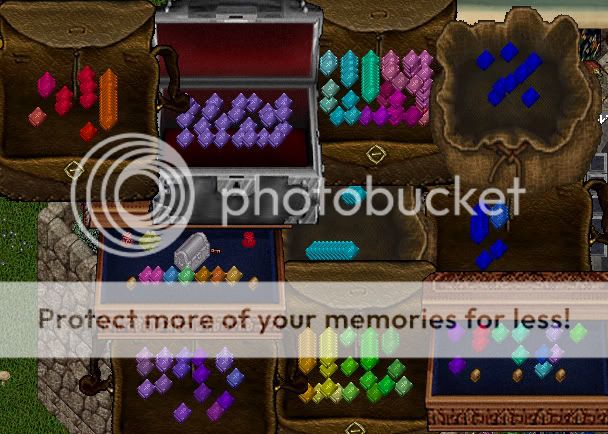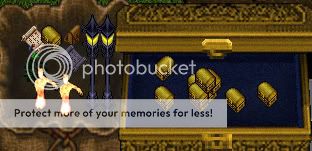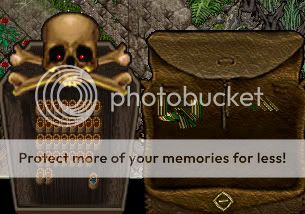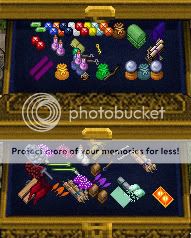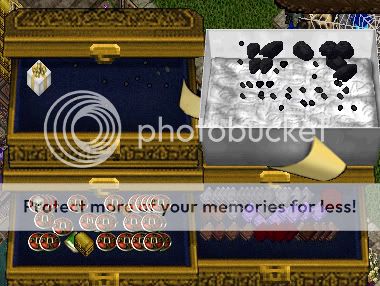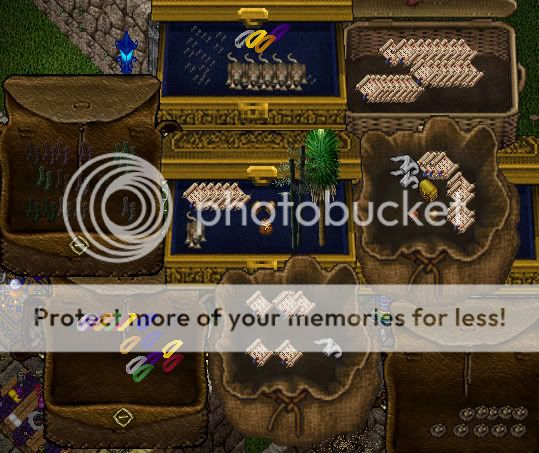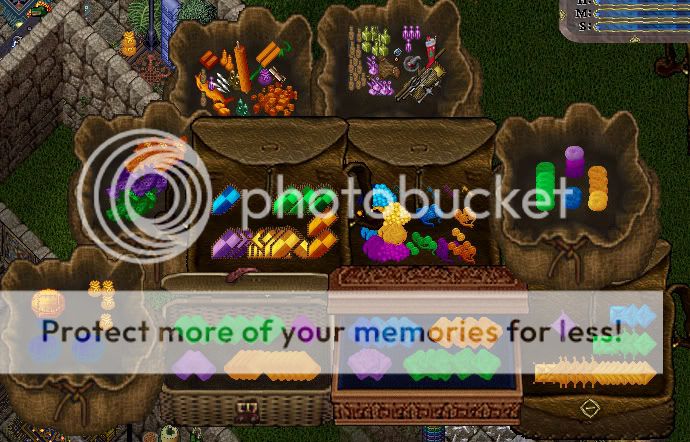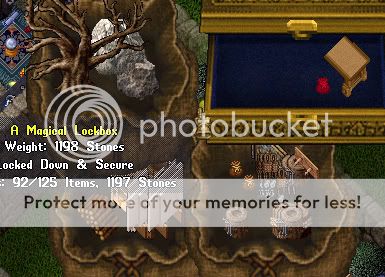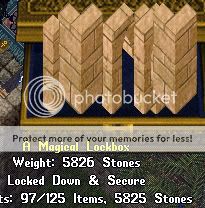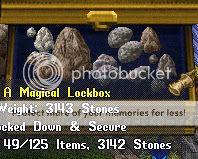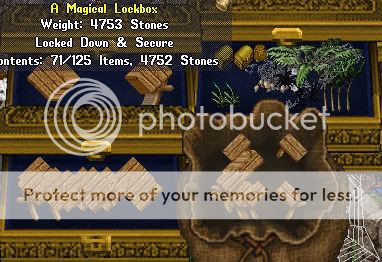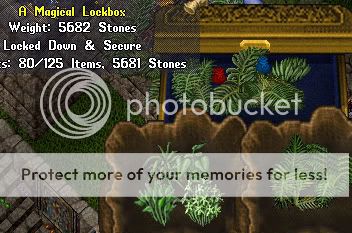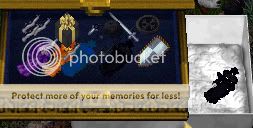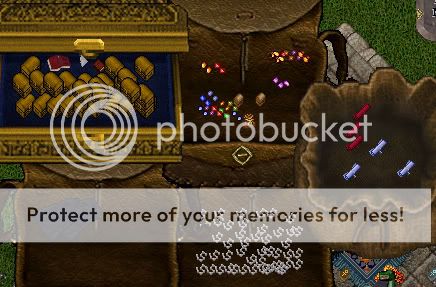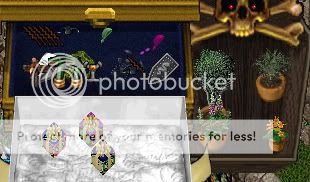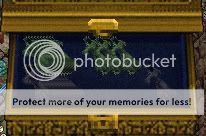 Partial list of items:
You Were Naughty This Year bag (empty)
Year of The Dragon Moon bags (two of these)
Two-piece Plough - NorthSouth
38 easter eggs (could be more, I hid some of them well)
Asian Slime dyed blue crimson cincture
A Leather Bustier Sewn By Kirschblute
Over 50 Cloaks of Corruption - some Asian Slime Dyed
Statue of Duryn
Statue of G'Splat
Statue of Gilforn
Statue of Zendella Kxriss
Statue of Halston Montil
Glacial Spellbook (blessed)
Folded Sheet
Official Certification (purple event book)
Blue magic lock scroll
Museum of Vesper Sash - blazed slime dyed
Music Stand
Deed for a potted plant
Runebook [Exceptional]
A Runebook of Exceptional Quality
Three Character Statue Makers (jade, bronze, & well, I can only see 2 right now)
2 Unused Tiles
2 Lights
Glacial Dagger
Glacial Pickaxe
2 Glass Daggers
Happy 6th Anniversary UO! crook
Sigil of the Necromari
2 Orcish Toolkits
2 Putrid Ichor
A Pile of Petrified Bones
Skull with Candle - lit (not the doom stealable)
Skull with Candle - unlit (not the doom stealable)
Triple Slayer Broadsword - Scorpion, Ogre, Undead
Triple Slayer Scimitar - Dragon, Snow Elemental, Undead
Triple Slayer Cutlass - Ogre, Blood Elemental, Undead
Broken Minotaur Horn
Cards
Bloody Water
Blade of the Righteous
Zyronic Claw
Bracelet of Binding with HTML saying ** Kisses For My Queen**
2 EM Sashes
Djinni's Ring (not replica)
Mark of Travesty Bushido/Parrying
Mark of Travesty Fencing/Tactics
2 Royal Sand Miner sashes
Blackguard of the Legion of Chaos sash
Imp Race Participant sash
Partisan of Chaos sash
Member of the Legion of Chaos sash
White Lamp Post
Ruined Painting
6 small Rubble display cases
black rubble pillar
3 Broken Crystals from recent event
3 Singing Balls
3pc Boulder
Raith, Lord of Rats Paragon Chest (event item)
5 special fish (Pure Fire Fish "Balhae" and 4 others)
2 Wash Basins
Ceramic Mug
Rubble Pants - Asian Slime Dyed Blazed
Sheet Music
5 Veritae's Music Box Gears
4 Music Boxes containing Veritae's Music Box Gear
White (grey, actually, I think) Spellbook
Ethy Crook
Rubble Tapestry Piece - left side
Piece of Rubble floor tile from recent event
A Faction Robe (anyone can wear)
A Robe
Blue Robe - Doggy dupe item, maybe?
A Robe Sewn By Coll - Asian Slime Dyed 100% poison color
Deviously drawn Ilshenar map
A Tambourine [blessed] Blessed - (double blessed)
Several Spider Webs
Sigil Bear Mask
Another Crimson Cincture
Large Vase
Small Vase
Small Rubble Crate
Various of Exceptional Quality Pieces
Rubble Tent Pieces
Sigil Hooded Robe of Umbra
Zoo Contribution Polar Bear
Ridable Polar Bear - vet reward
91,305 Silver Coins
8 Small Stone Tower Mini Houses
Blazed and White muffins
Purple Bottle of Wine
Interior House Door Key
Pure White Apple "Arirang"
Dirty Pot
Happy Halloween Pumpkin
Pitcher
Purple Leg of Lamb
Tray
Brazier (not on a stand)
Kettle
3 Rubble Tables w/ Purple Tablecloth
Set of coal Ringmail armor, inc. Norse Helm and Heater Shield (all made by Ember Steel)
26 Coal Ingots
1 Coal Ore
Candy (beads)
Old Hair Dye
Special Beard Dye
Brown Lesser Poison Potion
2 Eye of Newt
2 Wyrm's Heart
2 Brimstone
2 Dragon's Blood
2 Bloodspawn
5 Pumice
Deed to a Field Stone House (not a mini)
Deed to a Two Story Log Cabin (not a mini)
2 "Unknown" deeds
"Deed" deed
8 Open Books - old books (4 different graphics)
5 Rubble sandstone cubes
Wedding Invitation
Deed for a Potted Plant
A Ship Claim Ticket
21 magical lock boxes
Rubble Boat Piece
4 white bank checks
2 "Ship Model"
4 Vendor Deeds with names
3 Bushels
3 chests of +15 jewelry and other helpful jewelry
2 Rubble Loom Benches
Rubble Necklace
Rubble Beads
Sigil "A Bow Of Exceptional Quality Exceptional"
Sigil Double Exceptional Gorget
Sigil Double Exceptional Ringmail Gloves
The common-looking plants you see are all rubble
The dragons are vet rewards, not stuffies
Lots of other smaller stuff
I don't know what I am forgetting to mention. I think you can tell what many of the items are just by looking at the screenshots. Thanks for reading!
More later, perhaps.
There is a pink runebook on a podium in this Luna House. It has a rune to the castle (Faster's Castle) in it, in case you would like to view it. I will try to keep it loaded with recalls. BlissMarie