UO Forum Moderator
Moderator
Professional
Stratics Veteran
Stratics Legend
Wiki Moderator
UNLEASHED
Campaign Supporter
An Amazing Finish to an Amazing Race!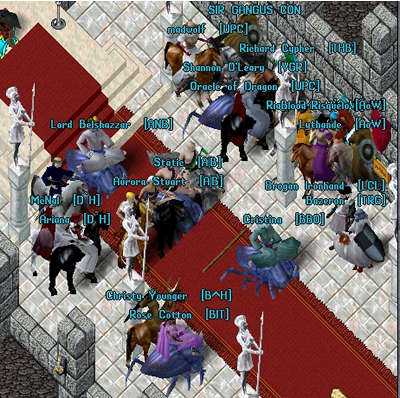 Fireworks filled the sky above the Castle of Lord British, but they did not signify a royal event this night. Instead they marked the beginning of an amazing event, or more precisely, The Amazing Race of Lake Austin.
The epic race was sponsored Saturday evening by BBO of Lake Austin, and coordinated by Cristina. 15 Teams were formed in the weeks prior to the event. The Goal: to be the first team to navigate through 20 locations, scattered across all four facets of Lake Austin. The Catch: Each team began with a single cryptic clue, then had to determine the place it referenced and reach the location in order to receive the next clue. Teams were given a single "Free Pass" that would allow them to skip one location point along the way.
After the teams checked into the Castle Throne Room and received their first clue, the fireworks signaled the teams to start. Gates quickly began opening, and within seconds the previously chaotic hall was left empty and silent. The race was on!
As participants fought to decipher clues and get themselves to their destinations as quickly as possible, event coordinators scrambled behind the scenes to prepare for incoming teams to each location. This made for some interesting unplanned issues to overcome, including the attack of a rampaging wyvern - causing the inconveniently timed death of event volunteer Starsong, as well as a rogue beetle who ran away with the clue books for some of the last locations. However Cristina, being quick on her feet, was able to keep the race on track with little negative impact.
The locations, reduced on-the-fly due to the minor technical difficulties, were as follows:
Bagball Arena
Twin Oaks Tavern
Bucs Den Tavern
Brit Library
Lighthouse
Brit Zoo in Moonglow
Skara Brae Ferry
Shrine of Virtues
Paladin Hall
Blackthorne's Grave
Hag's Hut (from the Hag quest)
Toymaker in Trinsic (from the Obsidian quest)
Compassion Shrine
Jhelom Pits
Vesper Bank
Cove Bank\Yew Winery
Brit Moongate
Ended at Castle British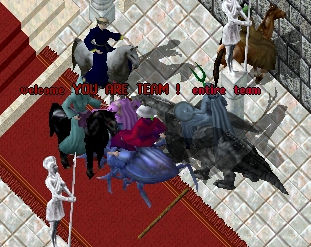 Approximately 1 1/2 hours after the race began, the teams began heading toward the final destination. It was a close race, with only a few minutes time span separating all the racers. Rose Cotton was the first to cross the finish line, with her team members following quickly behind, earning first place. The winners:
1st Place: Rose Cotton, Aramis, Kylie and Sir Cartoman
2nd Place: Arianna, McNal and Belshazzar
3rd Place: A|B Team, Aurora Stuart, Jinx, Static, and Insane
4th Place: Orange Slice, Dark Magi, Shiloh, Psyco
5th Place (tie): Team Pacman, Bazeron and Borgan Ironhand
5th Place (tie): Richard Cypher, Oracle of Dragon, Madwolf, Shannon O'Leary, and Sir Gangus Con
6th Place: THB Team, Aurora and Glen
Immediately following the race, everyone was transported to the BBO Auction House for the Award Ceremony. All participating teams were awarded prizes, with the first place team receiving 1 million in gold, a set of the clue books and a participation book, plus some other spontaneous goodies.
When asked about their racing strategies, team members had plenty to share. "Luckily, at least one of us knew where the next clue led us, and thanks to a vast and wide range of runes between the 4 of us, we were able to get around quickly," stated Aurora Stuart [A|B]. Rose Cotton [BIT], team captain for the winning racers, noted "None of us ever got hopelessly lost, we all were familiar with the countryside so it was easy to get back together again if we got separated. We all had UO Automap up so we knew where we were going once we got the clues." Even so, in the heat of the race things didn't always go smoothly. Aurora [THB] confessed "I did get misdirected once. We were supposed to go to Delucia Fel and somehow I read the clue and got us to the little gypsy town near the Compassion shrine in Ilshenar!". Regardless, all participants did an admirable job, proving themselves more than adept with the geography of the realm.
Participants in the race clearly enjoyed themselves throughout the event, and came away with more than just prizes at the end - laughs and memories. Rose Cotton commented, "We were all laughing the whole time, and it was hard to target runes when you're laughing that hard!" And as if there wasn't already enough, some racers created a little of their own fun. "Those guys I ran it with are a riot, they're so fun to just hang out with. We decided to run the race naked and add a lil extra "unf" to the fun of things," Aurora Stuart shared. Which, as it turned out, was mentioned among Aurora's highlights of the evening. "The most interesting thing was waiting in Luna with the A|B team. Actually, I'd have to say it was the funniest too with the guys and their uniforms, or lack of! You could tell they must have been cold, if you get my meaning..."
In addition to a well-deserved rest, Cristina also came away from the event with her own memories. "I was very pleased with the turn out of events, especially since every one had a great time," she stated. When asked what she felt was the biggest reward for her efforts, she added, "I held something that people had fun in (I hope) and that it was different, and not the normal 'what are we gonna do?' thing." And it appears this is just the first of many. Cristina dropped a few hints that planning was already underway for the next unique event - an animal fight, with details to follow soon.
Finally, all the participants expressed their sincerest gratitude to BBO and to Cristina for an immensely enjoyable evening. In the words of Rose Cotton, "Thanks to BBO for such a fun event. It was crazy, funny and adventurous all rolled into one!"