Grand Inquisitor
Alumni
Stratics Veteran
Stratics Legend
It's always a great when gaming communities hold a get together.
To GW2 gaming community, you all rock!
https://www.guildwars2.com/en/news/foostival-2014-a-celebration/
Guild Wars 2
>
News
>Foostival 2014, a Celebration
Foostival 2014, a Celebration
by Ramon Domke and Stephanie Bourguet on April 9, 2014
Guild Wars 2
communities together. Last year's Foostival was a success, and the party only grew in 2014! Hundreds of players from across Europe took part in events held simultaneously in Paris and Hamburg and were joined remotely by players from the Romanian community.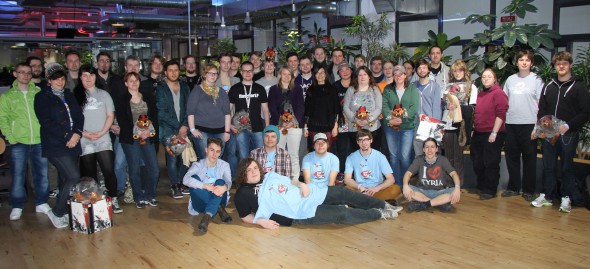 Over the course of one Saturday afternoon in March,
Guild Wars 2
players came together to share in the spirit of the Foostival. Most met old friends who they had been playing alongside for years, and many new relationships were formed. In addition to bringing friends together, Foostival was a great opportunity for us to hear your feedback first-hand, raffle loads of
Guild Wars 2
prizes (including the coveted toaster), enjoy a jumping puzzle or two, and many other quaggan-related shenanigans in game.
It was amazing to see how this event has grown since 2013, and we hope its success continues in years to come. We'd like to share our thanks to everyone who attended or took part from afar and send a special thank you to everyone who worked tirelessly to bring Foostival to the masses for 2014. Even as the event was drawing to a close, plans were being hashed out for 2015. We look forward to what next year has in store!
As the spirit of the event is to share the fun, we have put together a little video for your enjoyment.
If you want to know more about Foostival, keep up with information, or get involved with organization for next year, please check out the
Foostival
website!