Stratics Legend
Alumni
Stratics Veteran
Stratics Legend
Friends and neighbors, old and new, gathered yesterday at the Big Pink Phoenix Festival House to begin a day of fun and games. EM Miko provided beautiful pink festival robes for everyone and when all had gathered we made the short walk to the Lady Phoenix Memorial at the east gate of Luna.


Toasts, prayers and poems were offered up in memory of our good friends Lady Phoenix and Lady Bastet. It was especially heartwarming to see members of Mighty Orc Slayers and Freeholders Across Legends guilds.

After a bit of break the festivities began with Cow Tipping at Jhelom pens hosted by the McNuge family.


An hour in Magencia followed with Lady Damia handing out seeds and supplies for beautifying the town. Over the next few days, with care and sunshine, flowers will bloom and those that planted will have a lasting token of the festival.

Then it was off to the wheat field in Moonglow and some fast and furious Bunny Bashing hosted by SoS guild, Luc and Jirel. Items to loot from the icey blue corpses were called out and prizes given to lucky looters.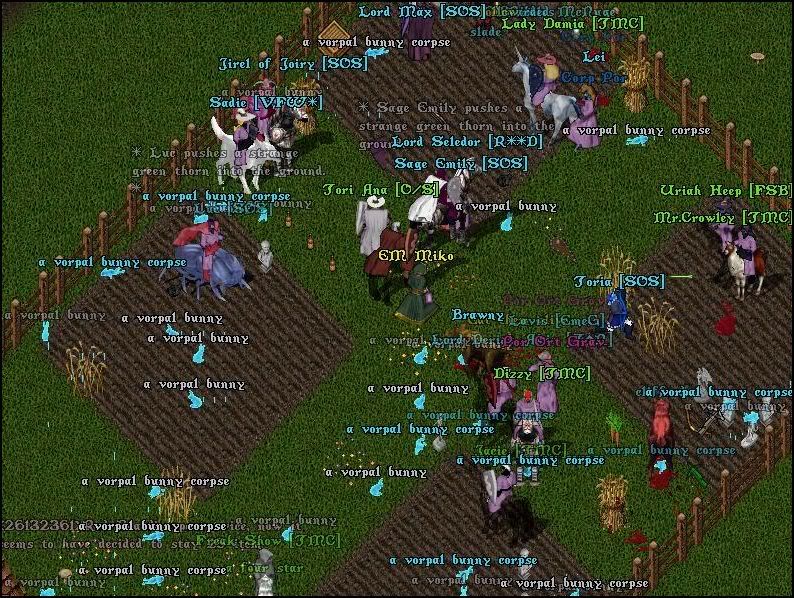 Our next destination was the tunnel leading to Lost Lands where the ill-tempered phoenix lives to discover that his relatives were visiting and they were even meaner! Death awaited at the very entrance and it was a massive battle to work our way thru the length of the caverns.

After catching our breath we journeyed back to the Jhelom pens for some Mage Poker. Lady Damia called out the combinations and the mages went into spell casting contortions to call up the summoned beasts. A big thank you to the TMC guild for stepping and hosting this event when EM Helios' horse threw a shoe and he was delayed.

Then it was off to the docks at Buccaneer's Den for the Net Toss. We found out that yes, you can summon two Scalis at one time! We defeated a total of three of the big blue guys but I'm sorry to report that I heard no claims of grand prizes recovered. It appears that we'll have to keep at it!

Next on the agenda was Paintball hosted by DreadPirate Drac at Fluffy's Arena. If you've never played this game try to make it a point to get to one, you won't be disappointed! Drac says they play once a month, I'll be sure to get details and let you all know! Appropriately, the Pink Team was victorious on this night!


Well, here we are, late in the evening and some feet are dragging, but EMs Helios and Miko were determined to not let anyone nod off! In the fighting pits of Jhelom teams were pitted against ferocious monsters (some appearing to be related to Miko somehow) and even the spectators were at risk!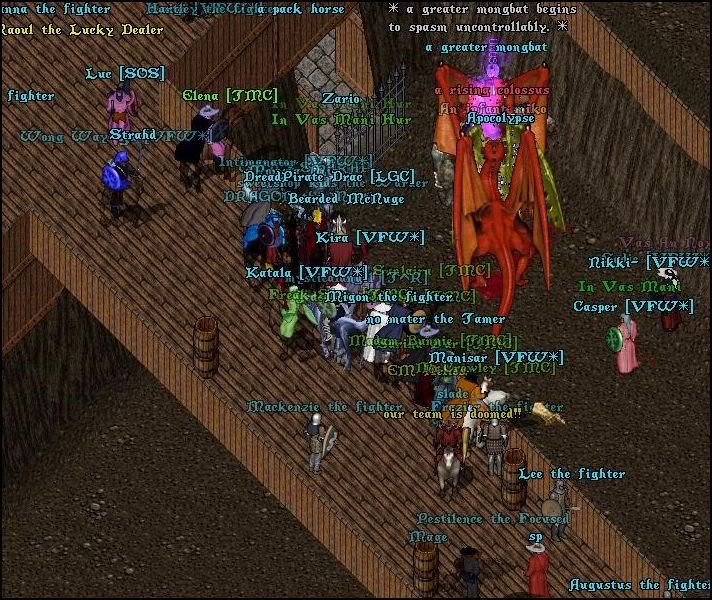 When all teams had finished the call was put out for everyone to enter the pits and the mayhem ensued......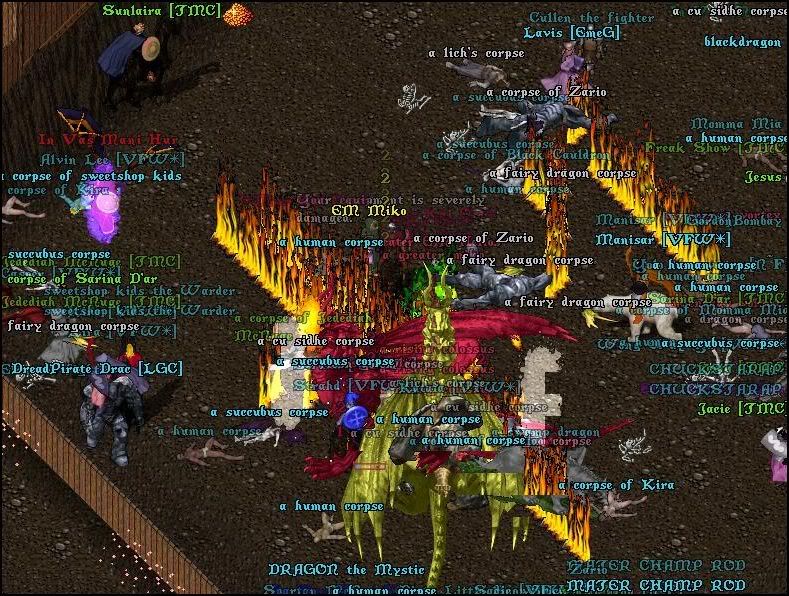 The last event of the evening was a Free-For-All in some dank caves in Felucca. For me, it was instant death, of course, but I was just there to try and get a picture of the event...... would have liked it in color, but such is the way of Felucca, I see things there in shades of grey.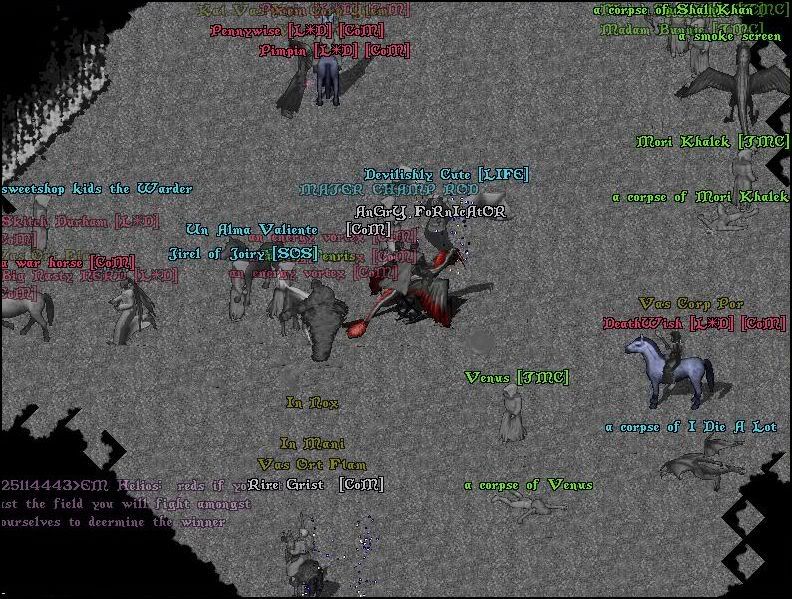 If you look carefully you'll see the EM admonishing those still standing to finish the event, meaning that there was to be just one man standing at the end. They seemed reluctant to battle each other, all of them being in the same guild, so Crimson Dragons were released upon them. None survived and it was mentioned that the winners of the Last Man Standing was most certainly our EMs, Miko and Helios.

Thank you to everyone that contributed to this day of fun for Legends. When I put the call out about a month ago I never dreamed that the response from both hosts and participants would be this enthusiastic. You all made it a very special day and Ghostie would have enjoyed it immensely.

Legends makes me proud.
​