It's long overdue for these fabulous black steeds to step into the spotlight. Ever since their introduction to the game with t2a, these hellish equines have turned into a taming icon.
Nightmares come in 1 shade in 3D and 4 shades in 2D, although 2 of the shades are barely imperceptible from one another. The shades are simply rehues of the 4 various horse types, though the shortmane grey and the shortmane roan horse end up looking pretty much the same when black is added to them.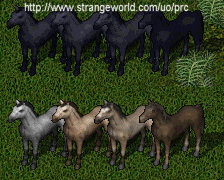 Nightmares spawn in many, many places, due in part to the Publish 16 changes. In felucca they can be found in the swamp in Terathan Keep, in Covetous Level 2, and in Wind Park. In Trammel they can only be found in Terathan Keep far back in the dangerous ophidian area. In Ilshenar they can be found in the ki-rin passage. For further information on the spawning areas, check out the dungeon map guide.
Slain nightmares will yield reagents, potions, arrows, gems, scrolls, approx. 300 gold, 5 carved raw ribs, and 10 barbed hides (20 if in Felucca.)
Post Publish 16 Nightmares range in strength from 496-525, 86-105 dex (when wild, not tamed and trained), and 86-125 int. Nightmares have 60 armor. Your average freshly tamed nightmare will have 30's to low 40's in magery, but they can train up quickly to much higher skills.
I remember the first time I saw a nightmare. It was at Magincia bank back in the time when there was only one facet. I saw this person riding this majestic black creature which was a far cry from my own mud-brown horse. Too shy to ask what it was, I blithely assumed that this person must have used one of those rare and so-special black dye tubs on their horse! After one short experiment with a dye tub and my own steed, I realized that the black horse I had seen was somehow different. Thus began my pursuit of nightmares and my road to becoming a tamer. /php-bin/shared/images/icons/biggrin.gif