The next few creature features will be based upon the hero spawns, so that people will know what to expect at which spawns and will better know what character they might like to take to a spawn. (And since stratics has somehow sped up I may be able to do these more regularly again!)
The abyss spawn will occur in Fire dungeon level 1 (past the graveyard) in Felucca, various regions of feluccan lost lands, and at random at either Humility or Valor in Ilshenar. Power scrolls are only available in Felucca, though the hero titles are available at any location.
Hero spawns have many levels of spawns. The first level of spawn for abyss can sometimes be the toughest...
Level One: Imps and Mongbats
The mongbats may look cute. But they cease to be cute when they box you in and their imp compatriots all decide to ebolt you at the same time, then add in a little poison. Imps in a group are definite pet killers. If in fel, carry refreshes and get under your pet and vet!
Level Two: harpies and gargoyles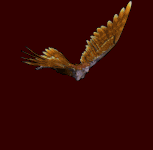 as long as you're not caught by insta-casting gargoyles, this level is a BREEZE compared to the previous one. These two levels of spawn also seem to be great anatomy training for pets, and can improve resist as well!
Level Three: Stone Gargoyles and Various Burning Gargoyles

This level can make you go mental fast. The fiery gargoyles radiate an aura that will have them chasing you like a dog chases a frisbee. They switch targets easily like daemonkin. Stone gargoyles are the easier part of this level. They hit hard, but aren't as psychotic as their fiery counterparts. Stay clear of the fiery gargoyles if possible.
Level Four: Succubi and daemons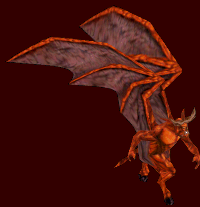 In LBR, succubi can be very difficult to target, which makes them a little more fatal than fiery gargoyles. Succubi are big fans of switching targets, sometimes for no reason at all. These girls will hit hard and pull out all the stops to give you a dirtnap. Coupled with their target-switching daemon friends, this level can really try your nerves. If you have peacemaking, target peace the succubi and/or daemons and set a pet on them or blast away with magery. If you have over 90 provo, you should fair decently at provoking them. But one thing is certain, one wrong move at this level and you'll see a deaths creen.
Level Five: Semidar
Semidar is fast. VERY fast. So fast, in fact, that she was missing for a good 20 minutes on Baja and had ran nearly from tortoise lagoon to hopper's bog before being held at bay. Her speed means if you lag and she's on your tail, you're dead. if you're on dialup and she's after you, you may be dead. if you're male and you cast on her, she will INSTA-KILL you. Males should polymorph to female before casting on her.
Semidar tears up pets. If you have a group of tamers, you may be able to call your pet out and vet/throw gheals on it and be able to put it back in the fight. Semidar has a similar area-effect attack like the succubi and will target switch easily. Most importantly, if Semidar or any champion kills you in felucca, your 20 minutes is waived and you can run right back in and keep attacking. So if she does give you a dirt nap, get back as quickly as you can!
Now others who have experienced the abyss spawn can post their own tactics for fighting it and anything else I may have missed.