Yes Virginia, there is a new Creature Feature, and this time the spotlight is on two of the more famous creatures of the game, those denizens of undead old age, the ancient lich and the lich lord.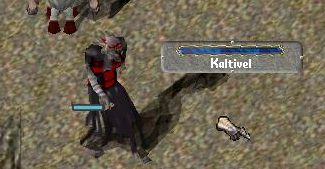 Spawning exclusively in Khaldun, the ancient lich comes by a number of different names. Almonjin the foreseeing eye, Baratoz the Keeper of the Pit, Anshu the Breath of Life, Maliel the Hand of Fate, and Kaltivel the Lore Keeper. Being older than dirt, these fellows have quite a few tricks up their sleeves for the unwary traveller. Like the skeletal dragon in Ilshenar, he sometimes has the propensity to spawn an army of lesser monsters such as lizardmen and skeletons, to help him take care of anyone who dares disturb him. Then, to add to the mystique, he will sometimes polymorph into one of the monsters he summoned forth.
Ancient liches give 1500 gold, reagents, magic items, and bone armor as well as level 5 treasure maps.
When I first started playing UO, the lich lord was one of the scariest unknown monsters I had ever heard of. I thought surely a lich lord could have killed me with one blow of his staff (and maybe at that time he could have!) But for an experienced player, the lich lord is not so much something to fear as he can sometimes be an annoyance with his huge amount of hit points. Unfortunately, when liches were beefed up they became Mini-Lich lords so anyone who has fought a lich before has fought what is, in essence, a lich lord with much fewer hits. Lich lords have master to sometimes grandmaster magery and extremely high evaluating intelligence.
Lich lords spawn in Fire dungeon level 2 and in deciet level 4 in Britannia. In Ilshenar, they spawn in the Ankh Dungeon, Rock Dungeon, the Sorcerer's Dungeon, Wisp dungeon, the Pass of Karnagh, in the graveyard behind the Humility Hero spawn, in a small valley east of Valor, and along a river near Valor.
For loot, lich lords give 400-800 gold, regs, wands, magic items, scrools, Blackmoor, and level 4 treasure maps.
Lich lords are one of my favorite monsters to play with, though due to their spawn points in Britannia I can only play with them from level 4 and 5 t-maps or in their spawn points in Ilshenar. Lich lords and I have a history of being on an even keel in terms of kills. I kill them, they sometimes kill me!
One of my most memorable run-ins with a lich lord came on a level 4 map on Temple Isle. Two lich lords came up with the guardian spawns, and after my pets were eagerly attacking the spawn I stepped out of my invis. Little did I know that the last lich lord hadn't attacked anything yet, and I presented a nice target to him. Whack! Confused, it took me a moment to notice this highlighted lich lord smacking me with his staff. In the jungle, it was hard to maneuver but I somehow twisted through the vines and grasses, heading at breakneck for the teleporter to the lost lands, the lich lord following me with his jolly laugh all the way. He was having a great time casting on me, which meant I was having a rough time with 0 resist. At 5 hp I hit the teleporter and ended up in t2a. I healed and caught my breath, then decided I'd try to get revenge (and loot) from that lich lord. So I popped back to the island...the lich lord targetted me...
"Thou wilt regret thine actions, swine!"
Once again, the guards of the world beat me out of my revenge. oh well. /php-bin/shared/images/icons/wink.gif
Now it's your turn to reflect on these evil undead foes...
<a target="_blank" href=http://boards.stratics.com/php-bin/uo/showflat.php?Cat=&Board=uotamer&Number=2521153&page=0&view=collapsed&sb=5&o=7&part=>
</a>
<font color=blue>Read the FAQ or the pixie gets it!</font color=blue>