Introduced with the current scenario, arcane mages and their mysterious and painful golems are appearing all across Britannia! (And the lost lands? *has not been to t2a yet...*) They seem to have no noticeable spawn area, and are prone to appearing anywhere in the wilderness, generally along roads.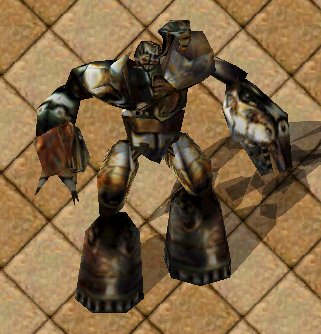 Easily recognizeable in 2D by their...greyness...and, well...how much they look like a rehued earth ele...golems should not deceive you by their innocent looks. Dumb as a rock, but all brawn, these things were no doubt created to destroy...and that they do, with relative ease. Their "colossal blow" special attack can stun a player off his mount (you go right back on after the animation), leaving him unable to move or defend himself for a few seconds, enough time for the golem to further pound him. Golems also have the nasty habit of taking warriors out of attack mode, so must constantly be double clicked.
Their loot, while not stellar, is interesting. An assortment of ingots, jewels, and an "arcane gem" which can be used by a tailor on exceptional clothing. Since they may be in the elemental family there is the extremely remote chance that maybe cartographers were thrown a bone and they carry treasure maps...(I can dream can't I?)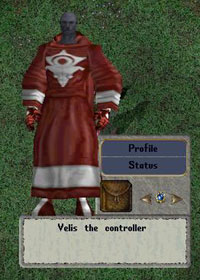 (Insert Name here) the Controller seem similar in class and difficulty to a mage lord, perhaps with slightly higher dex and hit points. These fellows cast master magery spells (-10 to stats) and seem to like spell combos (explosion, ebolt, poison, flamestrike...) They are very protective of their golems and will always be found near them! Their loot is 250-300 gold, arcane gems, and the occasional magic weapon. Their clothing cannot be picked up, but instead crumbles if touched.
Personal notes: Thus far I am not too wild about them. Golems are very much mage-oriented creatures, and while they can be taken by warriors and careful tamers, they didn't give me too much joy to kill after the first one. In fact the spawn just served to annoy me. I hope they *will* include monsters that tamers can kill, as well as bards, and monsters that warriors can manage a little more easily. They don't necesarily need to have great loot, but just something manageabls solo would be nice. Today I did see great teamwork among players, with people stopping to heal my warrior attempting 2 golems.
There will probably be more info on these forthcoming, so add what you learn as you encounter these (also someone can add info on the control panel thing as I have not found one...but I did come across some nice shadow ore!) And also please add on your stories of misfortune or fortune as you battle this new evil invading the land...
Addendum: Each piece of arcane clothing made by a tailor has 20 charges. 1 charge=1 circle of magery...so if you are OUT of regs you can throw on a piece of clothing and have instant access and castability of any spell. Pearl get stolen in Felucca? Throw on a robe and track down that thief! Run out of mandrake accidentally? Put on some boots and kal ort por to a bank! Once an arcane item runs out of charges it can apparently be recharged with a new arcane gem. Since this goes by spell level that is cast, (at last report) this means that if you cast create food with a robe you would use 1 charge, cast resurrection with it and you use 8 charges, and so on.

<font color=blue>Goal complete: 100.0% cartography
Total maps used: 654
Thanks to everyone who helped with maps or gave encouragement!!
</font color=blue><P ID="edit"><FONT class="small">
Edited by Elyssar on 10/04/01 07:34 PM.
</FONT></P>