Ah, the kraken. Compared to many UO monsters, he is a relative newbie, but he is only "new" as far as age goes. When it comes to a fierce monsters to be reckoned with, the kraken is indeed one to consider!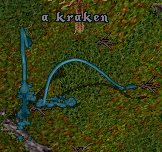 At home in the water, the kraken can be found in all levels of Dungeon Shame except Level 1, and in the heart of Wind park where two happy krakens spawn at a time. Wary fishermen can also call this fearsome beast to the top of the sea by use of a special fishing net.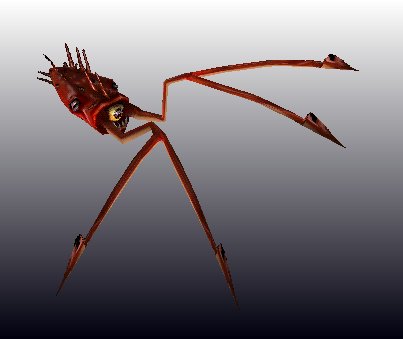 However, the krakens of the sea and the krakens in the depths of the dungeons are two different entities. The net krakens have a strange "firebreath" attack. The krakens of the dungeon don't have this feature. Net krakens can also give loot such as MIBs, in addition to thir gold loot (averaging 300), ropes, and level 4 treasure maps.
For a long time, krakens were one of my least favorite creatures. They have dex like mad, and hit as hard as a rabid ogre lord. But when I started to play my baby bard character, I found out they can be quite fun if handled just right (and if you don't get too close!) I was curious to see which would be the victor...a poison elemental or a kraken. One day, the chance to discover the answer presented itself to me in Shame. The two monsters clashed in a battle royale, but the kraken easily defeated the poison elemental, along with numerous water eles, earth eles, and mage lords, before succumbing. The kraken can be a good "pet", but like the pets of all bards, he eventually died.
Do you have a favorite story about krakens? Do you have an experience to serve as a warning to others who wish to hunt krakens? Do you have additional information on krakens? Well if so, post it here!

<font color=blue>Help a damsel in distress! Buying all tattered treasure maps on Baja!
99.9 cartography...WOOOOHOOOOOOO
Total maps consumed so far: 649 /php-bin/shared/images/icons/disgust.gif
</font color=blue>