Creature Feature #14 was unfortunately delayed for so long due to real life. =P
It is a creature of many names...the Slayer, The Collector of Souls, and the Lord of the Abyss. Each name means the same thing for an unprepared or laggy soul...death.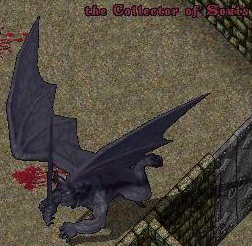 This daemon lord lives in the two lowest levels of Hythloth, as well as in the bowels of Terathan keep and in Ilshenar. He has a massive mana supply and hit points and armor to match...making him a very worthy opponent. Melee attacks rang from 40-70 points of damage per hit, and with high eval int his magic attacks are something terrible!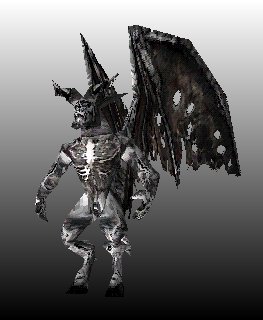 Balrons give massive fame, even to those at the highest fame levels. They give 800-2000 gold, level 5 treasure maps, scrolls, magic items, reagents, and 1 raw rib (carved). For a mage, energy vortexes and blade spirits are usually the weapon of choice against these foes, though now that is somewhat more difficult. Tamers and bards can use their weapons of choice against the balron. Warriors have been fabled to fight the balrons and win, but very few likely succeed at such a momentous task.

<font color=blue>Help a damsel in distress! Buying all tattered treasure maps on Baja!
99.6 cartography...39 maps since last gain...OH NO NOT AGAIN!
</font color=blue>