When first introduced, the ki-rin was met with a strange mixture of awe and revulsion.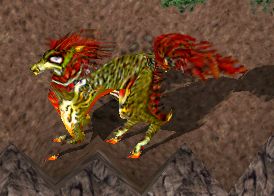 Native to the Ki-rin Passage in Ilshenar, these interesting, good-aligned creatures can only be tamed by male characters. They will attack anyone or anything with negative karma on sight, whether it is a dread lord or a poison elemental. The ki-rin requires the same taming as a nightmare, 95.1. However, it is considerably weaker than a nightmare. They melee far less, lack a breath weapon, and seem to exhaust their ~200 mana supply fairly quickly. However, ki-rin, like unicorns, are highly trainable and can vastly better themselves to increase melee and magic attacks, as well as resist.
Ki-rins drop the same loot as a nightmare, 250-300 gold, gems, scrolls, arrows, a potion. I am not sure if they give meat or hides. Unicorns do not, so I assume they do not, either. Ki-rins have a special power to help their riders when health drops to below 1/3. They sometimes summon a lightning bolt to smite the attacker, though there is no surefire way to make it work.

<font color=blue>Help a damsel in distress! Buying all tattered treasure maps on Baja!
99.0 carto...the tension is mounting!
</font color=blue>