Shadow wyrms, a recent addition to the world of Sosaria, are also one of the most dangerous additions as well.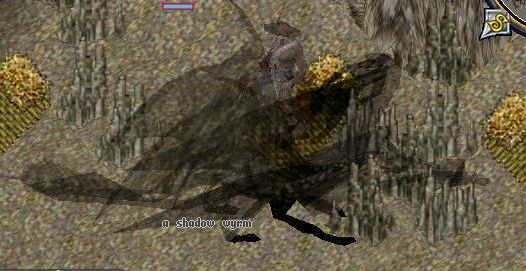 An inhabitant of the bowels of Destard, perhaps the shadow wyrm is the shade of ancient wyrms slain by mankind, returning in a vicious, poisonous form to avenge their own deaths. Two shadow wyrms coexist at a time, along with daemons and mage lords. The shadow wyrm gives about the same loot as a dragon (1200-2000 gold, jewels, scrolls, magic items), as well as 19 raw ribs, 20 hides, and the occasional level 5 treasure map. These guys do poison though I am unsure what variety of poison they use (anyone care to add that info?)
Shadow wyrms are extremely formidable foes. Many people say they are as hard or harder than the ancient wyrm.
When the shadow wyrm was introduced to the test center, a coding error made him tameable for a short time. But by the time he reached production shards this was no longer the case.
Now it's your turn to give us info, insight, or tales of the shadow wyrm.

<font color=blue>Help a damsel in distress! Buying all tattered treasure maps on Baja!
98.5 carto and counting...
</font color=blue>