UO Content Editor | UO Chesapeake & Rares News
Alumni
Stratics Veteran
Stratics Legend
Wiki Moderator
I was unable to finish this news story back during the festival. Was still waiting on information from a few people. I figured I would post it here to keep working on it.
Rares Festival On The Chesapeake Shard
Thursday, July 15, 2010 - Sunday July 18, 2010
Kijustsu Anei Village, Guardians Gate City
Zedland City, Kijustsu Anei Keys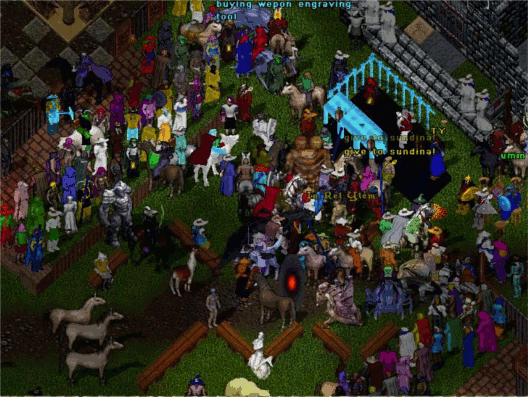 Festival Opening Ceremony
(Hosted by Sundina and Demon Slayer of Moria Village)
Thank you all for coming from far away to the 2010 Chesapeake Rares Festival! We have a lot planned this weekend with many events and more.Be sure to buy a book that explains them in detail. We also have the rares fest auction house opened to bid on items. Accessible via teleporter at one of the vendor malls.
Please, if you have rares to submit to auction, make sure they are wearing a shirt like Sundina and I. Do not allow yourself to be scammed, there are people that may try to from pacific, like those who pulled the heist over there.
We would like to thank Mesanna for creating the moongate, stage and shirts. Also thank you to EM Dudley and EM Drosselmeyer for all the things they have done to help us.
We have a very large staff involved here as well. Sundina and I are the hosts. Gareth has played countless hours making sure you all received your vendors. DVI and Vladimir have helped big time setting up the auction house. Zelda of Zed has done an amazing job setting up all the books and planning events for SHE. Zelda also engraved katanas to give out to show you were here for this festival. I would also like to thank the rest of the SHE guild and Guardians Gate for their horse race event tonight. We would also like to thank Kijustsu Anei Village and the United Sosarian Alliance for the play on Sunday night.
There are many great prizes to be one, we have put a lot of effort into this festival. We have a lotto drawing at 1:00 pm EST. Five people will be drawn at random and win a prize. I hope you all have a great time at the rares festival!!! LETS GET THIS FESTIVAL OFFICIALLY STARTED!!!
​
Daily Lotto Drawings
(Hosted by Sundina and Demon Slayer of Moria Village)
​
Located at the stage between the three vendor malls. Over Sixty people formed line extending outside of the village limits for their chance to enter the daily lotto. Zelda of Zed and Lord Gareth kept an eye making sure no one cut, while Shelra passed out books for players to write there name in. Once all the books were turned into Lady Sundina the winning names were drawn. Congratulations to all of the Daily Lotto Winners during the Rares Festival.

​
Thursday Winners
Alentar Sylvanus
Winst-Mar
Jacob
Pearl
Revern Death

Friday Winners
Dreu
Thunderz
Vice
Fanny FireBottom
Night

Saturday Winners
Panoramix
Idle Hands
Night
Alucard
Miyu-C
​
SHE Icy Maze
(Hosted by Shadow Hunters Empire and Zedland City)
Horse Race
(Hosted by Royal Britannia Guards and Guardians Gate City)
Neos Day Out 1997/1998
(Hosted by United Sosarian Alliance and Kijustsu Anei Keys
Closing Ceremonies
(Hosted by Sundina and Demon Slayer of Moria Village)
​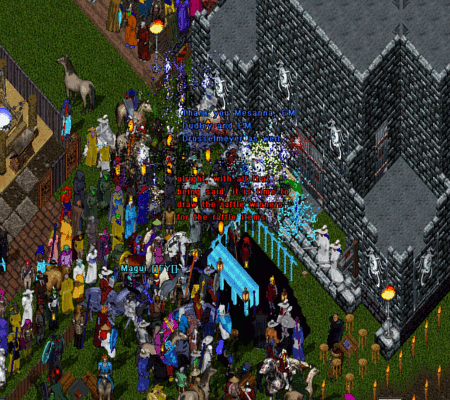 Harbinger Fun??? or Fun!!!!
(Hosted by Unknown players)
Most Rares Festivals have a Harbinger here and there. This one had a total of 30 released throughout the festival. However there are two things that the staff was very thankful for. The players who were releasing Harbingers waited until speeches and mini events were over. All of the townships and guilds from both Trammel and Felucca, who answered the call to help protect the Rares Festival. Below you will find random Festival screenshots.