Crazed Zealot
Stratics Veteran
Stratics Legend
This thread is intended as a preview thread for the pirate portraits on the main web page:
http://www.aschulze.net/ultima/pirates/crew.htm
In addition, if there are any changes which need to be made to your character's profile, it can be recorded here.
The following profile has been edited from its original version to fit her current history better and to work in the pirate's profiles without the pictures attached. The pictures are just because I like them.
Pirate Profile: Dedigan
When a young Dedigan first walked the lands of Sosaria, she sought out the places where stories were shared, fights were had, more stories were created and much drinking was done. In her searches, she walked many lands, and visited many locations, including the first version of the Jolly Roger. But her home was always in the Red Eye Tavern.
The Red Eye Tavern was known for it's rowdy patronage (thieves and bandits were their life's blood!), it's stellar story nights and the razing of the Tavern by Keeonean himself when they wouldn't fall to the forces invading Trinsic. The owner of the tavern was a delightful fellow by the name of McIntyre, but the operator for most of its days was Dedigan.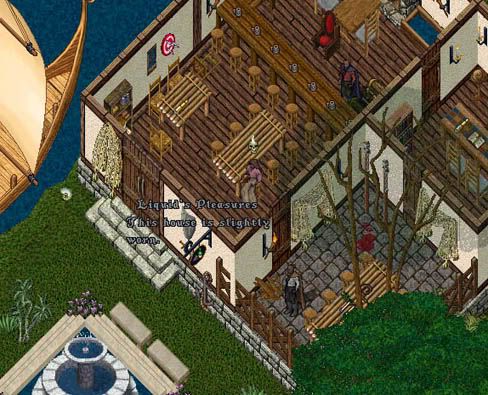 When Dedigan was not earning her keep as a wench in one tavern, she would typically find herself in a different sort of tavern. Liquid Pleasures was part of her birth town, the Village of Virtue. The village, it seemed, was badly named, for after an attempt to bring virtue in the land, the owner (one Pall Mall) and the Mayor (Dorien of Virtue) decided that the land was too corrupt for the introduction of the lesser virtues, and instead dedicated the village to new virtues. The virtue of wit was most prized in the new order, but they also shared virtues of companionship, merchandising, and ale.
The tavern was very well known for its constant patronage by the, how shall we say, less than polite members of society. It was definitely not uncommon for the customers to wear a badge of red in honor of years spent pillaging up and down the coast.
Yes, it was a pirate's cove. And it was home.
As the people left the taverns over the years, Dedigan turned to her wandering roots until one day she ran into Hawkeye Pike at the Jolly Roger Inn. It didn't take long for her to volunteer her services for the inn and make her new home in Red Skull Bay.
Title: Tavern Wench
Favorite weapons: Wit, Guile
Favorite skills: Magic