Former Stratics CEO (2011-2014)
VIP
Alumni
Supporter
Stratics Veteran
Stratics Legend
UNLEASHED
Campaign Benefactor
Pre-sale for Boxing Day!​
​
Dec 05 - Dec 11 , 2012 (1 week)​
​
Hey Combatants!​
We're all looking forward to the festive season here at Combat Arms and to prepare you for a holiday full of action we're giving you the opportunity to gear up now with massively reduced prices!​
​

Bonus 1 - Mercenary Package Sale​
Did you miss the last Mercenary sale? Don't worry; we're giving you another chance to get your favorite Mercenary on a permanent duration!​


Bonus 2 - Category Sale!​
Need a little extra help to make those crucial headshots and stay in the action for longer? Pick up a Sight or Fast Loader for only 50% of the usual price!​
[MODIFICATIONS]​
​
[COSMETICS]​
Need a new image for the battlefield, are your foes starting to recognize you? We now have a large variety of Cosmetic items for 20% off. Freshen up your look now soldiers!​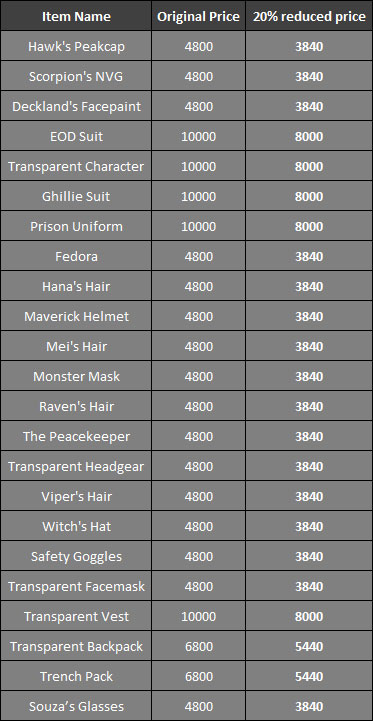 ​
​
Bonus 3 - Sale for Hot items!
​
We've looked at our feedback for the items you like the most, and as a special holiday bonus we're offering the M67 Frag Pack, Specialist Backpack License and Specialist 2 Slot License as Permanent items! In addition, you can now buy 100% Bonus EXP Passes for the duration of the event, so grab one and boost your leveling now!​
​
Increase the chance to make your weapon a permanent one by picking up a rare Super Weapon Renewal Kit at an amazing 20% discount!​
​
​

Bonus 4 - 50% sale for famous permanent items​
Just when you thought we couldn't deliver any more, We have a MASSIVE 50% off a number of permanent weapons. At this price it would be a shame not to pick one up to see you through the holidays and 2013! Get one now before the offer expires!​
​
Continue reading...