Crazed Zealot
Stratics Veteran
Stratics Legend
I run a library on Great Lakes, and I play the EC nearly exclusively. One of the things which forces me to use the CC is the complete inability to do anything with books aside from read them. Books in the EC are fundamentally broken.
The book gump in the EC is one of the most generic windows in the UI, and one which does indeed break immersion in the UO world. While the modder community can tweak the look of the gump, its underlying function needs to be changed by the Dev Team.
An EC book has different dimensions than one in the CC, each line of text is longer and there are more of them per page. While a book written using the CC is readable in the EC, the reverse is far from true.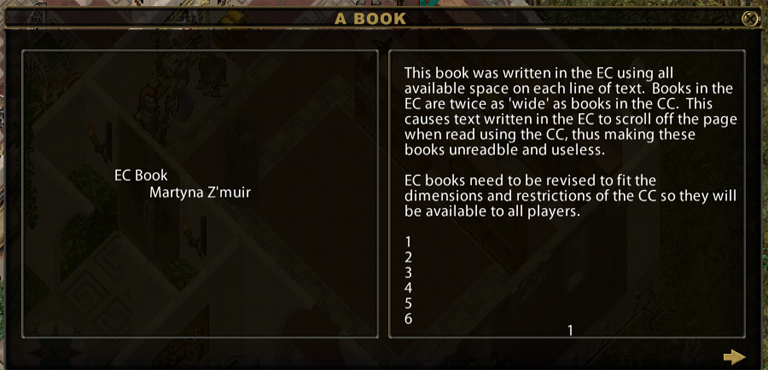 ​
Text written using the EC will scroll off the book page in the CC, as there appears to be no word wrap capability between the two clients. The text is still 'there' in the book, but the CC cannot display it.
​
A similar issue occurs when text is pasted into a book in the EC client, however, pasting text in the EC is broken in this client as well. If you past in a large amount of text, the EC will only display part of what was pasted on one page – there appears to be no wrapping between pages. Instead of functioning like pasting text in the CC (where readable text fills up several pages) the pasted text in the EC is basically lost.
I would appreciate if this basic functionality was fixed in the EC, as it has been missing from the new clients now for 3 years. Reformat EC books to follow CC line length, number of lines per page, and the ability to paste in text appropriately (though please allow us to past in a larger amount of text at once than the CC allows). It wouldn't hurt to add in a more book-like gump, but I'll settle for function over form.