UO Content Editor | UO Chesapeake & Rares News
Alumni
Stratics Veteran
Stratics Legend
Wiki Moderator
Hello everyone,


*Holds his recall rune tight*
I am Lord Gareth from Chesapeake. I have come here to see if The United Pirates are still interested in hosting the next Boat Race Challenge.
The Pirate Language is so
Grand
and
Sophisticated
, I fear trying to "Fake Talk" my way through it would be taken as an insult. I do not wish to insult such Strong and famous Pirates. Below I have put together the setup information for the event. If the most
feared
and
Legendary
captain in all of the shards, Captain Hawkeye Pike, son of Captain Blackeye Pike agrees to host then I hope to get things started as soon as possible.
~Lord Gareth
(Icq 267944224)
*Leaves behind a chest of 60,000 gold pieces*
Township Boat Race Challenge
​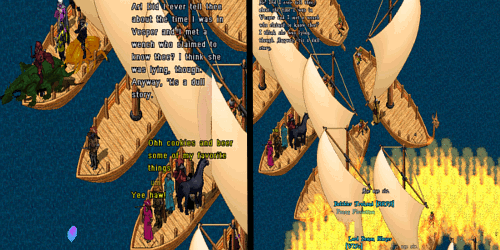 Staff Positions
Race Captain or Admiral
-Coordinates with each position
-Coordinates with township leaders on their shard and other shards.
-Starts the race
Harbor Master
-Creates, and maintains the ship registration list
-Places and names each vessel
-Has one key for each vessel in their possession.
(Later used by the Powder Monkeys)
Quartermaster
-Creates the Survival Packs
-Issues each Captain a Survival Pack before the race begins.
Powder Monkey
-Recalls to reach vessel from the spare key held by the Harbor master.
During the race they make sure none of the vessel are cheating
Boatswain
-Creates forum advertisements for the race
-Posts the advertisement to each shard participating
Survival Packs
Armor - Lrc Suit
Clothing - Any
Scrolls - Recall
Potions - Heal & Cure
Runebook - Bank, Race Area and Finish Line
Registration
Ship Name:
Township Name:
Shard:
Captain:
Crew Members:
Contact Information:
Advertisement
The advertisement poster should include the following information.
-Hosting Shard Name
-Hosting Township Name
-Directions To The Township and Start Area
-Staff Names, Positions And Contact Information