Certifiable
Stratics Veteran
Stratics Legend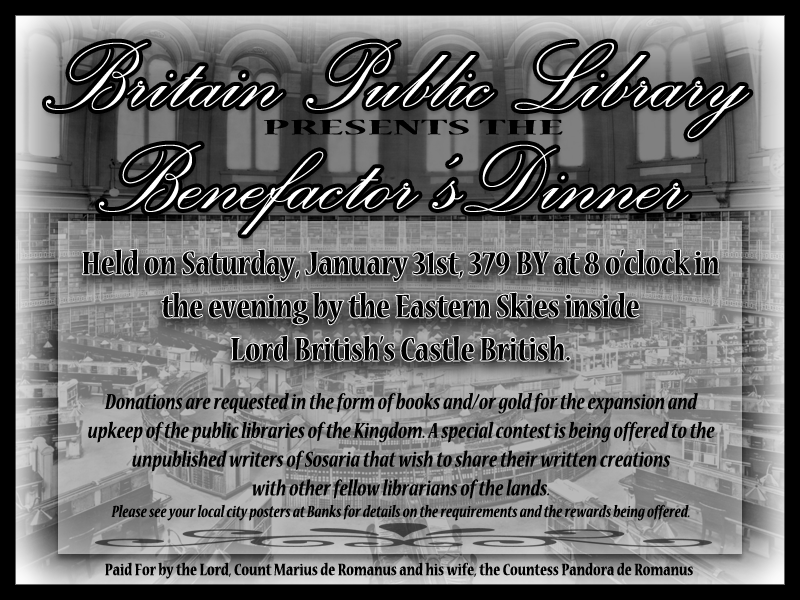 ~.~.~.~.~.~.~.~.~ IN CHARACTER EVENT ~.~.~.~.~.~.~.~.~
​
The event will be held in the glorious Castle British to honor Lord British's contributions to the Britain Public Library and the establishment of the culture and class of the city. It will be held on January 31st, 2015 (BY 379) at 8 o'clock in the evening. Dinner and drinks will be served at the dinning hall and small tables and chairs will be set up in the Coronation Room, as well for more private dining.
Please create your characters ahead of time on Catskills, if you do not have one, and message us to assist you with the basics. We can certainly help fund you to get some dresses/clothes that suit the event. It is a "Black Tie" formal event.
Please remember that you
MUST
be in character at all times during the event.
~.~.~.~.~.~.~.~.~ CONTEST INFORMATION ~.~.~.~.~.~.~.~.~​
My fellow Sosarians! Come ye, come all to the Benefactor's Dinner for the Britain Public Library and enter a special contest is being held for those of you that have a passion for the written word. The winner will be chosen by some of our very special members that have some literary weight and talent. The rewards will be a GIFT CARD provided to us by NEWEGG for $100.00 (we will need your email address) and 100 million gold for the Grand Prize winner. Second and third place winners will recieve $20 GIFT CARDS and 20 million gold each.
Here are the RULES for ENTERING:
1) Must be an original story; must be in character. No plagiarism and believe me we can check! There is a database of such that we can run it through that we have access to.
2) Must be submitted via EMAIL by either attaching it as a .DOCX/.DOC (Microsoft Word Document) or a .PDF (Adobe Portable Data File) file not later than 24 hours PRIOR to the event to
[email protected]
3) Story must fit into the 20 pages of a PROVISIONER BOUGHT in-game book; cannot exceed it. Any that do will not be eligible for the contest.
4) Must come to the event and bring at least 10 copies of the book to share with other librarians of Sosaria. These are player-ran libraries so please be sure to use a "RED LEAF" on your books before submission.
http://www.uoguide.com/Red_Leaf
5) It will take us roughly two weeks to sort through the submissions and a winner will be announced here on STRATICS. The Winner will also receive an email and his/her Gift Card.
RSVP on Facebook:
https://www.facebook.com/events/387731054737609/
We hope to see you all there!