RSS Feed
RSS Feed
Stratics Veteran
Greetings Fellow Avatars!
To herald in 2021, the first release of the new year brings players of
Shroud of the Avatar
a robust offering of wonderful new content items, decorations, and other game updates. A new adventure scene has been been added, an extensive revamp of how gear patterns function is now live, a new decoration type that buffs players with magical attunement is now available, dragon eggs now drop as loot which can be crafted into Baby Dragon Conversationalists, and Public Cache Chests have received additional variations! For those wishing to participate in any
community activities
, upcoming one-time and recurring community events have been announced! Be sure to also review the
Players Guide
and
Known Issues
list for additional information on recent changes and upcoming fixes. Now, let's see what we have for you in this week's edition of Update of the Avatar:
News Announcements
Community Updates
New Adventure Scene: The Well of Aldur!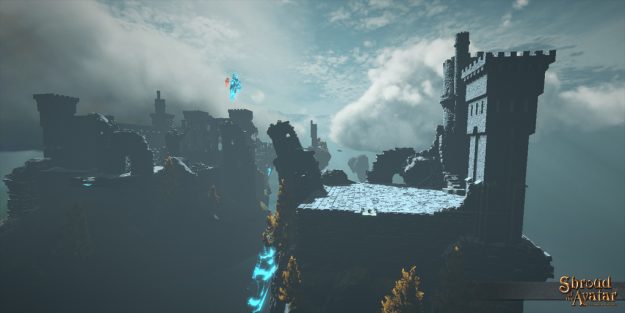 New Britannians! A mystical and mysterious adventure scene is now live and available to players of
Shroud of the Avatar.
"The Well of Aldur" is a scene for
Episode 2 Access
holders which features a variety of activities to challenge even the most stalwart of Avatars! World builders List Rostov and Sannio both worked hard on this wondrously ethereal adventure scene, which is now available! Sannio has shared a small teaser for what to expect: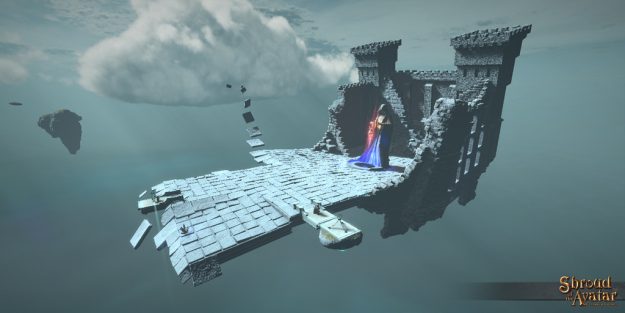 "High above the mountain peaks of Mistrendur floats the crumbling remains of a civilization whose origins are lost to time. Only the greatest adventurers will decipher the secrets, survive the threats, and discover the true nature of the Well of Aldur."
Players can expect a variety of challenges, including crystal-powered sky-movers, jumping puzzles, and wave battles. One of the wave battles includes new mechanics and new unique loot for the scene. And beware, engaging in combat upon one of the platforms within the scene could draw out Suutak, Master of Tempests! May the Virtues guide thee on your adventures within… The Well of Aldur!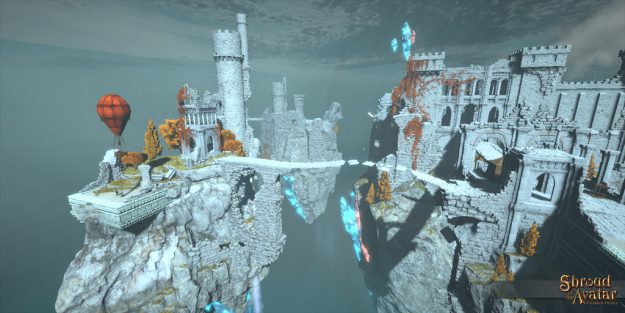 Latest News Q&A Friday Livestream!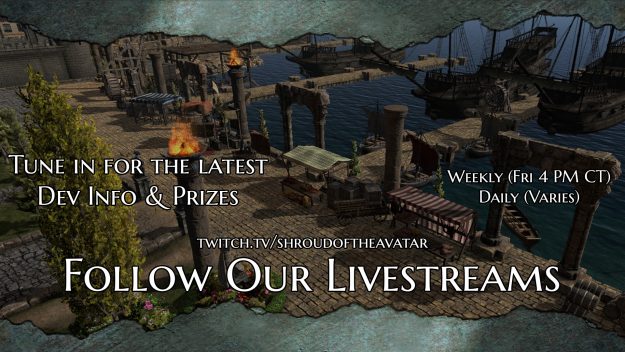 The weekly Community Livestream is Friday, January 29th at 4PM CT on
Twitch
! Join Chris "Atos" Spears and other members of the development team for a community 1 hour livestream!
To enter the prize drawings, type "2021 is gonna rock" into any in-game chat channel OR make a purchase on the website add-on store. Please submit questions into
Twitch Chat
by inserting
!question
at the beginning of your text. Watch on
Twitch,
Friday at
4 PM
CT!
Atos and other members of the Shroud of the Avatar development team go live very frequently on
twitch.tv/shroudoftheavatar
— be sure to get these channels on follow for notifications so you can join us right as we go live! Also, if you've missed our latest streams, check out our archive of content at our
YouTube Channel
. Like! Follow! Subscribe! Prizes!!!
Don't forget to also join the Shroud of the Avatar team and community over at all our social media venues:
Upcoming Gear Patterns Flexibility!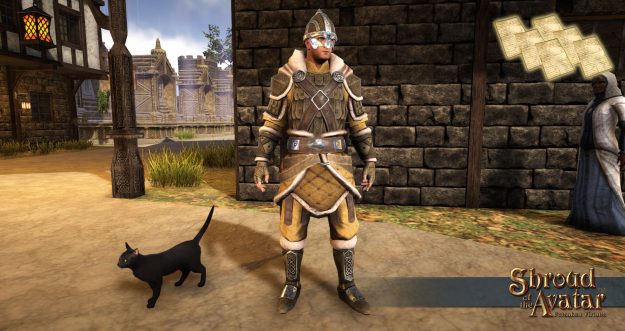 Gear Patterns in Shroud of the Avatar, up to this point, have been considerably restrictive in how players could apply them to gear. For instance, a 1-Handed Longsword Pattern would only apply to other 1-Handed Longswords, or a cloth helm pattern would only apply to a cloth helm. The list goes on, but this list will get considerably less complicated going forward! As of Release 86, gear patterns are now much less restrictive!
Category Restrictions Simplified: Below is a list of categories which will remain. Any item within that category will accept a pattern from another item within the same category.
Artifacts: Most of these elusive treasures scattered through out the realms will now accept all patterns available within the same gear slot. For instance, an artifact chest piece will accept ANY pattern for a chest piece.
Also, with many visuals for off-hand items already available, and
3 more off-hand artifacts
having just been introduced for R86 with the new Shrines of Attunement, expect some off-hand item patterns on the horizon as well! We hope players enjoy this extra flexibility with gear patterns. We will be introducing many more patterns in the future, so expect additional options for character customization shortly.
Shrines of Attunement!
Avatars! With the unveiling of The Well of Aldur, an entirely new statue type has been discovered throughout New Britannia–Shrines of Attunement! These powerful and crafted statues utilize 9 related off-hand artifacts to craft (3 of which have been introduced with this release), which provide 3-day attunement buffs for any character which steps into their aura. These buffs are on their own separate buff channel, and 2 buffs can be simultaneously utilized. Significant loot improvements have resulted, and more use has been made for a variety of underutilized crafting components or loot drop locations. The 9 required off-hand artifacts to craft these shrines have either been created as new, received visual effect enhancements, increased loot drop chances, and/or received significant stat bonus adjustments. Here's a breakdown of the artifact updates:
Each shrine can be crafted at a blacksmithing station, and the recipes drop at locations indicated in the list below. Each recipe features common components between them (such as Ancient Essences, Bronze Ingots, and the rare version of the related artifacts), but underutilized ingredients have also been added to each recipe. These recipes are considered to be highly difficult, so expect some significant effort involved to obtain all the elusive components required to craft them. These shrines can be placed as property or Player-Owned Town decoration, the buffs last for 3 days each, and 2 different shrine buffs can be utilized simultaneously. Here are more details about the 9 Shrines of Attunement:
Shrine of Atenism (+15 Sun Magic Attunement): The crafting recipe for this shrine also requires a Phoenix Talon and Atenism Gems. The non-teachable shrine recipe drops from the phoenix.
Shrine of Chaos (+15 Chaos Magic Attunement): The crafting recipe for this shrine also requires Ground Daemon Hoof and Obsidian Chips. The non-teachable shrine recipe drops from Daemons.
Shrine of Gaiaism (+15 Earth Magic Attunement): The crafting recipe for this shrine also requires Pure Elemental Sand and Gaiaism Gems. The non-teachable shrine recipe drops from earth, sand, and lava elementals.
Shrine of Lunaism (+15 Moon Magic Attunement): The crafting recipe for this shrine also requires Shadow Essences and Lunaism Gems. The non-teachable shrine recipe drops from Shadow Creatures.
Shrine of Necromancy (+15 Death Magic Attunement): The crafting recipe for this shrine also requires a Dragon Skull and Necromancy Gems. The non-teachable shrine recipe drops from Lich bosses.
Shrine of Sorcery (+15 Fire Magic Attunement): The crafting recipe for this shrine also requires a Red Dragon Egg and Sorcery Gems. The non-teachable shrine recipe drops in Lord British's Castle.
Shrine of Tempestry (+15 Water Magic Attunement): The crafting recipe for this shrine also requires an uncommon Ring of Water and Tempestry Gems. The non-teachable shrine recipe drops from water elementals in The Well of Aldur.
Shrine of Thaumaturgy (+15 Life Magic Attunement): The crafting recipe for this shrine also requires an uncommon Ring of Life and Thaumaturgy Gems. The non-teachable shrine recipe can be found in destructible crates.
Shrine of Theurgy (+15 Air Magic Attunement): The crafting recipe for this shrine also requires an uncommon Ring of Air and Theurgy Gems. The non-teachable shrine recipe can be found in The Well of Aldur.
As more artifacts roll out into the world of New Britannia, crafters amongst the ranks of Avatars might have some concerns about lessening the significance of crafted items. Rest assured, plans to allow more artifacts to be broken down into components (such as Torq'Dawl's Basher and Slicer) are still very much in planning, and underutilized gathered/looted components will continue to be featured in upcoming recipes to add to their value.
We hope you enjoy the new Shrines of Attunement! Keep an eye out for a plethora of new crafting recipes in the future, providing love to all aspects of loot, gear slot/type, and gatherers. Also, masters of Combat and Strategy skills won't be left out! Similar concepts for buffing skills in these trees through use of shrine type decorations will make their way into the game in the future.
Weather Control Devices Incoming!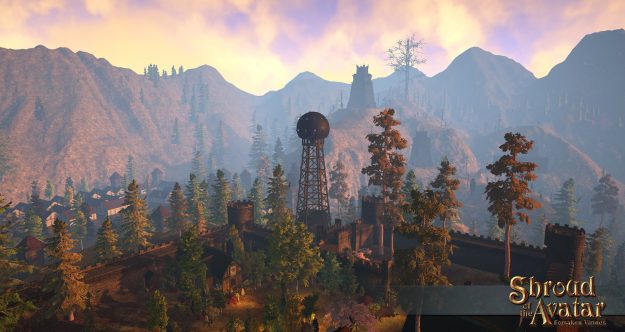 Work is well underway to provide governors and stewards a means to alter the weather and even biome of their Player-Owned Town (POT). The new tech is finished, and the related decoration items are being created which utilize this feature. The existing Moontower decoration will be the first to receive this tech, a change which will patch in shortly after release, with many more weather altering decoration items to follow. Many of these devices will be premium store items, but players can definitely expect some weather varieties to be altered from looted and/or crafted items.
Dragon Eggs & Baby Dragon Conversationalists!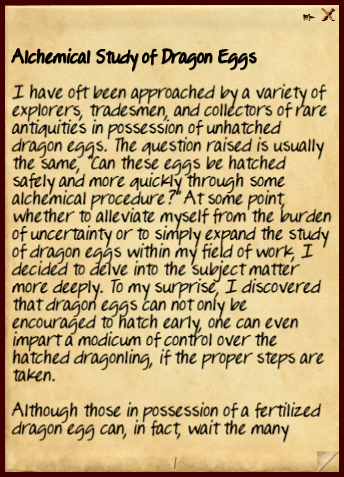 New loot items have been added to all the loot tables for chromatic dragons — dragon eggs! These rare drops from each dragon work nicely as decorations, but can also be taken to your alchemy table to hatch the egg. Upon success, these rare eggs are converted into Baby Dragon Conversationalists! These conversationalists can be scaled in size from 0.5 to 1.3 to help players depict a larger age range between their hatchlings.
Conversationalist, Black Baby Dragon
Conversationalist, Blue Baby Dragon
Conversationalist, Green Baby Dragon
Conversationalist, Orange Baby Dragon
Conversationalist, Purple Baby Dragon
Conversationalist, Red Baby Dragon
Conversationalist, White Baby Dragon
Conversationalist, Yellow Baby Dragon
For more information on how to "craft" these conversationalists, players must first seek Kaiser, the NPC located near the entrance of Ulfheim. Kaiser can provide a book of knowledge which describes nuances for each recipe and provides hints to where players can obtain each recipe.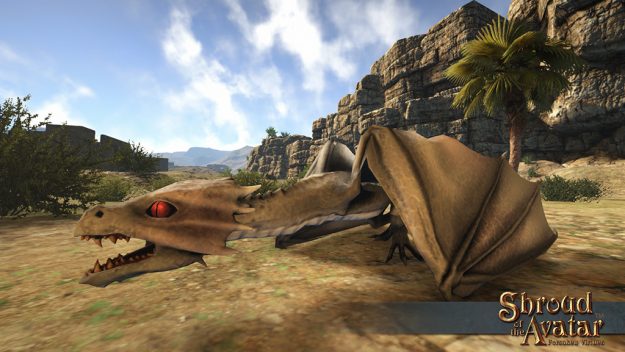 As we continue to expand the free offerings of conversationalists in the game, we hope players continue to enjoy the ever growing variety afforded to the conversation system. So many more conversationalists will be added in the future, so get your stories ready, Avatars!
Public Cache Chest Varieties!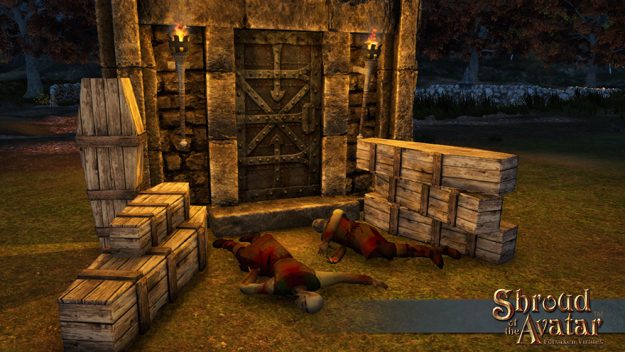 Many players of
Shroud of the Avatar
utilize in-game decorations in their towns and properties to tell a story or to enhance their in-game events. Public Cache Chests have always been a fantastic resource for sharing inventory items with other players, but unfortunately have been limited to two very large chests, which does not suit all needs for public cache containers. Besides simple storage, here's a list of some of the common uses for these chests we've witnessed in years past:
Sharing Gear & Resources
Player-Created Treasure Hunting Events
Player-Created Quest Rewards
Contest Entry Collections & Prize Distribution
Although there are likely many other creative uses for public cache containers, we hope to expand the appeal of these items by offering a much larger variety in sizes and appearances. Here are some of the future updates for public access containers, some of which arrived today with Release 86:
Immersive Varieties: 3 varieties of corpse/coffin containers are now available as of Release 86 to aid players with storytelling in our wondrous yet dangerous world of New Britannia! The dead villager versions are looted from many creatures which could easily swallow a villager whole, and the coffin variety is crafted.
Crafted Varieties: The above mentioned coffin is the first crafted public cache container, with many more to follow in the releases ahead! A new "wildflower" quest that results in the player getting a coffin recipe has been added to Spindelskog.
Smaller Varieties: There will be a variety of small public cache containers which will certainly take less shelf space, but these smaller varieties will also add a significant improvement to player-created treasure hunting ventures. Those large original cache chests are simply too easy to spot from a distance for treasure hunting and player quests!
Fancy Premium Varieties: Most definitely we'll have more varieties of these items on the Crown Store, which will feature larger storage space as well as ornate or special qualities.
As we continue to expand our offerings for how players share gear and resources with other players, we hope to improve the overall guild, player quest, and inventory sharing experiences throughout the community.
Lord of the Isle Bundles (9-16) 25% Off!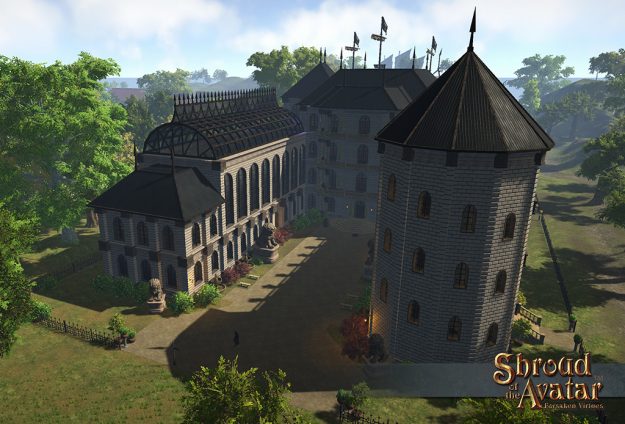 In continued celebration of the holidays, the
Lord of the Isle (LOTI) Bundles (9-16)
will remain on sale until January 31st.
Upon reaching the end of the month,
all LOTI bundles will be removed from the webstore
and will no longer be offered. In the future, players can expect new bundle offerings of much smaller varieties. Plans to create these bundles are already underway, so stay tuned!
LOTI Bundle Details: As one of the biggest supporters of Episode 2, you will be granted the largest lot deed in the land (Castle), the title Lord (or Lady) of the Isle, a tour of Lord British's property, and dinner with the game leaders including Lord British himself!
Only 24 of these unique bundles will be sold!
Here is a complete list of the LOTI rewards:
Lord of the Isle Place Anywhere Castle Lot Deed: Tax Free Forever (when placed in a POT) and Tax Free for 1 Year (when placed outside of a POT). Can be placed on water as well as land!
Title: Lord of the Isle or Lady of the Isle.
Unique Lord of the Isle Home (pictured above).
NEW – Lord of the Isle Fishing Expedition. (This scene version will work like a large instanced property such as a basement and will feature decoration surfaces to further beautify the scene.)
Town Size Upgrade. (If a town is not owned by the LOTI supporter, they may gift this size upgrade to another town owner. Maximum possible town sizes will be taken into account, but the Teralopolis size just became available!)
Choice of 1 House currently available in the store.
Castle Basement currently available in the store of your choice.
Castle Wall Set currently available in the store of your choice (with enough for Castle Lot).
Unique Lord of the Isle Dungeon Room (to be revealed later).
140,000 Crowns.
1000 Bank Slots.
Pick 12 Prosperity Tools.
Lord of the Isle Crown (In-Game Wearable Item).
Unique In-Game Teachable Emote (/radiate).
Early Access to Episode 2.
Episode 1 Box and map signed by the team.
1 hour one-on-one with Chris for design discussion (via video-conference).
One real silver ring crafted personally by Lord British: Numbered 1 – 8.
In-game version of the Lord British ring: Numbered 1 – 8 (including a place-able decoration version).
Tour of Lord British's property.
Fine dinner and drinks with Lord British, Darkstarr, and Atos at a location TBD in Austin or NYC.
NOTE: Travel costs NOT covered by Catnip Games for Tour & Dinner.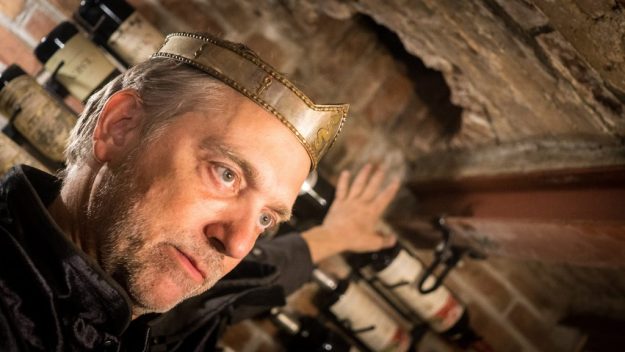 New Store Additions: Arrow Groupings, Water Lilies, Arm Chairs & More!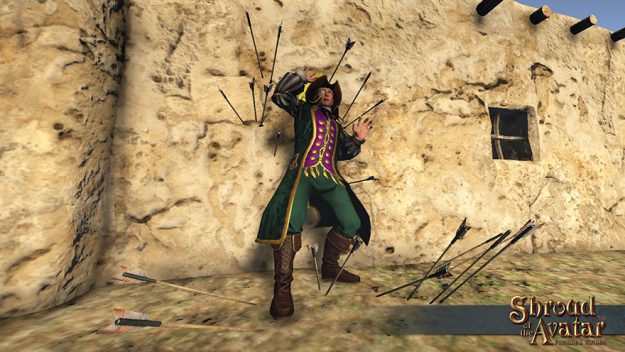 New this week, decorate your homes with battle damage! The new arrow groupings decorations are perfect to display evidence of a recent battle for your player events and stories. (Regular arrows can also be placed as decoration.) Blossoming Water Lily Clusters really add some appeal to your water property, and keep an eye out for a non-blossoming version dropping as loot! For those wanting chandeliers of smaller varieties, 4 more types of chandeliers have been added to the store! Also, a set of two Ornate White & Gold Heart-Backed Armchairs have arrived just in time for Valentines day, and they feature two dye layers. Last but not least, are you in need of a Sacrificial Altar? Well one has just been added to the store for those wanting a darker touch to their home and dungeon décor.
Arrow Groupings 12-Pack
Blossoming Water Lily Cluster 12-Pack
Small Great Hall Fancy Crystal Chandelier
Small Long Chain Great Hall Fancy Crystal Chandelier
Small Fancy Crystal Chandelier
Small Long Chain Fancy Crystal Chandelier
Ornate White & Gold Heart-Backed Armchair 2-Pack (Dyeable)
Sacrificial Altar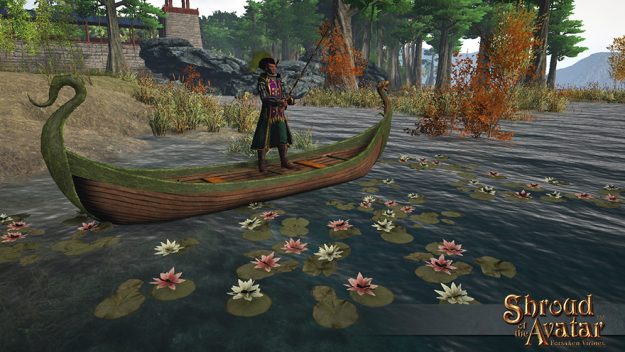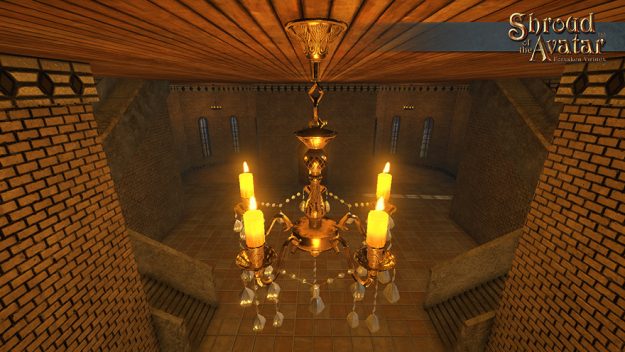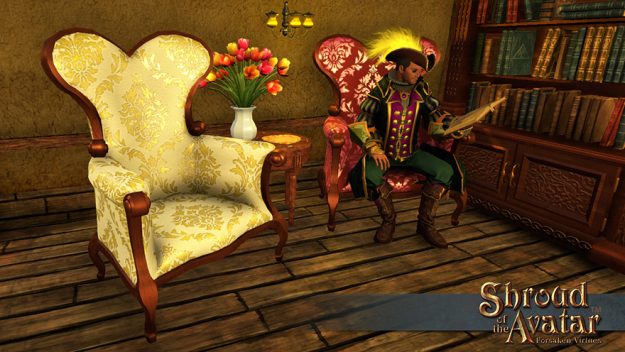 Last week, a very large dragon skull decoration with iron reinforcement was added to the store. This piece is significantly larger than the recently-added dragon skull into the loot system, and is a must-have centerpiece to anyone's dragon bone collection.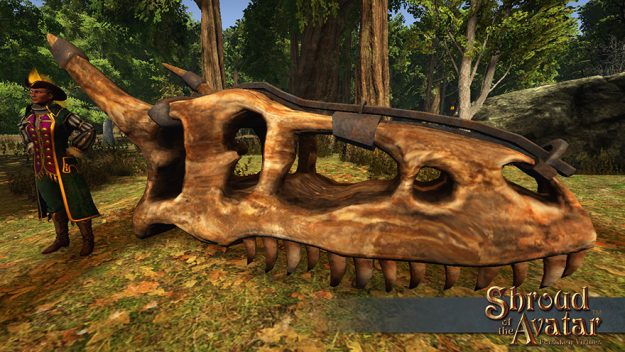 Also, the winter store season is here, Avatars! All holiday items will be available either in the Vault or as recurring seasonal items:
2016 Winter Holiday Soundtrack
Breathe Blue Fire Emote
Breathe Emote 6-Pack
Breathe Snow Emote
Ceiling Yule Tree
Dark Yule Outfit
Fountain of Frozen Waters
Frozen Bagpipes
Giant Haunted Yule Tree
Giant Yule Tree 2015
Giant Yule Tree 2016
Giant Yule Tree 2017
Giant Yule Tree 2018
Haunted Snow Family
Haunted Snowman Mask
Haunted Yule Tree
Holly Wreath with Candles Hat
Holly Wreath with Sparklers Hat
Ice Elemental Statue
Ice Hot Tub
Ice Nightmare Mask
Ice Wings
Icy Ancient Stone Cathedral
Icy Ancient Stone Room Fishing Grotto
Large Haunted Yule Tree
Large Yule Tree 2016
Large Yule Tree 2017
Large Yule Tree 2018
Menorah 2014
Menorah 2015
Menorah 2016
Menorah 2017
Menorah 2018
Ornate Mantle Garland 2017 12-Pack
Ornate Mantle Garland 2018 12-Pack
Ornate Replenishing Snowball Box 2014
Ornate Replenishing Snowball Box 2015
Ornate Replenishing Snowball Box 2016
Ornate Sled
Ornate Sleigh
Ornate Snow Family 2015
Ornate Snow Family 2016
Ornate Snow Family 2017
Ornate Snow Family 2018
Ornate Wall Garland 2017 12-Pack
Ornate Wall Garland 2018 12-Pack
Ornate Yule Music Box
Ornate Yule Wreath 2015
Ornate Yule Wreath 2016 3-Pack
Ornate Yule Wreath 2017 3-Pack
Ornate Yule Wreath 2018 3-Pack
Reindeer Decoration Pet
Scarecrow Mask
Small Ornate Wall Garland 2017 12-Pack
Small Ornate Wall Garland 2018 12-Pack
Snow Emote
Snowdragon
Snowflake Pattern Cloak
Snowman Mask 2015
Snowman Mask with Hat & Moustache 2018
Snowman Mask with Stovepipe Hat 2016
Snowman Mask with Stovepipe Hat 2017
Tabletop Elf Statue with Yule Hat
Tabletop Haunted Yule Tree
Tabletop Yule Tree 2014
Tabletop Yule Tree 2015
Tabletop Yule Tree 2016
Tabletop Yule Tree 2017
Tabletop Yule Tree 2018
Traditional Yule Hat
Virtue Ice Crown
Virtue Ice Gown Outfit
Virtue Ice Shield
Virtue Ice Sword
Virtue Ice Wand
Virtue Icicle Cloak
White Raven Decoration Pet
White Reindeer Decoration Pet
White Rottweiler Decoration Pet
White Squirrel Decoration Pet
White Turkey Decoration Pet
Winter Lynx Decoration Pet
Winter Pattern Glass Chandelier 3-Pack
Winter Pattern Glass Floor Lamp 3-Pack
Yule Card 2017 5-Pack
Yule Card 2018 5-Pack
Yule Gift Box 2016 3-Pack
Yule Gift Box 2017 3-Pack
Yule Gift Box 2018 3-Pack
Yule Hat
Yule Stockings 2016 3-Pack
Yule Stockings 2017 3-Pack
Yule Stockings 2018 3-Pack
Yule Tree 2014
Yule Tree 2015
Yule Tree 2016
Yule Tree 2017
Yule Tree 2018
Yule Velvet Bodice Ensemble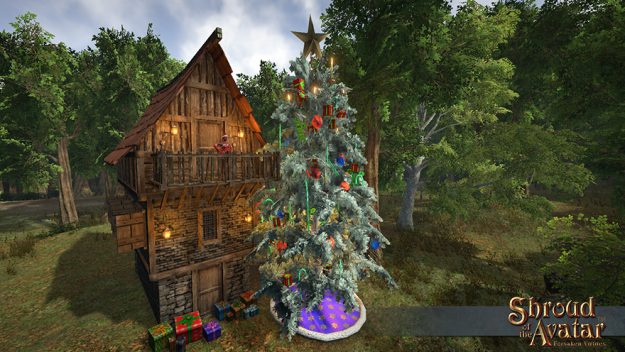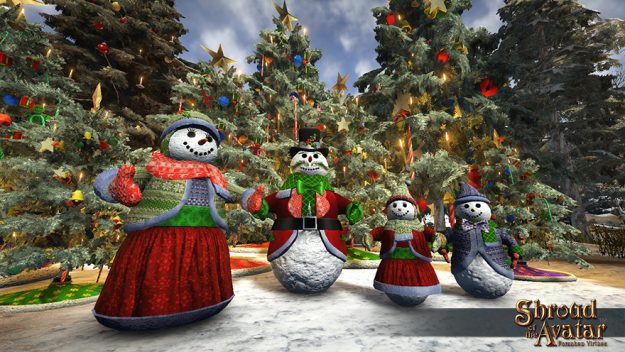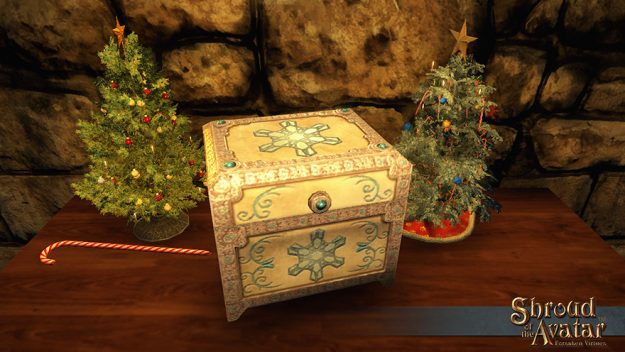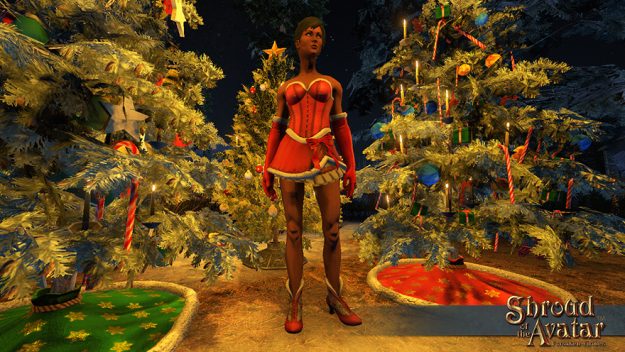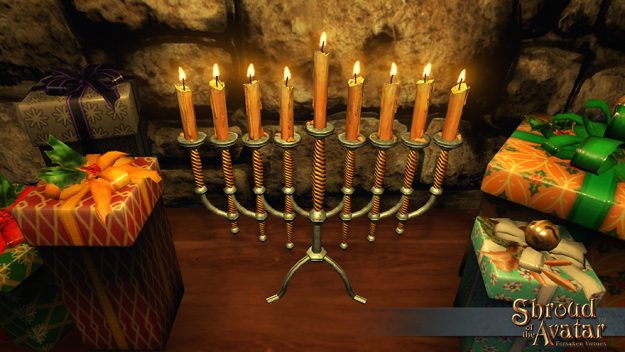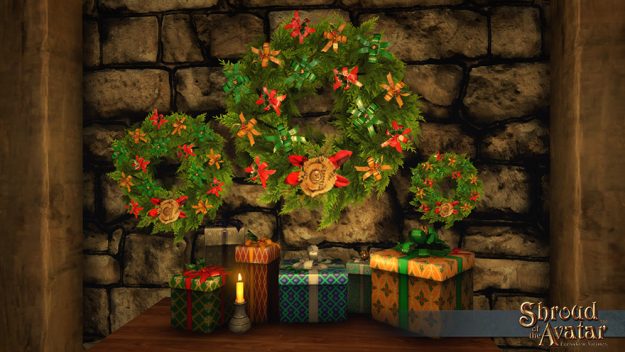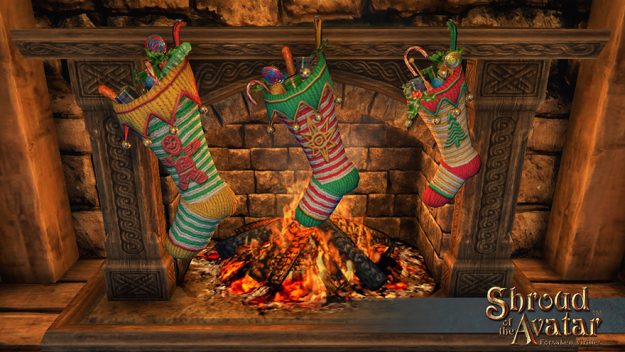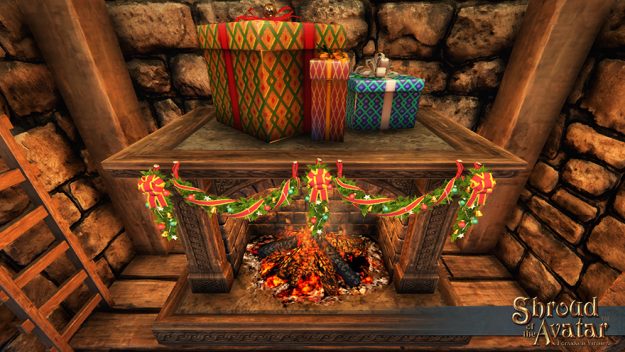 February Login Reward: Fancy Vase of Multicolored Roses!
Don't miss out! Log in during the month of February, and you'll receive a beautiful vase of roses! The Fancy Vase of Multicolored Roses is the perfect accent piece for your home's décor.
Release 86 Rewards Program Login Items: Valentine's Day & New Year Theme!
Avatars!
Rewards Program
login items for Release 86 are Valentine's Day and New Year themed!
Reward Program
members must login during Release 86 to receive these login items:
Perennial Coast Dragon Mask
Ornate Red Floral Heart-Backed Armchair 2-Pack (Dyeable)
Heraldry Heart Shield (Dyeable)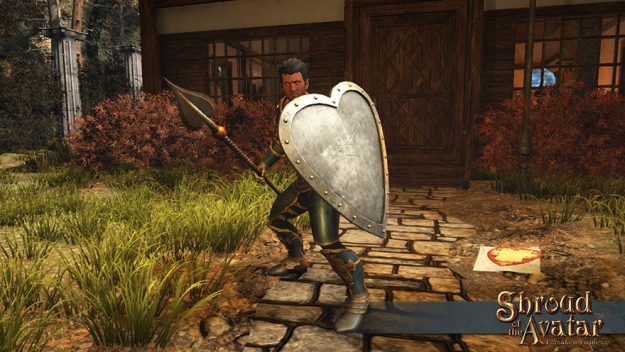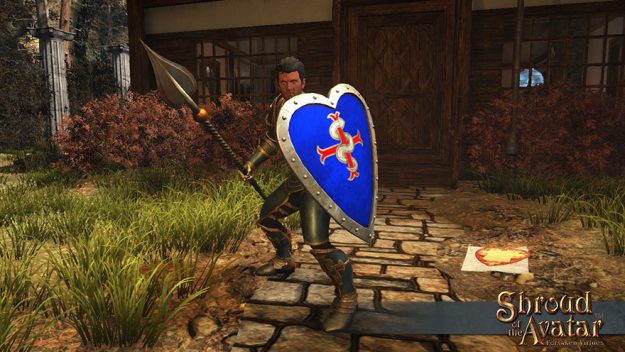 The
Shroud of the Avatar Rewards Program
lets you earn the best rate on purchasing Crowns, AND receive monthly reward items! For the low price of $9 USD per month you will receive the following:
900 Crowns of the Obsidians every month
Monthly Login Reward Items (~ 3 per month)
Exclusive Title every 3 months

3 Months: Keeper of the Faith
6 Months: Keeper of the Word
9 Months: Keeper of the Vow
12 Months: Keeper of the Flame
15 Months: Keeper of the Oath
18 Months: Keeper of the Pledge

Pick any Dye 12-Pack every 6 months
Pick any three of the 7 Obsidian Potions every month, including:

Potion of Capacity: Increases carrying capacity
Potion of Conservation: Reduces reagent use chance
Potion of Expedience: Swift gathering on all gathering skills
Potion of Precision: Increases Meticulous Collection to all gathering skills
Potion of Preservation: Reduces armor and weapon damage
Potion of Reclamation: Increases Salvage and Repair to all production skills
New Vault Round!
Laissez les bons temps rouler, Avatars! Don't let the vault door close on these items for another year before you have decorated for Mardi Gras! The current round of Vault items are available until Thursday, January 28th at 1PM CT. At that time, the next round of 9 items will be available for one week, and then the next, etc.
Flambeaux
Battle Banner
Tower Village Home
Ornate Flamberge Pattern Pack
Kobold 4-Story Great Hall City Home
Kobold Fighter Mask
Aether Aeronaut Helmet
Mardi Gras Fountain
Mardi Gras Garland 12-Pack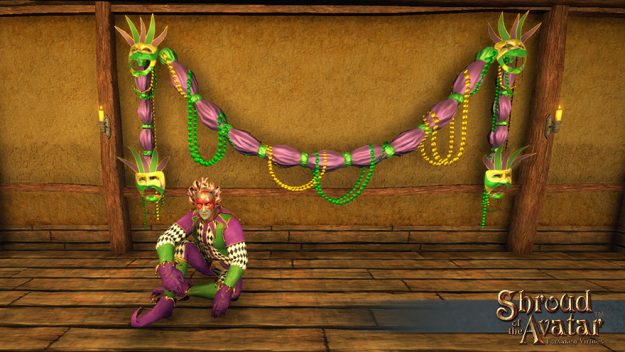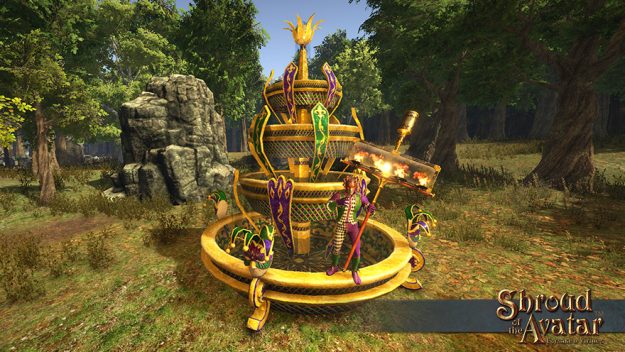 World & Miscellaneous Changes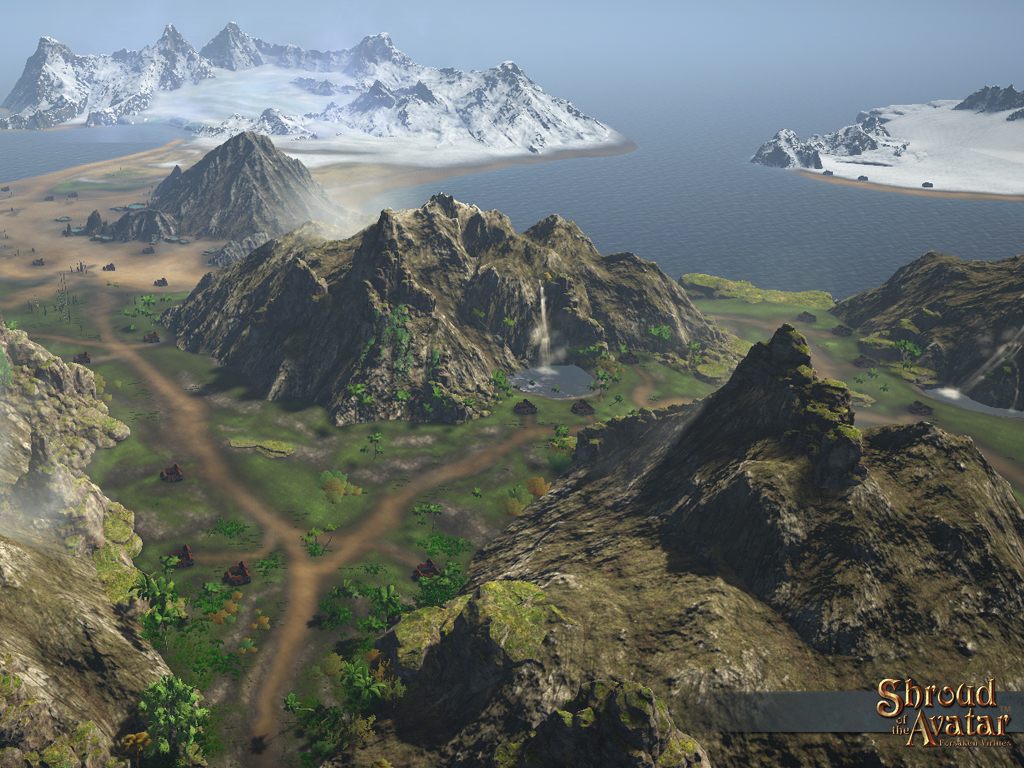 These miscellaneous updates affecting the game world or aspects of the user interface (UI) patched in during R85, will go live with R86, or will go live shortly after R86:
Double-Click to Target: An option to toggle targeting between single and double-click has been added to the interface options menu.
Disable Weather on Low Performance: An option to disable weather during times of low performance has been added to the video options menu.
AFK Detection: Players will no longer be disconnected for inactivity unless their character is earning or spending experience points.
Performance Improvements:

UI improvements were implemented to help with combat related frame rate issues.
Many POT related decoration issues were adjusted to increase performance.
Dynamic performance monitoring has been improved to automatically and temporarily adjust graphics settings if frame-rate has lowered for a significant duration.

Sequanna Colossus: Enhanced the "container" built into the Shrine of Love so that it opens while looting it. Added a wave battle that starts when approaching the shrine, which includes 3 treasure chests that sequentially "unlock" as the waves progress.
Seasonal Monsters: Created scrolls for each seasonal monster that tells its legend which players will will discover throughout their adventures.
Malice: Added new "Enter Malice" compass marker and adjusted logic in Yama's conversation to accommodate it.
Crafting Tutorials in Soltown, Aerie, and Resolute: Improved logic of quest progression, added and updated compass markers, and improved quest text for all three tutorials.
Harvest: After completing the quest from the children to stay in the house on the hill, characters will be awarded a new "Witch Hunter" title. Characters who have already completed this quest can talk to almost any child in Harvest to get this title.
Bogman: This rare creature has received fog VFX improvements.
Highvale Outskirts: Improved quest logic, responses, journals, and compass markers for several early quests regarding Captain Burnes and Leftenant Simone.
Etceter: Removed the off-duty schedule from Captain Steel, who now stays on the docks. Reduced the time and shrunk the area for Lady Ransom's off-duty time when she goes upstairs at the inn.
Blood River Massacre: Updated the tutorial text that appears when approaching the village elder's home.
Necropolis Barrens: Updated the responses from Kardan Marbane and Samael after completing the Path of Love storyline.
Aerie: Updated Kyle Behrand's responses.
Tanglemire: Arnkatla now "waves her hands" to indicate she has a quest for you.
Tanglemire: Added wildflower quest which includes a recipe for a coffin decoration as part of the reward.
Novia: Added limits on the boat from Etceter to Xenos for when the "Truth storyline" advances.
Etceter: Removed schedule from Harbormaster.
Aerie: Improved compass markers for the Lord Macsen quest.
Highvale Outskirts: Improved compass markers and quest logic for quest to find Nach's book.
Blood River Massacre: Improved the quest logic related to leaving the scene.
Crafting, Items & Economy Changes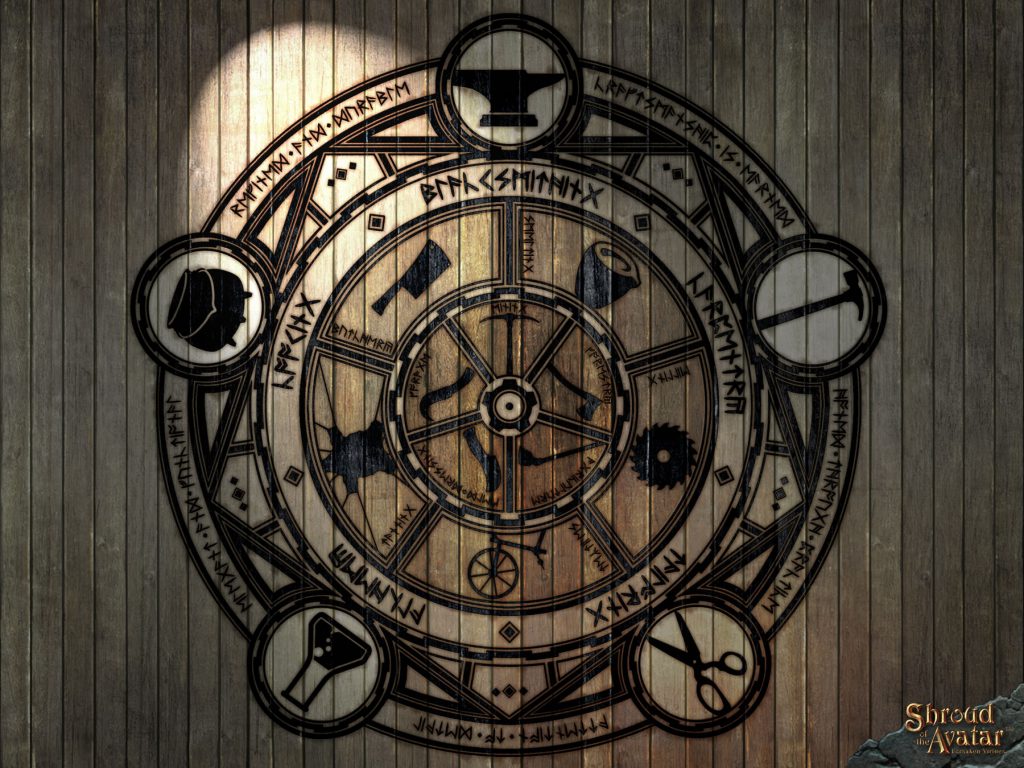 These changes to the player economy, in-game items, or crafting patched in during R85, will go live with R86, or will go live shortly after R86:
Scroll Decorations: 4 functional scroll decorations have been added to the game. Players will now have a larger variety of ways to document their stories and player quests. 3 of these scrolls are crafted by players, with the Blank Ornate Unrolled Scroll 5-Pack becoming available on the Crown Store on February 12th. To locate the recipes for the craftable scrolls, start smashing crates! The Blank Scroll, Blank Unrolled Scroll, and Blank Scroll with Ribbon recipes all have a chance to drop for those choosing to be a little destructive.
Water Well Dungeon Entrance: Players can now craft another style of dungeon entrance, the Water Well! Looking inside, players will see a hatch partially submerged in the water. To find the pattern for this well, utilize water wells throughout the game. Apply the pattern to the crafted Tomb Dungeon Entrance, and presto! Water well! Also, when the pattern is placed as a decoration, it features a unique "message in a bottle" appearance.
Cannons & Cannonballs: These items can now be placed upon castle walls, blocks, and other decorations with horizontal decoration surfaces.
Aortic Thrombus: The Aortic Thrombus has been renamed to Entrails.
Zinc, Tungsten, Tin, & Nickel: These rare items now have "ore" in their names to assist players with inventory filtering.
New Stackable Items: These items can now be stacked within a player's inventory.

Flax Flowerbed (Renamed from Flowerbed A)
Confection Stand
Confection Platter
Fish Throne
Ornate Fish Throne
Pipe Organ
Flesh Flayer
4-Story Flesh Flayer
Large Flesh Flayer
Ornate Water Platform
Pirate Banner
Free Standing Pirate Banner
Viking Bathtub
Shogun Bathtub
Elven Bathtub
Obsidian Bathtub
Marble Bathtub
Kobold Bathtub

Belt of Speed Recipes: These recipes were renamed to properly align with the Savage Sash of Swiftness artifact
Bank Upgrade Store Entry: This entry was rewritten to better indicate 100 slots are being purchased, not 10.
Dungeon Room Conversions: Dungeon rooms that are converted from Spawn to No Spawn versions no longer require 500 Crowns of the Obsidian. They instead require 1 Ancient Essence.
Gem Fragments, Uncut Gems, & Cut Gems: These items now all have (Refined Gemstone) or (Unrefined Gemstone) at the tail end of their item name to assist players with inventory filtering.
Wyvern Heads: The drop rates for these items on T10 Wyverns (existing ones) have doubled. T14 and T15 Wyverns will be coming to the game which will have even better drop rates, albeit they will still be very rare collectibles.
Wyvern Haunches: The drop rates for these items on T10 Wyverns has more than tripled, now at 75%. T14 and T15 Wyverns will have even better drop rates, where players will almost always receive at least 1 haunch, with a good chance to receive a second haunch (more so with the T15 version).
Ashen Heartwood: These items will now drop 50% more often from Reapers. Flesh Flayers and Red Thorn Flowers, which exist mostly in PvP scenes, will also have equal chances to drop Ashen Heartwood. This change will help players obtain this item which has recently been added to more recipes.
Dread Artifacts, Shroud of the Avatar: These items have received improved tooltips.
Practice Dummies: These items no longer take up an NPC slot on property.
Potions of Disco Fever: These items can now be utilized anywhere.
Small Stone Ruins: This decoration now allows other decorations to be placed on some surfaces.
Bell Tower: The vertical flat surfaces within the Bell Tower can now be decorated.
Elven Guard Tower: The vertical flat surfaces within the Elven Guard Tower can now be decorated.
Ornate Clock Tower: The vertical flat surfaces within the Ornate Clock Tower can now be decorated.
Ornate Gazebo: Decorations can now be placed on the ceiling and on top of the railings.
Small Fancy Pavilion: Decorations can now be placed on the ceiling.
Large Fancy Pavilion: Decorations can now be placed on most vertical and horizontal surfaces.
Party Blow Horn Emote: /partyblowhorn can now be performed while sitting.
NPC Merchants: These merchants which sell many crafting items will now allow for much larger quantities to be purchased with each transaction.
2 Year Whiskey: NPC merchants will offer 30% less gold to purchase this item from players.
Enchantment Skills: These skills will now apply significantly more production EXP per use.
Flowerbed A: The name of this flowerbed has be changed to Flax Flowerbed.
Combat Balance & Changes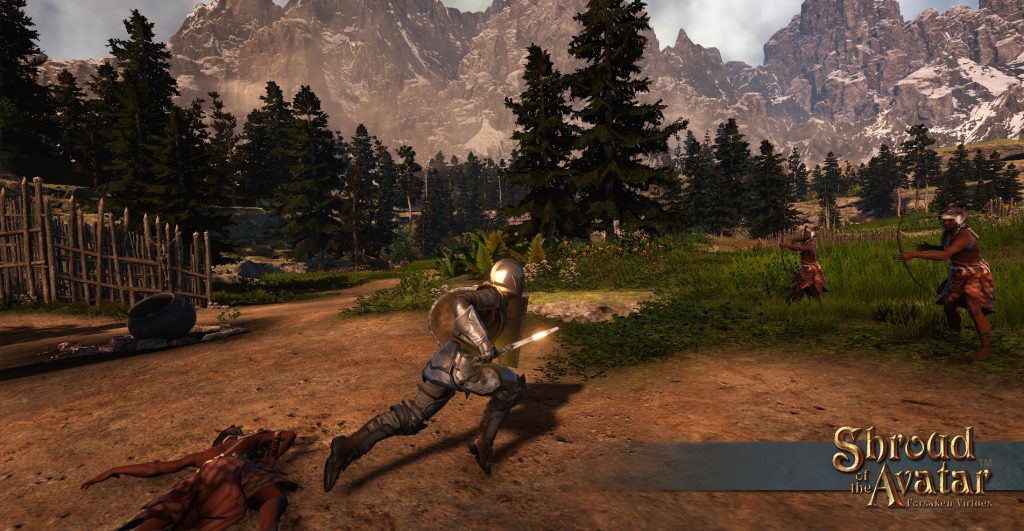 These changes to combat skills or concepts patched in during R85, will go live with R86, or will go live shortly after R86:
Bows & Crossbows: These items now only count as a 1-handed item in regards to fizzle.
Control Point Undead: Control point versions of undead were significantly increased in power to make them more challenging than their non-control point counterparts.
Bolster Balance: This skill now includes a Critical Hit Damage Reduction feature which reduces the damage multiplier for incoming critical hits.
Deflect: This skill now includes a power boost for block.
Evasion: This skill now includes a Critical Hit Defense feature which reduces the chance for incoming critical hits.
Summoned Pets: Summoned pets of all varieties have received a significant power boost, which will be especially noticed by players specialized in the related school of magic.
Aimed Shot: Aimed shot only applies max damage to stationary targets.
Summon Will-O-Wisp: This summoned pet can now apply 3 stacks of its buff to the player, which also now includes a +0.1 melee critical damage modifier to each stack.
Death Magic: Death mages will now enjoy being far more effective against the undead! Undead are much less resistant to death magic.
Stealth: Fall damage no longer breaks stealth unless damage exceeds 5 points of health.
Douse: This skill now receives a stacking bonus that increases the duration.
Ignite Weapon: This skill now receives a stacking bonus that increases the duration.
Consumables: Many consumables now feature cooldowns if placed as a dynamic glyph into a deck.
Updated Player Owned Towns
These updates affected Player Owned Towns which patched in during R85, will go live with R86, or will go live shortly after R86:
Britt Mart: Changed owner.
Duanor: Upgraded to Crossroads Village.
Fet City: Added new POT to Novia near Jaanaford.
Knightmare Falls: Updated interconnections.
Llanvier: Moved to Novia near Yew.
Obsidius: Upgraded to Crossroads Village.
PaxLair: Upgraded to Teralopolis.
Riptown Creek: Upgraded to Crossroads Village and set to PvP.
Salem: Upgraded to Town. Updated Spite interconnection.
Sionann: Upgraded to City. Changed to Swamp Island 01. Moved to near the Tower of the Shuttered Eye.
Stormsong Vale: Changed owner.
Traveller's Rest: Upgraded to Town.
Bug Fixes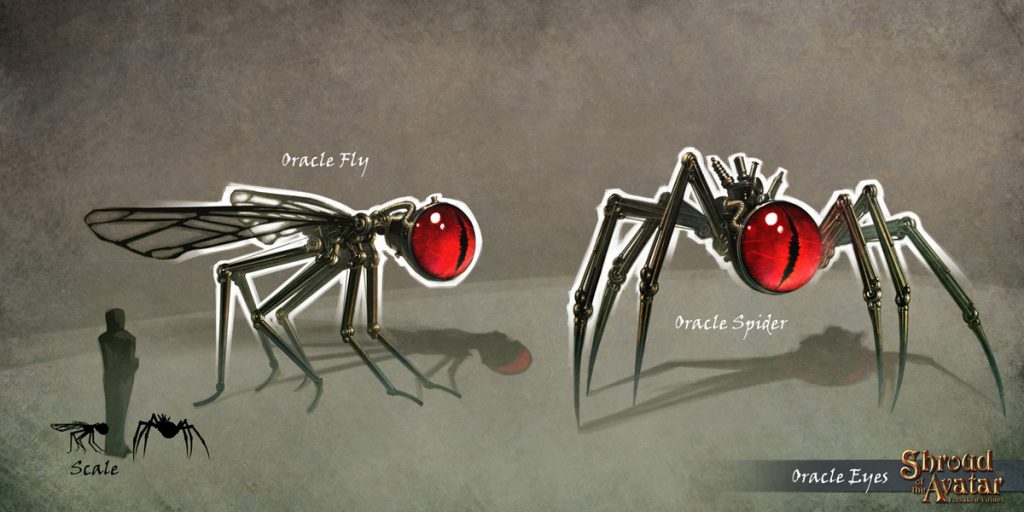 Albeit many bug fixes patched in during R85, will go live with R86, or will go live shortly after R86. Here are some of the highlights!
A little bit of helium has been released from the white and gray goose decoration pets. They still have enough helium left to be light and fluffy, but they no longer have floating issues.
Logic has been improved to help prevent player resurrection issues when 2 players attempt to resurrect the same target. This problem was difficult to duplicate, so please report continued issues in this regard.
Giant ore nodes in various scenes have been fixed.
Marlin in Aerie now always has a response when you give him the "Drumplemouth" keyword.
Cristiano of Sanctus Spine should now properly teleport players across the scene when they request it.
Issues with Immolation have been resolved. This spell no longer loses its attunement portion of the buff.
The snow weather effect has been improved and should appear less often when indoors.
Updated nameplate heights for air and water elementals to be above the heads of the NPCs.
Collision was added between the ice pieces in the floating ice cluster decoration so players can no longer fall between the pieces and get stuck.
Fixed several issues in Solace Bridge Outskirts in regards to a floating dirt pile on the ground, quest compass marker improvements, quest text improvements, and added crates and barrels on ramp up to bivouac.
Replaced a cage door in the Halls of Artifice that was missing.
Players should now learn Visna's name when she shares it in South Boundless Forest.
Adjusted weight for the Shield of the Wicked King artifact from 25 to 1.
Fixed an issue in Kiln that caused the "Ask About Bonesteel in Kiln" compass markers to disappear prematurely.
The "Find Kiakis in Vertas" compass marker should no longer appear prematurely.
Thomas Strongbeard of Owl's Head will have a proper acknowledgement when players tell him their names.
Fixed issues in Tanglemire with the path grid in the vicinity of some dirt piles.
Reworked spike door trap to function properly as a door.
Albert Lock and Franseza Moisan in Aerie no longer run downstairs when the bank door is open
The Yule Elf Outfit pattern now applies to gear appropriately.
8 store descriptions were corrected to no longer indicate they can be placed upon a Village Lot or larger since empty row lots are now available.
Rebaked navmesh in Oracle Colossus with a tighter grid to help NPCs trying to move on steep slopes.
Removed a waypoint node in Oracle Colossus that Imps had trouble reaching. Also, increased the arrival radii for all other Imp waypoint nodes to help with access.
The store entry for the Sigil Complete Set was corrected to no longer display a wall of text that transferred in from its original webstore entry.
Improved how the "Confirm Final Step" task in Highvale Outskirts archives itself and stops displaying as a compass marker.
The "Find Kiakis in Vertas" compass marker should no longer appear prematurely.
Updates to the Streamer Rewards Program!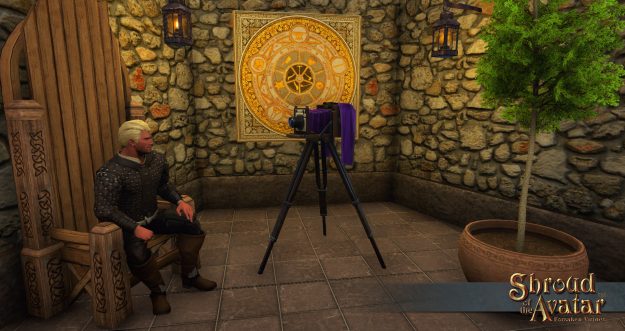 Several months ago, a program was proposed for the Streamers of
Shroud of the Avatar
. The ultimate goal being to showcase
Shroud of the Avatar
while giving SotA streamers a reward for their efforts. The program is currently in Phase I, with Phase II technology currently being discussed and worked internally. So, let's talk Phase I!
Phase I:
Streamers who wish to be included in the Streamer Program must contact Laney via in-game mail or in a private message on the forums with their Character Name and Twitch Channel information. If you have already signed up for the program in the past, fear not, you're on the list, and you don't need to reapply.
Streaming Rewards Program participants must adhere to our Terms of Service (TOS) and Community Rules while Streaming Shroud of the Avatar.
Streaming Rewards Program participants must stream at least 10 hours of Shroud of the Avatar ACTIVE game play to remain in the program with reward accrual.
Streamers will receive a one-time digital reward of in-game items after meeting the program's requirements: Streamer's Cloak, Streamer's Camera, and a brand-new LIVESTREAMING title. Future incremental rewards will occur at 6-month intervals. (More information to come).
Rules:
To qualify for Streamer Rewards, each streamer must continue to meet the minimum requirements for 60 days after application.
To accrue additional rewards, Streamers must stream SotA a minimum of 10 hours per month, tallied on the 1st day of each month, to remain in the program.
Streamers must be actively playing the game during their streams. Being away from the keyboard (AFK) for short periods is acceptable. If Twitch indicates the streamer is playing SotA but they are streaming other content or a timeout/login screen, they risk being removed from the program.
Items of Note:
SotAbot: Streamers in the program will be included in the SotAbot StreamPop function, appearing in the player-streaming channel in Discord.
Graphics & Overlays: An optional "Streamers Kit" is available to the participating streamers as well as all players of Shroud of the Avatar, which includes graphics, overlays and other material.
Watch the forums for more information, coming soon, regarding Titles, future rewards and for info on Phase II of the program. We love our Streamers, so get out to Twitch and follow them, watch them, and support them!
Bug Brigade & Testing Directives!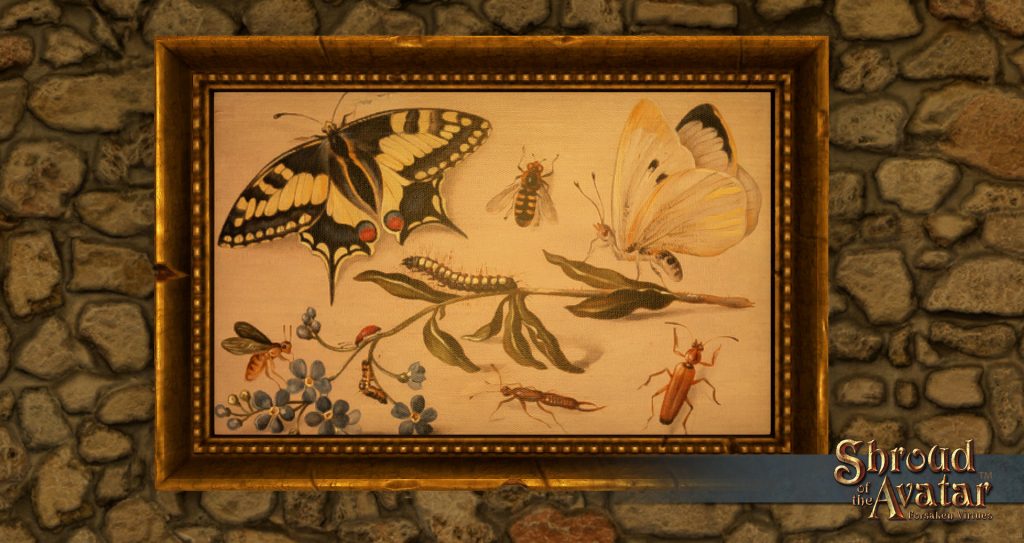 The Bug Brigade was established to improve how the community and the development team work together to improve the game. Since the Brigade's inception, the program has gone through a number of changes and was eventually placed on hold. The stability of the game is as important to the development team as it is to the players, therefore the program was revamped and was recently relaunched.
The Brigade has been up and running for two months now, and the volunteers are getting into a good rhythm for verifying and submitting bugs to the developers. If you have reported a bug that has not yet been addressed, please be patient while the backlog is being worked. The Brigade is working diligently to cleanup the backlog of bug reports posted by players on the forums.
As was recently announced on a
Twitter
post by Chris "Atos" Spears, the upcoming development time for Release 84 will be primarily spent working many of the verified bugs which have been submitted to the team by the Bug Brigade. This focused effort on bug fixes would not be possible without the recent efforts of the Bug Brigade. Please take the time to thank these bug hunting aficionados when you encounter them in your travels!
In turn, the development team would like to express a big thank you to the Bug Hunters! These community members are doing a fantastic job bringing so many bug reports to the team, and they're doing it in a way which makes the process smooth and efficient. Thank you, thank you, thank you! Already, much improvement has been noticed by the development team, and we're so very excited to see the program successfully back in action!
The development team would also like to thank all of those who took time out to participate in the
QA Testing Directive for the upcoming Mount System.
Thanks to your hard work and dedication, many issues and bugs were identified and fixed prior to the system going to the Live Server! Keep up the great work! For those that wish to participate in future bug hunting endeavors, please check the forums regularly for upcoming
QA Testing Directives.
Also, the Bug Brigade would like to welcome its newest Bug Moderator, Echondas! Please congratulate him the next time you see him in-game or on the forums. This new member expands the Bug Moderator team to: Alley Oop, Echondas, and Justyn. Thank you Moderators! Your efforts are highly valued by the development team!
Don't forget, the Bug Brigade is open to all players in good standing, and the bug rewards are back! And they are SWEET! They will be awarded on a monthly progression basis with only minimal requirements to qualify. The available rewards to receive in progression via qualifying participation are as follows:
Antennae Head Gear and Forum Title 1: "Bug Hunter"
Single Ant Cloak
Lady Bug Backpack
Bug Painting A and In-Game Title 2: "Associate of Aphids"
Ant Farm
Insect Leg Table
Many Ants Cloak and In-Game Title 3: "Bachelor of Beetles"
Bug Painting B
Bug Sprayer
Bug Painting C and In-Game Title 4: "Master of Moths"
Butterfly Chair
Corpion Chair (Pictured Below)
Yellow Fireflies VFX and In-Game Title 5: "Doctor of Dragonflies"
Hacked Oracle Flyer
Giant Blue Butterfly Pet
Butterfly Mask
Dragonfly pet
Fairy Wings
Monarch Butterfly Pet
Dragonfly Wings
Hacked Oracle Crawler
Blue Butterfly VFX
Orange Fireflies VFX
Orange Butterfly VFX
If you've come to think of
Shroud of the Avatar
as your home, signup and help make New Britannia a better place to live! To learn more about joining the Bug Brigade, please
read the announcement thread by Ravolox
in the main Bug/Feedback forums.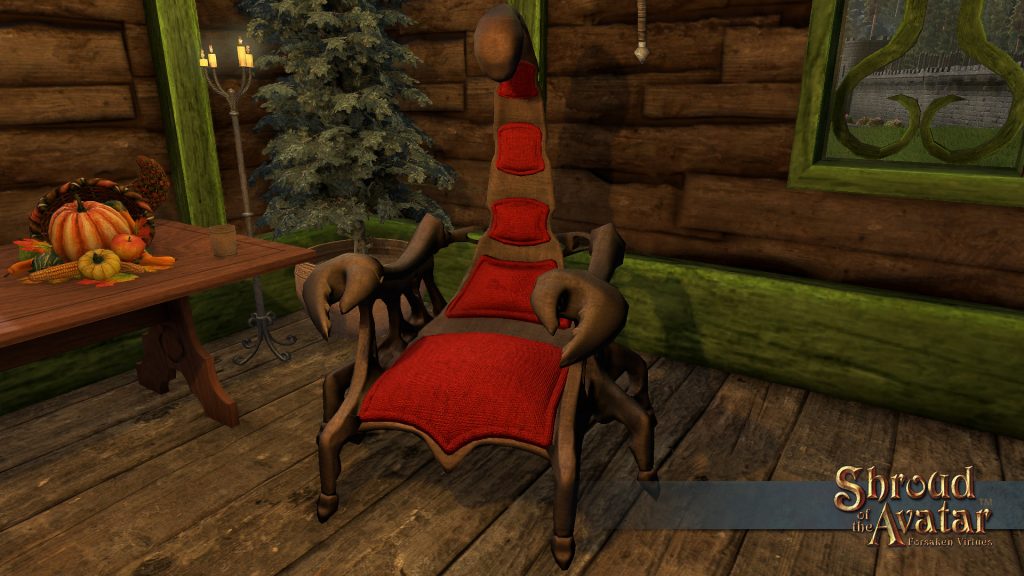 Upcoming Release Dates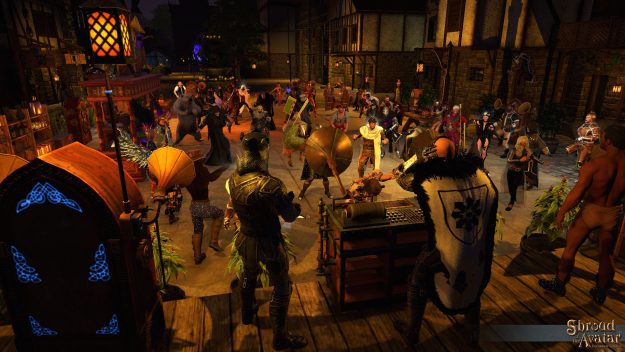 Be sure to check out the
Upcoming Events
page for spotlighted events plus links to various areas to post or find events on our forums. The upcoming 2021 Release Schedule is as follows:
Release 86 – Jan 28
Release 87 – Feb 25
Release 88 – Mar 25
Release 89 – Apr 29
Release 90 – May 27
Release 91 – Jun 24
Community Updates & Resources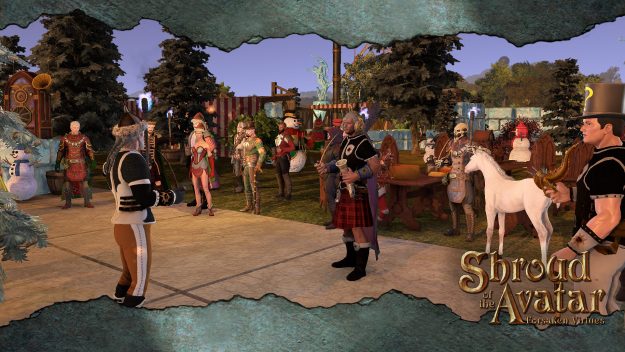 Greetings event holders and event attendees! So many fun and exciting events are available in the upcoming weeks. Be sure to get out there and participate, make some new friends, perhaps make some great emote, recipe, or gear trades, or get some adventuring and role-playing into your mix! Here are spotlighted events or updated community resources that we've noticed popping up lately on the official forums:
Here are some fantastic resources for tracking down community events or posting your own events. Become involved! Create! Explore! Make friends! But most of all, have fun!
SO many options to stay tuned-in with fellow community members. Please take advantage of all these wonderful options. Happy adventures, Avatars!
Project to Support: Amanita's Adventures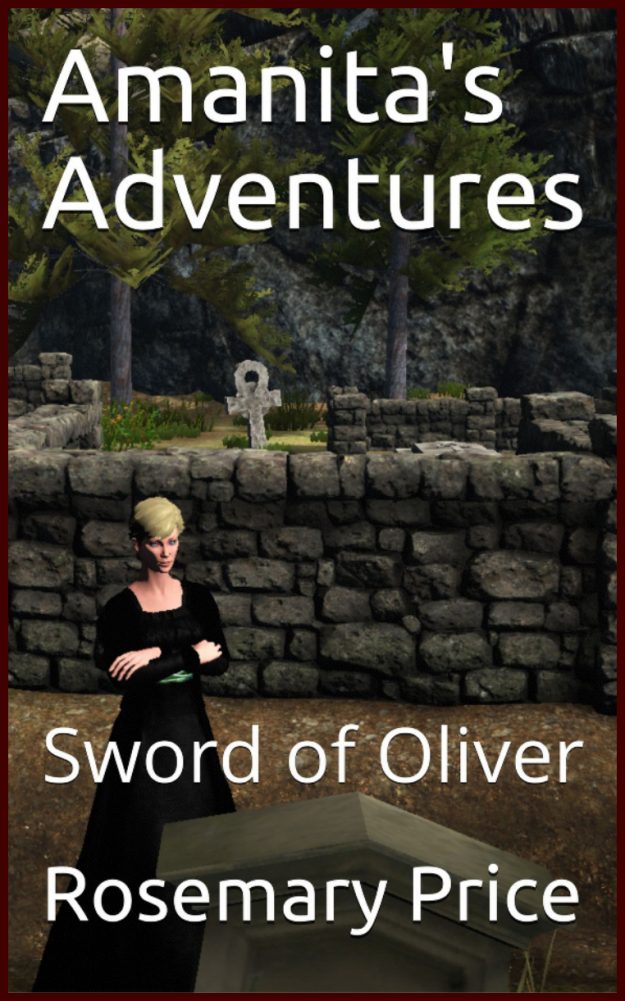 Comic lovers of New Britannia! Rosemary Price has published a variety of
Shroud of the Avatar
themed comics which are available on Amazon! These highly entertaining works are a must have for any collector. So far,
3 comics are listed
as available for digital download:
Amanita's Adventures: The Pig
Amanita's Adventures: Sword of Oliver
Amanita's Adventures: Steve
Please give Rosemary a.k.a. Amanita Phalloides a big show of appreciation for her hard work and dedication to the community. Happy reading, Avatars!
Project to Support: Shard RPG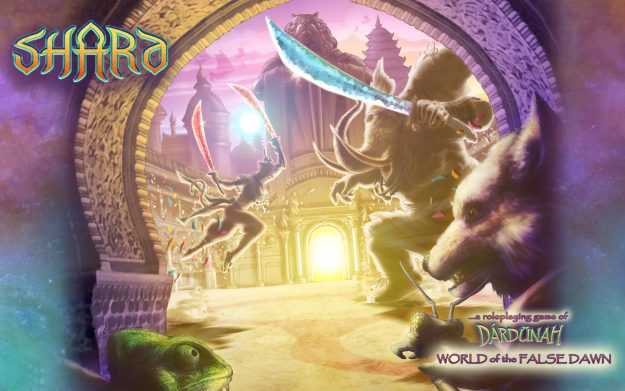 Shard Studios invites you to enter the fantastic world Dárdünah, the vast shard of a shattered realm, as presented in the colorful pages of the SHARD RPG! Many years in the making, this system allows players to choose from a wide variety of animal people who are the main cast of the many adventures this otherworldly setting offers. Skyships glide through shimmering clouds past majestic crystal peaks. Giant insects prowl alien jungles or lurk in the sparkling emerald seas. Warriors with blades of diamond and amber duel across crimson sands. And mystics chant in shadowy chambers as their spirits wander abroad.
Intro Sheet: For a quick glimpse into the world of Dárdünah, be sure to download the intro pdf! It's packed with great information and features beautiful artwork, not unlike the artwork found throughout the many pages of this gaming system's gorgeously designed manuals.
Core System Manuals: It's easier than ever to delve into Dárdünah, World of the False Dawn, with the Core Books Bundle! If you've never had the opportunity to experience this unique gaming system and setting, now's your chance! This bundle includes two beautifully illustrated, full-color, hardcover books: the original Basic Compendium and the Magic and Martial Arts book! They contain everything you need to begin your adventures, and include instructions for the ritual magic and martial arts combat systems. These manuals also include 90 new Animal Templates upon which to base your character!
Other Shard RPG Products: So many more manuals and gaming materials are available! Everything an avid tabletop role-player and game master needs to delve into the world of Dárdünah!
So if you're ready to experience a gaming world like no other, check out what Shard Studios has created for tabletop role-players on the
Shard RPG official website
! You'll most certainly be immersed and amazed by the offerings of the Shard RPG!

Project to Support: Shadow of Valhalla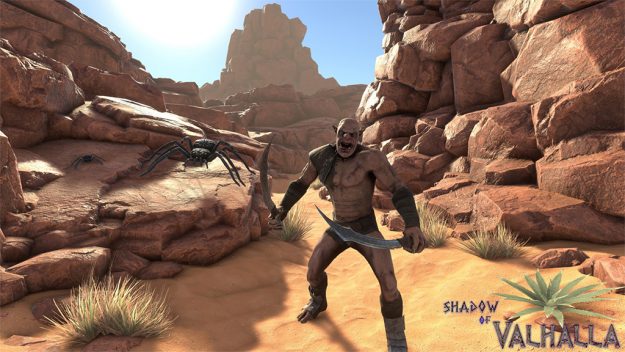 Shadow of Valhalla
is a visceral physics-based VR combat game with dynamic RPG elements, set within an ancient realm of Viking lore and mystic powers! Early Access beta includes "endless horde mode" featuring a variety of enemies with progressive difficulty. Also, players can discover many magic spells to unlock! So much more is coming!
Finn Staber with Chicken Waffle, will join the
Shroud of the Avatar team on Twitch
during their Friday the 28th livestream to showoff this new Early Access game! Also, here is a teaser video on YouTube:
The development team is working hard to create additional environments and new quests!
Shadow of Valhalla
is
available on Steam
as Early Access. Additional features coming to the game:
More Enemies!
More Environments!
More Magic Spells!
RPG Quests!
Weapon Forging and Crafting!
Much, much more!
If you would like to learn more about Shadow of Valhalla, be sure to stop by the
main webpage
for the game as more news becomes available!
Project to Support: Dragon Fight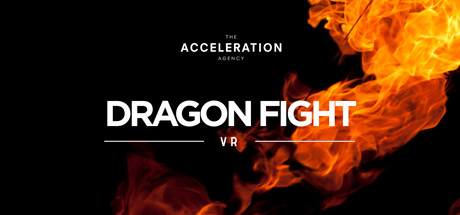 Darkstarr has also been hard at work with the team for Dragon Fight VR which recently went live on Steam! Dragon Fight VR is an internal experiment to capture the "essence" of a dragon fight, the classic penultimate experience of every fantasy story. We wanted to create a short visceral, realistic experience stripped of user interface, lobbies, scores, levels, and other visual intrusions that might distract. There were some key elements of fighting a dragon that we wanted to capture and we felt VR was uniquely qualified to convey:
Face to face with a large scale hostile creature trying to kill you
Using a sword and a shield
Fire!
Nowhere to run!
This started out as an internal experiment to learn some things about VR's capabilities, be reductionist in our designs, etc. We felt that the experiment was successful enough to release as a free experience to share. Enjoy! Available for free on
Steam!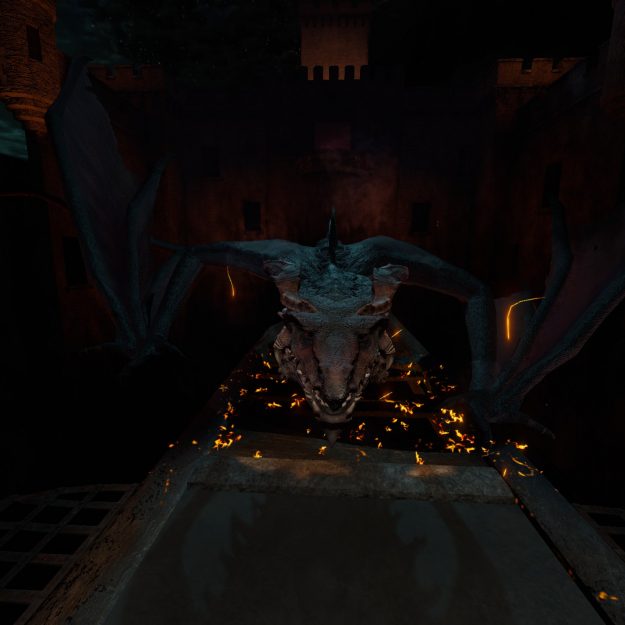 Project to Support: Avatar Express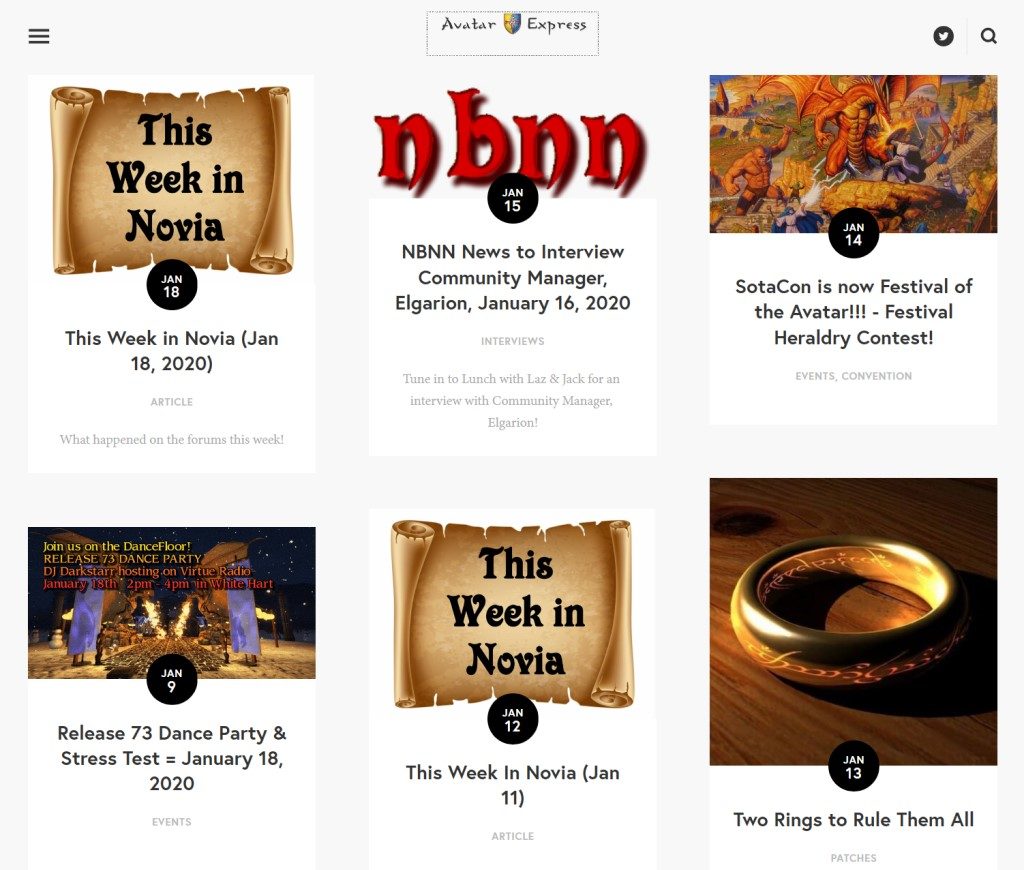 [Forum post by Vladamir Begemot]
I'm pleased to report that
The Avatar Express
is clacking away furiously. News is being delivered and we have established systems to deliver it directly to your brain. You can use one of those systems by following us on
Twitter
at @avatar_express. Even more reliable due to its fully automated nature is joining us on the
Discord
server. News items are posted there via RSS. Or you can subscribe to RSS directly on the site.
If you run an event, quests, etc, please consider helping out by self reporting. The Shroud community is big, and many things are happening that are never seen by others. With 10k monthly users, we would need a full time staff to track down everything that is happening.
You can fill out the
contributor form
, message
@that_shawn_guy
here or post in the Discord server that you would like to help. There is no commitment once signed up, you can post as much or little as you like.
Writing up your own events has several benefits beyond the immediate exposure. It serves as a record for others to see the history of New Britannia as we create it, in an attractive format. Publishing in the Express also has a higher chance than the forums of being seen by search engines and random readers, thus bringing more eyeballs and new players to the game.
It will even make posting in the forums easier! You can upload images to your news item, and then link to those images in your forum post. No more need for 3rd party image hosts!
So if you have something going on in your guild or town, or want to be a Reporter, Cartographer or Historian,
please join us!
Resources: Players Helping Players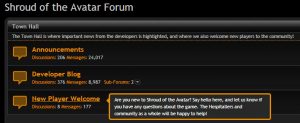 The official SotA
New Player Welcome Forum
and the
Player Created Resources Forum
have the best player created resources for Shroud of the Avatar, whether it's a Player Written Guide, a Video Walk-through, or a Wiki-type Website.
Visit the official
Community Resources page
for a complete listing of all things community.
Continue reading...