RSS Feed
RSS Feed
Stratics Veteran
Greetings Fellow Avatars!
Adventurers, ready your weapons!
Shroud of the Avatar
has just placed the Well of Aldur onto QA for player testing! Expect this new adventure scene to go fully live on Release 86. Sales, sales, and even more sales events are live! Don't miss out! Also, more information has been revealed about the new collectible framed maps! And be sure to check out all the new bone decorations — so many to choose from and to discover! These exciting updates and more are outlined below for Release 85! For those wishing to participate in any
community activities
, upcoming one-time and recurring community events have been announced! Be sure to also review the
Players Guide
and
Known Issues
list for additional information on recent changes and upcoming fixes. Now, let's see what we have for you in this week's edition of Update of the Avatar:
News Announcements
Community Updates
Well of Aldur Update!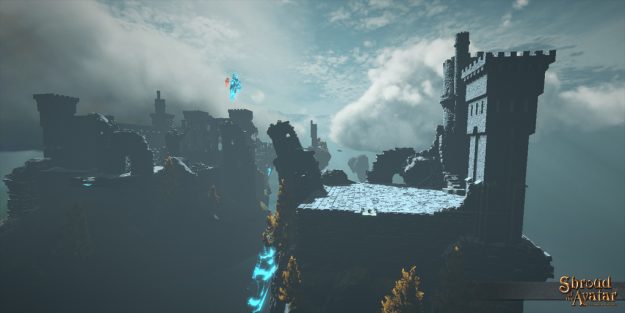 New Britannians! Soon, a mystical and mysterious adventure scene will be coming to players of
Shroud of the Avatar.
"The Well of Aldur" is a scene for
Episode 2 Access
holders which will feature a variety of activities to challenge even the most stalwart of Avatars! Many finishing touches still need to be done, but the images shown are a great example of the work in progress. World builders List Rostov and Sannio are both hard at work to complete this wondrously ethereal adventure scene, with a full launch expected for Release 86 on January 28th. Sannio has shared a small teaser for what to expect: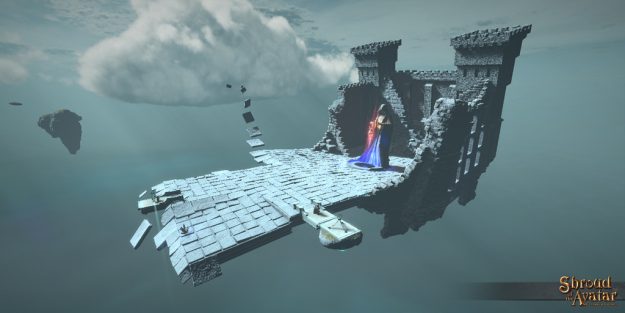 "High above the mountain peaks of Mistrendur floats the crumbling remains of a civilization whose origins are lost to time. Only the greatest adventurers will decipher the secrets, survive the threats, and discover the true nature of the Well of Aldur."
Players can expect a variety of challenges such as a jump puzzle with a reward upon reaching its end. Also, a boss fight with new mechanics will become available to players, as well as new unique loot for the scene. As of today for Release 85, players will be able to reach "The Well of Aldur" for testing purposes on the QA server. If interested, message an online developer for teleportation to the scene. Please report all related bugs and feedback items on the
QA bug reporting/feedback
section of the forums. Stay tuned for more information as the scene develops. Happy adventures, Avatars!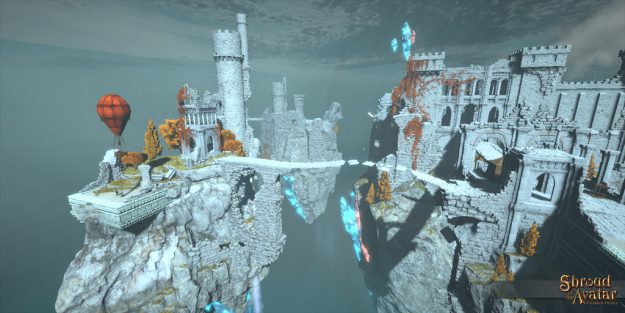 Latest News Q&A Friday Livestream!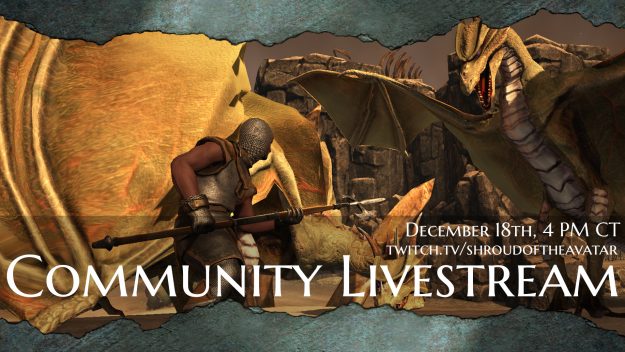 The weekly Community Livestream is Friday, December 18th at 4PM CT on
Twitch
! Join Chris "Atos" Spears and other members of the development team for a community 1 hour livestream!
To enter the prize drawings, type "let it snow" into any in-game chat channel OR make a purchase on the website add-on store. Please submit questions into
Twitch Chat
by inserting
!question
at the beginning of your text. Watch on
Twitch,
Friday at
4 PM
CT!
Crowns, Homes, Deeds, Deed Upgrades & Two-Hour Flash Sales!


In celebration of the upcoming holidays, various sales will begin on Thursday morning and extend from December 17th to January 4th. The following sales will be available:
Crowns 20% Off!
Crown Store Deeds 25% Off!
Deed Upgrades 25% Off!
Crown Store Homes 25% Off!
Episode 2 Access Discounted to $14!
2-Hour Flash Sales!
To upgrade a deed, place the deed into your inventory, then right-click the deed to reveal upgrade options. And be sure to watch your clocks, Avatars! A new batch of 9 sale items will rotate into the in-game Crown Store every 2 hours! Happy shopping, Avatars!
Decorative Framed Maps!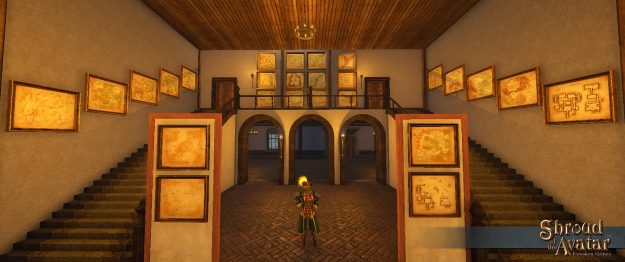 Upon Release 84, two new decorative framed maps were immediately available to players of
Shroud of the Avatar
, but during R84 the remaining 24 framed maps became available! These framed maps can be crafted by players, but the recipes can be significantly challenging to locate and are scattered widely throughout New Britannia in various monster loot tables. Well, no worries. Caravaggios Wolf is here to help!
[SPOILERS]
Caravaggios Wolf is a prominent art dealer NPC in Ardoris, who is located in an art store just on the edges of the main market square. If a player prompts Caravaggios with the phrase "framed maps" phrase, Caravaggios will provide his knowledge of these recipes and even provide a book which was written by one of his colleagues. This book has very helpful information as to the location for each of these recipes.
If players would like to see a variety of these framed maps in-game, be sure to pop on by
Cypher Black's art museum
in the Player-Owned Town of Whyte Roc. Nearly a half of these crafted framed maps are already on display, many of which have been donated by community members supporting the museum. More collections such as this will be coming in the future, so keep your eyes open, Avatars!
New Bone Decorations!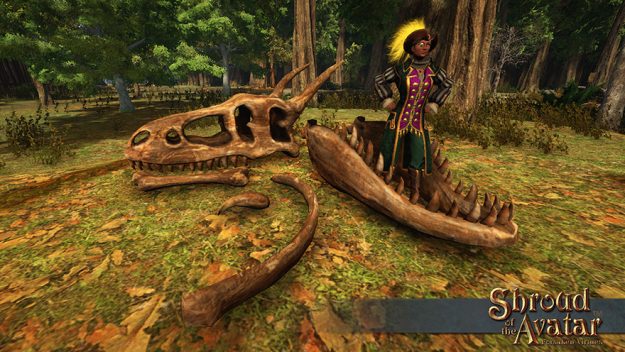 As of Release 85, a wide range of bone type decorations will be featured as loot, crafted items, or even upcoming store items. Some of these bone decorations already served as crafting components, but now they can also be placed as decorations! Here's a quick summary of where to find all these recently added or upcoming decorations for all you bone collectors out there!
In the above image, the following bones are shown:
Dragon Claw (Loot – Drops from non-clockwork dragons)
Dragon Leg Bone (Loot – Drops from non-clockwork dragons)
Dragon Rib (Loot – Drops from non-clockwork dragons)
Dragon Jaw (Loot – Drops from non-clockwork dragons)
Dragon Skull (Crafted – Recipe Drops from Chest Mimics and Barrel Mimics, uses any non-clockwork dragon head)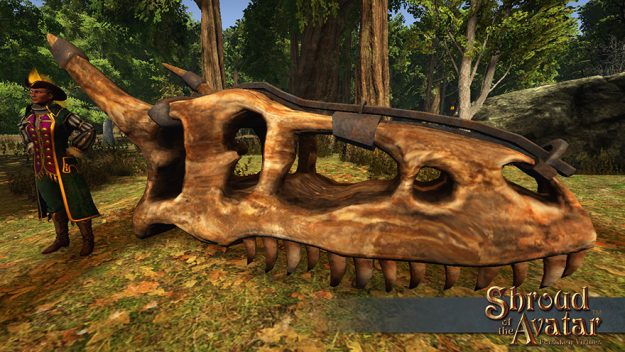 The massive Reinforced Dragon Skull decoration will appear on the Crown Store on January 22nd!​
The Dragon Bones 2 decoration will appear on the Crown Store on January 15th, and can be placed on player property as well as a Player-Owned Town (POT). The original POT Dragon Bones decoration, which is significantly different, has been renamed to Dragon Bones 1. Expect changes to that decoration item in the future allowing it to be placed on player property as well.​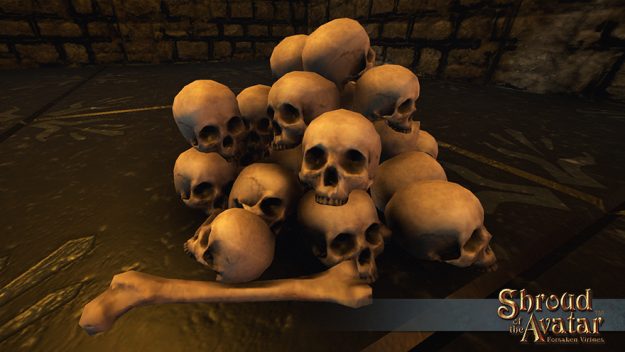 This creepy Skull Pile decoration will appear on the Crown Store on January 1st!​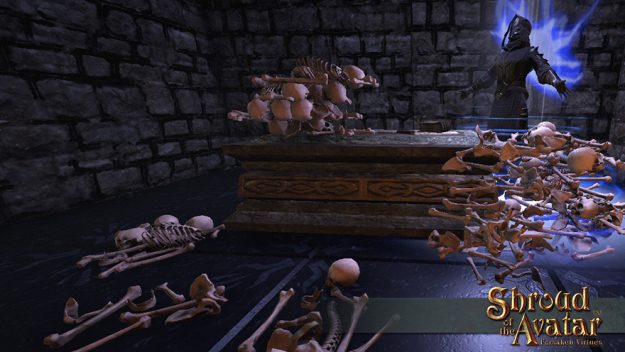 The recently added Bone Pile decorations (3 versions) are a wonderful touch for any player-created dungeon scene, and the recipes to craft these are in Xenos.​
Pictured above is the variety of additional bones, many of which were already available as crafting components but can now be placed as decorations:
Skeleton Pelvic Bones (Loot – Drops from skeletons)
Troll Pelvic Bones (Loot – Drops from trolls, renamed from Troll Hip Bone)
Skeleton Bones (Loot – Drops from Skeletons)
Dragon Neck Bone (Loot – Drops from non-clockwork dragons)
Pristine Rib Cage (Loot – Drops from skeletons)
We hope you all enjoy collecting and decorating with these new bone decorations. Expect more bone decorations to come in the future, and be on the lookout for additional recipes which drop as loot from creatures to utilize some of these bones for crafting!
Craftable Zombie Conversationalists!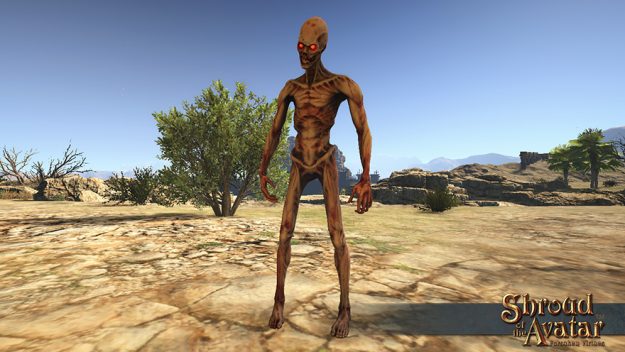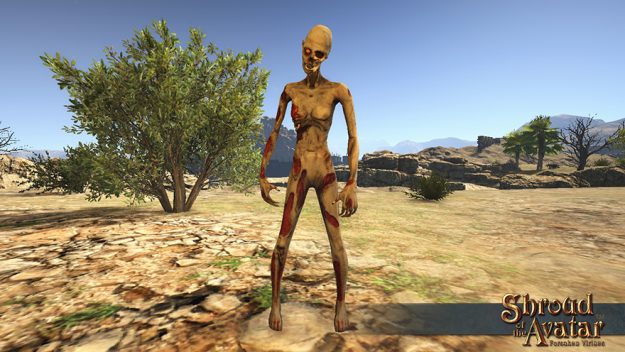 The game of
Shroud of the Avatar
features a wide variety of Conversationalists. These decorative NPCs allow players to insert custom interactive conversations which other players can enjoy. Whether you're sharing information about your vendors, town, guild, or even creating a custom storyline, these amazing items inspire creativity throughout the community and add a considerable bit of flair to any in-game town or property.
As more Conversationalists are added to the game, most of which are premium Crown Store items, there are additional crafted or looted Conversationalists coming with R85, with even more crafted and looted varieties coming just on the horizon! Just added for Release 85 are two new Zombie Conversationalist alchemy recipes, which can be looted from Ebon Dawn casters. Here's a quick summary of non-premium Conversationalists, to include the ones which went live with R85, and the ones which will be coming to a recipe or a loot table near you!
Recently added crafted Conversationalists:
Conversationalist, Beggar Male 1 (Crafted – Recipe sold in Xenos)
Conversationalist, Beggar Female 1 (Crafted – Recipe sold in Xenos)
Conversationalists added with Release 85:
Conversationalist, Putrid Zombie Male 1 (Crafted – Recipe drops from Ebon Dawn casters)
Conversationalist, Putrid Zombie Female 1 (Crafted – Recipe drops from Ebon Dawn casters)
Crafted/Looted Conversationalists slated to arrive in the future:
Conversationalist, Imp
Conversationalist, Child Male
Conversationalist, Child Female
Conversationalist, Child Elf
Conversationalist, Zombie Child Male 1
Conversationalist, Zombie Child Female 1
Conversationalist, Oracle Crawler
Conversationalist, Oracle Flyer
Conversationalist, Clockwork Monkey
Conversationalist, Baby Dragon (All Colors)
We hope utilizing the Inkle Studios "Ink" conversation system has become a joyful endeavor within the game. Six additional Zombie Conversationalists will arrive to the Crown Store on January 8th. Expect many more Conversationalists to arrive in the future as this system continues to develop.
Supply Bundle Decorations!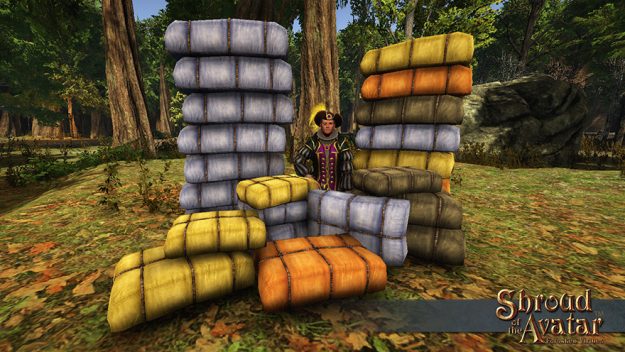 For years, players of
Shroud of the Avatar
have been looting a variety of "Supply Bundles" which randomly drop from a large number of creature types throughout the game. Many players open these bundles immediately upon acquisition, but others have chosen to either save their findings or to place excess bundles onto their player vendors. Well, another option has arrived! Starting with Release 85, players can utilize Grey, Yellow, Blue and Orange bundles as decorations! Stack'em high! Flip'em on their sides! Resize them! Put other decorations on top of them! Most importantly, we hope you enjoy them.
Patterns & Cabalist Hoods!
Many players of
Shroud of the Avatar
have spent considerable effort and time acquiring impressive collections of Cabalist Hoods which are desired by players for their excellent stat bonuses. Until now, if a player wanted to receive these bonuses, they were forced to display the hood's appearance or utilize the "Hide Helm" feature. Patterns could not be applied to these hoods or any artifacts for that matter, but no longer! Live today for Release 85, all 8 Cabalist Hoods will accept cloth head patterns. This new option will allow those hood wearers to vary their appearance significantly. The following hoods will receive this update:
Cabalist Avara Hood
Cabalist Corpus Hood
Cabalist Dolus Hood
Cabalist Fastus Hood
Cabalist Indigno Hood
Cabalist Nefario Hood
Cabalist Nefas Hood
Cabalist Temna Hood
In the near future, expect many more artifact varieties to receive pattern capabilities. We hope players enjoy this new flexibility for altering one's appearance. So many more exciting new features and Quality of Life improvements are inbound, Avatars! So, stay tuned!
New Store Additions: Conversationalists, Mounts, & Seasonal Items!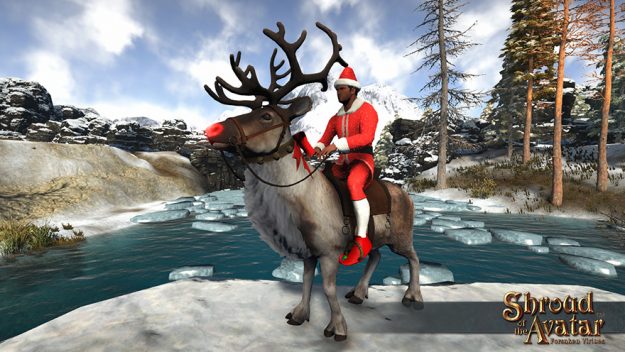 Just this week, 17 amazing new store items have become available! Some will only be available during winter holidays, so don't miss out!
Red-Nosed Reindeer Mount (w/Spotlight Effect)
Kwanzaa Table Decorations
Yule Gift Box 2020 3-Pack
Blank Yule Card 2020 A 5-Pack
Blank Yule Card 2020 B 5-Pack
Floating Ice 12-Pack
Huge Long Chain Great Hall Fancy Crystal Chandelier
Huge Great Hall Fancy Crystal Chandelier
Huge Long Chain Fancy Crystal Chandelier
Huge Fancy Crystal Chandelier
Conversationalist, Barbarian Bear Clan Male 1
Conversationalist, Barbarian Boar Clan Male 1
Conversationalist, Barbarian Dragon Clan Male 1
Conversationalist, Barbarian Stag Clan Female 1
Conversationalist, Mountain Troll
Conversationalist, Troll Underdweller
Conversationalist, Troll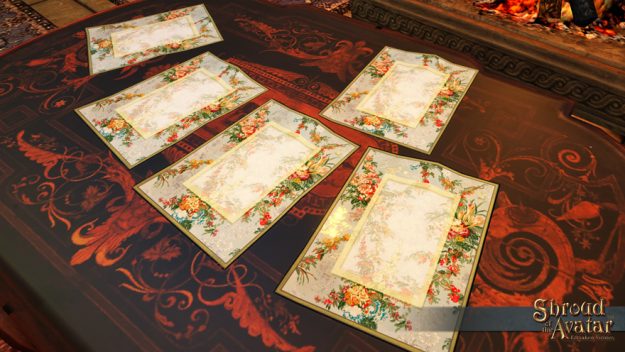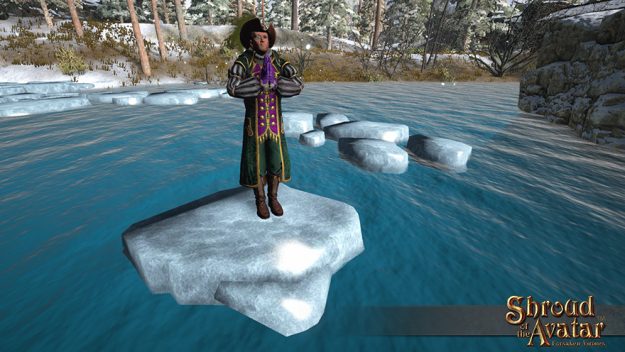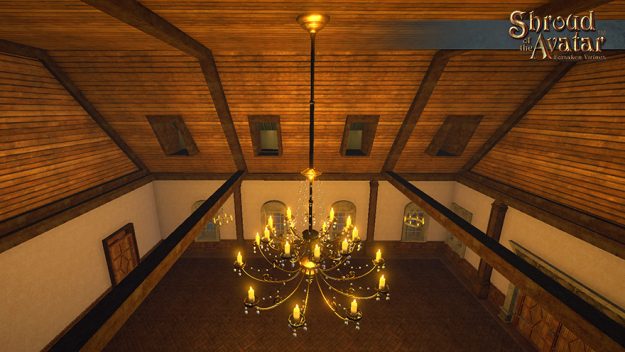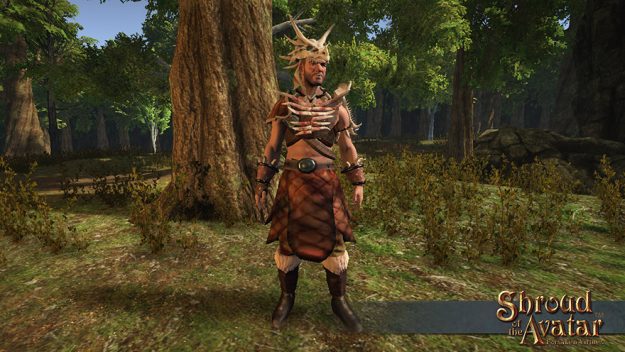 Players of
Shroud of the Avatar
can also enjoy these recent additions to the Crown Store:
Conversationalist, Bogman
Gray Goose Decoration Pet
Black Reindeer Mount
White Reindeer Mount
Woodland Reindeer Mount
Black Stag Mount
Brown Stag Mount
White Stag Mount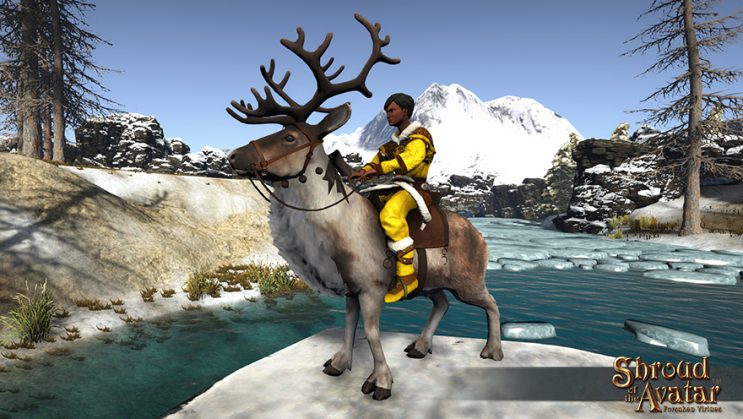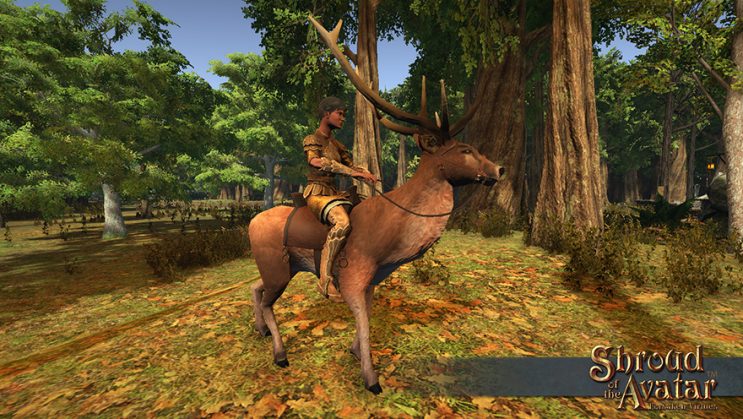 The winter store seasons are upon us, Avatars! All holiday items will be available either in the Vault or as recurring seasonal items:
2016 Winter Holiday Soundtrack
Breathe Blue Fire Emote
Breathe Emote 6-Pack
Breathe Snow Emote
Ceiling Yule Tree
Dark Yule Outfit
Fountain of Frozen Waters
Frozen Bagpipes
Giant Haunted Yule Tree
Giant Yule Tree 2015
Giant Yule Tree 2016
Giant Yule Tree 2017
Giant Yule Tree 2018
Haunted Snow Family
Haunted Snowman Mask
Haunted Yule Tree
Holly Wreath with Candles Hat
Holly Wreath with Sparklers Hat
Ice Elemental Statue
Ice Hot Tub
Ice Nightmare Mask
Ice Wings
Icy Ancient Stone Cathedral
Icy Ancient Stone Room Fishing Grotto
Large Haunted Yule Tree
Large Yule Tree 2016
Large Yule Tree 2017
Large Yule Tree 2018
Menorah 2014
Menorah 2015
Menorah 2016
Menorah 2017
Menorah 2018
Ornate Mantle Garland 2017 12-Pack
Ornate Mantle Garland 2018 12-Pack
Ornate Replenishing Snowball Box 2014
Ornate Replenishing Snowball Box 2015
Ornate Replenishing Snowball Box 2016
Ornate Sled
Ornate Sleigh
Ornate Snow Family 2015
Ornate Snow Family 2016
Ornate Snow Family 2017
Ornate Snow Family 2018
Ornate Wall Garland 2017 12-Pack
Ornate Wall Garland 2018 12-Pack
Ornate Yule Music Box
Ornate Yule Wreath 2015
Ornate Yule Wreath 2016 3-Pack
Ornate Yule Wreath 2017 3-Pack
Ornate Yule Wreath 2018 3-Pack
Reindeer Decoration Pet
Scarecrow Mask
Small Ornate Wall Garland 2017 12-Pack
Small Ornate Wall Garland 2018 12-Pack
Snow Emote
Snowdragon
Snowflake Pattern Cloak
Snowman Mask 2015
Snowman Mask with Hat & Moustache 2018
Snowman Mask with Stovepipe Hat 2016
Snowman Mask with Stovepipe Hat 2017
Tabletop Elf Statue with Yule Hat
Tabletop Haunted Yule Tree
Tabletop Yule Tree 2014
Tabletop Yule Tree 2015
Tabletop Yule Tree 2016
Tabletop Yule Tree 2017
Tabletop Yule Tree 2018
Traditional Yule Hat
Virtue Ice Crown
Virtue Ice Gown Outfit
Virtue Ice Shield
Virtue Ice Sword
Virtue Ice Wand
Virtue Icicle Cloak
White Raven Decoration Pet
White Reindeer Decoration Pet
White Rottweiler Decoration Pet
White Squirrel Decoration Pet
White Turkey Decoration Pet
Winter Lynx Decoration Pet
Winter Pattern Glass Chandelier 3-Pack
Winter Pattern Glass Floor Lamp 3-Pack
Yule Card 2017 5-Pack
Yule Card 2018 5-Pack
Yule Gift Box 2016 3-Pack
Yule Gift Box 2017 3-Pack
Yule Gift Box 2018 3-Pack
Yule Hat
Yule Stockings 2016 3-Pack
Yule Stockings 2017 3-Pack
Yule Stockings 2018 3-Pack
Yule Tree 2014
Yule Tree 2015
Yule Tree 2016
Yule Tree 2017
Yule Tree 2018
Yule Velvet Bodice Ensemble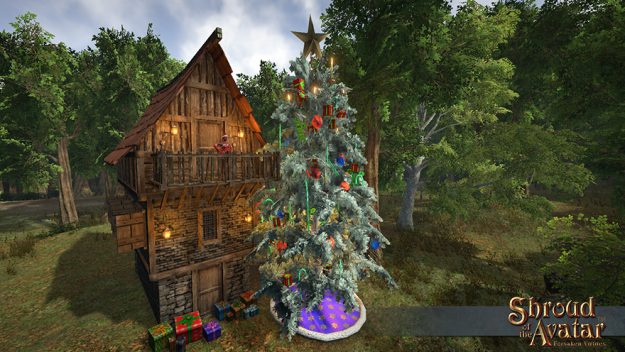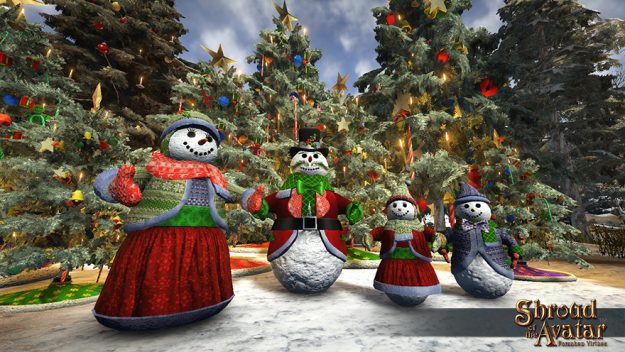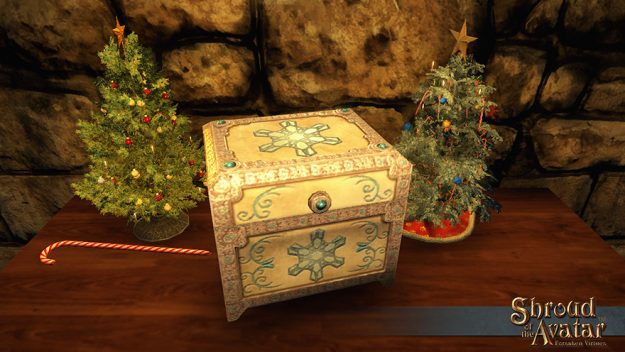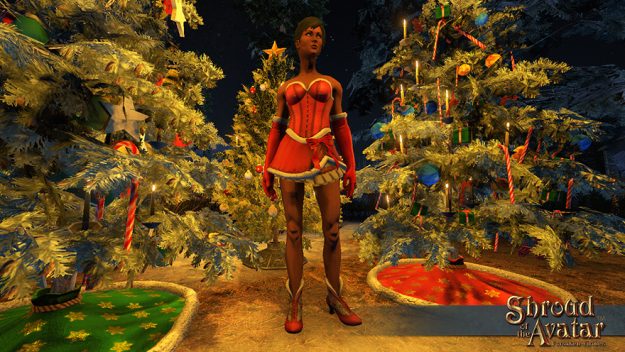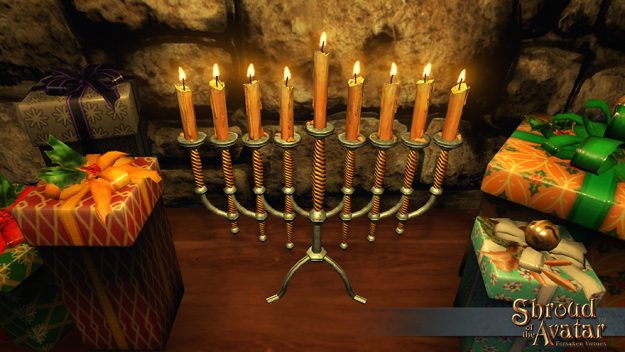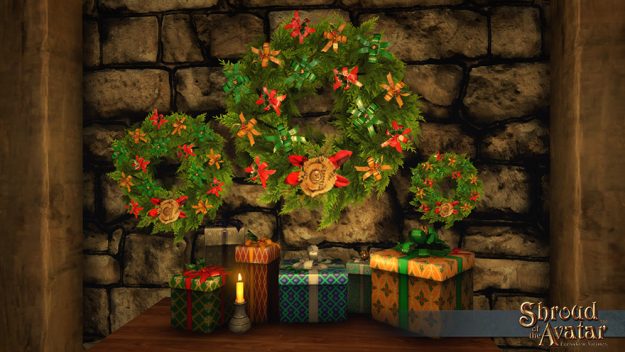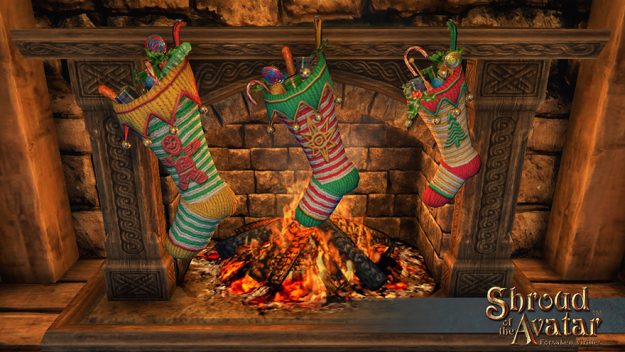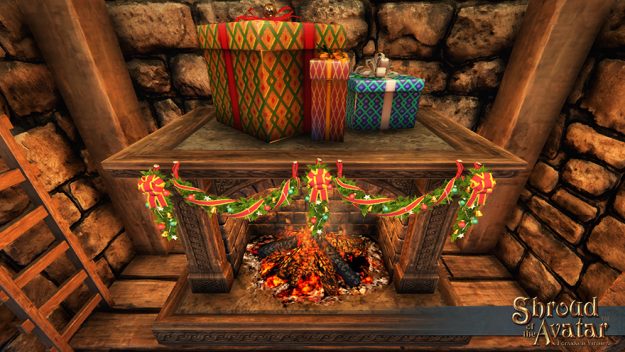 New Vault Round!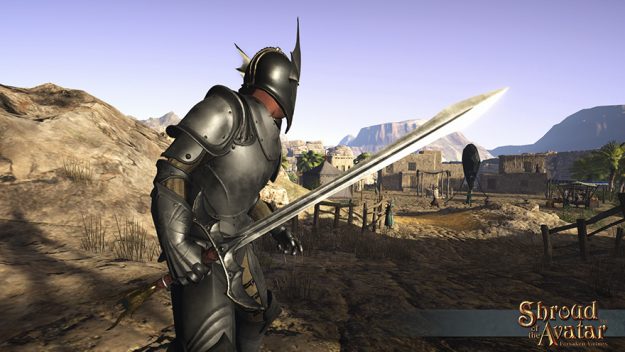 The holidays are here, Avatars! Get your hands on these assorted decoration items and more! The current round of Vault items are available until Thursday, December 17th at 1PM CT. At that time, the next round of 9 items will be available for one week, and then the next, etc.
Dragon Sword
Oracle Cable Wings
Elven Tree (Town Home)
Mandarin Duck Decoration Pet
Ornate Black Leather Aeronaut Helmet
Kobold Metal Store Chest
Aether Shield
Saddle and Bags with Stand
Upscale Stables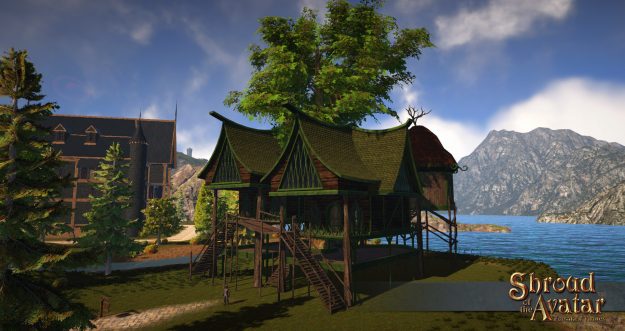 December Login Reward: Yule Stockings 2020 3-Pack!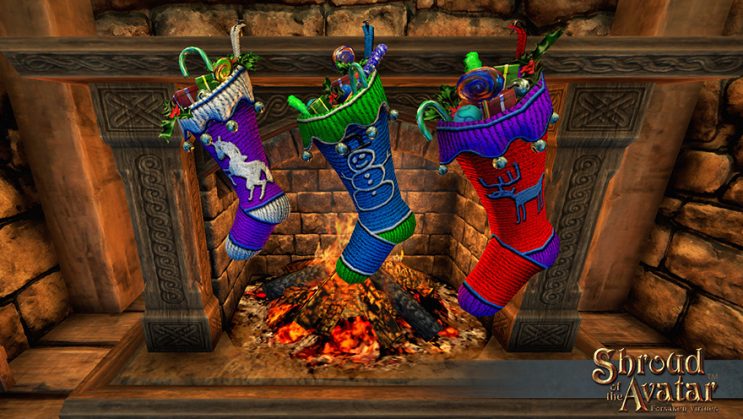 If you're getting your home prepared for a visit from Santa, then you'll want to log in this month, and get your stockings to hang by the chimney with care! Simply log in during the month of December, and these holly jolly Yule Stockings will appear in your rewards window.
Release 85 Rewards Program Login Items: Holiday Celebration Theme!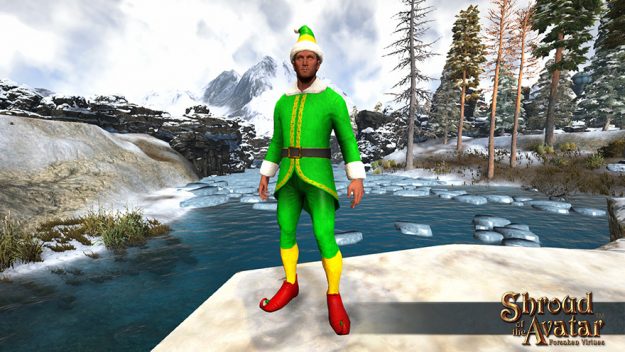 Avatars!
Rewards Program
login items for Release 85 are holiday themed!
Reward Program
members must login during Release 85 to receive these login items:
Yule Elf Outfit
Dyeable Tuxedo
Party Blow Horn Emote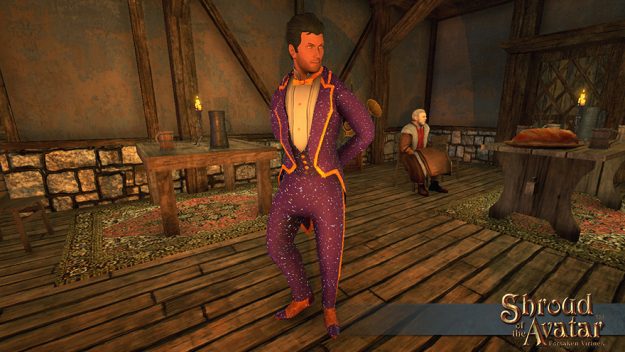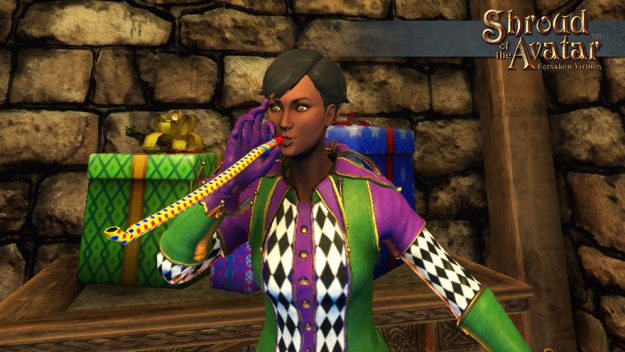 The
Shroud of the Avatar Rewards Program
lets you earn the best rate on purchasing Crowns, AND receive monthly reward items! For the low price of $9 USD per month you will receive the following:
900 Crowns of the Obsidians every month
Monthly Login Reward Items (~ 3 per month)
Exclusive Title every 3 months

3 Months: Keeper of the Faith
6 Months: Keeper of the Word
9 Months: Keeper of the Vow
12 Months: Keeper of the Flame
15 Months: Keeper of the Oath
18 Months: Keeper of the Pledge

Pick any Dye 12-Pack every 6 months
Pick any three of the 7 Obsidian Potions every month, including:

Potion of Capacity: Increases carrying capacity
Potion of Conservation: Reduces reagent use chance
Potion of Expedience: Swift gathering on all gathering skills
Potion of Precision: Increases Meticulous Collection to all gathering skills
Potion of Preservation: Reduces armor and weapon damage
Potion of Reclamation: Increases Salvage and Repair to all production skills
World & Miscellaneous Changes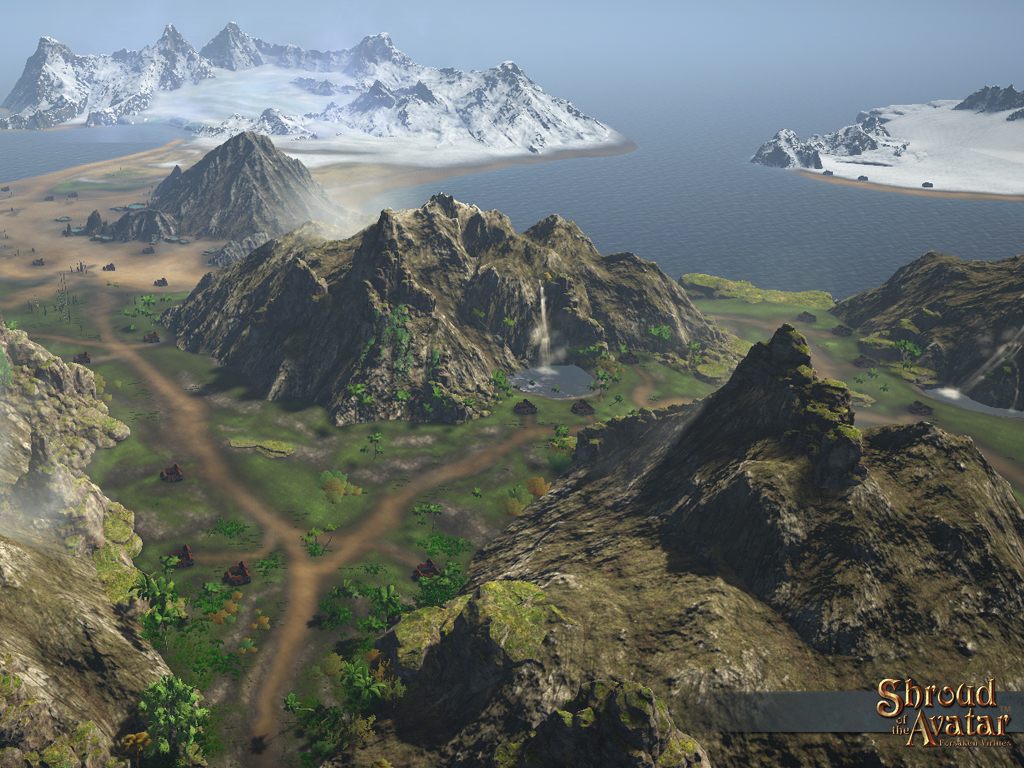 These miscellaneous updates affecting the game world or aspects of the user interface (UI) patched in during R84, will go live with R85, or will go live shortly after R85:
Single-Click Targeting: Players can now target enemy creatures and other targetable objects with a single-click instead of shift-click
Owl's Head: Morton's quest to recover his ledger has received updated dialog and journal text, compass markers, and better quest-tracking logic; players in the middle of the quest should be unaffected, but if they feel stuck they can talk with Morton to help back on track
Occlusion System: Improvements were made to this system to reduce the number of vanishing objects and to provide better handling of quick camera movements
Overworld First Person View: A recent change allowed players to activate first person view on the Overworld by using a chat command; now this feature has been assigned to the normal hotkey for cycling through the 3 perspectives
New Minimaps: The following locations received new minimaps…

Aldwater
Brekken Bay
Endurance
Forewind
Port Titan
Taenby Landing
Axwich
Dorwald
Fons Vita
Littlecreek
New Holtrot
Aldhaven
Redmill
Shadowmist
Highiron
Lochfield
Greyacre
Hills Random Encounter
Lord British's Castle

Row House Fireplaces: The fireplaces in Row Homes no longer apply damage to players or wandering pets
Logging of Quest Flags: Behind the scenes logging of player quest flags has been created to assist with future quest bug reports and feedback
Ardoris: Martin the student guide will now direct players to his students if they wish to learn the names of the books they require
Resolute: Improved how Janet Kallen responds when asked to open the gate
Master Trainers: Added "bard" to the list of master trainers that normal trainers will point players to
Halls of Artifice: Moved a compass marker to be at the throne of Boreas instead of in the middle of its room; also, added a hint when you are next to Boreas saying, "The remains of Boreas appears forever enraptured with his crown" which also adds a quest marker to the crown
Tanglemire: Made improvements to the area surrounding the waterfall
Kas Ruins: Updated decorations and decals in the tower with the lich battle
Blood River Forest: Added and improved ladders to help navigate certain locations in the fish hatchery area
Soltown: Updated Ashton's quest in to find his recipe book; it now includes compass markers and a "Bring Book to Ashton" task
Item Relationship Tech: New tech was created to assist developers visualize related recipes, loot bundles, and store entries to their associated components to improve work time/quality with these items
Under Construction Indicators: 40 scenes no longer display floating text indicating they are in early development/under construction
Crafting, Items & Economy Changes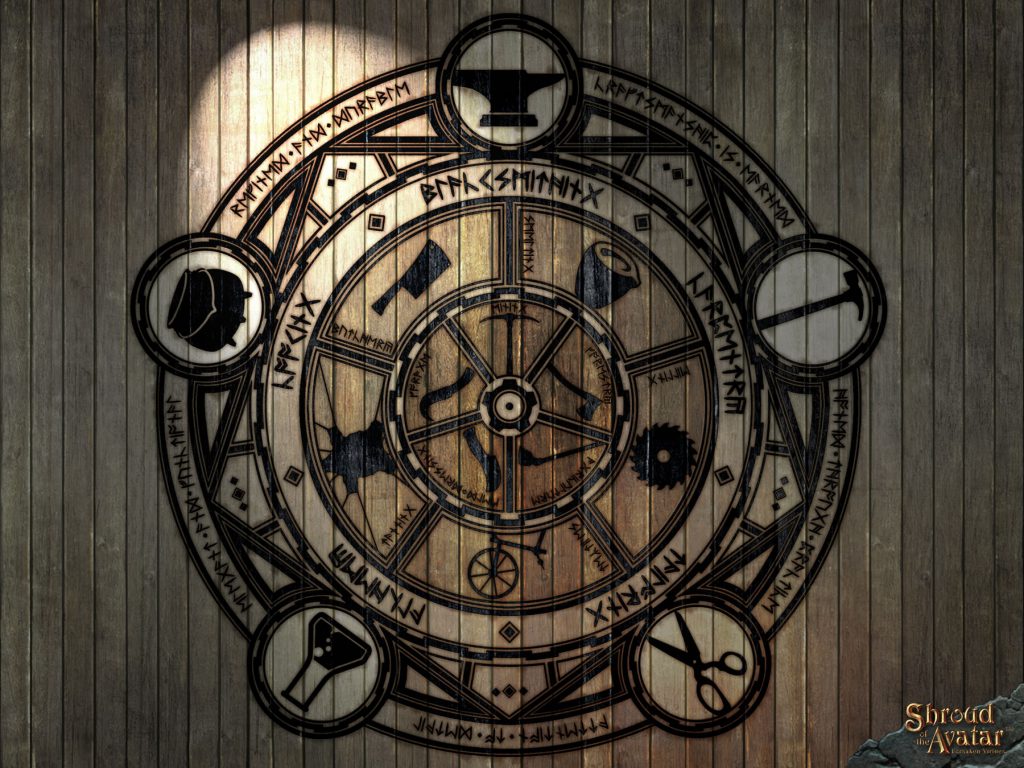 These changes to the player economy, in-game items, or crafting patched in during R84, will go live with R85, or will go live shortly after R85:
New You Makeover: The New You beauticians now only charge 100 Crowns for a makeover instead of 500 Crowns.
Magic Movers/Property Manager: All fees for the magic movers system which incurred a Crowns charge (moving a house, basement or a dungeon to another town) now only cost 100 Crowns each. The previous prices for use of this system for inter-town moving incurred fees varying from 500 to 1000 Crowns for each
Corpion Chair: This amazing Bug Brigade participation award is now dyeable
Fancy Bathroom Sinks and Fancy Kitchen Sinks: These decorative sinks can now be re-sized
Plain Table: The "Bench" decoration never received its matching table as player decoration; the "Bench" has been renamed to "Plain Bench" and a new recipe has been added to carpentry merchants for a "Plain Table", and this table has been designed to allow for decorations underneath
Decorations Enabled for Player-Owned Town (POT) Placement: The following items can now be placed in POTs…

103 chairs, loveseats, benches, couches, sofas, setees, stools, thrones, etc.
Trophy Pumpkins

Jack O'Lantern Recipe: Now accepts crafted candles
"LIVESTREAMING" Title: A new "LIVESTREAMING" title has been created for the Streamer Rewards Program
Bug Brigade Moderator Titles: A large variety of Bug Brigade titles have been created as rewards for participation
Crafting Failure Tech: New tech has been created so crafting failures can also produce unique products; expect use of this new improvement to come to various crafting recipes in the near future
Tier Markers 11-30: Created many new tier markers to assist with future and existing high tier adventure locations
Combat Balance & Changes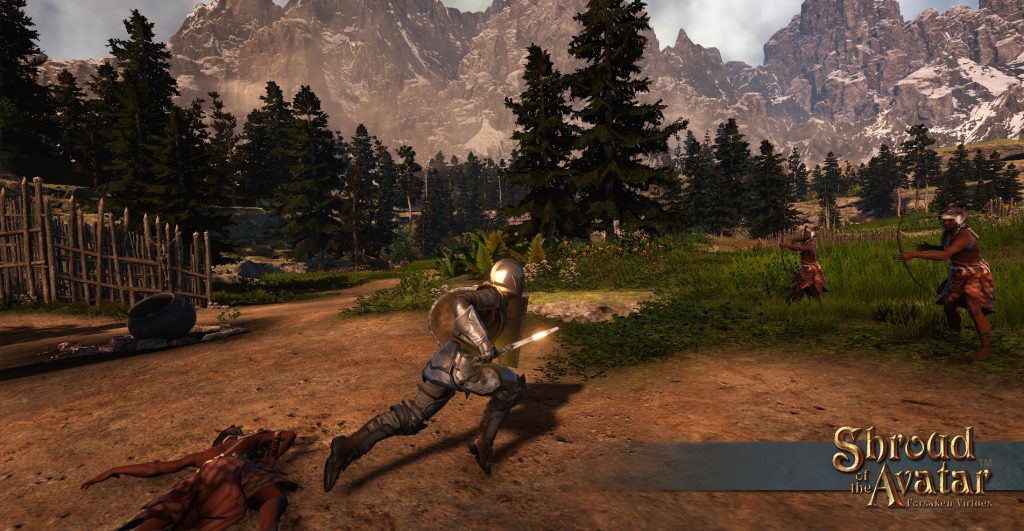 These changes to combat skills or concepts patched in during R84, will go live with R85, or will go live shortly after R85:
Environmental Effects: Effects such as cold, fire, lava, lightning, etc. are now affected by a character's resistances
Torpor: This Earth Magic spell has been greatly enhanced to provide a heal-over-time, an aggro debuff, and a much shortened root effect if specialized
Aimed Shot: This Ranged Combat skill now features an increased focus cost, cast time (1 to 1.25 seconds), and cooldown (5 to 8 seconds)
Rapid Fire: This Ranged Combat skill has received an increased cooldown (15 to 20 seconds) and focus cost
Combo Skills: The following changes affected combo skills…

Flaming Bash: Received a significant damage increase
Hamstring: Received a significant damage increase
Shield Smash: Received a significant damage increase
Spintering Strike: Received a significant damage increase
Titan Smash: Received a significant damage increase
Icy Thrust: Received a significant damage increase
Glacial Glissade: Received a significant damage increase
When successfully utilizing a combo on an enemy target, players will receive a small buff
If specialization exists in either school utilized for a combo, additional stacking benefits will apply

Resurrect Creature: All reagents are now required to utilize the Resurrect Creature ability
Updated Player Owned Towns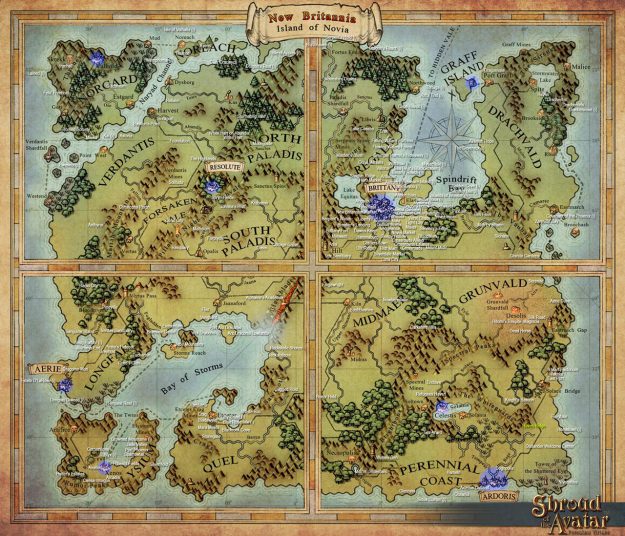 These updates affected Player Owned Towns which patched in during R84, will go live with R85, or will go live shortly after R85:
Haven Ridge: Added new village northwest of Soltown
Skalabrekka: Changed biome to Forest 01a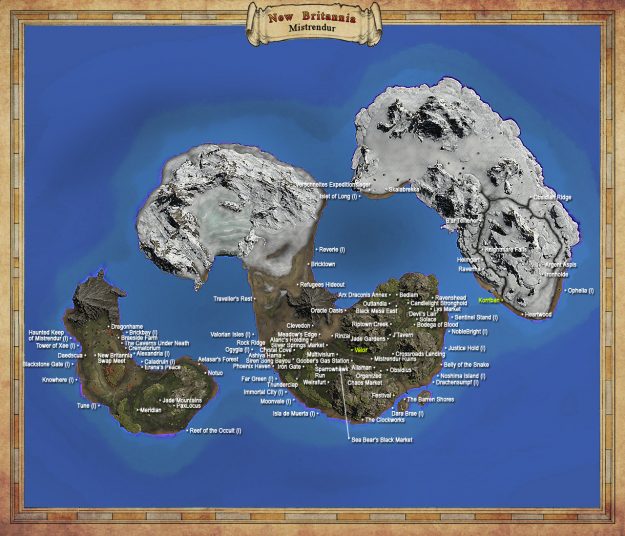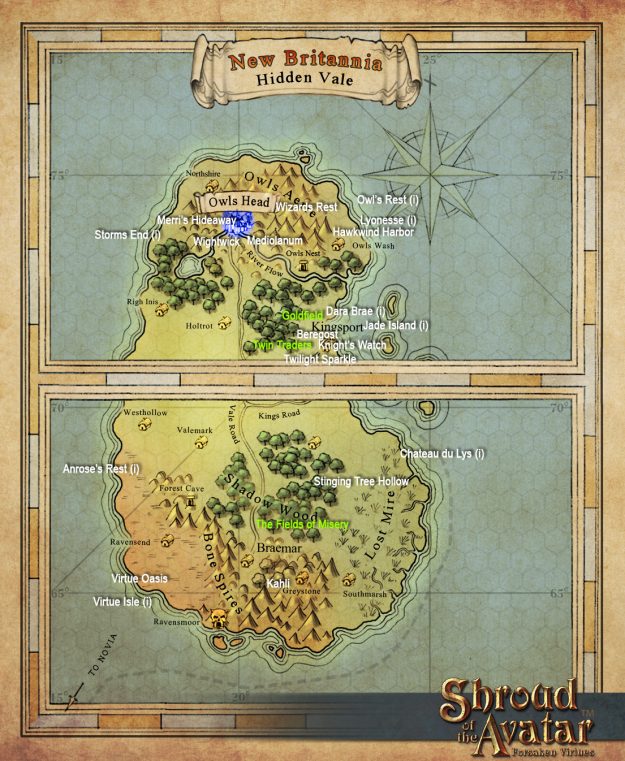 Bug Fixes
Albeit many bug fixes patched in during R84, will go live with R85, or will go live shortly after R85. Here are some of the highlights!
Fixed typo in all store entries for mounts
Blacksmiths in Aerie no longer automatically open a merchant window if the character is on a specific stage of the Bonesteel Dagger quest
Texture of the Small Cabinet now better matches the Large Cabinet
Texture of the Small Dark Cabinet now better matches the Large Dark Cabinet
Stucco Three-Story Row Homes now have decoration surfaces on the ceiling of the first floor
The access point for The Breach is now exactly over its overworld location in Mistrendur
Ceiling decorations can now be hung from the ceiling beams of the Elven Village Home
Perennial Coast Peasant Slippers are now properly attached to male ankles
Durability issues with crafted items have been fixed and a data migration was implemented to repair affected items
Fixed many instances of the "Centaur" mount bug
Fixed a bug related to the Scepter of Dread which was blocking some players from completing the questline
Damage fields no longer block targeting or looting
Frostgeists no longer set players on fire
Players using a GM Potion no longer accumulate PvP kills when the summoned creatures killed other players
The Records of the Obsidians Quest in Desolis has been fixed
Fixed "hello" response regarding "lost mail" for Town Criers
Fixed issues with Mages of Mystery teleporting players to incorrect locations in Eastreach Gap and Sanctus Spine
Anne Faraday in Resolute now always has a proper response for her "book" keyword
Fixed Masterworking for the Epic Daemon Trident
Fixed Enchanting for the Pirate Tricorn Hat
Leather Armor has been added to merchants in Solace Bridge Outskirts and Soltown
Skeleton Archers are now dynamically scaling in difficulty
Tridents no longer receive extra weapon durability damage
Resolution of Novia minimap has been increased
Forest curtain (edge of scene) darkness has been fixed for Ruins of Utheim and Deep Ravenswood
All tiers for the Quiver of Jealousy now have progressively increasing stats; also the Common version of this item can now be enchanted
Fixed an issue with a break in the NavMesh along one of the ramps in the Snowy Mountains Road Encounter
The "Sealed Kobold Wine Bottle" quest item at Ferig's Battle Camp is now destroyable; players can only have one in their inventory at a time
Gave Captain Burnes in Highvale Outskirts several fallback responses, most notably for the "elf head" keyword
Fixed multiple stuck spots in Tanglemire
POT NPC buildings no longer change in scale when placed onto pavers that have altered scaling
Reworked much of the conversations in the finale of the Path of Courage at Valhold Palace; added compass markers with hints; changed lights to help highlight path into thrown room; rebaked Navmesh
Framed Map Recipes now only require and consume 1 fuel upon failure
Improved how the "Find Jeanne's Necklace" task in Soltown completes and auto-archives
Improved the methods that Samael, Miles, and Eris use to indicate they have a task for the player in Crypt of the Avatar
Fixed an issue where Private Docks 1 wasn't appearing in the signpost teleporter list for POT template Tropical Island 01
Garlands can once again be placed on indoor walls
Fixed an issue with placement of a Gustball Uniform onto a mannequin
Fixed floating mushrooms in Etceter Crag Mines
Collision has been improved for the Mistrendur Overworld to prevent odd camera clipping from Spindelpeak mountain
The floating shield in Ruins of Ravensmoor has been fixed
Floating trees have been removed from Spindelskog
A rain collider was added to the cave in Highvale Village to stop the rain from displaying inside
Simone von Eglinger's "help" response in Ardoris will better direct the player to her quest to find Scarlett's book
Lord Marshal Declan Robinson of Resolute no longer implies the things he knows about Mara are third-hand
Added flag to complete for 2 tasks related to Vertas so they auto-archive when the player completes the Truth path
One-way invisible wall in The Rise has been fixed
Blue Blooded resistance skill now applies its effects to all damage fields and effects
Invisible barrier which prevented looting in a certain spot in Quell Shardfall has been fixed
Finding Loreley's sketchbook in The Epitaph will no longer grant the journal entry if the player has already finished the related quest
Floating text in Malice only showed 1 of the 3 requirements (gems) which has been fixed to display all 3; in this regard, floating text indicating multiple quest requirements has also been improved greatly
Osterhild of South Drachvald Spur no longer provides the "How's your progress" response when saying "hello" to her after you finished giving each of her squires their pieces of lucky leather
Randall of Owl's Head no longer tells players that he sells hides
Removed durability from the Lord Marshall's drinking horn
The following recipes no longer appear in the incorrect portion of the recipe book:

The Rise Shaft
The Rise Shaft w/Spawns
The Rise Dog Run
Stone Dungeon Room – The Rise Library
Stone Dungeon Room Spawned (Random Encounter 1)
Stone Dungeon Room Spawned (Random Encounter 2)
Stone Dungeon Room Spawned (Random Encounter 3)

Fixed an unreachable granite node in Eastreach Gap
Cows, Ducks, Horses, Rabbits, Sheep and Squirrels now provide 100 EXP for Meticulous Collection
Stuck spots fixed in The Breach, Dysborg Ruins, and Opalis Ruins
Fixed an issue in Kas Ruins where players couldn't summon pets or cast AoE spells at the top level of the tower
Fixed issue with floating lantern in Brittany Sewers
Fixed an issue in the Confluence Chamber where the "Reassemble and Use the Vermillion Lens" task wasn't archiving upon using the lens. Also, characters who still have this task after using the lens should have it auto-archive
For players who enter Estgard without advancing their "Brigid's Amulet" quest with Khary in Harvest, "safety" triggers were added for the Estgard's main entrance, docks, and city wall gates
Fleshflayers are no longer visually broken when placed upon rotating objects
Fixed stuck spots, floating objects, offset compass markers, z-fighting, and an invisible blocker in The Breach and Dysborg
Drykalla of Far Hinterlands no longer has a hole in the back of his neck
Fixed a typo in the "Disable Monolith to Collect Geisterseelen" journal entry for Broken Echoes Silver Mine
Fixed several stuck spots in the fish hatchery area of Blood River Forest
Fixed Moerndan the Caretaker in Brittany Graveyard so that he once again sells merchandise
The pattern for the Lord British 2-Handed Sword can now properly apply to crafted 2-Handed Swords
VFX for Ghost, Shadow, and Nightmare mounts should no longer issue from creature's origin, but from its skin
VFX for Cabalists, a number of ghost creatures and characters, shadow creatures, and a few Lava Fish trophies should now also play correctly
Innate move rate bonus for the Epic Pirate Tricorn Hat has been fixed
Jenn Gilbert Memorial Fund!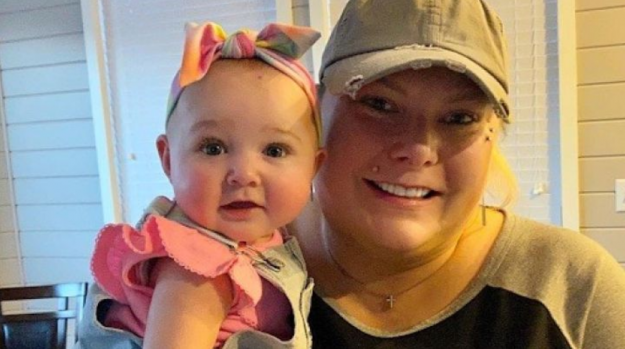 Moving in to the holiday season, now more than ever we need to support our friend Justin, every contribution helps!
Through years of gameplay and attendance of live
Shroud of the Avatar
events, community members might have had the opportunity to meet developer Justin "oneandonly" Gilbert. Justin has been a most valued team member for many years, but is now experiencing an immense loss in his life and could really use our support. Tragically, Justin's wife, Jenn Gilbert, has passed away. Please, for those that have met Jenn or Justin or simply have love in their hearts for the team, please reach out and offer your condolences. On Justin's behalf, Chris Spears has launched a GoFundMe page to help the family in their great time of need:
"No amount of money could ever replace the love, laughs, and comfort that Jenn Gilbert brought to her family. But we are hoping to help raise enough to help make life for her husband, Justin Gilbert, and her three children a little more bearable while they work out how to move forward without her in their lives. Jenn and Justin had been together over 20 years, having started dating in high school. Justin and Jenn's mom, Judy, will now be trying to fill the hole her sudden passing has left in the lives of their three children, JJ, Jax, and Jayla…" (more at GoFundMe.com)
​
Even if times are hard and a donation to the memorial fund is not possible, please visit the
Jenn Gilbert Memorial Fund
page to learn more about Justin's beautiful wife, Jenn. May she always be remembered, and may the memories of her always be cherished. Any contributions to the Gilbert family, no matter how small, are so greatly appreciated.
Recent Shroud of the Avatar Livestreams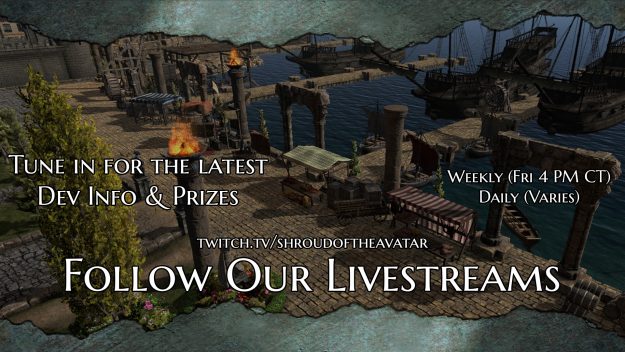 Atos and other members of the Shroud of the Avatar development team go live very frequently on our TWO Twitch Channels:
twitch.tv/shroudoftheavatar
and
twitch.tv/communityoftheavatar
— be sure to get these channels on follow and get the latest information right as we go live! Also, if you've missed our latest streams, check out our archive of content at our
YouTube Channel
. Like! Follow! Subscribe! Prizes!!!
Don't forget to also join the Shroud of the Avatar team and community over at our other social media venues:
Updates to the Streamer Rewards Program!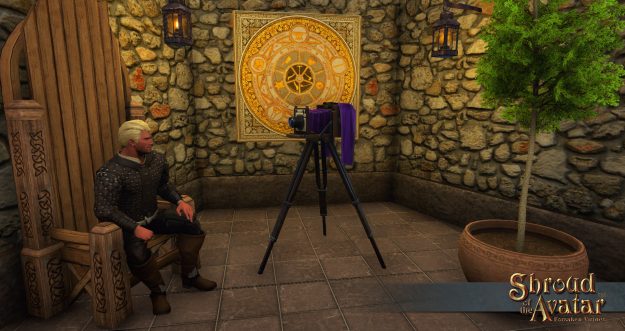 Several months ago, a program was proposed for the Streamers of
Shroud of the Avatar
. The ultimate goal being to showcase
Shroud of the Avatar
while giving SotA streamers a reward for their efforts. The program is currently in Phase I, with Phase II technology currently being discussed and worked internally. So, let's talk Phase I!
Phase I:
Streamers who wish to be included in the Streamer Program must contact Laney via in-game mail or in a private message on the forums with their Character Name and Twitch Channel information. If you have already signed up for the program in the past, fear not, you're on the list, and you don't need to reapply.
Streaming Rewards Program participants must adhere to our Terms of Service (TOS) and Community Rules while Streaming Shroud of the Avatar.
Streaming Rewards Program participants must stream at least 10 hours of Shroud of the Avatar ACTIVE game play to remain in the program with reward accrual.
Streamers will receive a one-time digital reward of in-game items after meeting the program's requirements: Streamer's Cloak, Streamer's Camera, and a brand-new LIVESTREAMING title. Future incremental rewards will occur at 6-month intervals. (More information to come).
Rules:
To qualify for Streamer Rewards, each streamer must continue to meet the minimum requirements for 60 days after application.
To accrue additional rewards, Streamers must stream SotA a minimum of 10 hours per month, tallied on the 1st day of each month, to remain in the program.
Streamers must be actively playing the game during their streams. Being away from the keyboard (AFK) for short periods is acceptable. If Twitch indicates the streamer is playing SotA but they are streaming other content or a timeout/login screen, they risk being removed from the program.
Items of Note:
SotAbot: Streamers in the program will be included in the SotAbot StreamPop function, appearing in the player-streaming channel in Discord.
Graphics & Overlays: An optional "Streamers Kit" is available to the participating streamers as well as all players of Shroud of the Avatar, which includes graphics, overlays and other material.
Watch the forums for more information, coming soon, regarding Titles, future rewards and for info on Phase II of the program. We love our Streamers, so get out to Twitch and follow them, watch them, and support them!
Bug Brigade & Testing Directives!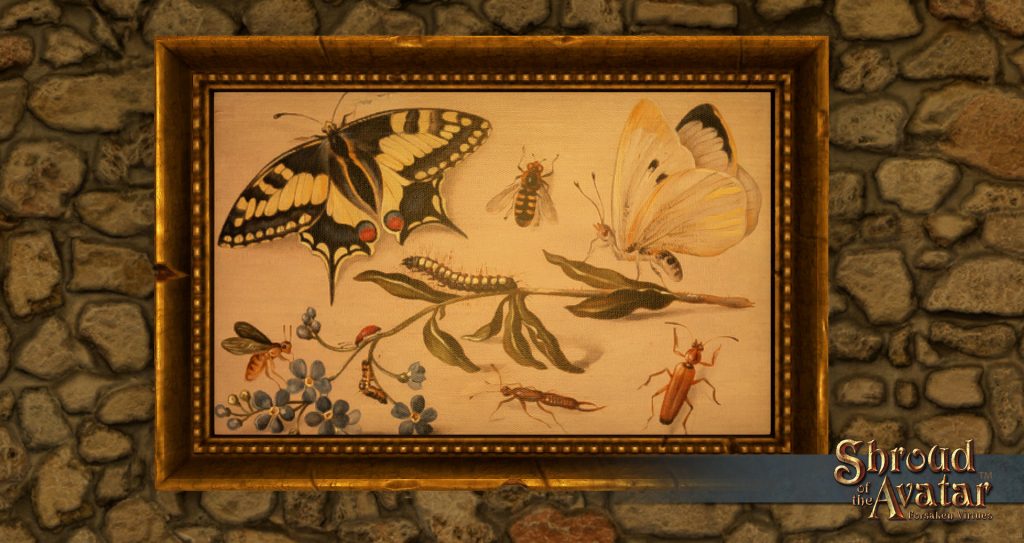 The Bug Brigade was established to improve how the community and the development team work together to improve the game. Since the Brigade's inception, the program has gone through a number of changes and was eventually placed on hold. The stability of the game is as important to the development team as it is to the players, therefore the program was revamped and was recently relaunched.
The Brigade has been up and running for two months now, and the volunteers are getting into a good rhythm for verifying and submitting bugs to the developers. If you have reported a bug that has not yet been addressed, please be patient while the backlog is being worked. The Brigade is working diligently to cleanup the backlog of bug reports posted by players on the forums.
As was recently announced on a
Twitter
post by Chris "Atos" Spears, the upcoming development time for Release 84 will be primarily spent working many of the verified bugs which have been submitted to the team by the Bug Brigade. This focused effort on bug fixes would not be possible without the recent efforts of the Bug Brigade. Please take the time to thank these bug hunting aficionados when you encounter them in your travels!
In turn, the development team would like to express a big thank you to the Bug Hunters! These community members are doing a fantastic job bringing so many bug reports to the team, and they're doing it in a way which makes the process smooth and efficient. Thank you, thank you, thank you! Already, much improvement has been noticed by the development team, and we're so very excited to see the program successfully back in action!
The development team would also like to thank all of those who took time out to participate in the
QA Testing Directive for the upcoming Mount System.
Thanks to your hard work and dedication, many issues and bugs were identified and fixed prior to the system going to the Live Server! Keep up the great work! For those that wish to participate in future bug hunting endeavors, please check the forums regularly for upcoming
QA Testing Directives.
Also, the Bug Brigade would like to welcome its newest Bug Moderator, Echondas! Please congratulate him the next time you see him in-game or on the forums. This new member expands the Bug Moderator team to: Alley Oop, Echondas, and Justyn. Thank you Moderators! Your efforts are highly valued by the development team!
Don't forget, the Bug Brigade is open to all players in good standing, and the bug rewards are back! And they are SWEET! They will be awarded on a monthly progression basis with only minimal requirements to qualify. The available rewards to receive in progression via qualifying participation are as follows:
Antennae Head Gear and Forum Title 1: "Bug Hunter"
Single Ant Cloak
Lady Bug Backpack
Bug Painting A and In-Game Title 2: "Associate of Aphids"
Ant Farm
Insect Leg Table
Many Ants Cloak and In-Game Title 3: "Bachelor of Beetles"
Bug Painting B
Bug Sprayer
Bug Painting C and In-Game Title 4: "Master of Moths"
Butterfly Chair
Corpion Chair (Pictured Below)
Yellow Fireflies VFX and In-Game Title 5: "Doctor of Dragonflies"
Hacked Oracle Flyer
Giant Blue Butterfly Pet
Butterfly Mask
Dragonfly pet
Fairy Wings
Monarch Butterfly Pet
Dragonfly Wings
Hacked Oracle Crawler
Blue Butterfly VFX
Orange Fireflies VFX
Orange Butterfly VFX
The following bugs and quality of life improvements are being released to QA in the coming weeks, please keep checking QA, testing and giving feedback on these items:
One hit to Zero Durability Root Issue
Durability on Crafted Items
Potion of Shadow Form Useable on Combat Bar
Desolis: Corsten now correctly asks for a taming necklace for a Blanket Horse in exchange for a rideable Blanket Horse
Player Owned Town light counts increased by 50%
Shard of Night Pattern
Daemon Trident Pattern
Halberd of the Sun Pattern
Xen Penetrator Pattern
Ancient Essence Yield: Uncommon and Common yield 1. Rare yields 2. Legendary yields 4. Epic yields 8.
Find Out Why Owl's Nest Has No Ale quest updates
Arabella Cloak deco types revised
Meticulous Collection while Harvesting to yield XP Rewards in Loot
Quiver of Jealousy masterwork and enchant updates
Player Instruction Updates
And much much more!
If you've come to think of
Shroud of the Avatar
as your home, signup and help make New Britannia a better place to live! To learn more about joining the Bug Brigade, please
read the announcement thread by Ravolox
in the main Bug/Feedback forums.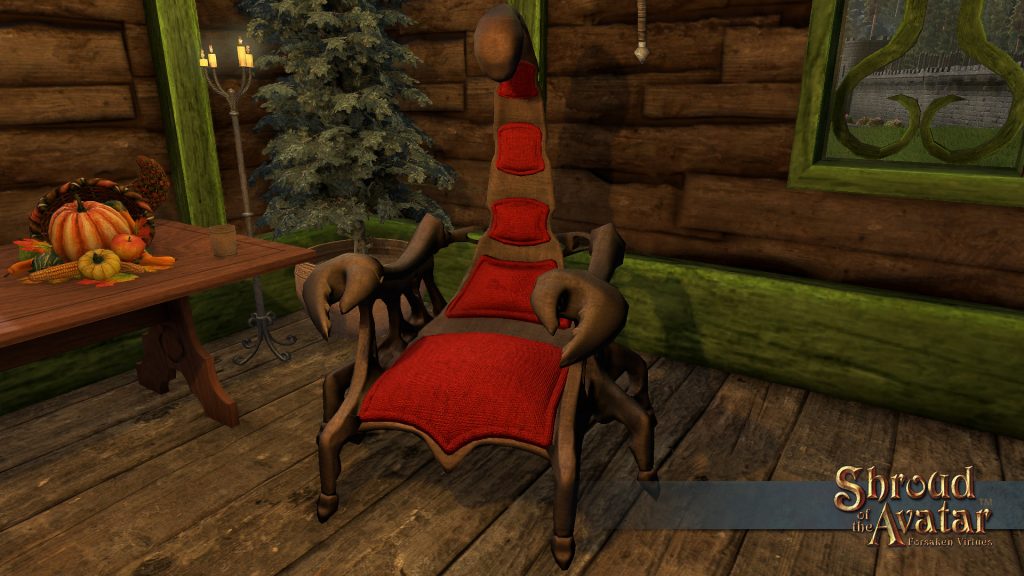 Lord of the Isle Episode 2 Bundles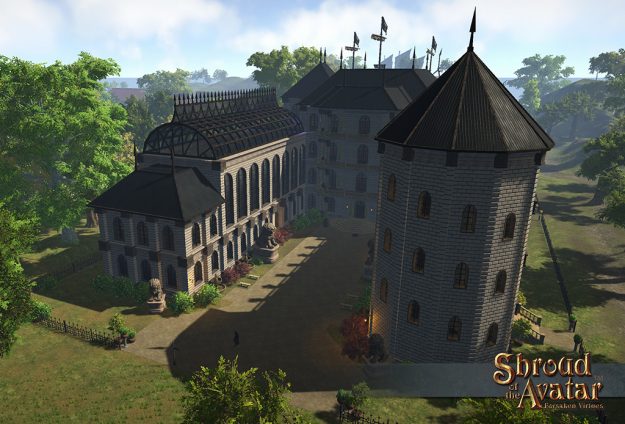 As one of the biggest and earliest supporters of Episode 2 you will be granted the largest lot deed in the land (Castle), the title Lord (or Lady) of the Isle, a tour of Lord British's property, and dinner with the game leaders including Lord British himself!
Only 24 of these unique bundles will be sold!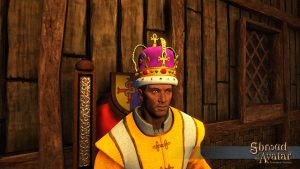 Complete List of Rewards:
Lord of the Isle Place Anywhere Castle Lot Deed: Tax Free Forever (when placed in a POT) and Tax Free for 1 Year (when placed outside of a POT). Placeable on water as well as land!
Title: Lord of the Isle or Lady of the Isle
Unique Lord of the Isle Home (pictured above)
NEW – Lord of the Isle Fishing Expedition (This scene version will work like a large instanced property such as a basement and will feature decoration surfaces to further beautify the scene.)
Town Size Upgrade (if a town is not owned by the LOTI supporter, they may gift this size upgrade to another town owner. Maximum possible town sizes will be taken into account, but the Teralopolis size just became available!)
Choice of 1 House currently available in the store
Castle Basement currently available in the store of your choice
Castle Wall Set currently available in the store of your choice (with enough for Castle Lot)
Unique Lord of the Isle Dungeon Room (To be revealed later)
140,000 Crowns
1000 Bank Slots
Pick 12 Prosperity Tools
Lord of the Isle Crown (In-Game Wearable Item)
Unique In-Game Teachable Emote (/radiate)
Early Access to Episode 2
Episode 1 Box and map signed by the team
1 hour one-on-one with Chris for design discussion (via video-conference)
One real silver ring crafted personally by Lord British: Numbered 1 – 8
In-game version of the Lord British ring: Numbered 1 – 8 (including a place-able decoration version)
Tour of Lord British's property
Fine dinner and drinks with Lord British, Darkstarr, and Atos at a location TBD in Austin or NYC.
NOTE: Digital items that are currently available will begin delivery as soon as Release 62 (Jan 31, 2019). Other items will be delivered at a future date TBD.
NOTE: Travel costs NOT covered by Catnip Games for Tour & Dinner.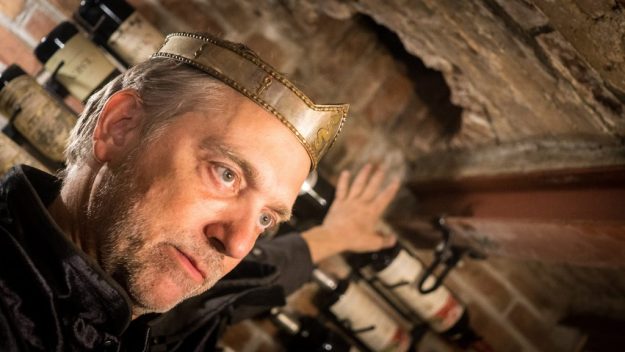 Upcoming Events Calendar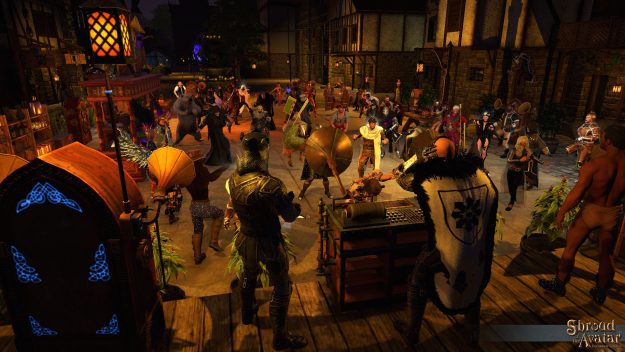 Be sure to check out the
Upcoming Events
page for spotlighted events plus links to various areas to post or find events on our forums:
2020/2021 Release Schedule:
Release 86 – Jan 28
Release 87 – Feb 25
Release 88 – Mar 25
Release 89 – Apr 29
Release 90 – May 27
Release 91 – Jun 24
Community Event: Catnip Games Weekly Fishing Tourney
Greetings Anglers! The weekly Catnip Games Fishing Tourney is live! These contests run for 1 week intervals, Friday Noon to Friday Noon CT. We'll announce the winners every Friday during the livestream.
Town Registration:
Each week, the contest takes place in 3 Player Owned Towns, 1 Random PvP location and 1 Random Lava or NPC Town Location. Please register your Player Owned Town of choice in a reply to
this thread
, 1 entry per player, and these entries will be added into the town registry. The contest will cycle through the towns in the sequence they entered the town registry, then loop back again to the beginning. The town registry will be reset/wiped for new entries periodically to ensure only active/interested towns are within the registry.
Fishing Prizes & Objectives:
All prizes will be no-trade. Players may donate additional prizes in the name of their guilds or towns to sweeten the pot. This event timeframe is
Friday the 11th at Noon CT to Friday the 18th at Noon CT
, and these are the prizes and goals for the indicated week:
Largest FRESHWATER Fish (Town):

Rules: Must be caught from one of these towns. Governs can request loaner water conversion statues.
Prizes: Player Owned Town Row Lot Deed, Large Gold Fishing Trophy

Largest Fish (PvP):

Rules: Must be caught in Kas Ruins
Prizes: 2 Chained Obsidian Shard 3-Packs, Large Silver Fishing Trophy

Largest Lava Fish:

Rules: Must be caught in Blackblade Foothills
Prizes: Fishing Rod of Prosperity, Large Bronze Fishing Trophy

Participation Prizes:

Rules: Everyone who caught at least 1 trophy fish in this week's locations
Prizes: Small Silver Fishing Trophy
Cross-Over Events:
Prizes provided by the Community Manager will be available for participants and winners of the Fishing event, but governors, guild leaders and players are welcome to sweeten the pot by providing additional prizes based on objective criteria entirely of their own design. In fact, please consider planning events to overlap the duration and chosen weekly locations of the PvP and Fishing developer events. Please post these events in the in-game events forums and the Community Manager will promote accordingly. Please submit links to event threads which take place in the spotlighted towns, PvP zone or PvE zone.
Knightmare Falls: Head on over to Knightmare Falls and compete for extra prizes which were indicated by Tellana in this forum post on the official forums.
How to Participate:
To participate, players need merely catch trophy fish in the 5 locations indicated above. The locations will change every week at Noon CT on Friday, so be sure to pay attention to the announcements for new locations each week!
Please do not send your fish to Elgarion via the in-game mail system.
Through data logging, he'll be able to determine the winners. SO please hold on to your fish, and feel free to use them in any fashion after the catch.
Head on over to the
Fishing Event Forum Thread
for more information. Happy adventures, Avatars!
Community Event: Island of Wonders Monthly Fishing Contest
Each month, the anglers of New Britannia can enjoy a fantastic fishing competition in the Islands of Wonders! So many fantastic prizes await thee, Avatar! Crowns of the Obsidian! A troll horde containing valuable loot! Don't miss out!
When: The Month of December!
Where: Islands of Wonders
Please message Rook Strife on the forums or in-game if you have any questions/feedback. For more information about this event, please see the
main forum post
on the official forums.
Community Event: Mad Splatter Yuletide Tea Party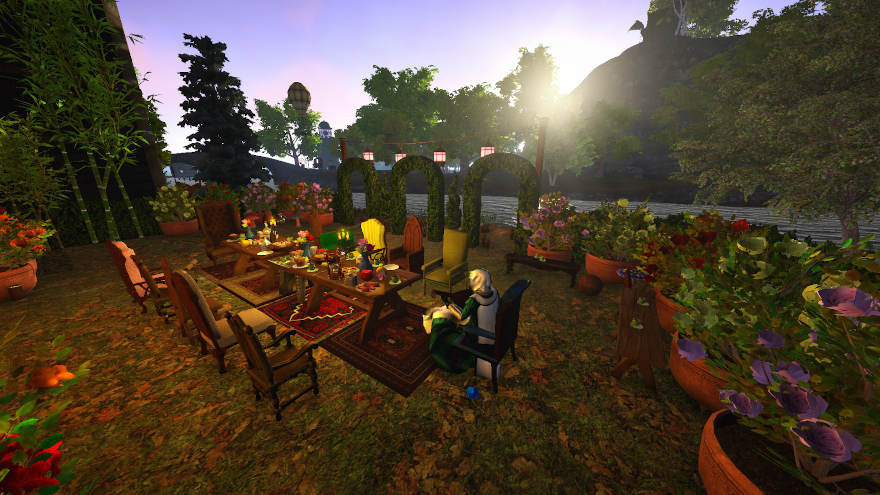 The Mad Splatter Tea Party takes place every 3rd or 4th Sunday of the month, which is a tea party in my back garden at Lily Byrd's home in Jade Valley. There are drinks and eats, there is sometimes music, there are often party games with prizes, and sometimes attendees just sit and talk about life in Novia.
For this particular event, be sure to bring a gift which you have crafted so you can participate in a festive gift exchange.
Where: Jade Valley, Lily Byrd's Cottage and tea garden just south of the "Stone Bridge of Happy Arrival"
When: Sunday, December 20th, 3PM CT (Usually every 3rd or 4th Sunday of the month)
Attire: This is a role playing event tea party so come as your Avatar. We play games, we eat cake and drink…various teas and drinks… There are goofy prizes for winning games if we play them. See you there, Lily Byrd. For more information about this event, please see the
main forum post
on the official forums.
Community Event: Defectors & Curses Storyline Continues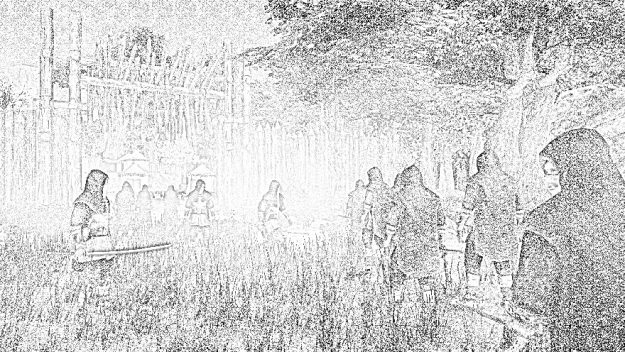 Role-players of New Britannia, head on over to the forums and participate in an active role-playing storyline created by Arkah EMPstrike!
"Arkah set his last trunk down on the floor in his house. That made 5 large trunks, 4 backpacks, 2 sacks, 3 barrels and 3 crates. "Phew" he wiped his forehead as he stepped outside his door to tie up his horse, Trots McHorsington. "Sorry about all the work buddy!" he apologized and fed McHorsington a carrot. "His name is awful!" said Xalia, who made herself very unhelpful in a armchair by the fireplace. "Well," Arkah scoffed, "it's not Your name." He said while tossing stuff out of a trunk placed on his bed. "You don't have to introduce him at parties. Besides, we're so far out in the boonies that no one's gonna care." Ever since the gas incident in Caelestis Canton…"
To continue on this adventure, head to the
main forum thread
on this topic on the official forums.
Community Event: Knightmare Falls Winter 2020 Gift Exchange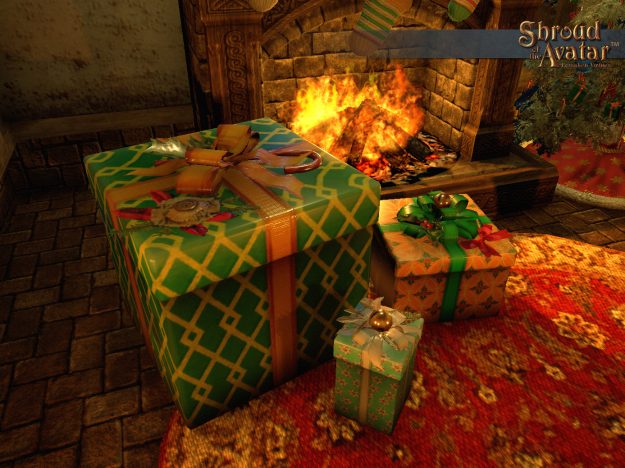 Hear ye, Hear ye! Maykie Antear and Trellana are hosting a wondrous gift exchange event in Knightmare Falls! You'll most certainly not want to miss out:
When: Until December 26th
Where: Knightmare Falls​
For more information, check out
the main forum post
on the official forums.
Community Event: Islands of Wonders Quest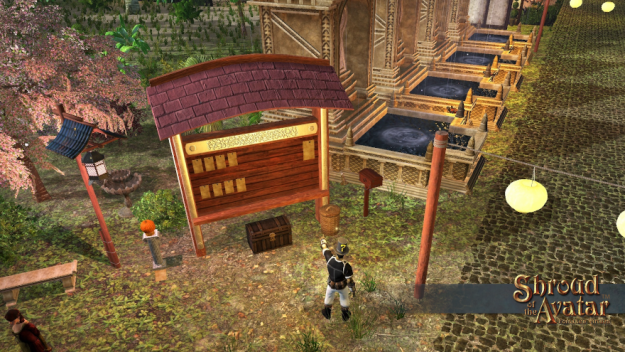 A player-made interactive quest has been created by Net and is available to players of
Shroud of the Avatar!
This quest is a mix of treasure hunt and obstacle course, so put on your running shoes, grab your wits and head to the bulletin board in the Islands of Wonders!
When: Ongoing!
Where: Islands of Wonders
For more information about this event, please see the
main forum post
on the official forums.
Community Event: Autumn Rising Brewery Dance Party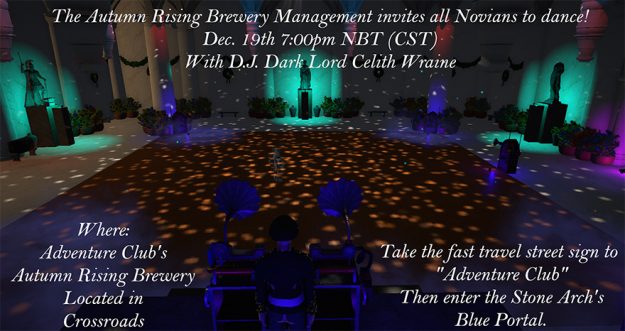 The Autumn Rising Brewery Management invites all Novians to dance the night away in our spectacular ballroom! The one and only Dark Lord Celith Wraine will be spinning all his wonderful tunes for the event.
When: December 19th, 7PM CT
Where: Crossroads (Take fast travel sign to Adventure Club and enter the blue portal in the Stone Arch)​
For more info please contact Trezir Pyle or Chatull Aventari. For more information, check out
the main forum post
on the official forums.
Thanks and hope to see you all there!
Community Event: Crafters Town Shopping Spree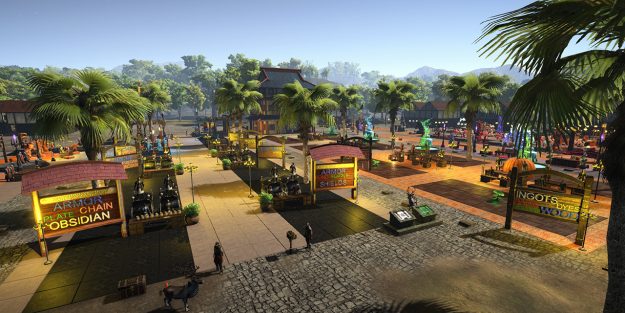 Greetings Avatars! Starting this month, a new Shopping Spree contest will be running in Crafters Town! Lots of prizes are available, including Crowns of the Obsidian!
Where: Crafters Town
When: December 1st to December 31st
For more information about contest guidelines and prizes, please see the
main forum thread
on this topic in the official forums. Happy sales hunting, shoppers!
Community Event: Beran's Reach Auction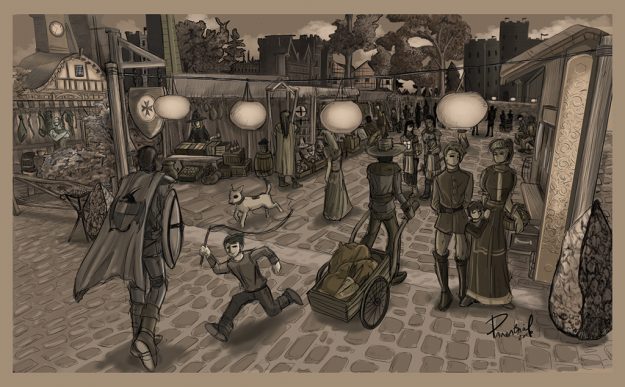 Ladies and gentlemen! The Citizens of Beran's Reach welcome you the weekly auctions! The auctions are about bringing together people from all corners of the community, with the Beran's Reach market being the perfect place to do so!
When: Sundays, 2PM CT
Where: Beran's Reach
For more information about the
auction house event
, see the main thread on this topic on the official forums. Happy bidding, Avatars!
Project to Support: Shard RPG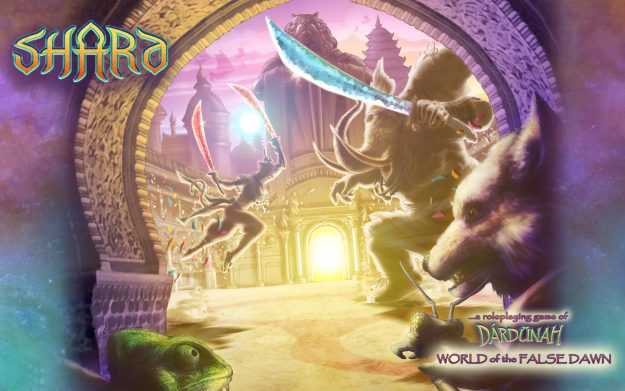 Shard Studios invites you to enter the fantastic world Dárdünah, the vast shard of a shattered realm, as presented in the colorful pages of the SHARD RPG! Many years in the making, this system allows players to choose from a wide variety of animal people who are the main cast of the many adventures this otherworldly setting offers. Skyships glide through shimmering clouds past majestic crystal peaks. Giant insects prowl alien jungles or lurk in the sparkling emerald seas. Warriors with blades of diamond and amber duel across crimson sands. And mystics chant in shadowy chambers as their spirits wander abroad.
Intro Sheet: For a quick glimpse into the world of Dárdünah, be sure to download the intro pdf! It's packed with great information and features beautiful artwork, not unlike the artwork found throughout the many pages of this gaming system's gorgeously designed manuals.
Core System Manuals: It's easier than ever to delve into Dárdünah, World of the False Dawn, with the Core Books Bundle! If you've never had the opportunity to experience this unique gaming system and setting, now's your chance! This bundle includes two beautifully illustrated, full-color, hardcover books: the original Basic Compendium and the Magic and Martial Arts book! They contain everything you need to begin your adventures, and include instructions for the ritual magic and martial arts combat systems. These manuals also include 90 new Animal Templates upon which to base your character!
Other Shard RPG Products: So many more manuals and gaming materials are available! Everything an avid tabletop role-player and game master needs to delve into the world of Dárdünah!
So if you're ready to experience a gaming world like no other, check out what Shard Studios has created for tabletop role-players on the
Shard RPG official website
! You'll most certainly be immersed and amazed by the offerings of the Shard RPG!

Project to Support: Shadow of Valhalla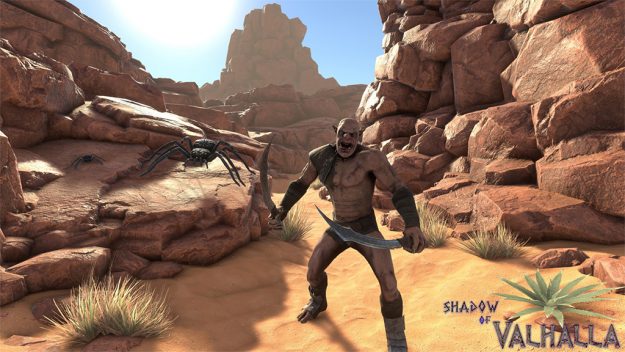 Shadow of Valhalla
is a visceral physics-based VR combat game with dynamic RPG elements, set within an ancient realm of Viking lore and mystic powers! Early Access beta includes "endless horde mode" featuring a variety of enemies with progressive difficulty. Also, players can discover many magic spells to unlock! So much more is coming!
Finn Staber with Chicken Waffle, will join the
Shroud of the Avatar team on Twitch
during their Friday the 28th livestream to showoff this new Early Access game! Also, here is a teaser video on YouTube:
The development team is working hard to create additional environments and new quests!
Shadow of Valhalla
is
available on Steam
as Early Access. Additional features coming to the game:
More Enemies!
More Environments!
More Magic Spells!
RPG Quests!
Weapon Forging and Crafting!
Much, much more!
If you would like to learn more about Shadow of Valhalla, be sure to stop by the
main webpage
for the game as more news becomes available!
Project to Support: Dragon Fight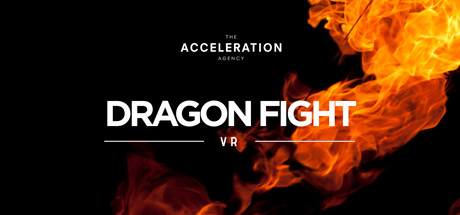 Darkstarr has also been hard at work with the team for Dragon Fight VR which recently went live on Steam! Dragon Fight VR is an internal experiment to capture the "essence" of a dragon fight, the classic penultimate experience of every fantasy story. We wanted to create a short visceral, realistic experience stripped of user interface, lobbies, scores, levels, and other visual intrusions that might distract. There were some key elements of fighting a dragon that we wanted to capture and we felt VR was uniquely qualified to convey:
Face to face with a large scale hostile creature trying to kill you
Using a sword and a shield
Fire!
Nowhere to run!
This started out as an internal experiment to learn some things about VR's capabilities, be reductionist in our designs, etc. We felt that the experiment was successful enough to release as a free experience to share. Enjoy! Available for free on
Steam!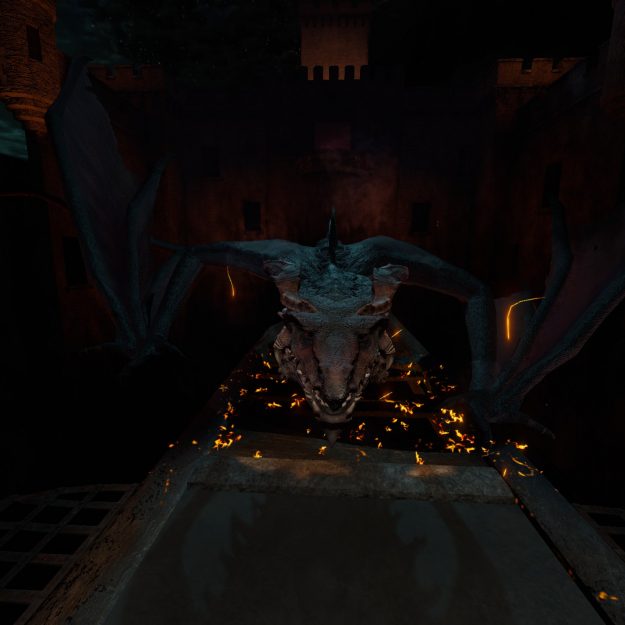 Project to Support: Avatar Express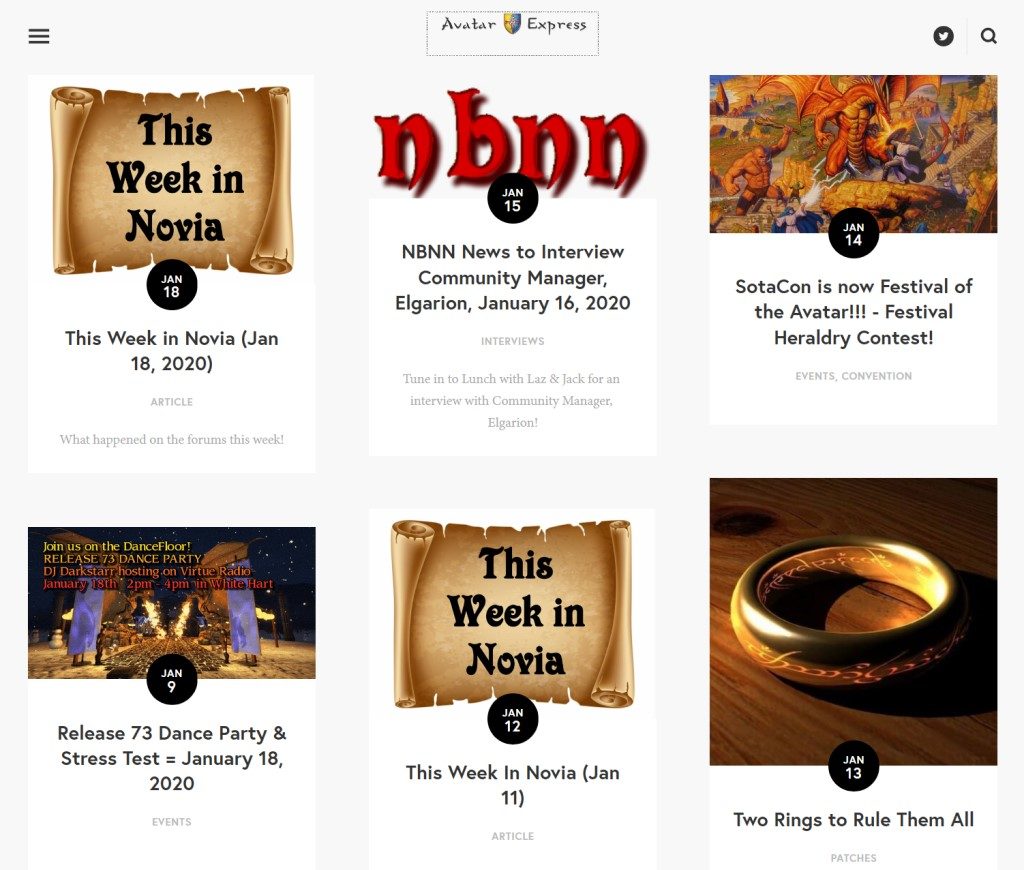 [Forum post by Vladamir Begemot]
I'm pleased to report that
The Avatar Express
is clacking away furiously. News is being delivered and we have established systems to deliver it directly to your brain. You can use one of those systems by following us on
Twitter
at @avatar_express. Even more reliable due to its fully automated nature is joining us on the
Discord
server. News items are posted there via RSS. Or you can subscribe to RSS directly on the site.
If you run an event, quests, etc, please consider helping out by self reporting. The Shroud community is big, and many things are happening that are never seen by others. With 10k monthly users, we would need a full time staff to track down everything that is happening.
You can fill out the
contributor form
, message
@that_shawn_guy
here or post in the Discord server that you would like to help. There is no commitment once signed up, you can post as much or little as you like.
Writing up your own events has several benefits beyond the immediate exposure. It serves as a record for others to see the history of New Britannia as we create it, in an attractive format. Publishing in the Express also has a higher chance than the forums of being seen by search engines and random readers, thus bringing more eyeballs and new players to the game.
It will even make posting in the forums easier! You can upload images to your news item, and then link to those images in your forum post. No more need for 3rd party image hosts!
So if you have something going on in your guild or town, or want to be a Reporter, Cartographer or Historian,
please join us!
Resources: Players Helping Players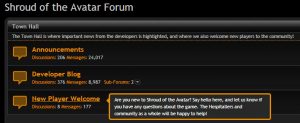 The official SotA
New Player Welcome Forum
and the
Player Created Resources Forum
have the best player created resources for Shroud of the Avatar, whether it's a Player Written Guide, a Video Walk-through, or a Wiki-type Website.
Visit the official
Community Resources page
for a complete listing of all things community.
Continue reading...