RSS Feed
RSS Feed
Stratics Veteran
Greetings Fellow Avatars!
This week's update brings you some great news about new PvP trophies slated as unique rewards for upcoming Official Catnip Games PvP related events. Also, 3 types of sales will be active over the holiday weekend! For those wishing to participate in any
community activities
, upcoming one-time and recurring community events have been announced! Be sure to also review the
Players Guide
and
Known Issues
list for additional information on recent changes and upcoming fixes. Now, let's see what we have for you in this week's edition of Update of the Avatar:
News Announcements
Community Updates
Official PvP Event Trophies!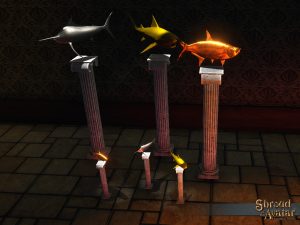 For nearly a month, the development team has hosted an
official weekly fishing tourney
and provided unique trophies and other prizes to the dedicated anglers of New Britannia. Soon, a revival of official decoration contests will be announced, and the unique decoration contest trophies will get some use once again! But now, its time to provide some love to the PvP community!
The team is now planning officially hosted events to the PvP'ers of New Britannia! To do this properly, we desired to create some high quality unique trophies related to PvP lore concepts within the game. A new variety of shards, remnants of the moons which collided during The Fall, blanket the twisted landscapes of the Shardfalls/PvP zones throughout New Britannia. Amongst the litter of moon fragments, a new variety of Shards have been discovered, but they will only be awarded to participants of Avatar vs. Avatar combat during official Cantip Games PvP events.
Master artist Damon a.k.a. @enalNomad on the forums, has designed these amazing shard PvP trophies to function as a light source, rotate and occasionally have sparks of electricity amongst the glowing ethereal mist which coats the stone's surface. The set includes 1st, 2nd and 3rd Place versions as well as a small tabletop Participation Trophy version. As the official PvP events begin to unfold, the community manager will distribute these wondrous trophies (amongst the other prizes provided) to further inspire PvP combat within the game. More announcements about PvP concepts are just around the corner, to include a PvP Queuing system and a Developer-Owned PvP Town as an optional venue for official and community sponsored PvP events. Happy adventures, Avatars!
Latest News Q&A Friday Livestream!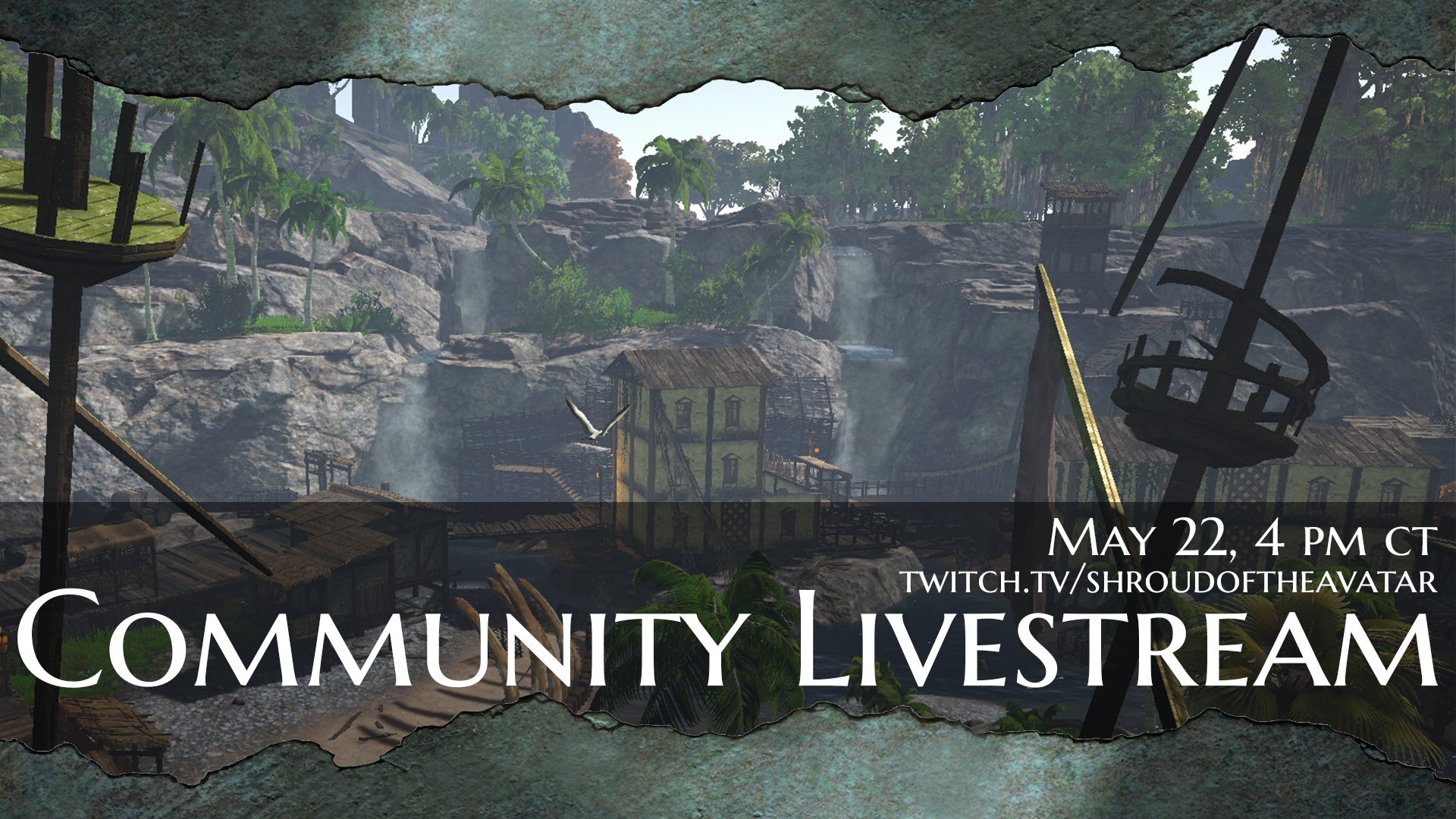 Another weekly Community Livestream is this Friday, May 22nd at 4PM CT on
Twitch
! Join Chris "Atos" Spears and other development team members for a community 1 hour livestream!
To enter the prize drawings, type "may the fourth be with you" into any in-game chat channel OR make a purchase on the website add-on store. Please submit questions into
Twitch Chat
by inserting
!question
at the beginning of your text. Watch on
Twitch,
Friday at
4 PM
CT!
Crowns, Deed Upgrades & Two Hour Flash Sales!

The Crowns Sale continues, Avatars! Still at 20% off, players will have the entire holiday weekend to enjoy the discount. Deed Upgrades are ALSO 20% off! To upgrade a deed, place the deed into your inventory, then right-click the deed to reveal upgrade options. But that's not all! Starting on Saturday at 1PM CST, the Two Hour Flash Sales event returns for another round! So watch your clocks, Avatars! A new batch of 9 sale items will rotate into the in-game Crown Store every 2 hours!
Players have until Wednesday, May 27th at 1PM CST to take advantage of these great discounts, at which time all 3 sales events expire. Happy shopping, Avatars!
Obsidian & Island Vault Round!
The current round of Vault items are available until
Thursday, June 4th
at 10:30 AM CST. At that time, the next round of 9 items will be available for two weeks, and then the next, etc.
Obsidian Tower (Town Home)
Obsidian Sarcophagus
Obsidian Order Throne
Obsidian Order Plate Armor Set
Island Dress
Island Flower Crown
Island Spear
Large Tiki Statue
Hula Emote

​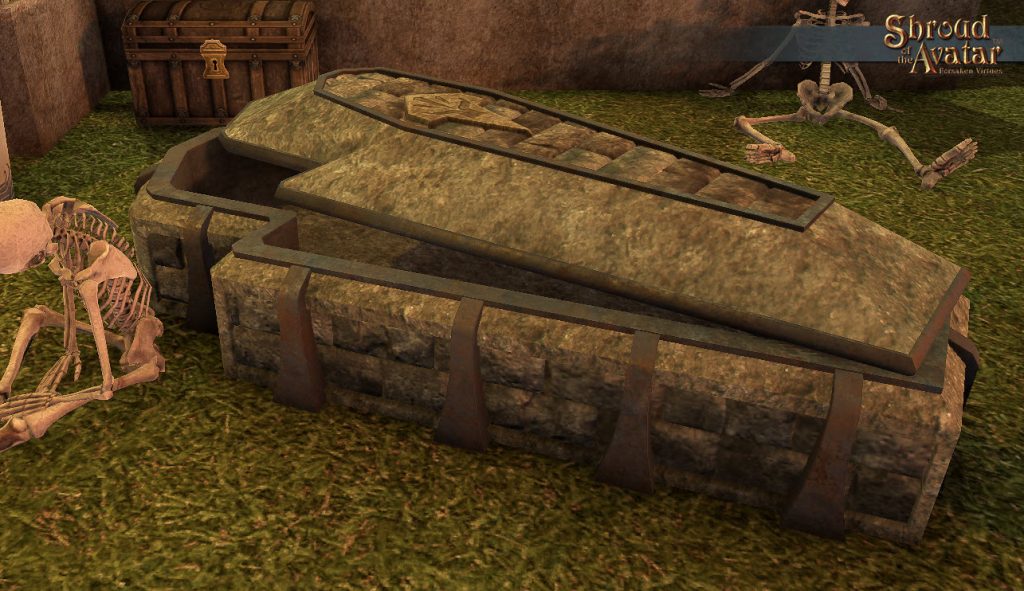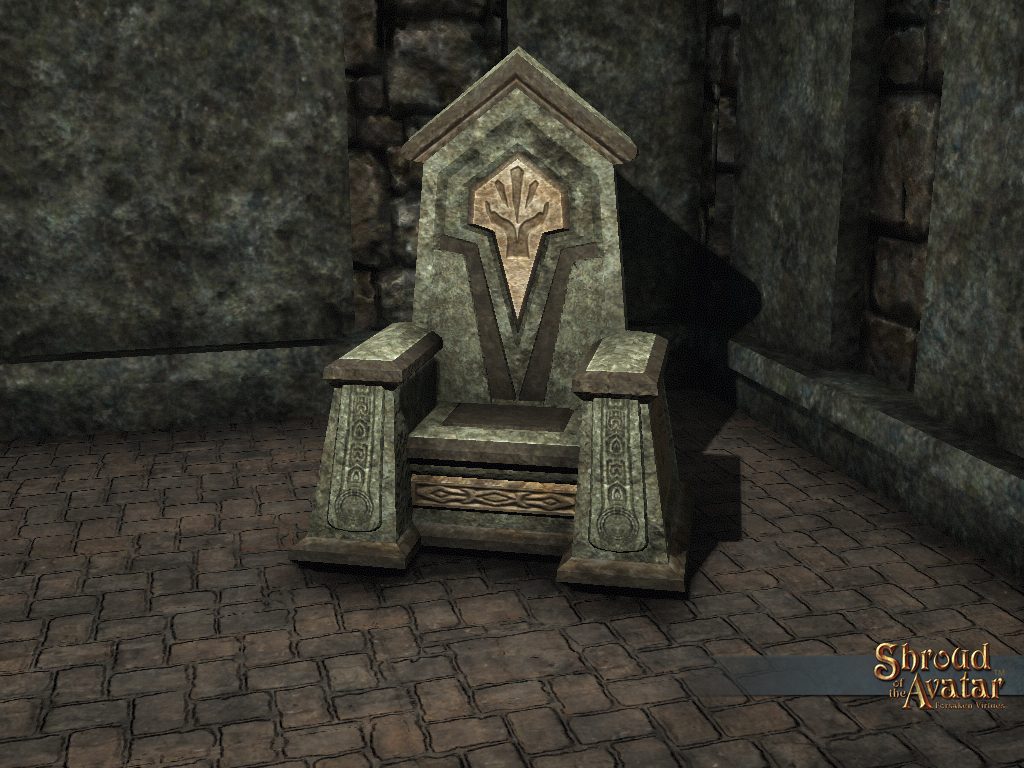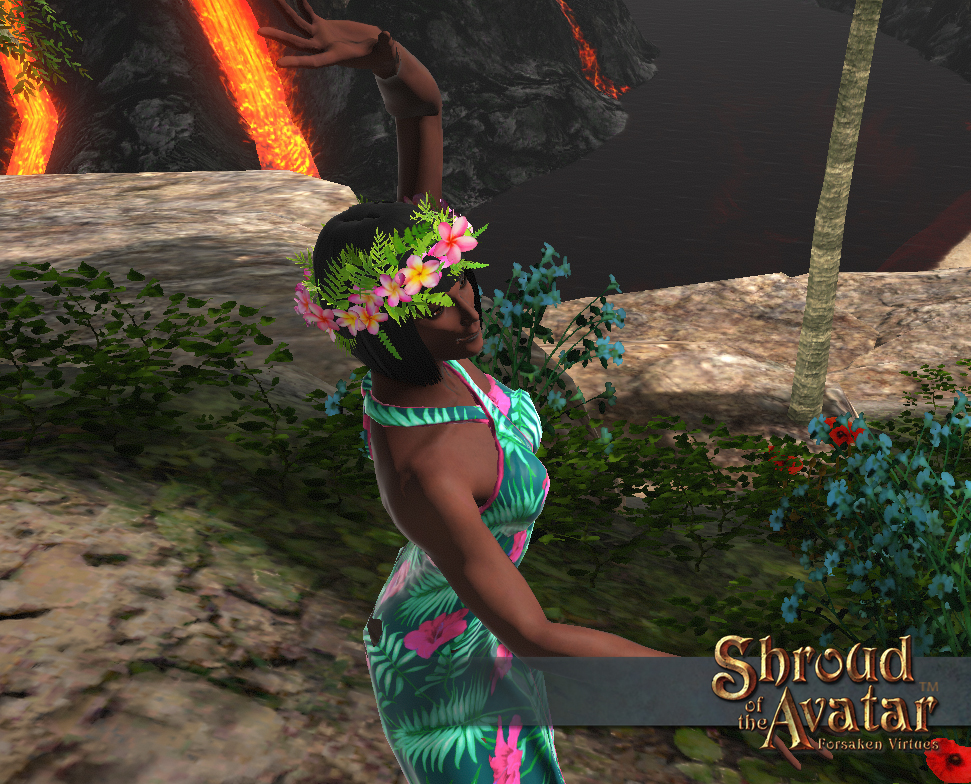 New Store Items: Male & Female Shopkeeper Outfits, Electric Katanas & More!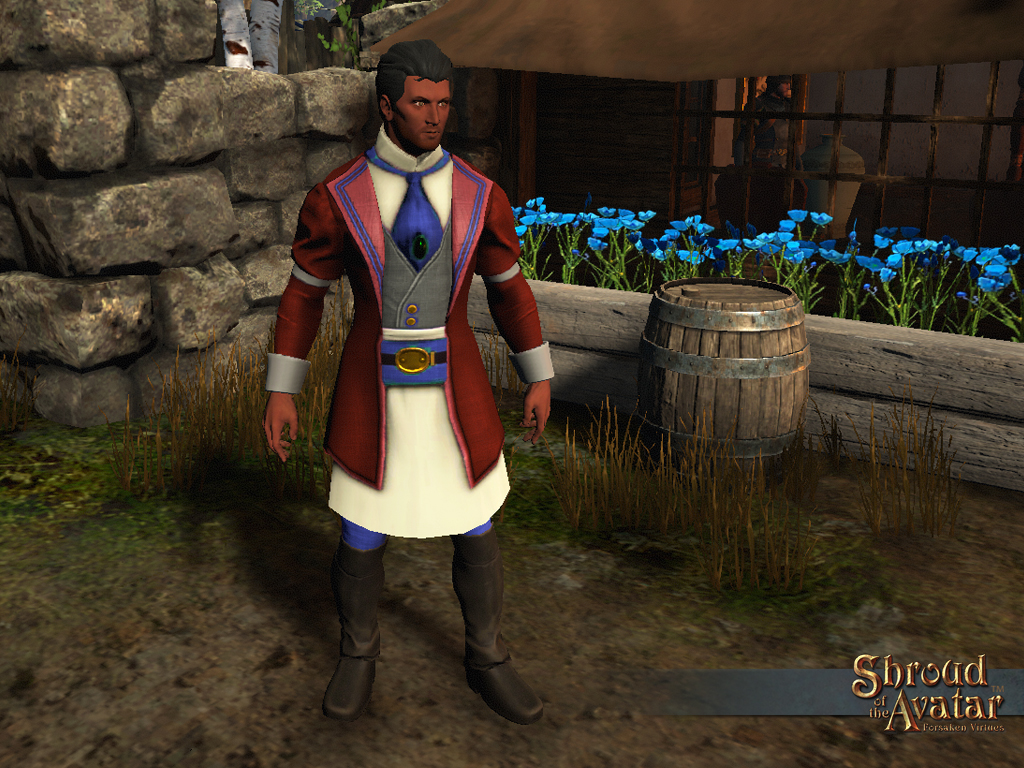 Merchants of New Britannia! Make room in your wardrobes for the Male and Female Shopkeeper Outfits! These splendid wearable items are a perfect fit for any up-and-coming or veteran merchant players. Chest and leg pieces of both sets can be dyed. The female version features TWO chest pieces, one with a choker and one with a necklace.
Other exciting new additions which arrived lately were the Electric Katanas coming in three colors (Pink, Red and Green). These "electrifying" new 2-handed swords, if salvaged, will yield eternal patterns which can be applied to player-crafted 2-handed swords. The katanas are fantastic accessories for the new Dark Shogun Armor Set which boldly strode into the store recently! This armor set will yield plate armor Eternal Patterns if salvaged, which can be applied to other plate armor to apply the style.
Male Shopkeeper Outfit
Female Shopkeeper Outfit
Dark Shogun Armor Set
Pink Electric Katana (Breast Cancer Awareness Charity Item)
Red Electric Katana
Green Electric Katana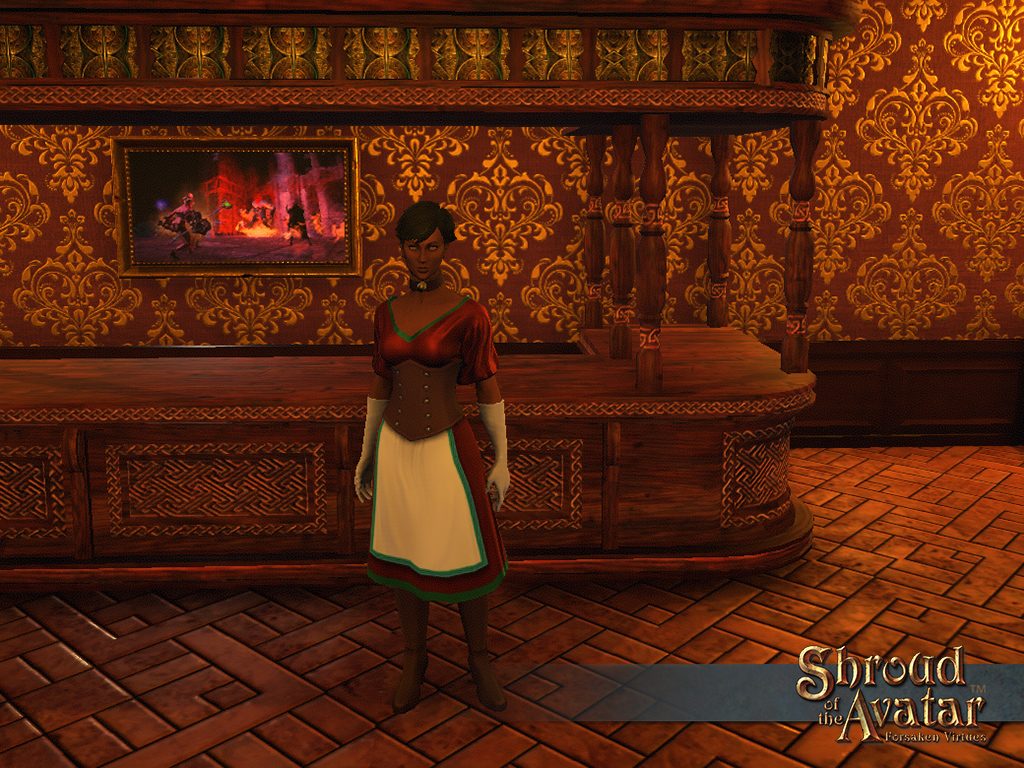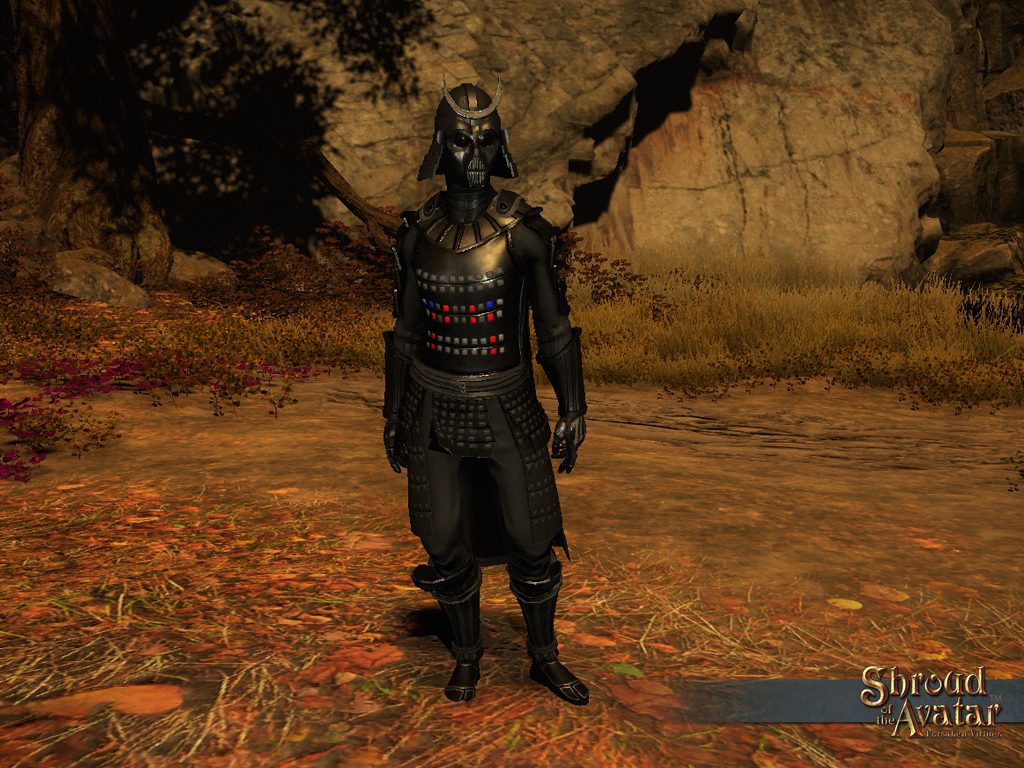 May Login Reward: Greenery Day Potted Plant!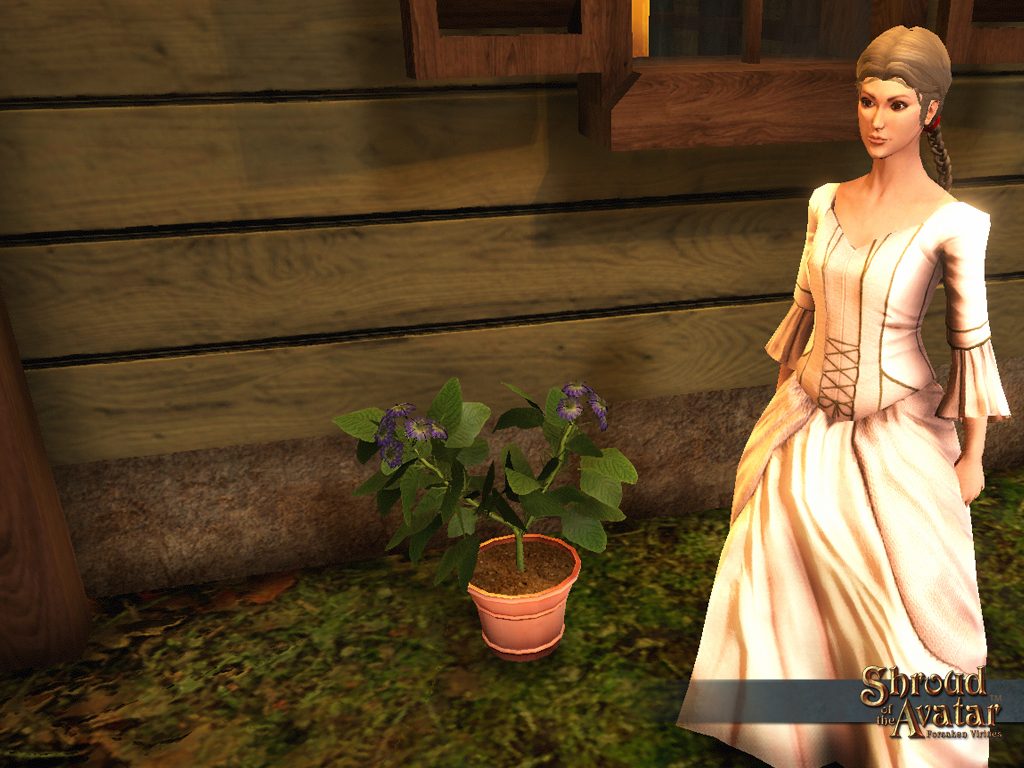 In celebration of Greenery Day, this decorative potted plant is yours simply by logging in during the month of May. It's a perfect addition to your home or garden, and in the spirit of this celebration, players can express their love of plants and nature. Happy gardening, Avatars!
Release 77 Reward Program Login Reward Items: "May the Fourth" Theme!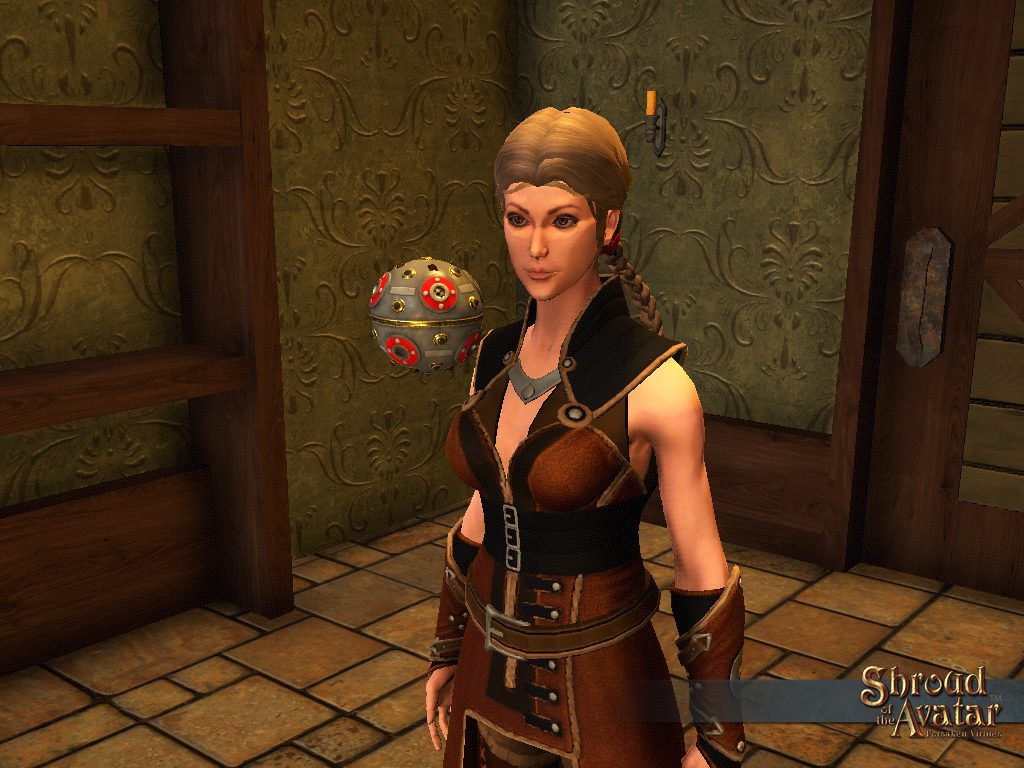 Avatars!
Rewards Program
login reward items for Release 77 are "May the Fourth" themed!
Reward Program
members will receive these items immediately upon logging in during Release 77! "May the fourth be with you!"
Electric Sword Training Orb Pet
Electric Sword Training Helmet
Blue Electric Katana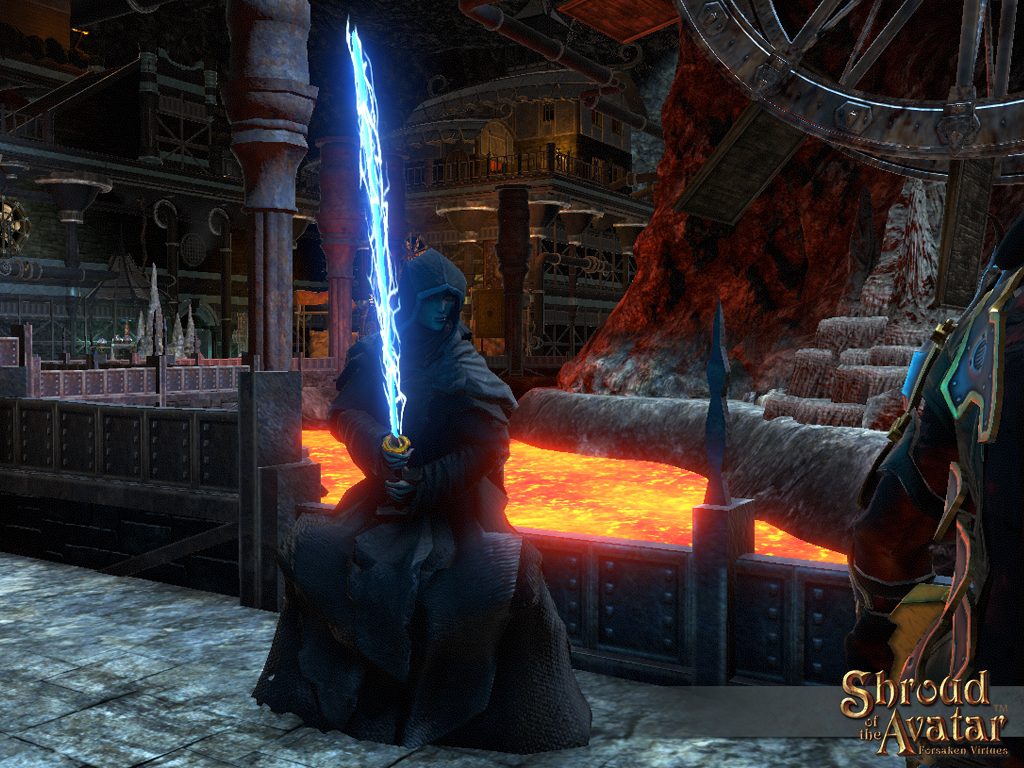 NOTE: You must login during the release to receive each release's rewards.

The
Shroud of the Avatar Rewards Program
lets you earn the best rate on purchasing Crowns, AND receive monthly reward items!
For the low price of $9 USD per month you will receive the following: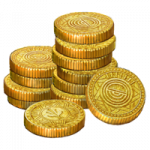 900 Crowns of the Obsidians every month
Monthly Login Reward Items (~ 3 per month)
Exclusive Title every 3 months

3 Months: Keeper of the Faith
6 Months: Keeper of the Word
9 Months: Keeper of the Vow
12 Months: Keeper of the Flame
15 Months: Keeper of the Oath
18 Months: Keeper of the Pledge

Pick any Dye 12 Pack every 6 months
Pick any three of the 7 Obsidian Potions every month, including:

Potion of Capacity: Increases carrying capacity
Potion of Conservation: Reduces reagent use chance
Potion of Expedience: Swift gathering on all gathering skills
Potion of Precision: Increases Meticulous Collection to all gathering skills
Potion of Preservation: Reduces armor and weapon damage
Potion of Reclamation: Increases Salvage and Repair to all production skills
Packaging Items for Trade in Player Test Environment (QA)!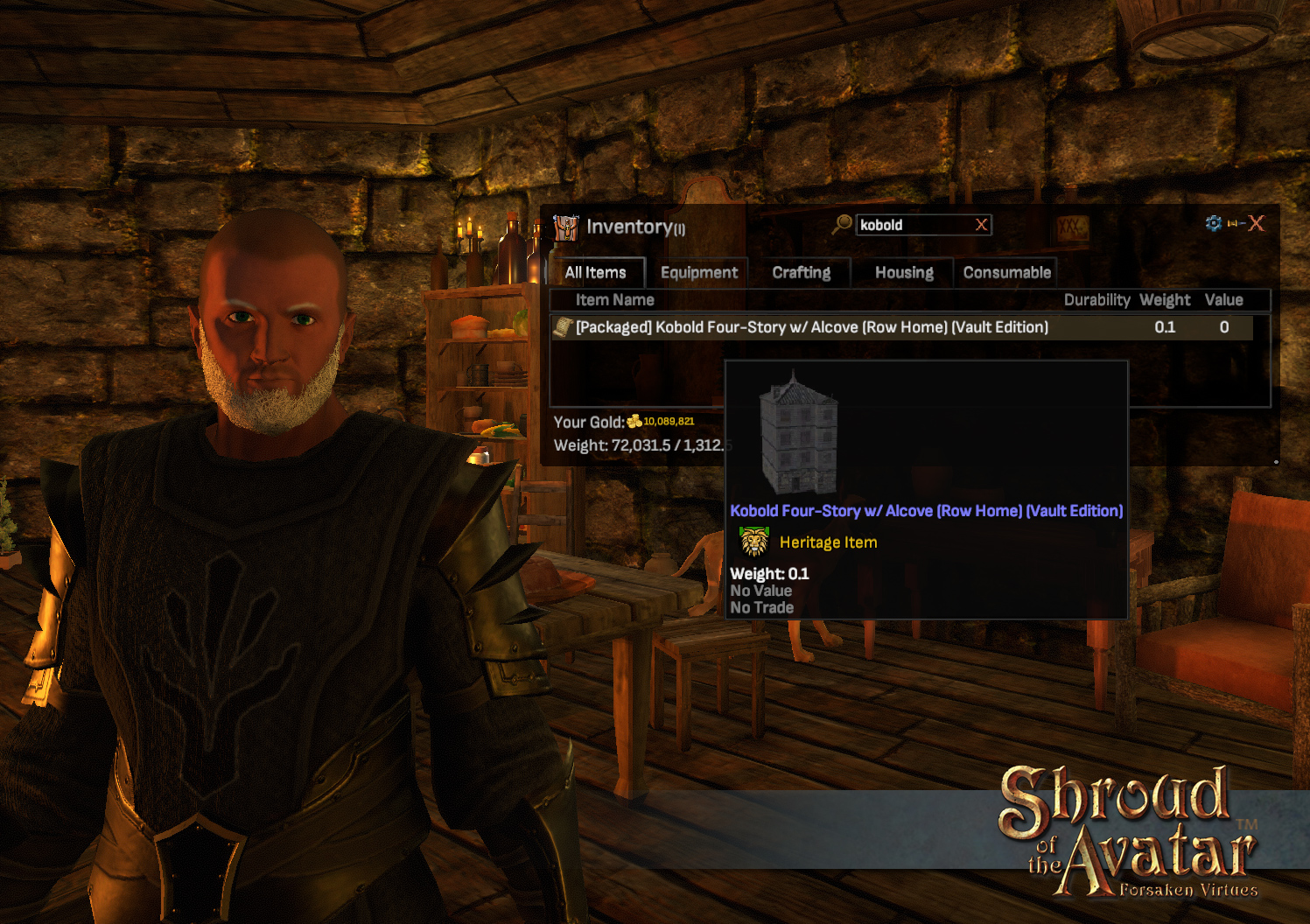 Just arriving to the Player Test Environment (QA) server is a very useful new feature with which allows players to trade formerly no-trade Heritage items by packaging them for trade. Simply right-click the item, then select "Package Item for Trade" which will spawn an option window requesting a Crowns payment for the packaging. Once packaged, the item can be freely traded to another player, who can then unpackage it for use simply by double-clicking upon the item.
Allowing for the trade of formerly no-trade Heritage items is just one of many useful new features to arrive this year. Read more about what's on the horizon in the
Shroud of the Avatar 2020 Vision!
Are You a Livestreamer?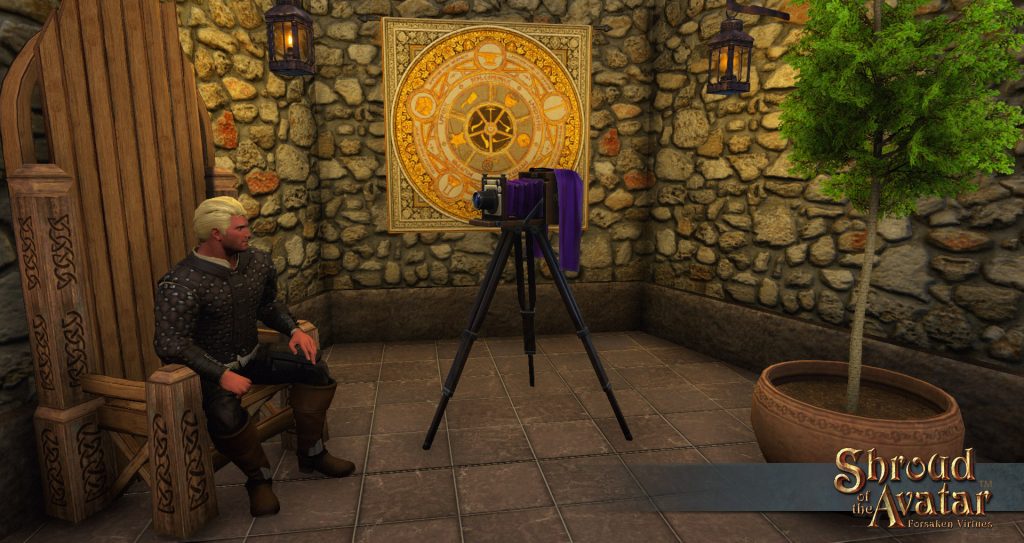 Soon, the Streaming Reward Program will be returning. As the details are getting reworked, we'll reveal more information. Traditional streaming rewards included an exclusive in-game Streamer Camera for being a veteran of our
Streaming Program
! Expect the camera reward to return! More goodies will come to your way as the program fully develops. Thank you for streaming Shroud of the Avatar!
Recent Shroud of the Avatar Livestreams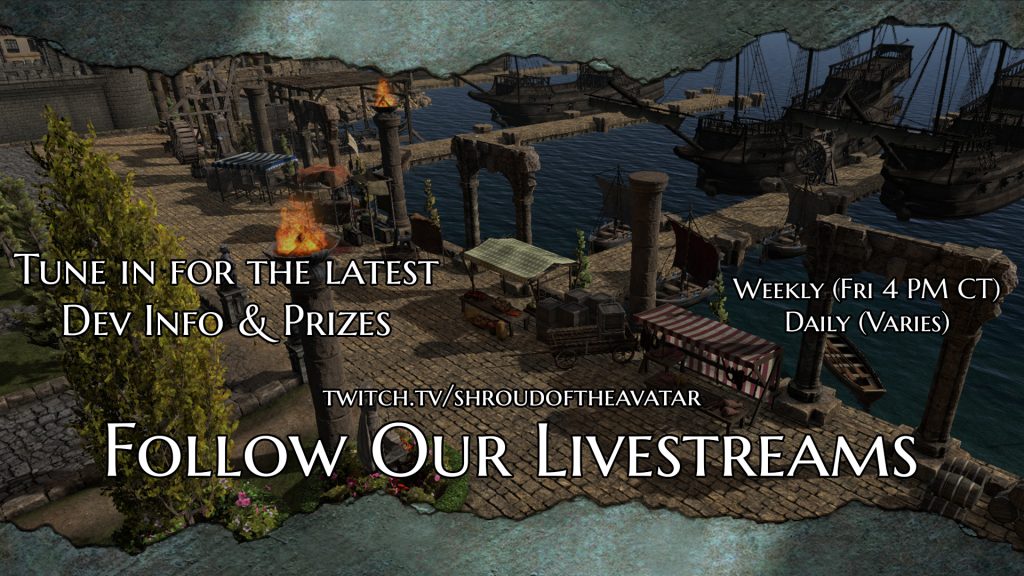 Atos and other members of the Shroud of the Avatar development team go live very frequently on our TWO Twitch Channels:
twitch.tv/shroudoftheavatar
and
twitch.tv/communityoftheavatar
— be sure to get these channels on follow and get the latest information right as we go live! Also, if you've missed our latest streams, check out our archive of content at our
YouTube Channel
(complete with "Mojito the dog" cam). Like! Follow! Subscribe! Prizes!!!
Don't forget to also join the Shroud of the Avatar team and community over at our other social media venues:
Lord of the Isle Episode 2 Bundles
As one of the biggest and earliest supporters of Episode 2 you will be granted the largest lot deed in the land (Castle), the title Lord (or Lady) of the Isle, a tour of Lord British's property, and dinner with the game leaders including Lord British himself!
Only 24 of these unique bundles will be sold!
Complete List of Rewards:
Lord of the Isle Place Anywhere Castle Lot Deed: Tax Free Forever (when placed in a POT) and Tax Free for 1 Year (when placed outside of a POT). Placeable on water as well as land!
Title: Lord of the Isle or Lady of the Isle
Unique Lord of the Isle Home (pictured above)
NEW – Town Size Upgrade (if a town is not owned by the LOTI supporter, they may gift this size upgrade to another town owner. Maximum possible town sizes will be taken into account, but the Megalopolis size just became available!)
Choice of 1 House currently available in the store
Castle Basement currently available in the store of your choice
Castle Wall Set currently available in the store of your choice (with enough for Castle Lot)
Unique Lord of the Isle Dungeon Room
140,000 Crowns
1000 Bank Slots
Pick 12 Prosperity Tools
2 Unique in-game items (to be revealed later)
Early Access to Episode 2
Episode 1 Box and map signed by the team
1 hour one-on-one with Chris for design discussion (via video-conference)
One real silver ring crafted personally by Lord British: Numbered 1 – 8
In-game version of the Lord British ring: Numbered 1 – 8 (including a place-able decoration version)
Tour of Lord British's property
Fine dinner and drinks with Lord British, Darkstarr, & Atos at a location TBD in Austin or NYC.
NOTE: Digital items that are currently available will begin delivery as soon as Release 62 (Jan 31, 2019). Other items will be delivered at a future date TBD.
NOTE: Travel costs NOT covered by Catnip Games for Tour & Dinner.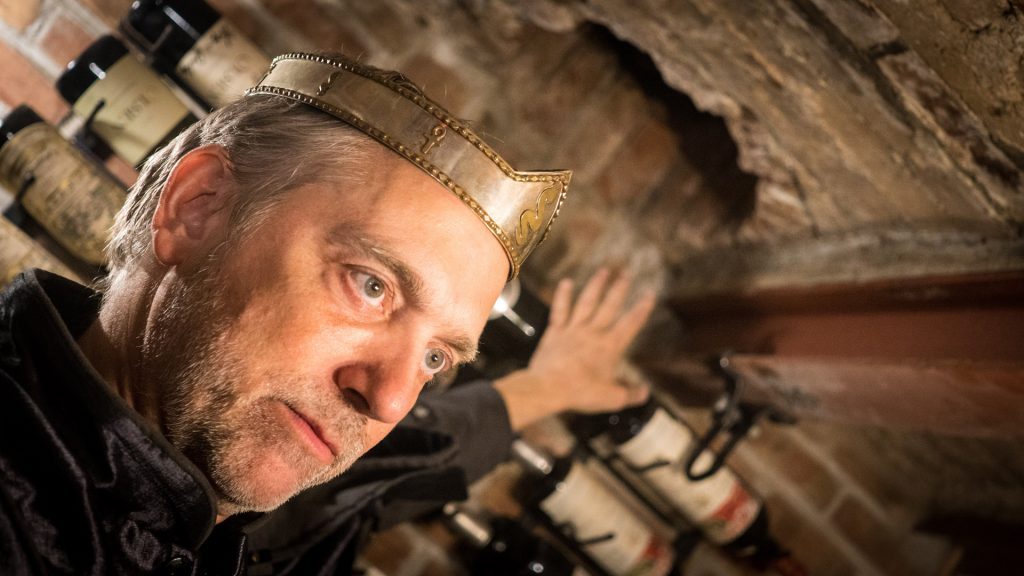 Upcoming Events Calendar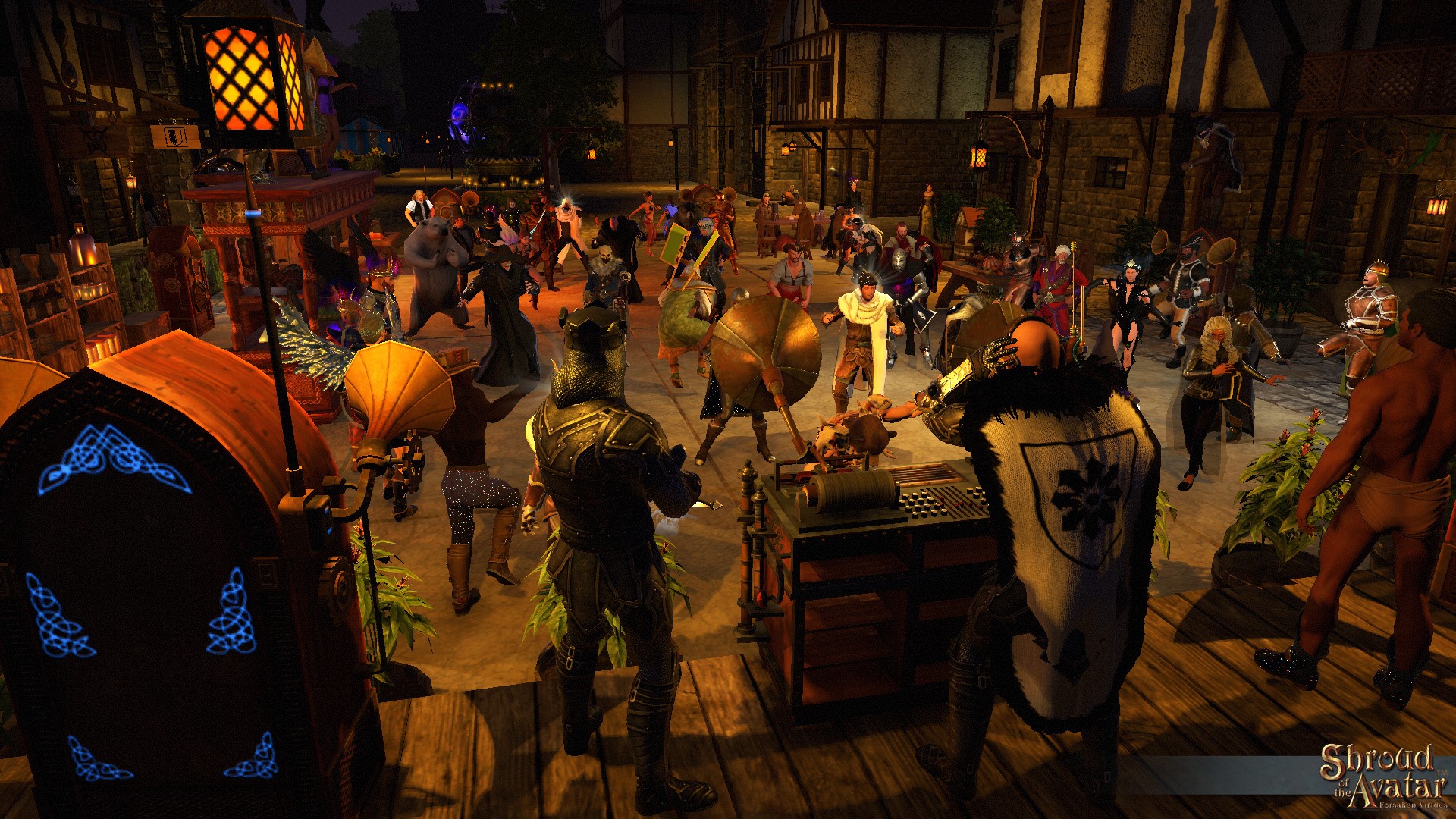 Be sure to check out the
Upcoming Events
page for spotlighted events plus links to various areas to post or find events on our forums:
2020 Events
May 28
– Release 78
June 25
– Release 79
July 30
– Release 80
Aug 27
– Release 81
Meretz: Win a Giant Lich Statue (No Trade)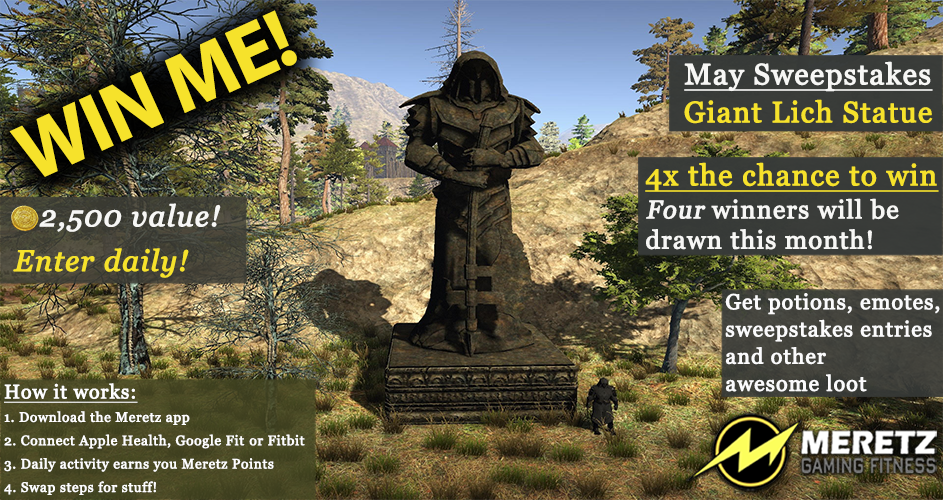 Whether you move a little or a lot, as a Meretz user you rack up valuable Meretz Points (MPs). The more MPs you have, the more stuff you can buy!
Think: in-game SotA goodies, Sweepstakes entries and tons more. With Meretz, we launch several sweepstakes every month. This month, we're giving away a Giant Lich Statue (No Trade) to FOUR lucky winners! AND, use your MPs every day for in-game items like potions and emotes.
What're you waiting for?
Download Meretz TODAY!
Community Event: Release 77 Dance Party
By Royal Warrant, Virtue/Avatars Radio presents the Release 77 Dance Party & Stress Test
Location: Immortal City at Toff's Premiere Nightclub, Chaotica
Host: DJ Celith Wraine
When: Sunday, May 24th, 11:00AM – 1:00PM CST
Come out and sport some awesome dance moves, trade emotes and recipes, chat with friends, launch off fireworks and simply have a lot of fun! For more information, check out
the main forum post
on the official forums. If you'd like to learn how YOUR town can become a site for upcoming Release Dance Parties,
find out here!
Community Event: Catnip Games Weekly Fishing Tourney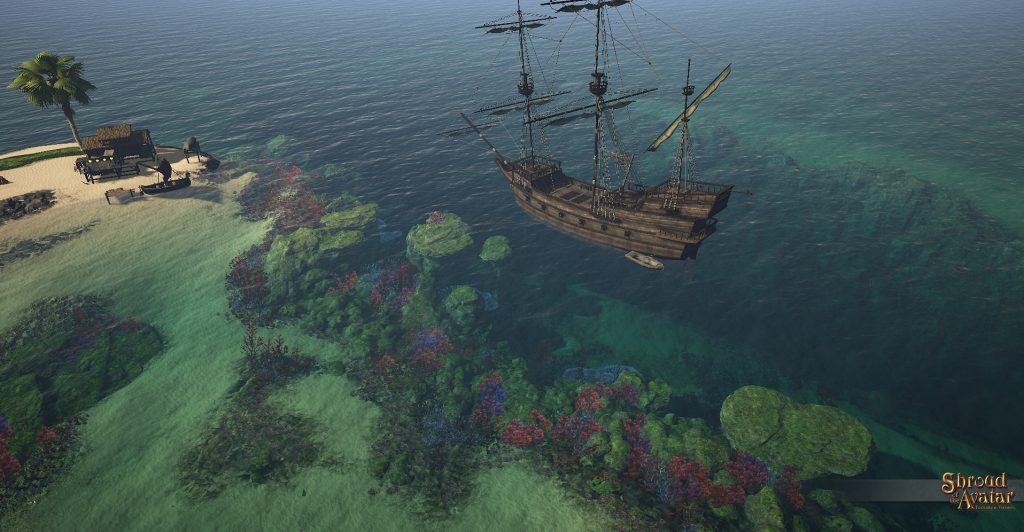 For the Anglers of New Britannia, a weekly developer run fishing event has arrived! These weekly tournaments start at Noon CT every Friday and will last until Noon CT the next Friday. Players may register towns to be put into a registry list which will dictate most of the venues available for the fishing competition. Every week, the venues shift to the next 3 towns from the registry. Also each week, a new spotlighted PvE and PvP scene cycle into the contest. Each category (POT, PvP, PvE) features different prizes and goals.
All fish must be caught within the timeframe of the contest.
Here are some of the details:
Largest Fresh Fish (Town):
Prizes: Player Owned Town Row Lot Deed, Large Gold Fishing Trophy
Rules: Must be caught from one of these towns
Largest Fish (PvP):
Prizes: 2 Chained Obsidian Shard 3-Packs, Large Silver Fishing Trophy
Rules: Must be caught in Dysborg Ruins
Largest Lava Fish:
Prizes: Fishing Rod of Prosperity, Large Bronze Fishing Trophy
Rules: Must be caught in Bunker C (Near the ore nodes at -19.058, -16.081, 179.324)
Consolation Prizes:
Prizes: Silver Fishing Trophy
Rules: Everyone who submitted an entry that did not win an above prize
Prizes provided by the Community Manager will be available for attendees, but governors, guild leaders and players are welcome to sweeten the pot by providing additional prizes based on objective criteria entirely of their own design. In fact, please consider planning events to overlap the duration and chosen weekly locations of the Fishing developer events. Please post these events in the in-game events forums and the Community Manager will promote accordingly. Expect a constant stream of weekly events, each to feature new locations and new objectives. Head on over to the
Fishing Event Forum Thread
for more information. Happy adventures, Avatars!
Community Event: Mad Splatter Tea Party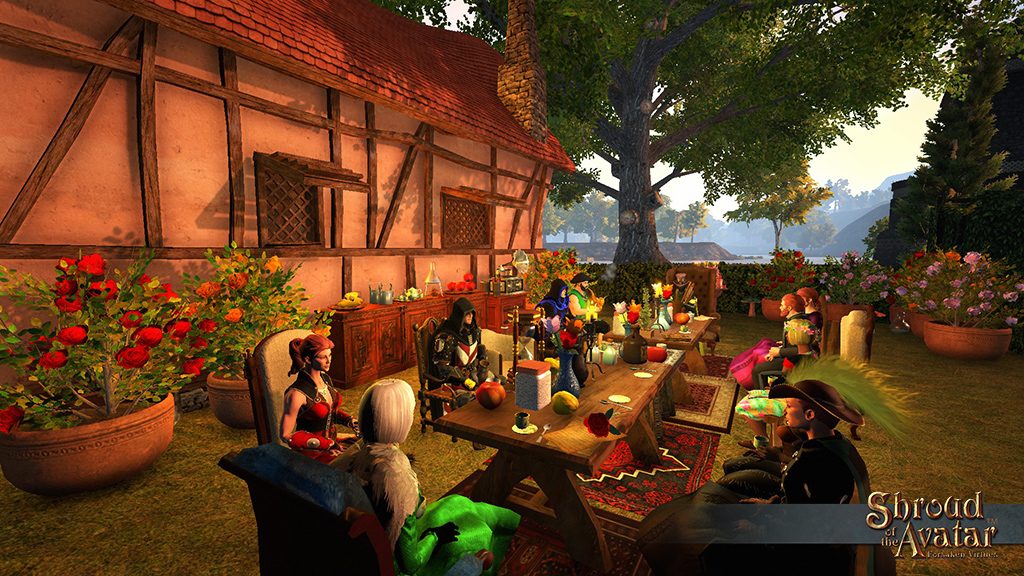 [Forum Post by Sonja]
The Mad Splatter Tea Party takes place every 3rd or 4th Sunday of the month, this time at Brittany Fort. We will meet at the dock, take a short stroll through the wilderness and enjoy a picnic tea party and music next to the river by the waterfall. Bring some of your favorite poems and songs to play.
Location: Brittany Fort (Meet at the docks)
Time: 3pm CST, May 24th (Usually every 3rd or 4th Sunday of the month)
Attire: This is a role playing event tea party so come as your avatar
Look forward to seeing you, Avatars! Tea time!
Community Event: Black Sails Saga – From the New Lands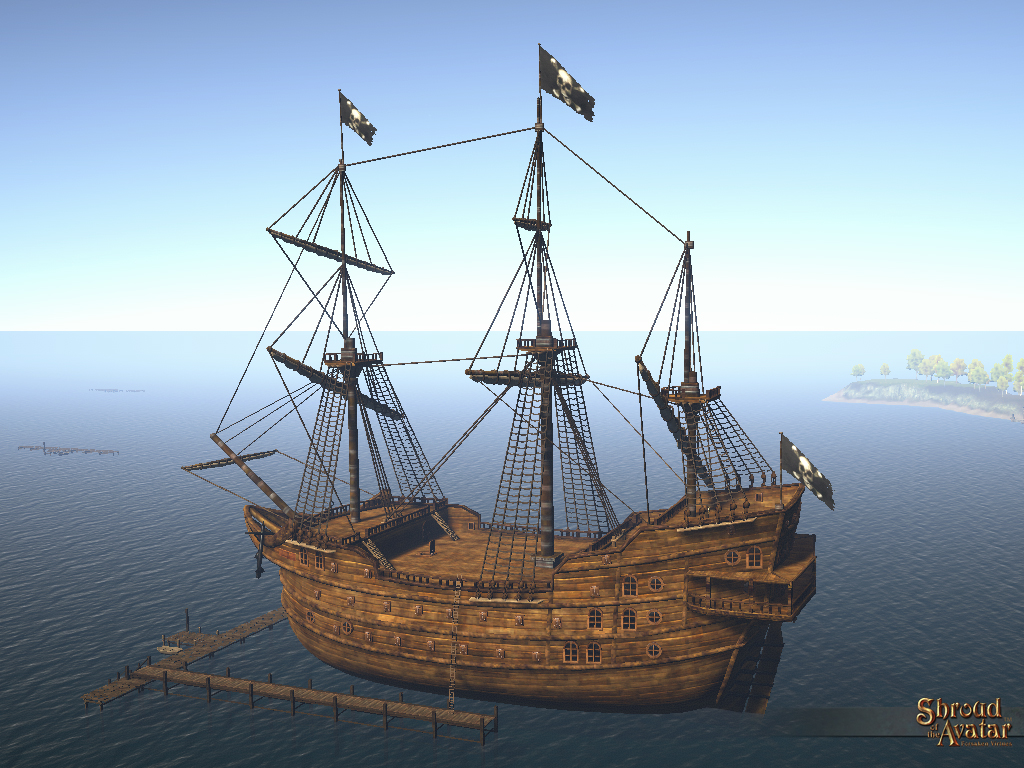 [Forum Post by CatherineRose]
Another chapter of the Black Sails Saga has begun, Avatars! When the creative minds of CatherineRose and friends start writing a new chapter, it can mean only one thing — adventure awaits thee! Typically, these stories start as forum story writing and role-play, which then work their way into the game as role-playing adventures. Upon the chapter's end, a giant battle between players usually takes place, so be sure to get involved now. Ready thine quills and ink, oh pirates of New Britannia, for a grand player-made adventure awaits thee! For more information, please contact CatherineRose for an invite to the planning conversations on the forums.
Months before this day ………..​
A spy for our Black Sails had given a message to one of the guards to warn us that as the great leader @Antrax Artek was leaving his headquarters with his army and as he made his way toward the battle which was underway in Blood Bay, a strange purple mist began to overtake the army.​
As the spy looked on with horror he saw one by one of each of the soldiers fall to the ground. Their bodies began to shake as if a great monster were picking each up and violently throwing each into the air.​
Upon falling to the ground they did not move from any position whether arms were out stretched or bent into grotesque shapes.​
All succumbed in like manner even the great Antrax himself as well.​
The next strange and frightening thing to happen was that each of the soldiers beginning with Antrax woke. They stood up at attention as if ready for orders to be given. Yet they were in some kind of stupor or trance.​
Antrax turned, in this trance as well, and shouted orders to his army.
"We are to battle in Blood Bay. You will kill all living avatars except for any in our own army, Antax Army.​
You will kill all Pirates as well as all Obsidians.
Let their blood reach from the edge of the cursed water's of Blood Bay across the battle ground
until it flows and touches the mountains .
Let no one escape your sword."​
"Show no mercy."​
Antrax and his army did just that. Blood ran deep from all this death. The deadly purple mist affected all who marched through it. No one was spared. Mass confusion took place as well. No one that day had the ability to think like a fighter. No one that day could distinguish allies from enemies.​
In time the purple mist cleared from the survivors bodies. Antrax and his army returned to his headquarters.​
The Black Sails and Allies who survived, that were able, began to train for the next battle. We knew we would never retreat.​
We would never give up the goal of having peace.​
The evil Obsidians had again used the powerful knowledge they possess to continue their quest to control and then to destroy all of Novia.​
However,we knew our purpose would l not be thwarted.
We repaired our ships, bandaged our wounded.
We also, sadly buried the many dead.​
I received, from one of my guards this message
which was intercepted by one of our spies:​
"I, Lord of a Obsidians, Master of all the World, now order you bring together our most feared fighters as well as the strongest of the trained animals which are scattered about Novia. Bring them to the Underworld under the purple mist in Blood Bay where the four rivers of Lava meet. Antrax and his army along with The pirates and allies are working to becoming again. Ha! They will not be strong enough to go against the mighty Obsidians.. We will go to the place called Malus and stop them from crossing into their new lands… (continues on the forums)
​
Community Event: Streaming with Dinheru


Avatars! Tune in at Twitch.TV for streamer
Dinheru
and the BSU Crew/Knights of Ardair! Semi-casual gamers, not so casual fun! Dinheru goes live two days a week, Sunday and Wednesday at approximately 6PM CST. For more information, check out
Dinheru's main forum post
on the official forums. Enjoy the show!
Project to Support – Rodasurf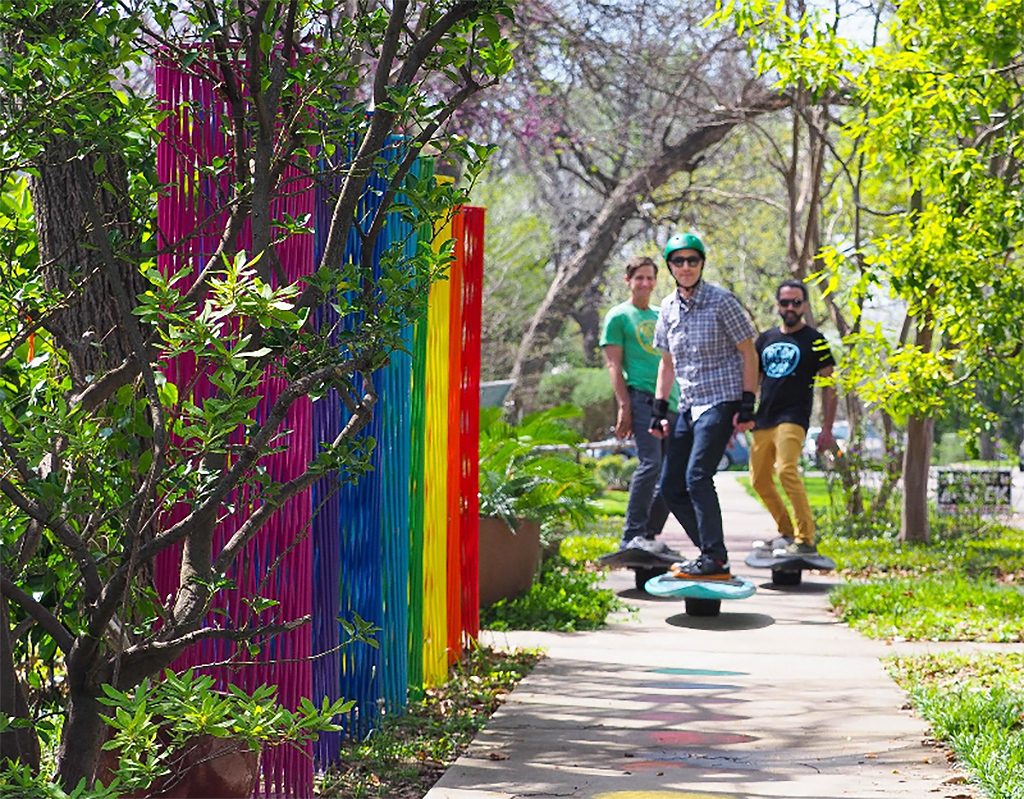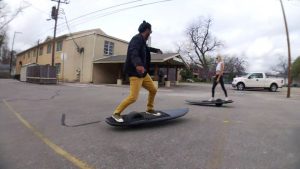 Avatars! Yet another news outlet has spotted Darkstarr on a RodaSurf board. Be sure to check out this latest sighting in this
latest Austin360 news article!
Darkstarr and the Rodasurf team also dazzled us with another
interview
which aired on Spectrum News not too long ago! The RodaSurf board is an accessory to the Onewheel XR device. Simply snap and lock the Onewheel into RodaSurf's latching system, and you'll be surfing the streets before you know it! For the full article PLUS a
fantastic video
, be sure to head straight over to the Spectrum News Website and see our beloved Lord of Chaos show off his latest venture!
Project to Support – Jar Wars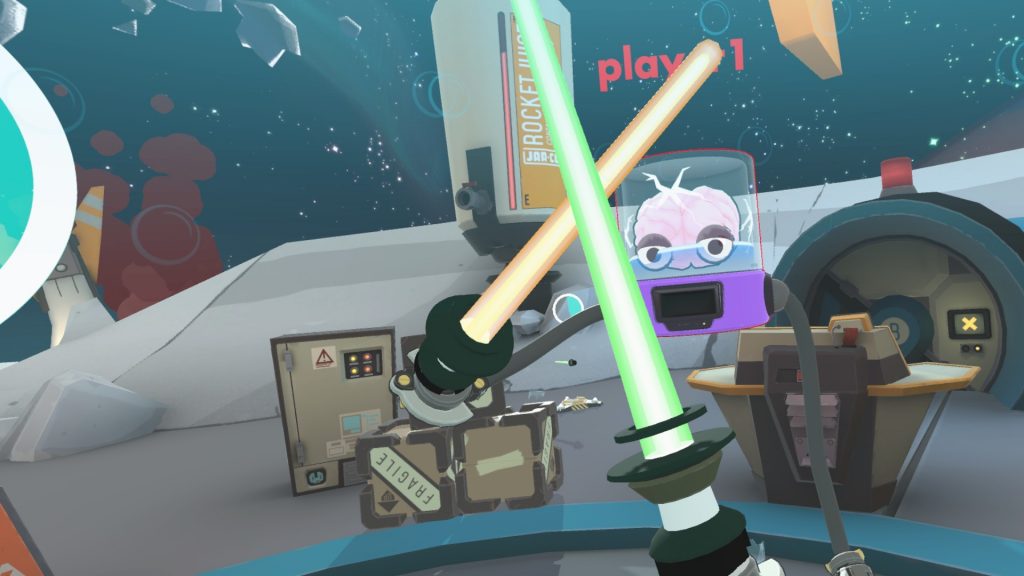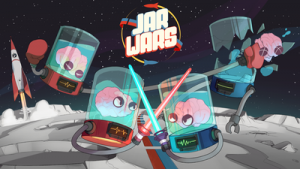 https://d2sx9mrt4zumaq.cloudfront.net/wp-content/uploads/2020/03/JarWars6-600x338.jpg
While you are delving into Virtual Reality (VR), be sure to check out this exciting and hilarious new game,
Jar Wars!
Our very own Darkstarr has been busy on some side projects, one of which is Jar Wars, a slapstick multiplayer game made just for VR enthusiasts. Battle your friends with wacky weapons and intriguing gadgets for total domination of the Moon! Available for free on
Steam!
Project to Support – Dragon Fight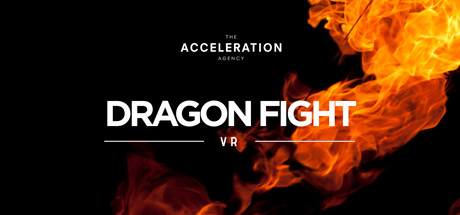 Darkstarr has also been hard at work with the team for Dragon Fight VR which recently went live on Steam! Dragon Fight VR is an internal experiment to capture the "essence" of a dragon fight, the classic penultimate experience of every fantasy story. We wanted to create a short visceral, realistic experience stripped of user interface, lobbies, scores, levels, and other visual intrusions that might distract. There were some key elements of fighting a dragon that we wanted to capture and we felt VR was uniquely qualified to convey:
Face to face with a large scale hostile creature trying to kill you
Using a sword and a shield
Fire!
Nowhere to run!
This started out as an internal experiment to learn some things about VR's capabilities, be reductionist in our designs, etc. We felt that the experiment was successful enough to release as a free experience to share. Enjoy! Available for free on
Steam!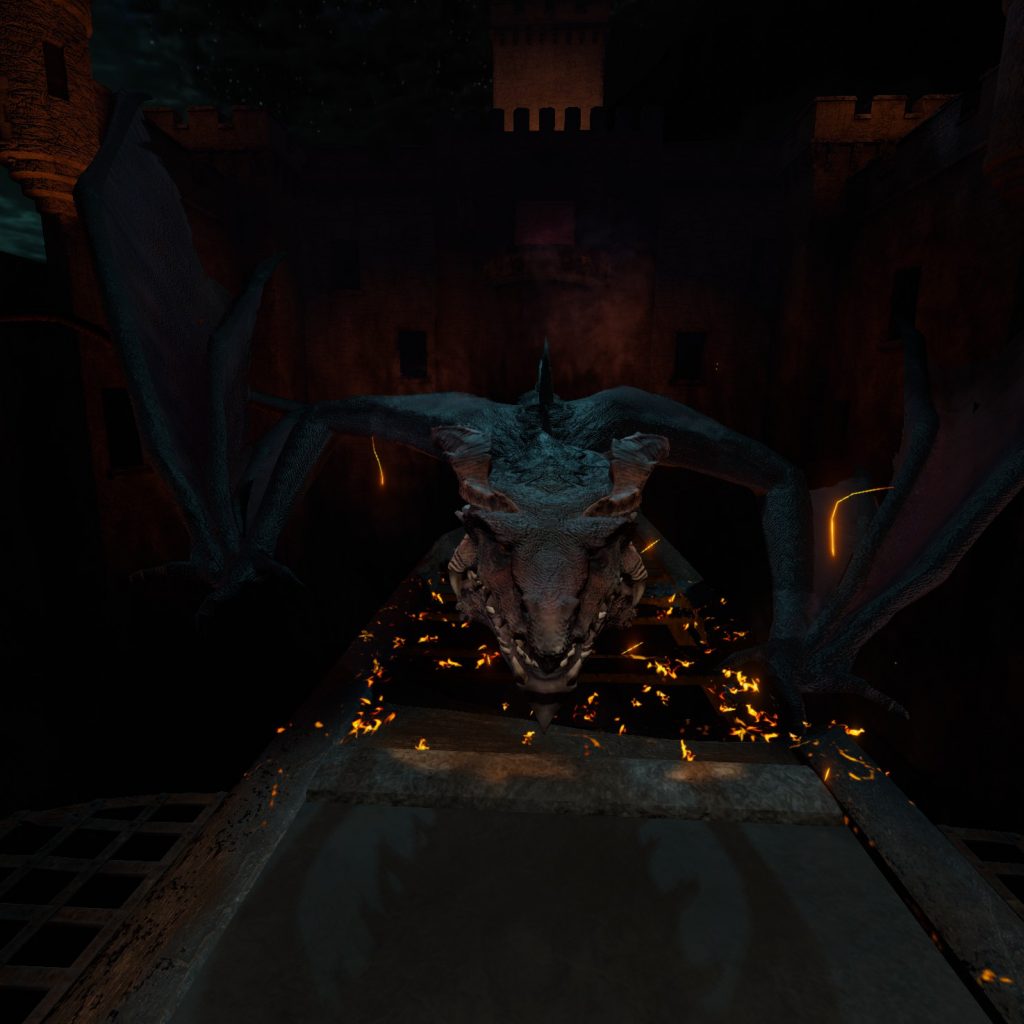 Project to Support – Crowfall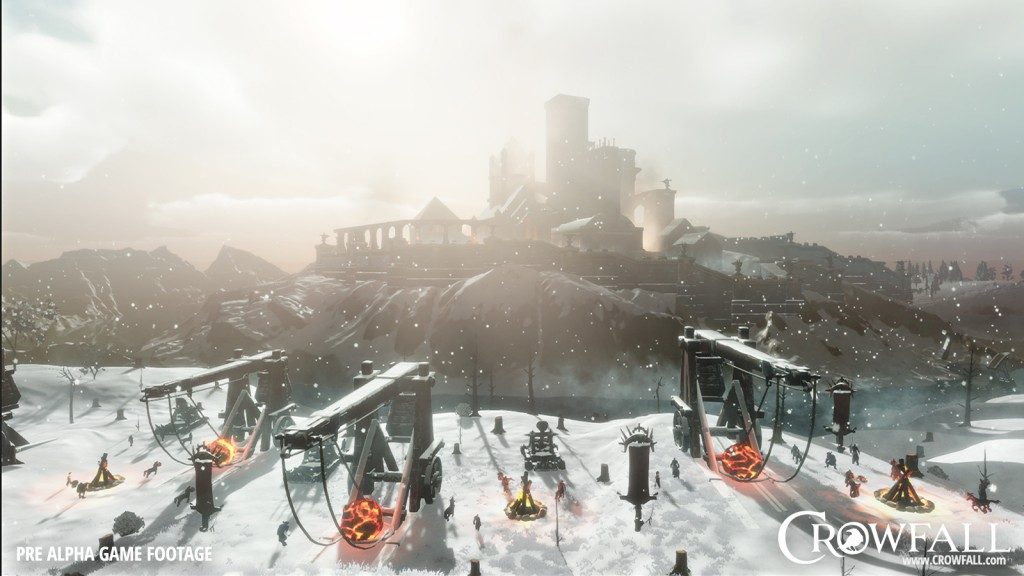 Be part of shaping the next great MMO by becoming a
Crowfall Backer!
Crowfall is the first and only online Throne War game. You can win. Join intense PvP battles

that demand strategy, survival and a fierce competitive spirit. Reap the spoils of war as an Eternal Champion!
Claim virtual territory on behalf of your guild or faction. Capture mines, mills, and quarries to secure resources, build castles, and besiege your neighbors. Scavenge artifacts and relics from the Dying Worlds and install them in your temples to grant blessings to your vassals. Capture lost spirits to do your bidding — or bind them into your weapons to infuse them with sorcerous power!
Project to Support – Avatar Express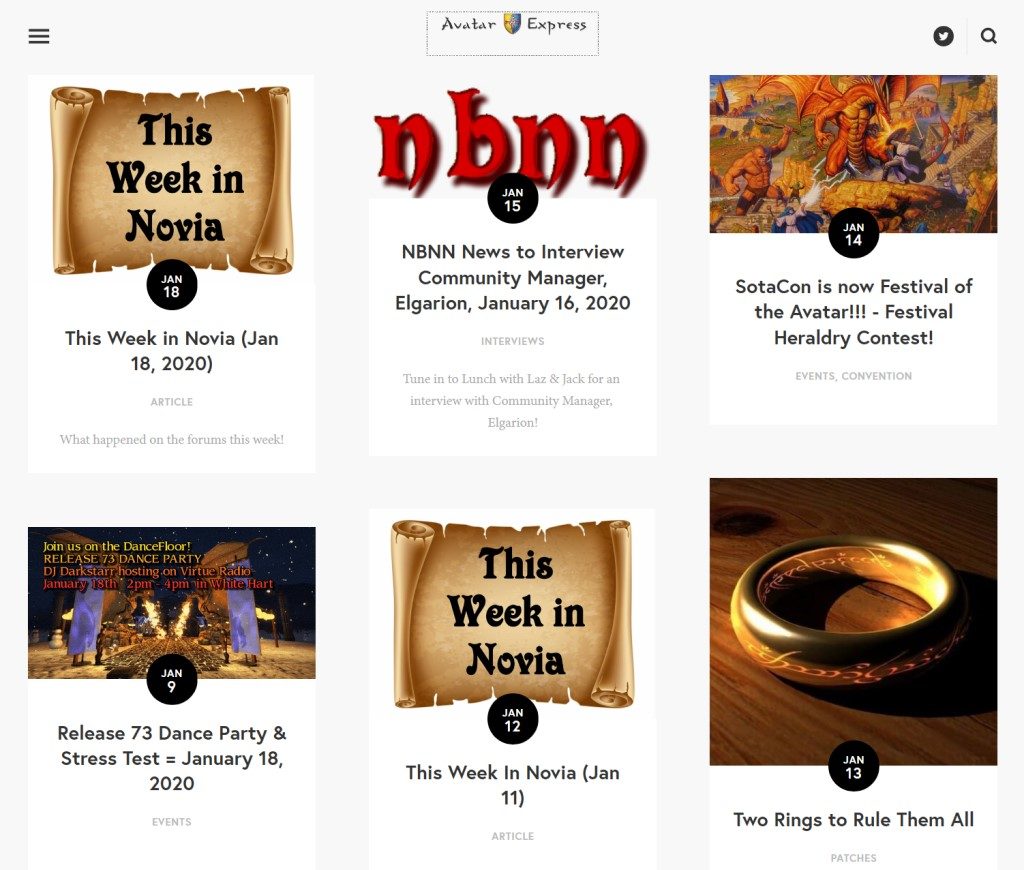 [Forum post by Vladamir Begemot]
I'm pleased to report that
The Avatar Express
is clacking away furiously. News is being delivered and we have established systems to deliver it directly to your brain. You can use one of those systems by following us on
Twitter
at @avatar_express. Even more reliable due to its fully automated nature is joining us on the
Discord
server. News items are posted there via RSS. Or you can subscribe to RSS directly on the site.
If you run an event, quests, etc, please consider helping out by self reporting. The Shroud community is big, and many things are happening that are never seen by others. With 10k monthly users, we would need a full time staff to track down everything that is happening.
You can fill out the
contributor form
, message
@that_shawn_guy
here or post in the Discord server that you would like to help. There is no committment once signed up, you can post as much or little as you like.
Writing up your own events has several benefits beyond the immidiate exposure. It serves as a record for others to see the history of New Britannia as we create it, in an attractive format. Publishing in the Express also has a higher chance than the forums of being seen by search engines and random readers, thus bringing more eyeballs and new players to the game.
It will even make posting in the forums easier! You can upload images to your news item, and then link to those images in your forum post. No more need for 3rd party image hosts!
So if you have something going on in your guild or town, or want to be a Reporter, Cartographer or Historian,
please join us!
Resources – Players Helping Players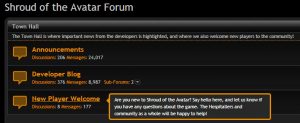 The official SotA
New Player Welcome Forum
and the
Player Created Resources Forum
have the best player created resources for Shroud of the Avatar, whether it's a Player Written Guide, a Video Walk-through, or a Wiki-type Website.
Visit the official
Community Resources page
for a complete listing of all things community.
Continue reading...