Visitor
Stratics Veteran
Stratics Legend
Do not read this if:
You do not wish to spoil your RP fun because it might be on your shard.
Read this if:
You wish to help another great group of Roleplayers add to their story experience.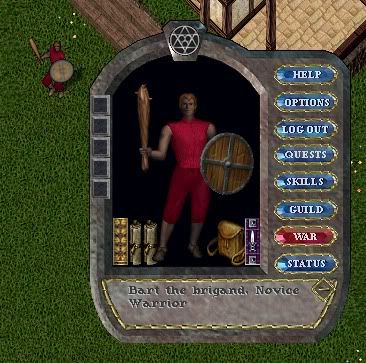 ​
We will be assisting the brigand group on the Baja shard as we did at the Gold Brew tavern a few days ago. These characters do not have to be trained. We will be meeting
tonight on Saturday March 27th at 10:30pm Eastern Time.
Character Creation:
Name-
The characters name can be 3 to 4 letters followed by
the brigand
Ex: Sam the brigand.
Race-
Human (Dark skin)
Outfit-
Normal clothing mostly red
Walking-
Always walk in war mode unless sitting
Emote-
Remember you are playing a NPC brigand fully in character. Don't forget to use the emotes *Bangs sword on shield*
Information Section
​
We will all meet at the Trammel Vesper Bank. There you will be guilded (So make sure you turn off ignore guild invites) You will be given the contract books and then we will make our way to the Kingdom of Dawn.
**Also this is a great time to get some revenge for having to deal with Savages in our towns
(EVIL LAUGH)
**