Royal Explorer & Grand Archaeologian Of Sosaria
Professional
Alumni
Stratics Veteran
Stratics Legend
UNLEASHED
Campaign Patron

LOCATION


SILENT AUCTION TIMELINE
Wednesday December 27th, 2017 - Auctioneers Will Receive Items For Silent Auction
Wednesday January 3rd, 2018 at 8:00 PM - Silent Auction Houses Go Public For Buy It Now Options
Saturday January 6th at 7:00 PM - Silent Auction House # 1 Closes Bidding, 10 Minute Rule Applies
Saturday January 6th at 8:00 PM - Overstock Auction House Closes Bidding, 10 Minute Rule Applies
Saturday January 6th at 9:00 PM - Silent Auction House # 2 Closes Bidding, 10 Minute Rule Applies


AUCTION RULES FOR SELLERS:

Please either give @Nails Warstein or @Olcher your RARES in a bag with a book. We can be identified by our bright orange Rares Fest Staff Lanterns. This book will be placed on display with each of one your items for all to read. Please use the picture above as a reference. Sellers can also drop their items off in a mailbox at my Silent Auction House in Toad Town on Atlantic at the Rares Festival. Its absolutely FREE to sell and buy your items.

We will not accept items that are better off placed on Vendors. We recommend reasonably low reserves to encourage bidding wars, and temptingly low buyout prices that will be hard to resist. In the event we are given two or more of the same items, we will submit items with lower buyouts first, lower reserves second, and try to accommodate sellers with fewer submissions first. We might make our own minor exceptions at our own discretion.


AUCTION RULES FOR BIDDERS: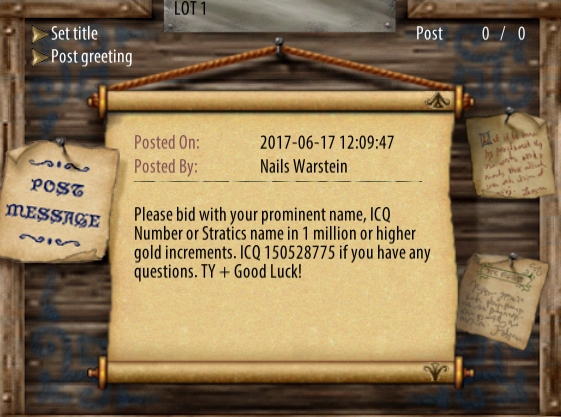 All bidding will be done via Bulletin Board. All bidders and proxy bidders must include their prominent name (not unknown alias) and provide contact information (ICQ, AIM, Yahoo, or Stratics Name) in addition to their bid amount. If you are unable to attend, please appoint a proxy bidder to make your bids for you.
PRIMARY AUCTION RULES
1 Million Gold Bid Increments or Higher
All Bidders Must Be Verified
Here is How the 10 Minute Rule Works
There will be a 10 minute cool down period starting with the last bid placed on items during the last 10 minutes, this means the cool down period begins 10 minutes prior to auction ending. Players can choose to continue bidding past the end of auction on any item, but only items that received bids during the last 10 minute period, and continue to receive bids within 10 minute period will be counted. Bidding will continue until no more bids have been received for a full 10 minutes. Anyone can bid during this cool down period, even players who have not previously bid on the item.
Bidding MUST be in 1 Million Gold Increments or Higher
All bids must be in 1 million gold increments or higher, which means you can bid any amount as long as that amount is at least 1 million gold or higher. Please refrain from bidding in decimals, fractions, and 100k increments of any kind. Respectfully whenever possible, please bid in higher increments on higher value items to prevent long drawn out bidding wars. Thank you!

How to get Verified
If @Nails Warstein or @Olcher do not recognize you, we will attempt to contact you for a background check to verify you are a legitimate bidder and not a troll bidder. If we decide you are trolling, we will ban you from the auction houses through the bulletin boards. If you are not trolling, you will need someone we know to vouch for you.
Host Judgement
No anonymous bidding will be allowed. No troll bidding will be permitted. Proxy bidding is encouraged among friends, and advance notice would be appreciated. If there are any disputes with the bidding, I must be made aware immediately to issue corrections before the completion of the auction. If anyone trolls the auction, if anyone harasses another player at the auction, if anyone consistently bids incorrectly, and ignores our warnings we will ban them from the auction.
Receiving Your Winnings:
Gold will be acceptable on Atlantic only. Players will have 3 days (72 hours) to pay for their items no later than midnight Tuesday, or be placed on notice as a non-paying bidder in the rares community. Please contact me for additional optional payment methods. Bidders can only contact me here on Stratics, ICQ # 150528775 and
http://www.facebook.com/nailswarstein
Auction Communication Systems:
During the last hour of the auction I will have a SILENT AUCTION chat channel in game to answer questions I see. Also contact me to join my Discord Channel for a better auction experience. Thank you!

AGAIN:
Please read through this thoroughly, all your questions should be answered here.
If you happen to have any unanswered questions please contact ICQ 150528775
Remember you must ask to join my Discord Channel for a better auction experience.
During the auction I will be available in-game Silent Auction Chat setup.


QUICK HELPFUL LINKS
COLLECTORS WISH LIST
CONTESTS & EVENTS
RARES FESTIVAL FEL HOUSE DROP EVENT
RARES FESTIVAL LIVE AUCTION INFORMATION
RESTLESS RAFFLES
SECRET CHEST SCAVENGER HUNT
Last edited: