Rares Fest Host | Ches Jul 2010
Stratics Veteran
Stratics Legend
The Chesapeake shard is holding its first Rares and Events Festival beginning on Friday the 16th of July and lasting through Sunday the 18th.
Vendor Malls
I have attended every rares fest that has taken place in the past and from what i have seen, one vendor mall is not enough for renting out vendors. There are always people left out begging for vendors that end up spamming all day trying to sell their items. We have decided to use THREE vendor malls all next to one another just a few tiles away from the Homare-Jima Tokuno Moongate. Vendors will start to be given out a week prior to the start of the festival. Also, it will not be frowned upon to start stocking rares immediately after receiving your vendor. It is your vendor and you may stock it as you wish.
If you would like a vendor spot, please reply to this thread with the following
ICQ#:
Stratics Name:
Character That Will Most Likely Receive Vendor:
Vendors will be given out on a first come first serve basis to those that reserved a vendor spot. There are three houses worth of vendor spots available and once spots start to be given out, then the people that reserved a spot can choose where they would like their vendor.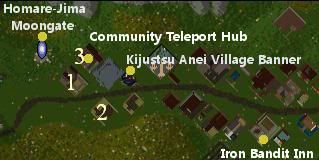 Raffle Vendors
We will also be having four Raffle vendors set up. This was a popular idea during the first couple of Rares Festivals. Books will be placed on a vendor for a certain price and at the end of the festival. We will call out the winning number at random. Each vendor will have a rare item that you can win and the vendor will be named what the rare item is. We will also have a 50/50 raffle vendor where you buy books for a set price and at the end of the festival, a winning number is called and the winner gets half of the money that the vendor has accumulated.
The three raffle rares will be: A Sack of Gunpowder, A Dirty Pot, Accounting Ledger Of Mornwok Estate (Open Book)
Rares Auction
We will not be having a traditional auction this time around, instead we will have 2 houses set up in a secluded location and will have house teleporters set up to go there. The owner of an item they want auctioned will submit it to me, I will lock it down for display in one of these houses. People may bid on these items via in game on a bulletin board specifically for that item or icq to the owner of the item. When the owner sees fit, he may decide to sell it. When he does this, books will be placed on a vendor at the house next door for the buyer to purchase that equals the amount that the seller agreed upon. Once the books are purchased, the house with the rare items in it will be set to private so that no one can come in and steal anything, the item will be released and then handed to the buyer. The seller will then collect the gold from me by either me handing it to them or having them put books on a vendor for me to buy that equals the agreed upon amount. This will run throughout the rares festival.
Item Transfer Service
DVI is running an item transfer service from any shard to Chesapeake and vice versa. For five million gold, you can have up to 150 items transferred to Chesapeake for you from the shard of your choice, or from Chesapeake to the shard of your choice. Each transfer requires a minimum of five people to participate in it. Please ICQ DVI if you are interested in this service.
Events
(All listed in Eastern Standard Time)
Friday July 16th
12:00 pm - Opening Ceremonies (Takes place between the vendor malls.)
1:00 pm - Lotto #1 (Takes place between the vendor malls. Books will be handed out with a number on them, write your name inside and hand them back.)
1:30 pm - Lotto Drawing #1 (Takes place between the vendor malls. Five books will be drawn at random and each of the winners will receive a prize.)
5:00 pm - UO Trivia Questions - Hosted by Moria (Questions will be asked about the history of the game and 1 million gold checks will be handed out to the person that answers each question correctly)
8:00 pm - Horse Race - Hosted by Guardians Gate (Takes place in Guardian's Gate Village via house teleporter from the teleport hub. Characters will race around a track on horseback from start to finish. The first five people to finish will win a prize)
Saturday July 17th
2:00 pm - Lotto #2 (Takes place between the vendor malls. Books will be handed out with a number on them, write your name inside and hand them back)
2:30 pm - Lotto Drawing #2 (Takes place between the vendor malls. Five books will be drawn at random and each of the winners will receive a prize.)
4:00 pm - Icy Maze - Hosted by Zedland (Takes place in Zedland at a house just below the SHE Auction House. People will make their way through a customized house filled with icy patches and will have to get to the roof to hand a book in with their name in it. The first five people to do this will receive prizes.)
7:00 pm - SHE Auction - Hosted by Zedland (Takes place in Zedland via a house teleporter from the teleport hub. The auction is ran by the SHE Guild and is the longest running auction of 5+ years on Chesapeake. This is not strictly a Rares Auction as there are a variety of items submitted, but there are plenty of good items auctioned off and gold prizes given out during this auction.)
Sunday July 18th
2:00 pm - Lotto #3 (Takes place between the vendor malls. Books will be handed out with a number on them, write your name inside and hand them back.)
2:30 pm - Lotto Drawing #3 (Takes place between the vendor malls. Five books will be drawn at random and each of the winners will receive a prize.)
4:00 pm - Rares Museum and Player Village Tours (Meet between the vendor malls to take part in this. People will be toured around to different museums and player villages on the shard to see rares on display and community spirit in player villages.)
7:00 pm - Neos Day Out 97/98 - Hosted by Baja and Chesapeake Players (Accessible via the teleport hub. A play that takes place in the earlier days of UO.)
8:00 pm - Closing Ceremonies (Takes place between the vendor malls.)
Contact Information
Demon Slayer aka Demonous (Host) - ICQ# 102388892
Sundina (Host) - ICQ# 95509325
Gareth (Owner of the Vendor Malls) - ICQ# 267944224
DVI (Owner of the Rares Auction Houses) - ICQ# 247299718
Zelda Of Zed (owner of the SHE Auction House) ICQ# 278781346
Sponsored by - UOResources
Coverage by - Whispering Rose Radio on
http://whisperingroseradio.com/