Babbling Loonie
Alumni
Stratics Veteran
Stratics Legend
Concerning Nobles - Nicholas the Old meets Aino & Kullervo Nystad.
By WarderDragon
Sunday, January 11th, 2009.​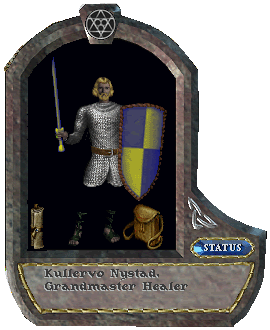 Chapter 1 -
Greetings, my friends and fellow Britannians!
You may have recently been blessed with the opportunity to read Lady Oriana's most splendid editorial, in which she profiles the beautiful (and rather elusive) Lady Aino Nystad; a visitor from the Merchant City of Vesper. In the course of their dialogue, Oriana manages to profile a young woman on a mission; one that seeks the reestablishment of their fallen house and the restoration of her families good name amongst the noble peerage of Lord British's Realm. In these black and troublesome times; even courtly intrigues can be frought with pitfalls all their own. Alas, that such dark days be our own.
I doubt your reading this passage to mull over idle philosophical conjecture; so I shall get to the point. Nonetheless, if you haven't yet taken the time to read Lady Oriana's story, I most strongly recommend that you do so. I dare say, she could be the next Freeborn yet! It can be found amongst the news stands throughout West Britain, or
here.
"Why," you might very well be asking yourself, "am I merely repeating the mere comings and goings of another spoiled celebrity? Why, the shadowed hand of Nosfentor and Faulinei streach over the length and bredth of Greater Sosaria, whilst the mysterious 'Six' have disappeared all togeather? What about more important individuals, such the Illustrious Lord Casca?" Why, dost thou ask? My answer, for one, is because I bloody can! But alas, my editors demand more substance should I wish this to make it to print. With that in mind, I do say that there is always more to the story; more to follow-up upon; some tidbit for the gossips and the courtly ladies (of whom the only difference be how many pairs of brilliantly-hued sandals their husband can afford). That is not to mention the wealth of young courties who wish to know Lady Aino's favorite flower, or her favorite dessert. Blast, I dare say; I wouldn't be shocked if half the Knighthood had already pledged themselves in her honor in the upcoming tournement. Britain's tailors are going to have a fit attempting to reproduce Nystad's Colours.
Yet; as promised, I have come upon several relatively fascinating new details regarding our beautiful foreign visitor than were previously known. A number of trustworthy sources - my "eyes and ears" if you will - have indicated to me that the Lady Aino has a brother; one Kullervo Nystad. The boy is her fraternal twin, and had been spotted in the realm of Dawn nearly one weeks past. Strange. You would think that twins seeking the favor of the Royal Court would attempt the mere appearance of impropriety. Its well known that the Cross Family has no right to defy the authority of Lord Cantabrigans chosen legislature.
So, 'tis with such questions in mind that I packed my bags and headed for the nearest moongate. I exited the ethereal door just outside the City of Old Moonglow, and proceeded immidiately for the cities dock. It took me several hours, but finally I was able to barter for passage aboard a merchants vessel headed in the direction of the Bay of Lost Hope. The Captain, a certain Jerhyn Bashere, purported to be part of what sounds to be a newly minted Trading Conglomerate based out of Old Nujel'm. I should note that I caught a peek under the hatch of their galleon; discovering several crates covered in seaweed. Clearly, they had been recently recovered from the sea. Upon closer insprection, I founded something quite troubling on the side. "Sierra Cascade Trading Company. Blackrock Shipment. Due 1st Mirtul in New Trinsic. Fier Warehouse." Its not suprising that those blasted Feluccians would be dealing in illegal substances; but the name struck me. The chief officers of the Sierra Cascade had been assassinated earlier that spring, while all their holdings had been immidiately confiscated by the Royal Council just prior to their murder.
The trading vessel finally arrived at the Bay of Lost Hope, the dawn of the next mourn (no pun intended). Merchants from both Dawn, and nearby Avalon and Wind were there to greet the eastern traders. Much to my own relief, the traders left the crates of blackrock within the hatch; instead, trading crates of "Xel's Sake Shots" and "Golden Spring Ale" for Dawnite Pipe Leaf, Avalonian Oak, and various herbs and spices grown on the Grand Duchess' Private Estates.
I payed my fare to the traders, and inquired about the local taverns. I was disappointed to learn that both the Dead Dove Tavern and the Dawn Acropolis had both closed their doors years ago. They mentioned something about vampire plagues and drow. I was pleased to hear that something new had been opened in their place. Apparently, Old Man Rouvale had donated part of his estate for the establishment of the Dragons Breath; and the barmaids there weren't half as snobby as those from the Acropolis.
It turns out that the Dragons Breath Tavern wasn't half as wild as the merchants described it to be. I suppose I should've expected as much; hard times had fallen on the land, and even the Kingdom of Dawn wasn't immune. A single, exotic looking maiden sat behind the bar; polishing what appears to be an otherwise clean mug down once more. I immidiately took note of the cavorting club hanging from her hip; better be careful around that one.
Out the kitchen door entered a rather plump, balding middle aged fellow with a rather large moustache. The barkeep. He seemed a cheerful enough fellow; too cheerful for an empty tavern, but alas! These Dawnites were strange folk.
"Melisande," he laughed. "You're giving our customer the evil eye again. How are we ever going to attract new customers if you keep that up?"
"How do you know he isn't...one of those Minax folks?"
"He's too ordinary looking to belong to some 'faction,'" he quipped.
"Ordinary!?" I blinked.
"True," she growled, still staring at me like she intended to thump me one. It reminded me too much of my last girlfriend. "He isn't wearing those funny pink shoes, or some bright orange robe."
"My, inquisitive you are," I teased. Alas, before I could continue; the doors swung open behind me. I looked around behind me, facing what appeared to be a young knight or prince of the realm. He wore the customary red sash and blue cloak famous amongst Dawn; the jeweled scabbard of his broadsword hanging from his hip. Strangely, the lad wore an ominous looking eyepatch; although upon inquiry, it would turn out that he didn't need the patch quite at all.
"Zackarias!" Melisande shouted happily, rushing around the bar to wrap him in a hug.
"Oof! Morning, Meli," he laughed.
"What can I get you?"
"Carrot juice," he smiled. She rushed back behind the bar, opening one of the shelves.
"Uhm," I coughed. "Hello! Excuse me."
"Oh," she looked up. "Yeah, what can I do for you?"
Way to make someone feel welcome,
I grumbled. "What do you have?"
"Hm," she looked over the labeled bottles and pitchers sitting on the counter behind her. "Dead Dove Brandy, Golden Brews Harvest Ale, Fairhaven Vineyard Merlot," she continued. "Lumarian Banana Rum, Verity Isle Vodka, Ancient Order Sangrea. Cartel n' Coke. Spawners Spiced Rum."
"She also knows how to make the Dane Alexander," Zackarias cut in.
"...and Nude Sake Shots!" Someone in the back corner shouted, hiccuping. He was not kidding about the nude part.
"The Cabal is always tasty," the old barkeep added.
"Its hell on your throat," Zackarias added.
"How do you think it earned its name?"
I sighed; cutting in before this debate progressed to the point from which there is no return. "I will take the Summer Ale; and some Sake Shots."
"Woo-Hoo!" someone shouted from the back.
Sighing, I seated myself at one of the tables; as far away from the nude sake addict as possible. Zackarias, seemingly unaffected by the presence of some undressed wild man, seated himself across the table from me.
"Greetings, stranger." He smiled, resting his hands on the table. Melisande set their mugs out on the table before them; foaming with the famous golden ale that had been the legendary staple of inebriated Britannians far and wide. She set two sake shots before me; along with a tray of Spicy Gaman Wings.
"Greetings," I replied. I quickly downed the first shot, almost choking upon the unfamiliar brew. I quickly wiped my lips with embarasment "Who's the nude...patron?"
"Oh, he's just some Wanderer," Zackarias laughed. "He apparently likes the Sake." Zackarias lifted the foaming mug of ale to his lips, sipping on it for a moment. "Oh, forgive my manners. My name is Zackarias."
"Waylan Harper," I replied. "Britannian News Network."
"Britannian News Network? Whoa. We haven't seen your folk about these parts in...oh, about five years now? Dawn was featured in the Britannian Spotlight."
"I remember," I said with a smile. "Much more...amicable times."
Zackarias nodded. "So what brings you to these parts?"
"Well," I replied slowly; unsure just how much I should share with this stranger. "I've heard that you've recieved a visitor?"
"Oh?" Zackarias replied. "We've been recieving losts of visitors lately. Lady Sara and Lady Oriana of Luna regularly visit. Oh, and some Orcs too! They claim they belong to the PaxUgz Tribe of...some mountain they call 'Cheezypeak.'" He chuckled.
"Cheezypeak?" I asked, blinking. I had never heard of such a place; but then again, these Feluccians were strange folk.
"Don't ask," he replied, laughing. Wiping the tears forming from his eyes, he lowered his voice. "Oh, and don't tell anyone...but, I heard that Nicholas the Grey is coming for Dawn's Anniversary on St. Valentines Day."
"Nicholas the Grey?"
"He is an old conjurer," Zackarias smiled. "He deals in fireworks and sleight of hand tricks. He is also quite the storyteller."
I began to grow impatient. Surely, the appearance of some young nobleman - fallen house or no - would be met with some fanfare in these rural parts. "What of noblemen? Have you seen any noblemen?"
"Just those from the trading companies," Zackarias replied.
I feared that the trail was growing cold. More still, I feared that Aino's brother may have been a fleeting rumor; mayhaps even a wild goose chase intended to throw me off while our compeditors got the interview with Lady Nystad. "What of Kullervo? Have you met a Kullervo Nystad?"
"Oh!" Zackarias laughed. "Yes. Well, no. I haven't personally met him. He was here a couple nights ago."
"What happened? Were you impressed by the visit of such a noble?" Zackarias looked at me strangely. Certainly, such rural bumpkins should be impressed by the visit of a true, Highborn Britannian. Yet, he looked as if I just had sprouted gone cross-eyed.
"Nobleman?" He asked. "Who, Kullervo? I thought he was just some ordinary woodsman. A highwayman, for all I know."
I shifted my jaw, just to make sure that it had not fallen into my lap. Surely, Lady Aino's brother couldn't be some ordinary woodsman. "A...highwayman, you say?"
"Well," he sighed. "A highwayman? A bit unlikely. He came and left in peace."
"Oh bloody flaming hell!" I grumbled. I had come too late. "Do you know where he went?"
"No," Zackarias replied. "I have heard that someone bumped into him."
"Really?"
"Well, I heard this all from Melisande. Who heard from Otik, who heard from his wife, who heard from Tarwyn Runeblade, who heard from Betsy Rosette, who heard from the Duchess WildStar, who..."
"...just get to it, already!"
"...told her that Kullervo and Nicholas the Old met."
That, my readers, is how the long story began.